'Scraatch', a Sundeer 56 Bluewater Sailboat for Sale
The Sundeer yachts, designed by Steve Dashew, set a remarkable standard for a practical world cruiser that has rarely if at all been matched.
The design is dedicated to short handed or even single handed navigation over long, mainly tropical, distances.
The more you know the boat, the more you will recognise the 30 years of design and clever ideas that have gone into the construction.
From the huge hatches, side windows and multiple vents to light and air the living space to the practical flat bottomed lead keel that can take that incidental bump without harm.
From the very practical galley to the deck house that gives a complete extra living space.
From the solid anchor launch rails to the whole deck water collection system that may fill the tanks in a short tropical rain burst.
Scraatch has had two owners from new, both have made complete circumnavigations via Panama, New Zealand, Asia and South Africa.
Brian, the present owner, is a practical DIY engineer who is rarely happier than when making things work properly and making minor improvements. From keeping the hatches watertight and all 60 of the toggles and locks working, to removing redundant and misleading electrics.
Recent projects have been fitting a new Simrad autopilot. Designing and building the full width and height Bimini and fitting lightweight solar panels above it. The current project is deep maintenance of all deck gear, introducing Dyneema where appropriate and minimising the use of small pulleys/turning blocks by replacing them with low friction stationary fittings.
I would like to pass this working boat on directly to another active partner without parking it in a dealers yard for months or years.....
With very little to do, Scraatch is ready to be off again.


DETAILS:
LOA: 17.37m (56ft);
BEAM: 4.2m;
DRAFT: 2.0m;
DISPLACEMENT: 30.4 GRT (traditional measure). Actual is 20 to 21 tonne fully tanked, Nominal 40,000 lb dry;

DESIGNER: Steve Dashew;

BUILDER: TPI Rhode Island (Tillot Pearson);
REGISTRATION: Country BVI, No739552;
YEAR BUILT: 1996.

CONSTRUCTION:
HULL: Vacuum infused glass, end grain balsa core, vinylester resin;
DECKS: As Hull;
KEEL: 1 metre stub keel as hull with solid lead (5,000lb)below;
FUEL TANKS: 2 X 125 USG 500 litre each, aluminium;
RANGE UNDER POWER: 1,000 miles;
WATER TANKS: 2 X 180 USG (700 litre), glassfibre;
SULLAGE TANKS: 140 USG, Polythene;
OTHER: Doghouse in Aluminium + 8mm/6mm tempered glass.

ENGINE:
MAKE: Yanmar JH4 DTE, 88HP;
ENGINE HOURS: 8,825 hours;
CRUISING SPEED: 6.0 kn @ 2,000 RPM;
MAXIMUM SPEED: 8.5 kn @ 3,000 RPM;
GEARBOX: Yanmar integral, reversing; Morse control;
PROPELLOR: Maxprop 24", 3 blade Variable pitch. Bronze;
SHAFT SIZE: 1.5";
SHAFT SEAL: PSS Bellows/Carbon block;
ALTERNATORS: 1 engine service, 2 x Balmar 175 amp for charging;
ENGINE START BATTERIES: 1 x 60AH, Xover switching to House bank;
FUEL FILTER / POLISHERS: 2 x Racal 2 micron;
GENERATOR / OUTPUT: Izuzu 3.5kW driving ( direct shaft ), Balmar 275 Amp 12V;
STEERING: Edson Wheel/Cable/Chain to Large bronze quadrant;
Autopilots - hydraulic cylinder to quadrant;
Emergency tiller to top of rudder post;
EXHAUST SYSTEM: Wet 2.5" to above waterline stern flap;
WATER STRAINERS: 1 x mesh inlet to seawater manifold;
OTHER:
Electric fuel transfer pump;
Electric oil change pump for main engine;
Webasto diesel fired water heater for saloon heating.

ELECTRICAL:
CIRCUIT TYPE: 12V with 110V service sockets;
PLOTTER: Furuno Navnet 2, 2009;
RADAR: Furuno 1834C2009;
SOUNDER: B&G Hydra 2 for depth, Interphase 180 degree forward scanning sonar;
AUTO PILOT: W-H AP4 overhauled 2013, 2 control stations, at wheel and in Doghouse;
VHF RADIO: ICOM 505 2009, spare/separate Seatalk 2000, Cobra handleld;
HF RADIO: Kenwood TS4405HF and Ham;
AIS: Transas integrated with Navnet;
GPS: Standalone Furuno GP31GP 32Handheld in Grab bag;
ENGINE INSTRUMENTS: Yanmar type C panel,RPM, Hour, Oil, Temp;
WIND INSTRUMENTS: FULL B&G Hydra 2 SYSTEM for wind speed depth etc. 3 x FF displays and windex;
NASA: Meteoman recording barograph, 160 hour scales and trends;
ANCHOR REMOTE: Hand held in forepeak locker, Not to cockpit;
HOUSE BATTERIES: 4 x 6V Westmarine 370 amp hour giving 740 amp hour at 12V;
BATTERY CHARGER: Magnum 2500W with remote to nav station. Old 'Trace ' 2512 still in situ;
INVERTER: Magnum 2500W;
BATTERY MANAGEMENT: Maxcharge 612 smart regulators for charging. Amp and volt gauges from 200 amp shunt;
RUDDER INDICATOR: On autopilot;
ENGINE HOUR METER: Yes. Also for generator engine;
SWITCH PANELS: Main DC and AC panel at Nav station. Auxilary in Engine room;
TV/DVD/CD: Kogan 12V TV / DVD /Blueray / media. Nav station DVD/radio with 4 Bose speakers (2 in Cabin 2 waterproof in cockpit).
INTERIOR/NAVIGATION LIGHTS:
7 x twin fluorescents converted to DVD;
4 x dining area dimmable halogen;
7 x reading lights;
Full AquaSignal set Power / Sail / Anchor / Tricolour switched at nav station;
Forespar foredeck light, spreader floodlights;
SOLAR PANELS:
2 x 55W wing panels;
3 x 80W on Arch;
2 x 150W semi flexible on Bimini top;
Tracer 40Amp MPPT controller + remote;
WIND GENERATOR: Not at present. Mast fitted on Arch;
WASHING MACHINE: Top loading Toshiba;
GAS DETECTOR: Yes;
FANS: 9 x Hella/cafrano2 speed fans in cabins;
OTHER: 18V rechargeable Vacuum cleaner;

ACCOMMODATION: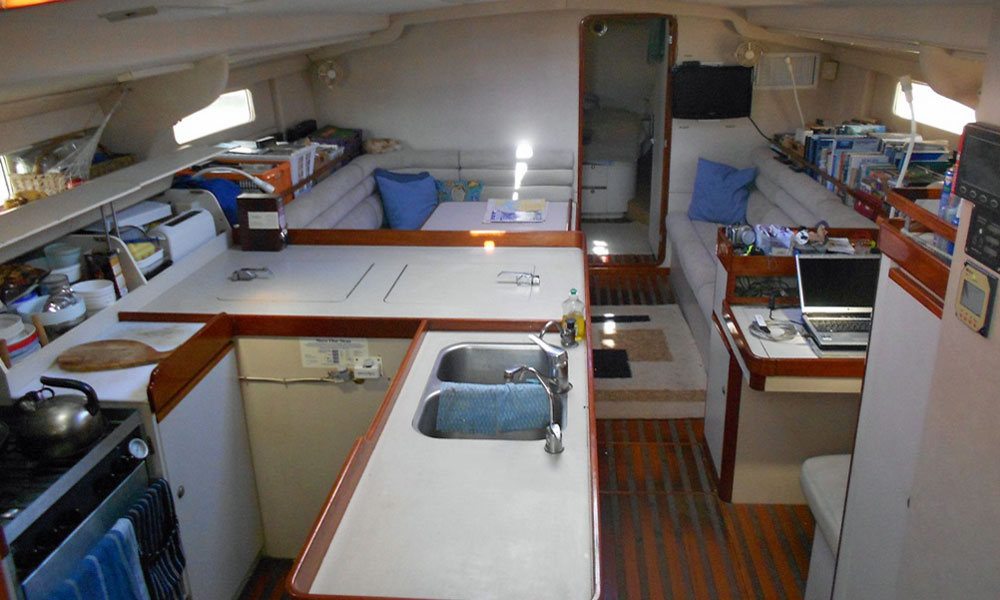 The interior, looking forward
---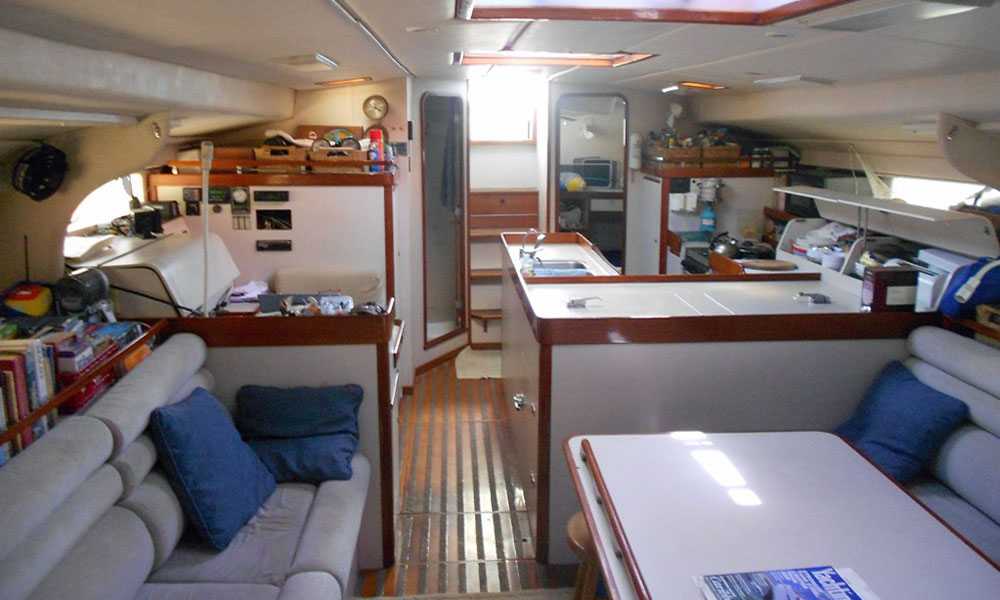 The interior, looking aft
---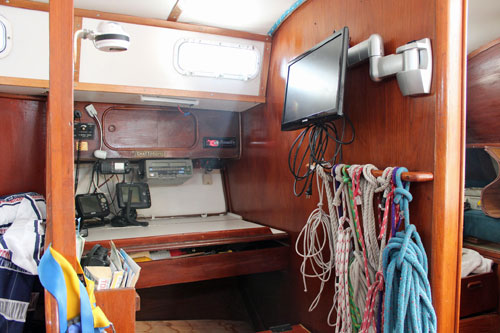 The navigation station
---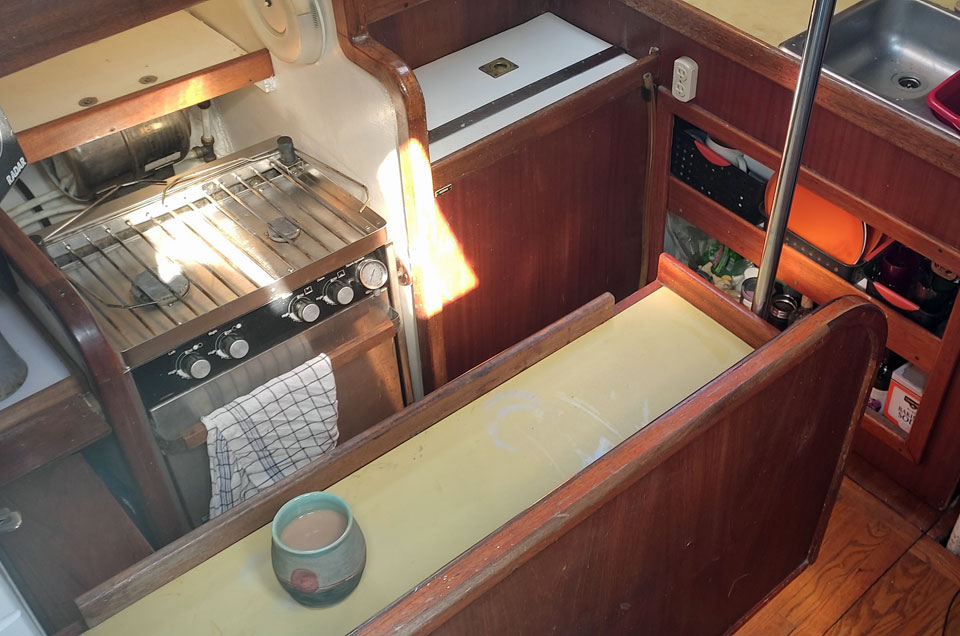 The galley
---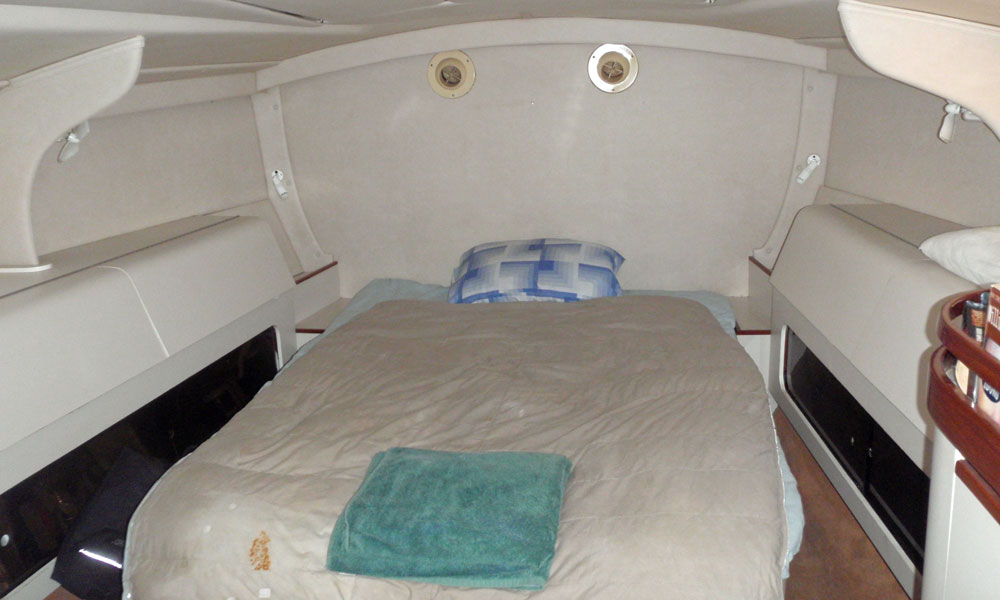 The Queen size bed in the forward cabin
---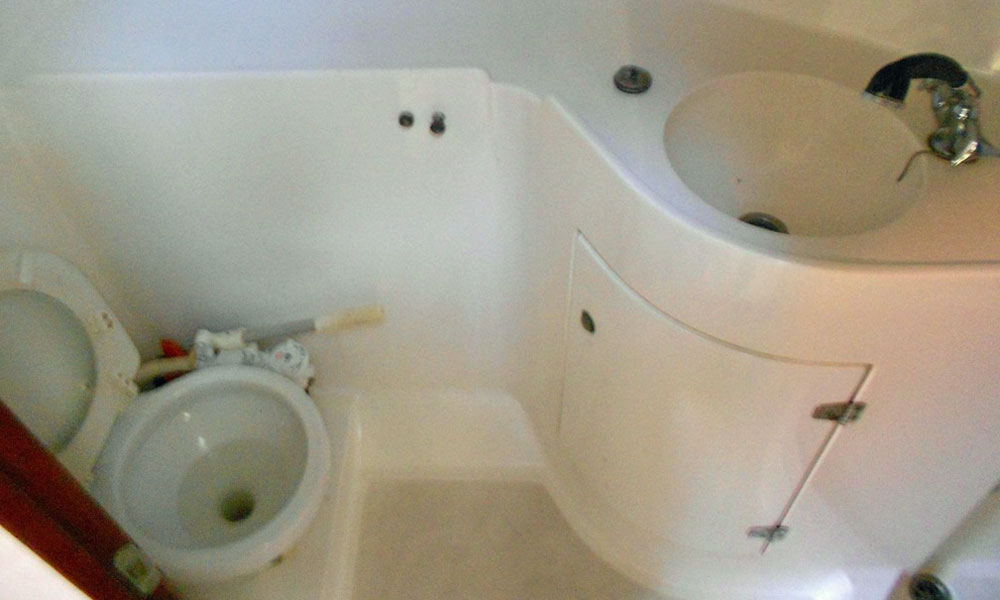 The heads
---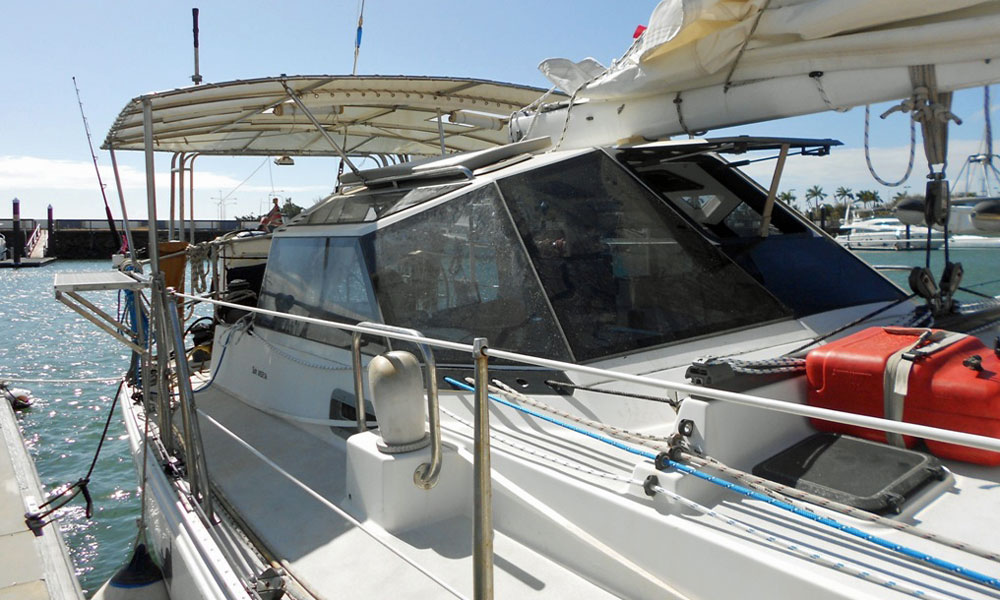 The doghouse
---
The cockpit
---
SALOON/DINETTE: 8ft L-shaped and straight seating, fixed Dining table with fiddles;
NAVIGATION AREA: Seat, chart table, instrument, radios, switch panel. Cockpit nav area has Plotter, GPS, Radio, scanning sonar;
CABINS/BERTHS:
Forward master cabin, queen bed with side access, side lockers, hanging wardrobes, basin mirror unit;
Saloon benches have lee cloths for use as comfortable bunks;
Crew 2 x bunks in stern cabin;
GALLEY STOVE/OVEN:
Force 10 60350 3 burner stove and oven;
Storm cooking by gimbled secure camping gas single burner;
110V Toaster;
Liquidiser;
Hand whisk;
Full crockery and cutlery set for 6;
Cooking bowls, pans tins, cutlery etc;
MICROWAVE: Phillips;
FRIDGE: Very large 2 door (top and side) fridge with own plate and Frigoboat w50 compressor (new 2013). Capacity in lower fridge is 300 beer cans (!);
FREEZER: Very deep top entry with own plate and Frigoboat w50 compressor (new 2013);
SINK: Polar double 2 x9.5" deep sink mixer tap. Seagull drinking water filter and side tap;
TOILETS: Raritan PH2 salt water;
SHOWERS: Shower room with wall and hand spray hot/cold on/off on handheld, heads and wash basin;
OTHER:
All grey water is pumped by macerator to engine room and above water line to fixed stand pipes;
Watertight bulkheads to sail locker and engine room.

RIGGING & SAILS:
MAST: Forespar, fractional rig with prebend and hydraulic backstay;
BOOM: Forespar, rigged for 3 x double reef and sail foot tensioning;
FURLERS: Foresail - Profurl LC42, line to cockpit, Code zero - Facnor FX4500 (2013) endless loop furling from cockpit;
STANDING RIGGING: Stainless steel 1x19 wire forged top, Norseman bottem. Backstay insulated aerial for HF;
RUNNING RIGGING: Running backstays. Most control lines are back to cockpit where there are 15 lewmar 12-14mm rope clutches;
SAIL INVENTORY:
Main - Doyle fully battened, 3 slab reef 2008; 
Foresails - 85% fractional: Furling 95% jib;
Code Zero - Full height self furling, hanked-on bracket on anchor launch rail. Dyneema halyard to cockpit;
Spinnaker - Triradial;
Inner forestay for hanked-on Working Jib or Storm Jib; 
Separate track on mast for Trysail;
Carbon-fibre pole for spinnaker or as whisker pole for foresail;

ABOVE DECKS:
ANCHOR WINDLASS: Maxwell 3500c electric;
ANCHORS: Bruce 80 Kg. Fortress 55 on stern arch, Fortress 45 and 85 as spares in forepeak;
CHAIN/ROPE: 80m of 10mm chain, 2013;
CLEATS/BOLLARDS: 3 x cleat forward, 2 midships, 2 stern;
STANCHIONS & LIFELINES: yes;
PUSH/PULPIT: 1.25" pipe pulpit, comprehensive pushpit with stern arch;
DAVITS: 1 x lightweight loop on arch;
SHEET WINCHES: 2 x Lewmar 54;
HALYARD WINCHES:
2 x lewmar 58 ( one electric for main halyard and sheet;
2 x Lewmar 46 auxilary in cockpit for running backstays or preventers;
2 x Lewmar 40 on mast for smaller halyards;
WINCH HANDLES: 5 on board;
TRACKS/CARS/BLOCKS: All Lewmar Ocean, 'T'Track Size 3 with 4 x Genoa cars, Main sheet beam track and traveller, size 3 turning blocks for Halyards and preventers, size 2 turning blocks for reefing etc;
BBQ: Force 10 on pushpit rail ( currntly stored below);
GAS BOTTLES: 2 x 9kg in deck locked with gas drain;
SWIM/BOARDING LADDER: Boarding from low stern platform. Hinge-down swim ladder;
DECK SHOWER: In locker at stern;
OTHER: Side gates in life lines for marina access. Tape security lines on deck for hank on from lifejackets.

GENERAL EQUIPMENT:
FRESH WATER PUMPS: Jabsco Par 4, plus spare;
WASH DOWN PUMPS: Use forward bilge pump;
BILGE PUMPS: 3 x Jabsco diaphragm pumps, waterwitch sensors and over depth alarm;
EMERGENCY PUMP: Large Edson manual pump mounted on a board, plus hoses;
SUMP PUMPS: Jabsco Macerator for all grey water;
HOT WATER CYLINDER: Yes, from engine or electric immersion heater;
AIR CONDITIONING: Window type for marina use only;
TENDER: New 2013 Zodiac 3.1m roll up with hard floor;
OUTBOARD: Evinrude 15HP, 2 x 20l gas tanks plus spare;
LIFERAFT: Givens lifebuoy for 6 person;
EPIRB: Yes x 2(one out of battery date but still operational);
FLARES: Yes;
BOSUNS CHAIR: Yes;
LIFE JACKETS: 6 x Crewsaver auto;
LIFE RINGS: 1 with line and also Lifesling, both mounted on pushpit;
FIRST AID KIT: Considerable collection;
FIRE EXTINGUISHERS: 3 x Halon in living areas, fireblanket to cooker;
BIMINI: This boat has large rigid Doghouse in aluminium and glass over front half of cockpit. Bimini over cockpit is full width and height from over doghouse to rear arch;
AWNINGS/COVERS/FENDERS/DOCK LINES: Yes, adequate;
COMPASS: Ritchie 'Powerdamp' with light on Edson pillar;
SPARES: Very comprehensive range held, including spare alternators, starter motors, winch motors, pumps etc etc;
OTHER:
2 x Dive tanks and equipment sets;
1 x 'Frenzy' moulded kayak and paddler;
1 x Sevror inflatable divers kayak and paddle;
Aluminium telescopic passerell gangway with fittings for fore or aft and handrail.

THE PRICE
ASKING PRICE: $295,000

MORE INFORMATION:
---
You are here: Sailboat Cruising > Sailboats for Sale > Bluewater Sailboat for Sale
---
---
Aug 19, 17 03:21 AM

SORRY, NOW SOLD! DETAILS Designer: Phillipe Briand Builder:Beneteau LOA:10,31m Beam: 3,43 m Draft: 1,57m Displacement:4800kg Ballast: 1600kg

Aug 17, 17 03:01 PM

All about sloops, ketches, yawls, cutters, schooners, gaffers and other types of sailboats. Aft and centre cockpit sailboats, pilothouse sailboats, weekender sailboats

Aug 16, 17 07:30 AM

Here's where people with sailing equipment for sale advertise their stuff entirely free of charge. If you're looking for used sailing gear or other used boating accessories, here's where to find it!
---