Hi


The Sailboat Cruiser
The Sailboat Cruiser brings you the news, views and general musings of, well, me - a sailboat cruiser.
If you like this newsletter, please let your friends know about it and do both them and me a big favour.
If a friend did forward this to you and if you like what you read, please subscribe by visiting...
---
Issue #2, October 24th, 2013
Sailboats, Boatshows - and Ferraris!
No sailing for the skipper and crew (Mary) of 'Alacazam' this past month, but plenty of sailboats. We'd taken a 3 week trip (courtesy of British Airways - nothing goes to windward like a 747) to the USA to visit family and friends, all of which were of course, sailors.

As a result, this issue of The Sailboat Cruiser takes the form of a personal blog which may not please everyone, but content will return to more cruiser-related stuff next month - so please stick with us.
San Francisco
First stop after a 11 hour flight from the UK was in San Francisco where we arrived just in time to miss the final thrilling race of the America's Cup, in which Oracle Team USA beat Emirates Team New Zealand to take the series (and retain the cup) by 9 points to 8.


A couple of days later, with jet-lag pretty much beat, we thought we'd take a look at the two raceboats, but no luck - they'd already been dismantled and packed away.

However there were some very impressive boats racing in San Francisco Bay, which I later found out was the closing stages of the Rolex Big Boat Series.

But after a few days of doing the tourist thing - Alcatraz, the Golden Gate, riding the Cable Cars, Fisherman's Walk, Pier 39 etc - it was time to move on...
---
Portland, Oregan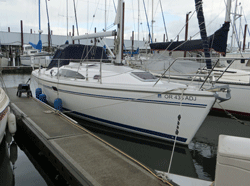 With the delights of San Francisco astern we flew north to Portland, Oregan to meet up with my brother Doug and his wife JoNell.

Their boat, shown here, is a Catalina 30 which is berthed on the Columbia River. Any thoughts of sailing though, were dashed by an absence of wind and a deluge of biblical proportions.

I fully expected some guy with a long beard and a boat full of animals to pitch up at any moment...
Along the Portland stretch of the river I was fascinated to see that there were whole communities of floating homes, ideal residencies for boaters and fishermen.

These were not the barge-type houseboats that we see along London's River Thames, but proper two-storey houses built on rafts of timber, with sailboats, powerboats, fishing boats and runabouts moored alongside.

As a lifestyle it seemed to have a lot going for it...
---
Chicago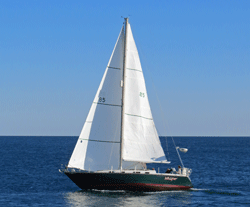 After a week or so we sadly bid farewell to Doug and his family and flew on to Chicago, courtesy of Alaska Airways, to meet our Caribbean cruising pals Marty and Deb.

It wasn't long before we were afloat on Lake Michegan, albeit on a tourist boat, looking somewhat enviously at a nearby yacht on this perfect sailing day.

It was difficult to believe that this was a fully enclosed freshwater lake, and not the open sea.
---
Annapolis
Next stop, after a long drive east with Marty and Deb - Bob and Marsha's place at Annapolis. We had met up some years ago when anchored close to their 46 foot ketch in Trois Ilet, Martinique and had remained firm friends ever since.


Annapolis is on the glorious Chesapeake Bay.

Miles and miles of sheltered water - is this the perfect cruising ground?

Well, definitely not year-round it isn't, as it's too darn cold in winter and overly hot, humid and buggy in the summer. But during spring and autumn, it's close to perfect.

Maybe, we'll sail 'Alacazam' up here one day.
---
The Boat Show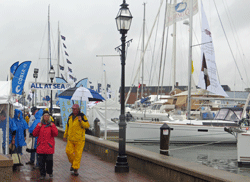 By a great stroke of luck, the Annapolis Sailboat Show had just opened, the Powerboat Show having been on the previous week.

As America's oldest and largest boat show this was something not to be missed.

Would my 'Yachting Journalist Association' membership card get me in free? Yes! So it seemed appropriate to stand my less fortunate companions lunch and a few beers.

The Show was a somewhat wet affair - in fact it was an extremely wet affair initially, although things did improve for the final days of the show.

There were more than 180 sailboats afloat on the pontoons - a fascinating collection of multihulls and monohulls, together with a fair sprinkling of more modestly priced dayboats.

Sadly the inclement weather discouraged all but a somewhat cursory view of these.

Along with most other visitors we headed off soggily towards the covered display tents...
---
The Flexible Furler
You'll probably be aware of my disdain for inmast and inboom mainsail roller reefing systems, so the various alternatives of these expensive devices didn't get my close attention at the show.

But furling headsails, not being contained within a spar, are a different kettle of fish, which is why I was drawn to CDI Cruising Design Inc's stand.

They've designed a flexible furler system for an asymmetric spinnaker on sailboats with headstay lengths of not more than 53 feet. Unlike earlier systems where the spinnaker furled around its own kevlar-taped luff, this one is much like a standard jib furling gear, except that the foil is made of a soft, grippy synthetic material set around a rope halyard.

On 'Alacazam' we use a snuffer (or sock) to launch our asymmetric and to douse it when it's time to get rid of it. It's not a difficult operation, but tedious enough to make you think twice about getting the beast out of its bag. Not so with a spinnaker furler, you can treat it almost like just another headsail.

When unfurled it flies free of the furler, being restrained only at the head and tack. Pulling on the the endless furling line rotates the foil which initially takes in the head and tack and progressively winds in the rest of the sail. If you think you might need it again as the wind frees, it can be left there, forward of the genoa.

Otherwise the whole shebang can be lowered on the halyard and bagged for another day. Clever stuff - I want one!
---
No More Cotter Pins!
Another gizmo that caught my eye was the Jurgan Tool Free Clevis.

This neat little device removes the need for cotter pins (that's split pins in the UK) and facilitates the rapid and tool-free removal of clevis pins.

This eliminates the need to tape-up the toggles on your chainplates, and would be particularly useful when removing your rig. Owners of trailerable sailboats take note!

The man on the stand spend some time demonstrating it to me. It seemed to be a very nicely engineered item that worked exactly as the brochure said it would.
---
A Quieter 'Mr Noisy'
We've got an 'AirX' windcharger mounted on 'Alacazam's' stern gantry - and very efficient it is too. But it's noisy; very noisy when the wind gets up. So much so that it becomes unbearable in the aft cabin (where we sleep at anchor) in anything more than a moderate breeze.

It's not called 'Mr Noisy' for nothing.

Fortunately it has an 'off' switch, which we use a lot. Rather defeats the object though, don't you think?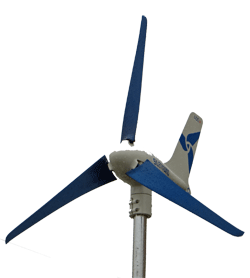 I was talking to Bob Everhard of eMarine Systems about this.

"What you need", he said, "is the 'Air Breeze' wind charger".

This is a development of the 'AirX' which provides more power at low speed and less in more vigorous winds - and it makes a whole lot less noise.

"But", Bob went on to say, "there is an alternative solution".

It turns out the that the blue blades from the 'Silentwind' wind charger fit the 'AirX' and reduce the noise emission by 70%.

I might just go down that route. If you wand to do the same, you can get them at eMarine System's website.
---
And the Ferrari?
I'd mentioned to Marsha over lunch that I was interested in old cars.

"Our neighbour has got one in his garage, a red one" she said.

"Could I see it?" I asked.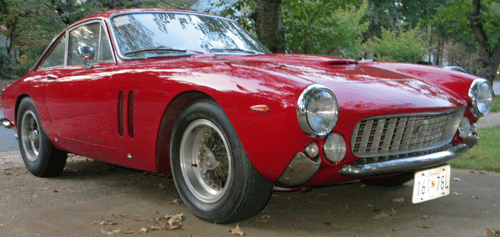 Well it turned out not to be just any old red car, but a very special one indeed. A 1963 Ferrari 250 Lusso. 3 litres of V12 perfection. The owner has had it since 1975 and maintains it himself.

"Fancy a drive?" he said. Silly question...

The roar of that classic engine on full song is something that will stay with me for a very long time - and if envy is a sin I'm destined to spend eternity in a very hot climate indeed!
---
And Finally...
Now back in the UK, more mundane matters are to be dealt with. In particular, getting my Drascombe Lugger 'Skylark' off her River Tamar mooring and laid-up ashore for the winter.

And talking of laying-up, that's exactly what we'll be talking about in next month's issue of The Sailboat Cruiser.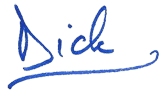 Dick McClary
---