Hi


The Sailboat Cruiser
The Sailboat Cruiser is the free monthly newsletter of sailboat-cruising.com. and sets out to bring you the news, views and general musings of, well, me - a sailboat cruiser, and owner of sailboat-cruising.com.
If you like this newsletter, please do your friends and me a big favour and "pay it forward".
If a friend did forward this to you and you like what you read, please subscribe by visiting...
---
Issue #8 May 2014
Laying-Up Ashore for the Caribbean Hurricane Season
It's that time again. Most of us 'part-time' Caribbean liveaboards have already scuttled back to our shoreside homes, leaving our boats to fend for themselves through the hurricane season.

Having done all we can to protect them, with fingers crossed we are now frequent - and nervous - visitors to The National Hurricane Center website for reassurance that all is well.

You see, there's an old mariner's poem about Caribbean hurricanes:

June, too soon;
July, stand by;
August, look out you must;
September, remember;
October, all over.

Well, that particular old salt was a tad optimistic. June most certainly isn't 'too soon' (Caribbean hurricanes can occur as early as May) - and it's not necessarily 'all over' by October (they have struck in November).

Which is why Alacazam is already layed up ashore at Jolly Harbour, Antigua in preparation for the 2014 Caribbean Hurricane Season.

I feel particularly well qualified to talk about boat storage for the Caribbean Hurricane Season, as Alacazam was given a severe smack by hurricane Ivan when it hit Grenada in 2004.
A Sorry Sight - Alacazam Knocked Over By Ivan in 2004
She was one of over a hundred yachts knocked over in Spice Island Marine at the south end of the island - all but a handful of yachts suffered a similar fate. Alacazam was lucky, her immensely strong wood-epoxy construction saved her from terminal damage and she was repaired to as good as new.
We felt fairly confident in laying-up in Grenada as 'hurricanes don't go that far south'. Well now we know better, and now prepare her to give her the very best chance of surviving a hurricane. Here's what we do...
We make sure we lay-up our boat in a yard properly set up for long-term storage throughout the hurricane season. Generally this means one with good security, a well-drained hardstanding with ground-anchor fixtures and robust one-piece cradles;
All canvas - dodgers, sprayhood, weather cloths, biminis, sun awnings etc - are taken off the boat and stored below;
The boom is removed and lashed on deck. The mainsheet, kicker and all running rigging (except halyards) is removed and stored below;
Halyards and topping lifts are secured to robust deck fittings (cleats and other fittings with extra strong backing plates) and tensioned to provide additional support for the mast;
The boat is then strapped to the ground anchors with properly tensioned heavy-duty webbing straps
And that's all in addittion to these 'normal' laying-up arrangements...
---
Outboard Kill-Cords
Do you use your outboard motor kill-cord when motoring between ship and shore?


Here's one unfortunate fellow that didn't, but wished he had.

I used to be a bit lackadaisical about this, but not any more - particularly after seeing this horrendous pic that was doing the rounds on the internet a couple of weeks ago.

If you're on your own in the dinghy it would be crazy not to hook up to the kill cord, but if there're two or more of you (with someone capable of immediately taking over the controls if you fall out) it may be not quite so important.
---
Wild Weather Tactics
When things get altogether unpleasant offshore in terms of wind and sea, many experienced sailors will deploy a parachute sea anchor from the bow or tow a drogue astern. Essentially, the difference between the two is:~


The parachute sea anchor will stop the boat dead in the water and leave her lying head to wind and sea.

The drogue will slow the boat down while allowing the helmsman some degree of steering capability as she careers down the waves.
There's more about drogues and parachute sea anchors here, but the real point of all this is to let you know that Fergus Quinlan has a secondhand - but unused - parachute sea anchor for sale.
But if you were thinking of making Mike Streets an offer for his Monitor Windvane Self-Steering Gear - you're too late!
---
Punch Drunk?
In as earlier issue of The Sailboat Cruiser I set out the ingredients for the Sundowner, a rum punch proven to enhance the appearance of the elusive green flash as the sun slips below the horizon. It went down rather well apparently, according to the comments you submitted. So much so that I thought a few guidelines on the subject might be appropriate.

Now I don't know if the old salt who penned the erroneous ditty about the likelihood of hurricanes is similarly responsible for this rum punch recipe but, if he was, this time he was more reliably informed:~

One part sour,
Two parts sweet,
Three parts strong, and
Four parts weak

This mnemonic gives plenty of scope for experimentation, both in terms of the ingredients and the ratios of one part to the other. My suggestions for the ingredients, regularly tried and tested with enthusiasm on Alacazam, are:~
Sour ~ lime juice preferably, or lemon juice. A dash of angostura bitters is optional.
Sweet ~ Sugar cane or grenadine syrup
Strong ~ Dark or white rum - or a mixture of both.
Weak ~ Various fruit juices such as passion fruit, papaya, pineapple, orange or grapefruit diluted with a little water or tonic. Alternatively, for rather more of a kick (as in 'like a mule', try Jamaican Ginger Beer...
Pour over ice, grate fresh nutmeg over the top, add a wedge of lime – and enjoy. Cheers!
---
And finally...
If you know anyone who might be interested in the contents of this newsletter, feel free to email it to them. It's not secret!

And this newsletter can be a two-way thing. If you've read anything you'd like to comment on, or perhaps there's an event you'd like to see announced in a future newsletter, then please let me know.
---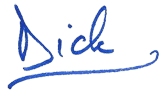 Dick McClary
Go to Sailboat-Cruising.com's Home Page...
---