Hi


The Sailboat Cruiser
The Sailboat Cruiser brings you the news, views and general musings of, well, me - a sailboat cruiser.
If you like this newsletter, please let your friends know about it and do both them and me a big favour.
If a friend did forward this to you and if you like what you read, please subscribe by visiting...
---
Issue #3, November 19th, 2013
In last month's issue, whilst reporting on a new spinnaker furling device I spotted at the Annapolis Boat Show, I let slip my distrust of in-mast furling mainsails.

Well, I didn't get away with that for very long.

Several of you defended these systems in a most robust manner - none more so than Brian Mistrot.

Read what Brian has to say about in-mast furling systems here...
---
Don't pass this on, but...
When you hear these words, you can be sure you're about to hear some scuttlebutt - or gossip.

But where did the term 'scuttlebutt' originate?

In days bygone, drinking-water on a sailing vessel was kept in wooden barrels, or butts. When it was time to open a new one, it was scuttled by driving a hole into it. It then became a 'scuttled butt'. When sailors gathered around it they were prone to exchange rumours and gossip, giving rise to the term 'scuttlebutt'.

More nautical terms and expressions...
---
Thoughtless behaviour?
Now I'm a fairly tolerant sort of bloke, but some things are guaranteed to generate the red mist - and this is one of them...

Cruisers that lock their dinghies to a dock on a short painter, making it difficult - or impossible - for anyone else to get ashore!

Why do they do this? They must know that they're inconveniencing others - or are they just plain stupid?
---
A Bit of a Bind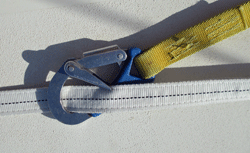 Going forward on a sailboat you should always be hooked on. Not to the guardwires, but to a jackstay that runs the full length of the boat.

I prefer webbing jackstays rather than the plastic coated wire alternative on my side decks as these don't roll around underfoot.

But if you use Gibb safety hooks on the end of your harness tether, the problem shown here can occur.

The webbing strap gets caught in spring-loaded snap on the hook, locking the two together, and the harder you pull it the tighter it gets. The only way to clear it is to get down on your hands and knees and ease the webbing strap clear of the snap.

This is highly inconvenient at best, and can be downright dangerous in lively conditions...
The solution though, is simple.

Just slide a heavy duty stainless steel welded ring on the jackstay as shown here, and attach the Gibb hook to that.

Problem solved!




---
Ever had your anchor come up like this?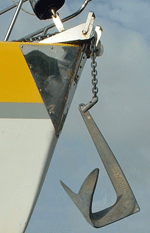 I've always been a little doubtful of these anchor swivels, but I finally decided to give one a go after my anchor arrived in the bow roller the wrong way round just one time too many.

I was delighted with my purchase - until this happened.

It happens when the swivel slides forward in the slot in the anchor shank. Then, when the load comes on it, it locks in the position shown here - which is not good news at all!

The anchor swivel is now having to deal with a high oblique load that it wasn't designed to take.

The solution though, is once again simple. Just put an anchor shackle between the anchor and the swivel and the problem won't occur.
---
Advertise your boat for free!
We've just set up a facility on the website where sailboat owners can advertise their boats for free. Here's the first one, a fully equipped Moody 376.
Like it's predecessor, the Moody 37, the 376 was designed by Bill Dixon of Angus Primrose Ltd, built by Marine Projects in Plymouth and marketed by A H Moody & Son of Swanwick, England. The first 376 was launched in 1987 and remained in production until 1991.

This moderate displacement, centre-cockpit, fin and skeg configuration sailboat was built to high standards and is a highly-regarded cruising boat.
---
Hauling Out for the Winter?
It's getting distinctly chilly here in the UK. Windy too, and wet.

Most cruising sailors have already hauled their boats out for the winter lay-up but for a few hardy souls who are intent on chasing the silverware in the winter racing series. Brrrr....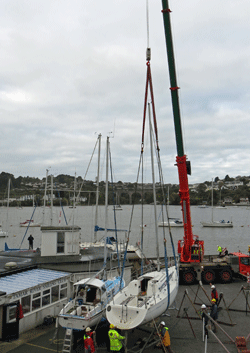 With Alacazam laid-up ashore in Antigua - and likely to remain that way for a while due to my commitments here in the UK - I was able to play a small part in helping my pals in the Tamar River Sailing Club lay up their boats.

As always when boaters get together at this time of the year, there was a lively exchange of laying-up tips and techniques...
Seacocks

Whilst these will be working perfectly (or should be) right now, they probably won't be next season unless you be nice to them now. Here's how...

Have one person inside the hull operating the seacock, and another outside armed with a can of non-petroleum based aerosol penetrating lubricant.

Then with the seacock open, spray a load of oil up through the seacock into the pipe above, then loudly shout "Close!"

Leave, for the time being, that particular seacock and move on to the next one. This will allow the oil to run onto the barrel of the seacock and do its penetrating stuff.

When all seacocks have been dealt with in this way, go back to the first one and open and close it several times. Providing it operates freely, leave it closed and move on to the next one. For any that don't open and close easily, repeat the process until it does.

Removing Thru-Hulls

Several skippers had removed their thru' hull log impeller and depth sounder transducer. And for very good reason because it improves ventilation and, if rainwater does get below, it will drain out.

Draining the Exhaust Waterlock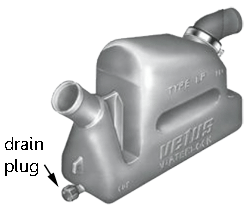 Many skippers question the need for this, but they're taking a risk if they don't do it.

Why take the risk of the water within freezing and splitting the casing of the waterlock? If it does, the odds are you won't find out about it until you relaunch the boat.

It's easy to drain - just remove the plug!
---
And finally...
If you know anyone who might be interested in the contents of this newsletter, feel free to email it to them. It's not secret!

And this newsletter can be a two-way thing. If you've read anything you'd like to comment on, or perhaps there's an event you'd like to see announced in a future newsletter, then...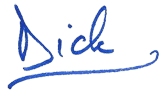 Dick McClary


Go to Sailboat-Cruising.com's Home Page...
---