Hi


The Sailboat Cruiser
The Sailboat Cruiser is the free monthly newsletter of sailboat-cruising.com and sets out to bring you the news, views and general musings of, well, me - a sailboat cruiser, and owner of the website.
If you like this newsletter, please feel free to email it to your friends.
If one of your friends did forward this to you and you like what you read, please subscribe by visiting...
---
Issue #10 - July 2014
When Mary has a birthday with a zero on the end, I'm expected to take her somewhere special - or I'm in a bunch of trouble. Last time it was New York. With her birthday being on the 3rd of July, I was surprised and delighted at the firework display the Mayor put on for her, but how come it was a day late?

This year was another 'o' birthday, so we took a flight north to the Shetland Islands - several flights in fact before we landed at Sumburgh.

Shetland, 100 miles north of mainland Scotland, straddles the 60th parallel, but with its proud Viking heritage its people are closer in spirit to Scandinavia than Scotland. At these latitudes it doesn't get properly dark this time of the year - and vice-versa in winter.

In the summer months, Shetland plays host to over one million breeding seabirds - fulmars, shearwaters, storm petrels, gannets, cormorants, shags, skuas, gulls, terns, guillimots, razorbills and the absolutely delightful puffins.

We both loved this wild, remote place - and will be going back.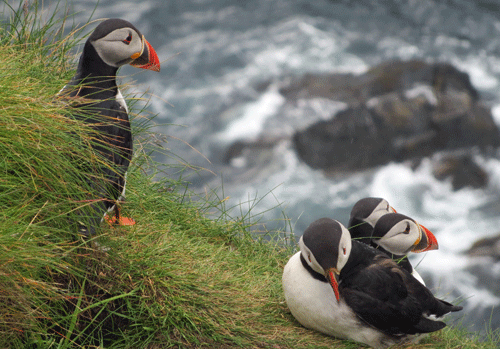 Puffins at Sumburgh Head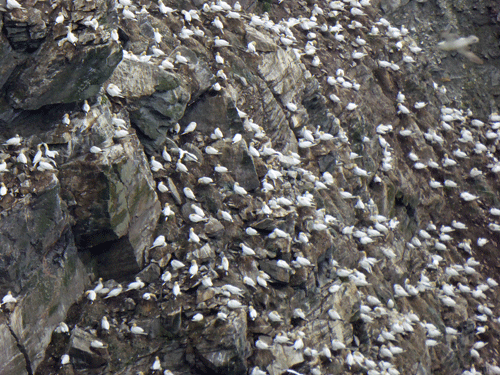 Just a few of the 30,000+ gannets nesting at Hermaness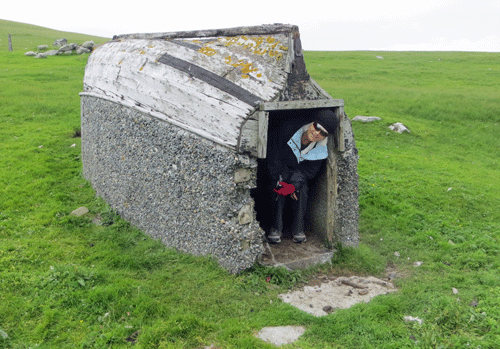 A boat recycled to provide shelter for sheep (and Mary!)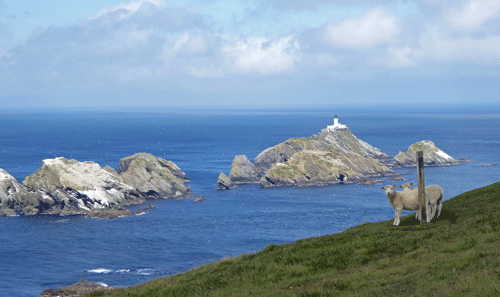 The delightfully named Muckle Flugga lighthouse, constructed in 1858 on the most northerly outpost of the British Isles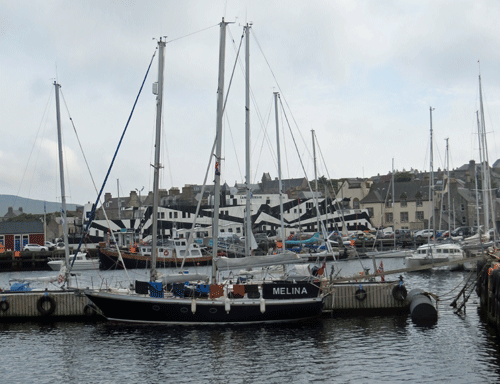 Cruising yachts in Lerwick harbour


Returning to our Plymouth home at the other end of the British Isles we found that summer had really kicked in - it was positively tropical. Well nearly anyway. And in this type of weather, given the choice between banging away on the computer to get this newsletter out and being out on the water...
Well, what would you have done?
All this is my longwinded way of explaining why this July edition of The Sailboat Cruiser has only just found its way to your inbox in the appropriate month.
With our 'proper' cruising sailboat Alacazam snugged down for the hurricane season in Antigua, being out on the water means aboard my 18'6" Drascombe Lugger.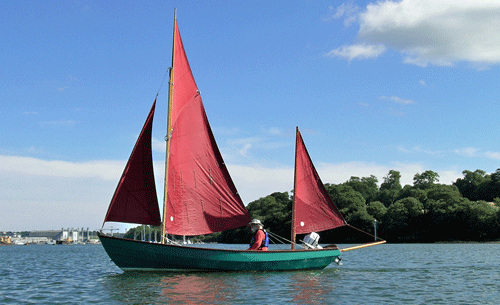 'Skylark' - pure, simple, sailing fun!
'Skylark' as she's called is eminent proof that you don't have to part with a pile of cash to have a lot of fun on the water. We sail (and fish of course) on Devon's beautiful Tamar River and Plymouth Sound, venturing along the coast when conditions are reasonably settled - like now.
---
Take a Look at What's Happening in Your Home Cruising Ground
Or anywhere else in the world for that matter. Here's mine - currently Plymouth Sound and the Tidal Reaches of the River Tamar and the Lynher.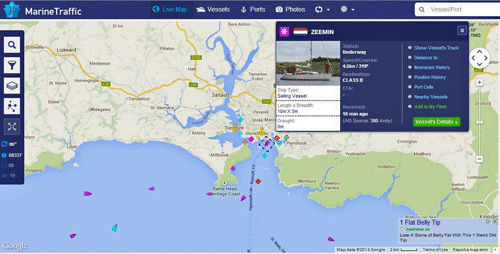 The Dutch sloop 'Zeemin' heads out of Plymouth Sound
To see yours, go to marinetraffic.com and zoom in.
Thanks to the magic of AIS (Automated Identification System) you'll see icons representing all vessels equipped with Marine AIS Transponder in real time.
Clicking on any vessel's icon will flash up info about the vessel - name, status (at anchor or underway), type of craft, length, breadth, draft, course, destination and ETA.

Whilst on the subject of fascinating websites, have a look at flightradar24.com, which is like an AIS for aircraft.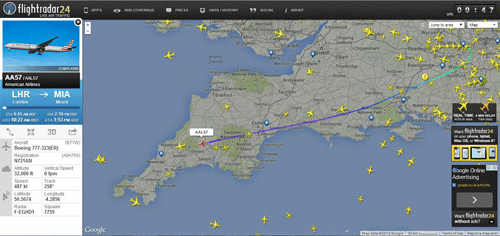 American Airlines flight AA57, London to Miami
Nothing whatsoever to do with sailing, but if, like me, you look up at a plane's contrail in the sky and wonder where it's going, you'll like this. Not only do you get the plane's destination and ETA, you'll see where it took off from, the type of plane, the airline, speed, altitude and track. Great stuff!
---
Cruising Boats and Equipment For Sale
Three very different types of boats offered for sale by their owners on sailboat.cruising.com this month - a cruiser/racer, a classic cruiser from the 1980's and a modern production cruising catamaran.

Just click on the images to see the specifications and asking price...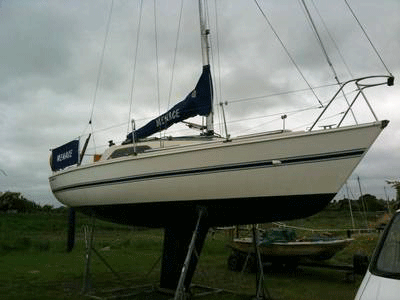 'Menace' - a Hunter Impala 26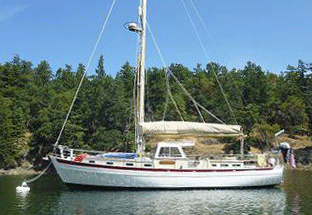 A Salmo Salar 40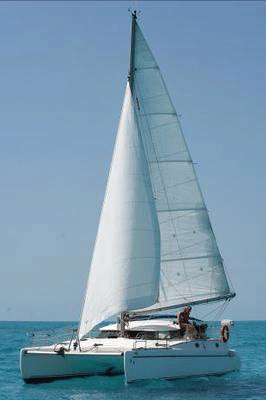 'Irie' - A Fountaine Pajot Tobago 35


And a Chance to Update your Safety Equipment...
Unable to get a chart license for his sailboat, Chris now has a bunch of surplus safety gear he'd like to get rid of. More details...
---
Back to the Caribbean!
Well not yet for us. That can wait until the Hurricane season is over. But one of the anchorages I always look forward to revisiting is Tyrrel Bay in Carriacou, a dependancy of Grenada.

Why is this a favourite anchorage? I'll let the images do the talking...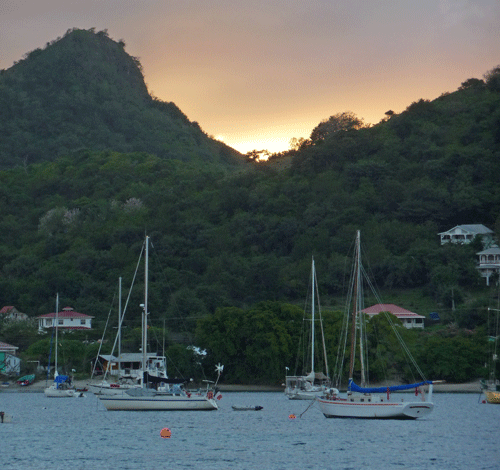 The anchorage at dawn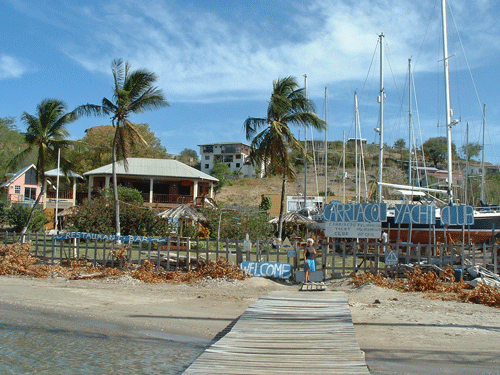 The Yacht Club and Boatyard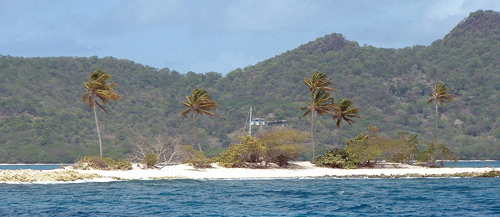 The nearby 'Sandy Island'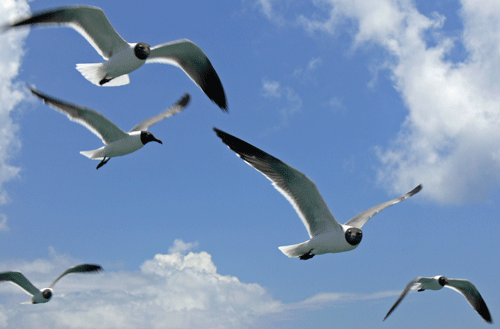 The Laughing Gulls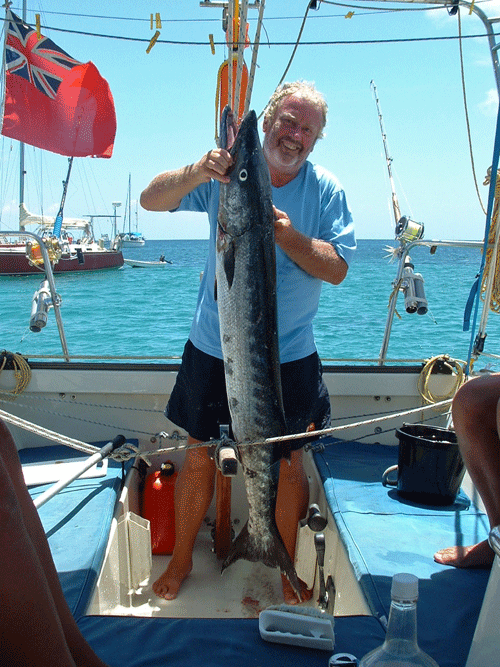 The great fishing!
---
And finally...
If you know anyone who might be interested in the contents of this newsletter, feel free to email it to them. It's not secret!

And this newsletter can be a two-way thing. If you've read anything you'd like to comment on, or perhaps there's an event you'd like to see announced in a future newsletter, then please let me know.

See you next month!
---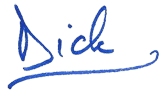 Dick McClary
Go to Sailboat-Cruising.com's Home Page...
---