Hi


The Sailboat Cruiser
The Sailboat Cruiser is the free monthly newsletter of sailboat-cruising.com. and sets out to bring you the news, views and general musings of, well, me - a sailboat cruiser, and owner of sailboat-cruising.com.
If you like this newsletter, please do your friends and me a big favour and "pay it forward".
If a friend did forward this to you and you like what you read, please subscribe by visiting...
---
Issue #7 April 2014
First let me start this newsletter by wishing you all a Very Happy Easter!
The Start of a New Sailing Season!
With 'Alacazam' safely (I hope) tucked up ashore in Antigua in readiness for the hurricane season, our attention turns to the more northern latitudes where a new season in more temperate waters finally beckons.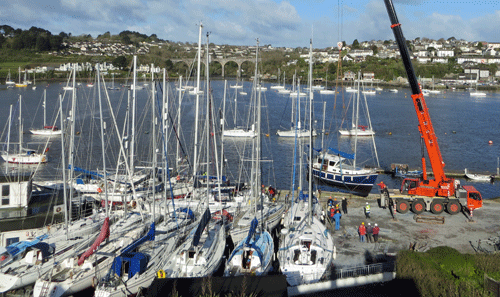 Craning in at The Tamar River Sailing Club


It's difficult to believe that a few short weeks ago winds in excess of 80mph barreled up the Devon's River Tamar where boats at my local sailing club are now being craned in for a new season of adventure.

Many of our club members will be happy cruising along the UK's south-west coastline visiting such exquisite and historic harbours as Dartmouth, Salcombe, Newton Ferrers, Looe, Polperro, Fowey and Falmouth.

Others will cross the English Channel to the Channel Islands and the north coast of France, whilst an adventurous few will brave the Channel du Four, cross the Bay of Biscay and explore the coast of Northern Spain and Portugal.

One of our friends will not be so fortunate though, having lost his boat Phoenix when she sank on her moorings in a calm period between the winter storms.



s/y Phoenix, sadly on her way to the bottom of the Tamar


Paul, her owner, explained to me that she was a 'windfall yacht' from World War 2.

"What's a windfall yacht?" I asked.

These yachts were built in Germany in the 1930s to provide training for the German armed services. They were owned by the German Government and after the war were taken by the British Government as reparations.

The majority were then sailed to England, where they were promptly dubbed 'Windfalls' and initially allocated to Navy, Army and Air Force of the British and Commonwealth Services.

The yachts varied in size from 85 ft to 32 ft and included some very fine large craft. Virtually all are now under private ownership, sailing as classic boats and much admired at classic boat rallies or Tall Ships Races.

But here's the spooky bit...

The very next day I read an article in Yachting Monthly. It caught my eye because the book it mentioned had been instrumental in germinating the seed of my dream to go long-distance cruising. Here's an adapted extract from the article:~

"A famous cruising couple who wrote a seminal book on Blue Water Sailing - Sell Up and Sail - have swallowed the anchor. Bill and Laurel Cooper, now both 86, who some 38 years ago, sold their house to finance their blue water dream have reluctantly come ashore.

In the late 1980's, while based in Malta, Bill and Laurel set out on their first cruise from Malta to Sicily aboard s/y 'Phoenix', a Windfall Yacht". Quite a coincidence!
---
Hydraulic Wheel Steering and Windvane Gears
I received the following email after last month's edition of this newsletter:~

I am changing the seals in my hydraulic wheel helm. I have a Monitor windvane steering system and want to "tighten" up the sensitivity to the system. Is there a booster or some means of making good connectivity to the windvane?

I had no good news for the unfortunate owner, as Scanmar International, the manufacturers of the Monitor Windvane Self-Steering Gear say

"A servo-pendulum gear like the Monitor cannot be connected to the wheel if the boat has hydraulic steering. The reason: there is slippage in the hydraulic and often too many turns lock to lock."

Wow, that's a real blow. If he'd had cable linkage the Monitor would have been ideal. But Scanmar International went on the say

"With a bypass system on the hydraulic pump, the lines can be led directly to a permanent emergency tiller on deck and the tiller can face either backwards or forwards. Such a system is excellent provided that it does not interfere with the interior layout of the boat. (Scanmar's SAYE'S RIG is often the best windvane for large, midship cockpit boats with hydraulic steering.)"

And this is probably a good point to mention that Mike Streets still has a Monitor Self-Steering Gear for sale. You can find out all about it right here...
---
Dutch Sailor Posted as Missing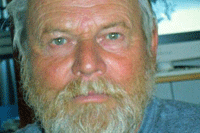 When I started drafting this month's issue of The Sailboat Cruiser, concerns were being raised for the 70 year old single-hander Sietse Hagen who had left Tenerife in the Canary Islands en route for Barbados.

Sietse Hagen - a very experienced sailor - was sailing his 27ft Gib'Sea Flush Poker named 'Pokerface', small but well prepared for long voyages.

Sadly, in the last few days a Dutch ship has discovered 'Pokerface' in mid-Atlantic. The crew were unable to raise Mr Hagen on VHF and, on boarding the heavily damaged yacht, found no trace of the skipper. The drifting yacht was considered a hazard to shipping and was sunk on grounds of safety.
---
Boat Security
My comments on boat security in last month's newsletter prompted a deal of comment. Here's just a few of them...

I can imagine the number of emails you must have received about the "guns aboard" topic. For many Americans the issue is very emotional and reason flies out the window. There are many non-lethal steps one can take aboard in a risky anchorage at night, aside from the bunker approach. One is stolen from Joshua Slocum (who did also carry a rifle), who spread tacks on his deck at night to deter barefoot criminals. I'd hate to clean up all the tacks, so maybe a good can of aerosol bear-spray would be best. Good range, non-lethal, and you probably wouldn't have to declare it.

Mike

........................


I was very interested in your security article and every time I read one in the same vain I wonder what I would do. I am a retired soldier having served for nearly 30 years and was required to qualify as a marksman every six moths. Having said that, I would not advocate having a firearm to protect yourself at sea. My thought was to set up a security light that would activate on entering the cockpit. I have even toyed with the ideas of an electric fence on the top lifeline. Even polyline cast out around the boat to foul the props of harassing motorboats could work. I would be interested to hear other ideas for non violent early warning devices.

Cheers, Wayne, 'Daily Rate', Brisbane, Australia

........................


When cruising and living "on the hook" take the time to work out your safety procedures and stick to them. These were our procedures. We sailed the Caribbean for 7 years without a problem. Use these if you like them, modify them if you don't - but don't leave your safety and security to chance.

1. Use a locked companionway grille at night. A mosquito net can be installed inside this if you wish. We don't understand why cruisers refuse to lock themselves into their yachts and yet they would not hesitate to lock themselves into their houses. We had our grille made from stainless steel bar. It's slotted right in as a replacement for washboards.

2. Secure hatches internally with wire stays. These allow sufficient opening for ventilation but prevent an intruder from gaining access to your boat.

3. Use a cruisers night-time security net on VHF. Typically Channel 11 is used so that there is no unwanted VHF "chatter" during the night.

4. Have a compressed air fog horn and a powerful spotlight readily available.

5. Never be the single yacht in an anchorage overnight, particularly one adjacent to a town.

6. Never be the yacht anchored closest to the shore. Night intruders will often attempt to rob the nearest yacht to shore by swimming out or perhaps using a surf board.

7. Use intelligence wisely from SSB security nets and web databases.

8. Choose your weapon and know how to use it. We are wholly opposed to the use of firearms and instead chose a CS gas spray. This will disable an intruder from a distance, and is non lethal.

10. Ask the boat boys if there are any bad guys in the area. Make friends with them, you can help each other. For example, in one notorious anchorage the boat boys told us that it was currently safe as the bad guys were in prison.

11. Do not draw attention to yourself ashore and do not make enemies. Be anonymous. Making enemies can and has, led to violent retribution. Again befriend the boat boys. Who knows, if you buy some fruit off them they might just tell the bad guys to leave you alone as you are nice people. Make an enemy and the opposite could happen.

12. Haul dinghy and outboard out of the water at night, alongside at deck level or in davits. Outboard motors are currency in third world countries.

13. Use a bright anchor light. A powerful LED bulb will not cause much battery drain.

14. Know how to use your mobile phone to summon help.

15. Make up a "fake" wallet with some cash in it and a few useless credit cards, time expired would do . If you carry substantial quantities of cash split it into multiple locations.

16. Think carefully about writing your yacht name onto your dinghy. When your dinghy is ashore this is a great advertisement to criminals that your yacht is likely to be unmanned. We wrote our call sign onto our dinghy with the yacht name underneath.

Regards, Mike and Chris

........................


As usual, thank you for your astute and clear headed thoughts on this important issue.

We have debated whether or not to carry a firearm aboard the boat. So far I have not made a decision in that regard.

The previous owner of our last boat [a Tartan 40] had stainless grilles made [in Trinidad] for the main companionway and two deck hatches. It allowed us to lock the boat up when we were ashore and still provide ventilation. We never used them at night when we were aboard, but after the recent spate of attacks we will have similar grilles made for our new boat and undoubtedly use them.

We also have a couple of pepper spray canisters aboard and a wasp killer aerosol can with a range of about 15 feet.

We feel the best approach is to be cautious, pay attention and if there are any doubts perhaps contact adjacent cruisers [if any are around] and stand security watches.

A bit of overkill perhaps, but better to be prepared than not. Of course staying clear of areas noted for crime is a no brainer.

Regards, David & Donna

........................


My wife and I are going to become full time cruisers once she retires this coming fall. We have done several seminars at boat shows such as Toronto and Annapolis and at some point in conversations the issue to arm or not to arm seems to come up.

I am not sure of where you are from but we have found the majority of people that are adamant about having a gun onboard are the Americans. I believe it is more about the culture of the US or the right to bare arms makes them feel that way.

We are Canadian and even though I have received training in with weapons while in the armed forces and a short career as a police officer, we have agreed that we will not carry any sort of gun on board. In our country no one protects their homes with guns even though we have criminals here as well breaking into homes, it's just never really been a need to go that far.

I just can't picture what would be going threw my mind at the time or for years to come what would be going threw my mind after I took out a gun aboard my own boat, aimed it at another person and pulled the trigger. I believe my cruising life would be done at that point.

Ron

........................

My thanks to all of you
---
And finally...
If you know anyone who might be interested in the contents of this newsletter, feel free to email it to them. It's not secret!

And this newsletter can be a two-way thing. If you've read anything you'd like to comment on, or perhaps there's an event you'd like to see announced in a future newsletter, then please let me know.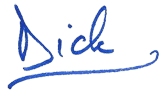 Dick McClary
Go to Sailboat-Cruising.com's Home Page...
---