Admiral 38 Catamaran
s/v 'Afloat'
by Terry Loat
(Edmonton, Alberta, Canada)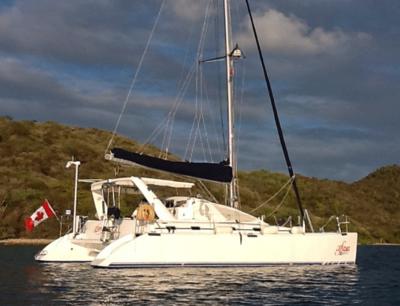 s/v Afloat at Anchor
My 2005 Admiral 38 catamaran Afloat is a 38 foot long, 23 foot beam, owner's version (3 stateroom) beauty.

Admiral cats were manufactured in South Africa - I say "were" because production was halted a year or two ago. I understand that the molds have been purchased so that production will hopefully continue; or perhaps it already has recommenced.

The 2005 Admiral was beautifully appointed in its interior with excellent woodwork and meticulous joinery. She offers a king sized bed in the master cabin in the starboard hull; a queen size bed and double bed in the two port guest cabins; and two heads with electric toilets. Her galley is the envy of other 38 foot catamarans in terms of its liveaboard spaciousness.

She has twin Yanmars (3YM30) which always afford ample power when required and, of course, supreme manouverability in tight spaces.

Afloat has proved to be an extremely capable and comfortable blue water vessel. She was sailed easily across the Atlantic from South Africa to the U.S. by the original owner. She then spent almost two continuous years circumnavigating the Caribbean from the U.S. to the Bahamas, down the Leeward and Windward Islands; westward to the islands off Venezuela, Columbia and into Panama and then up through Central America and back to the U.S.

I then acquired this dependable catamaran and have sailed her for 5-6 months every winter/spring for the last five years - the first year in the Bahamas and then subsequent years in the Caribbean islands, predominantly between the Virgin Islands and down to Trinidad.

The Admiral 38 is a very enjoyable and dependable catamaran that sails easily (I single-hand at least half the time in between family and guest visits). Common to catamarans without dagger boards, she is a typical catamaran in that she will not point comparably to a monohull - but that has never been an issue for the liveaboard luxury of a non-heeling vessel that is also a stable dream at anchorage.

I've had years of experience on monohulls and now I NEVER miss the heeling and discomfort both underway and rocking at anchorage associated with a monohull. Stability = comfort for long term cruisers aboard a catamaran! And, yes, rather common to catamarans, there is occasional slamming under the bridgedeck, particularly in choppy, confused seas, but again, that is a totally acceptable trade-off to me for the no-heeling and lateral rocking associated with a monohull.

And let me emphasize the seaworthiness of my Admiral catamaran. Several cruising seasons ago, while underway on a long passage, I encountered winds that peaked at 58 kts (honestly!)accompanied by violent rain, thunder and lightning. The boat handled those conditions admirably and while there was some minor damage (two slats on the walkway between the tramps came off; my Canadian flag astern was totally shredded; the Sunbrella cover on my jib was in pieces and a jib sheet flew loose as a result of a released knot), the boat got me to a safe and protected anchorage at the end of the trip.

I realized that voyage would have been so much more difficult single handing aboard a monohull' It was that trip and experience in that unforgettable storm that cemented my love affair with my Admiral 38!

As mentioned, the Admiral is easy to single-hand and in my extensive Caribbean sailing experiences, in the favourable trade winds she readily achieves an 8 knot average cruising speed under sail.