Choosing a Cruising Sailboat
How to decide on the right one for you...
Just how do you go about choosing a cruising sailboat? Unless you apply some logical process to it it's all too easy to end up with the wrong boat. Allowing your heart to rule your head with these beguiling machines can get you in a lot of trouble!
So before you start poring over all the advertisements for cruising sailboats you need to have a pretty good idea of what you're looking for - or more importantly, what you're not looking for...
How about this one?
This Valiant 40 is many sailor's idea of what a cruising sailboat should look like. But would it be the right one for you?
Whoa, hold on a minute! 
You can't decide by just looking at a picture.

The trick when choosing a cruising sailboat is to narrow your search criteria down by eliminating those boats that would not meet your requirements, before honing in on those that might.

It's rather like making a sculpture of an elephant - you start with a lump of rock and knock off all the bits that don't look anything like an elephant. Easy really...
But before we start this 2 Stage process, we must get some basic criteria established - and you might want to print this page and find a red pen...
Stage 1: Primary Considerations
The next four questions A, B, C and D are essential to the process of choosing a cruising sailboat that is right for you. But don't tick the ones that apply - cross out the ones that don't.
This whole process is one of elimination. If you tackle it the other way around you're likely to very quickly paint yourself into a corner.
A

- What will you use the boat for?
Coastal cruising? 
Offshore Cruising?
Ocean Cruising?
Living aboard?
Occasional club racing & regattas?
Occasional chartering to offset costs?
Once you've decided what you definitely won't be using the boat for, write down those that you might use it for under 'A'.
Suggested reading:
---
B

- Where will you be doing most of your sailing?
In the Tropics?
Temperate regions?
High latitudes?
Similarly you'll want to discard two of these, unless you migrate from one zone to another.
A singlehander I know voyages from the south of England to the Caribbean and back every year! He would only discard item 3 - probably.
Suggested reading:
---
C

- Who will use it?
Singlehander?
Skipper plus mate (and occasional guests)?
Full crew?
Even singlehanders have occasional guests, and some competitive cruising couples may need additional crew for club racing and regattas - so be careful what you eliminate here.
D

- Where will you keep the boat when you're not using it?
Laid-up ashore?
In a marina?
Deep water mooring?
Drying or 'Half Tide' Mooring?
Item 4 will only apply to those harbours and estuaries that experience a considerable tidal range, where such 50% moorings are available for a fraction of the cost of any other place to park your boat.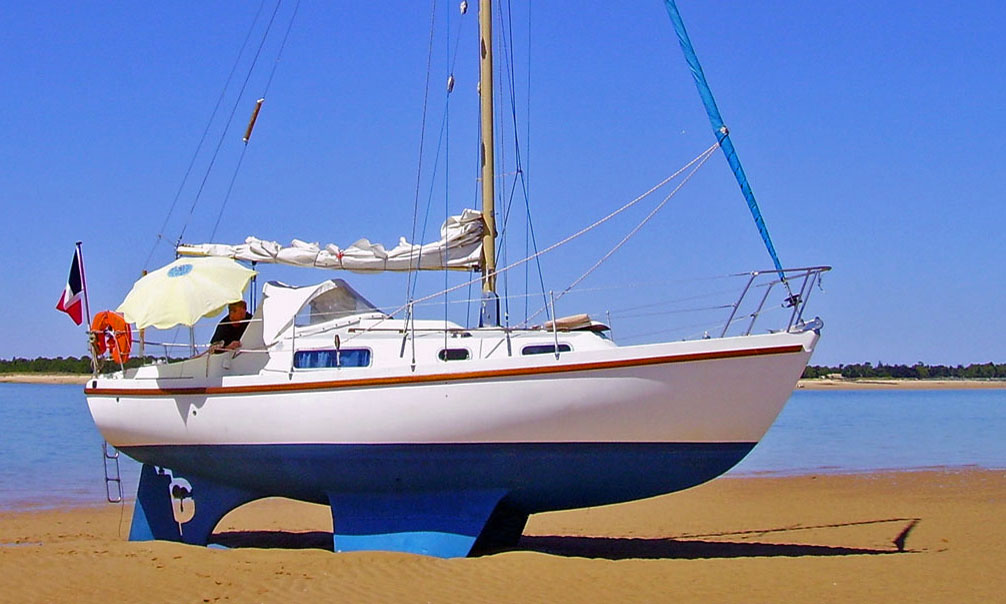 Bilge Keel yachts like this Macwester 27 are great for drying-out in tidal harbours, but there's little else in their favour.

Stage 2: Honing in on Suitable Sailboats...
Eliminate the undesirable; then keep your options open...

The Next Step...
Depending on how ruthless you've been in deleting undesired options, you should now have a broad specification for the sort of cruising boats that would meet your requirements. If you think you've still got too many options left, get your red pen to hand and run through it again.
Now go back to Section 4, where you'll be left with one or two size ranges. Then take a look at pics below which link to cruising boats within your specified size ranges. Click on the appropriate range and scroll through these - you might find some that meet your requirements in terms of sections 1 to 10.
OK, there's only a relatively small selection of sailboats there, but you should by now have a pretty good idea of the cruising boat that will be the right one for you.

and finally...
Having got to this point, it might be interesting to take a look at the sailboats for sale here on sailboat-cruising.com.
Well, you never know...
---
You are here: Sailboat Cruising > Used Sailboats > Choosing a Cruising Sailboat
---
---
Feb 18, 19 04:32 PM

Kalihi is a Samson Marine C-Mist, a ferro-cement adaptation of William Atkins' Eric design- http://www.atkinboatplans.com/Sail/Eric.html . We built her

Feb 15, 19 09:57 PM

Lady Di shows as a new yacht, is well equipped and maintained to a high standard, and is a must see for the person searching for an excellent cruising

Feb 14, 19 06:34 PM

'Conquistador', a 13.5m Beneteau Idylle sloop. Specification: Hull Type:~ Fin keel with skeg-hung rudder Hull Material:~ GRP; Length Overall:~ 42'4 /
---