Mona Island: Fools Rush In (1985)
by George Kent Kedl
(Albuquerque, NM, USA)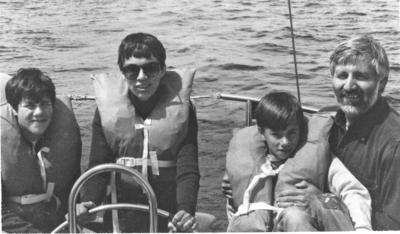 Kedl Family in 1984 (Jake, Pam, Andy, and Kent)
A member of the Ponce yacht club urged us to visit Mona Island, a nature preserve managed by the Puerto Rican Department of Natural Resources and located between Puerto Rico and Hispaniola. Its only residents were park rangers. He had often sailed to this delightful place, and his instructions for getting through the break in the reef seemed simple and straightforward. The anchorage was inside the reef on the western side of the island, and because the winds typically came from the east, it was usually protected. As we approached the reef, we lined up the third palm tree from the left with the stick in the water we thought was the mark. Pam was on the bow watching the water when suddenly the reef rose straight up from the bottom. We barely skimmed over it. The depth sounder read zero.

Then, just as suddenly, we were floating in fifteen feet of crystal-clear water above sugar-white coral sand studded with huge coral heads. Inexperienced as we were, I do not know how we managed to maneuver between the coral heads, and anchor without swinging into any of them. We were the only boat visiting this beautiful little island. The water was so clear and calm that when we were onshore and looked back, the water was invisible, and the boat, full keel and all seemed to float in the air.

There were iguanas, birds, and pirate caves, and the weather was beautiful. We got up before dawn to watch for turtles coming ashore to lay their eggs. The rangers were attempting to restore the island to the native habitat. We spent several carefree days at anchor, relaxed and (we thought) secure; swimming, schooling our two boys, hiking, and having a good time in this island paradise.

I think our experience proved the existence of a God who watches out for fools. Even though the winds usually come out of the east, they do not always. Had the winds shifted just a little in the wrong direction, we would have been trapped. Anchored as we were, onshore wind would have driven us into coral heads and damaged, if not sunk, the boat. To anchor there for days as we did, sleeping through the night without an anchor watch, was foolish. "Fools rush in where angels fear to tread" was never truer.

George Kent Kedl is working on memoirs and letters of the years from 1985 to 2000 he and his wife Pam spent sailing in the Atlantic and Caribbean. This story is an edited passage from that book, tentatively titled 'We Ran Away to Sea'.