Sailboat Photographs & Other Artwork
Sailboat Photographs
There are hundreds of original photographs of sailboats on this site - most of which have been taken by me, Dick McClary, the website owner who consequently owns the rights to them.
For use on the website they've been reduced in size and resolution.
However, should you wish to obtain the full size original together with all rights, they are - for a small contribution towards the upkeep of sailboat-cruising.com - available.

For those pics where the Copyright is not owned by me, I'll do my best to put you in touch with the owner.
Interested in any of them, and are willing to part with just US$10? Then drop me a line at dickmcclary@gmail.com and I'll get back to you.

Other Artwork
Most, if not all, of the artwork - such as the Gz Curve example shown below - was created by the fair hand of Andrew Simpson.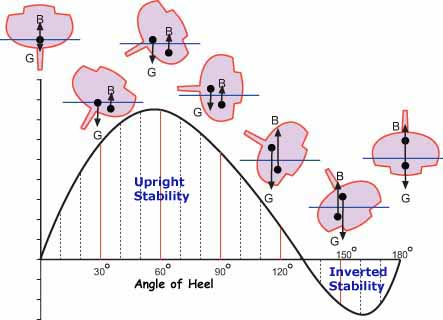 Similarly, if you wish to reproduce any of Andrew's artwork - and he's got a lot more to choose from - drop Andrew a line at yachtshindig@gmail.com.
---
---
You are Here: Sailboat Cruising > Sailboat Photography and Artwork
---
---
Feb 26, 20 08:24 PM

'S/Y Mañana', LG9841 (NOR), a Taswell 49AS. SORRY, NOW SOLD! For more boats like this one that are currently for sale please go to Cruising Sailboats for

Feb 24, 20 11:22 AM

It's not just the fauna and flora which attaches itself below the waterline that create hull drag, wavemaking resistance also has a limiting affect on our hullspeed

Feb 24, 20 11:18 AM

The sailboat cockpit has to operate as an efficient work station when underway, and a comfortable leisure area when at anchor, but on some sailboats the compromise is not always successful
---