Sailboat Photographs & Other Artwork
Sailboat Photographs
There are hundreds of original photographs of sailboats on this site - most of which have been taken by me, Dick McClary, the website owner who consequently owns the rights to them.
For use on the website they've been reduced in size and resolution.
However, should you wish to obtain the full size original together with all rights, they are - for a small contribution towards the upkeep of sailboat-cruising.com - available.

For those pics where the Copyright is not owned by me, I'll do my best to put you in touch with the owner.
Interested in any of them, and are willing to part with just US$10? Then drop me a line at dickmcclary@gmail.com and I'll get back to you.

Other Artwork
Most, if not all, of the artwork - such as the Gz Curve example shown below - was created by the fair hand of Andrew Simpson.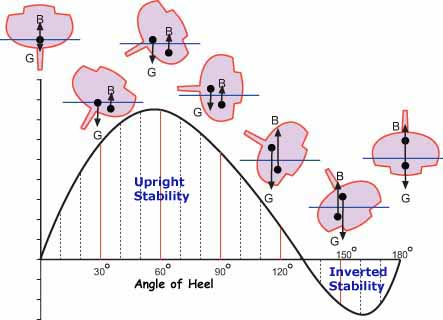 Similarly, if you wish to reproduce any of Andrew's artwork - and he's got a lot more to choose from - drop Andrew a line at yachtshindig@gmail.com.
---
---
You are Here: Sailboat Cruising > Sailboat Photography and Artwork
---
---
Aug 16, 19 12:16 PM

This ad has been removed at the request of the owner. For the current list of sailboats for sale by their owners, please click here...

Aug 16, 19 11:55 AM

It's true that the ketch sailboat with its split rig can make an attractive cruising sailboat for a short-handed crew, but there is a downside to these types of sailboats

Aug 15, 19 06:58 AM

The honest answer to the question 'Should I Buy a Boat?' is 'No, not unless you've properly thought it through'. There are four fundamental aspects of boat ownership that you must consider...
---