Sailboat Photographs & Other Artwork
Sailboat Photographs
There are hundreds of original photographs of sailboats on this site - most of which have been taken by me, Dick McClary, the website owner who consequently owns the rights to them.
For use on the website they've been reduced in size and resolution.
However, should you wish to obtain the full size original together with all rights, they are - for a small contribution towards the upkeep of sailboat-cruising.com - available.

For those pics where the Copyright is not owned by me, I'll do my best to put you in touch with the owner.
Interested in any of them, and are willing to part with just US$10? Then drop me a line at dickmcclary@gmail.com and I'll get back to you.

Other Artwork
Most, if not all, of the artwork - such as the Gz Curve example shown below - was created by the fair hand of Andrew Simpson.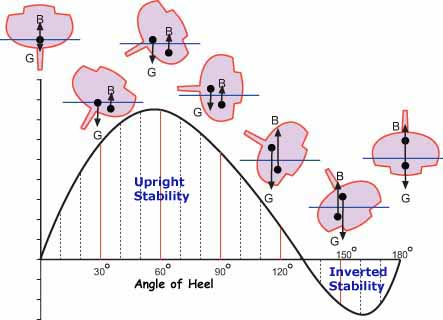 Similarly, if you wish to reproduce any of Andrew's artwork - and he's got a lot more to choose from - drop Andrew a line at yachtshindig@gmail.com.
---
---
You are Here: Sailboat Cruising > Sailboat Photography and Artwork
---
---
May 26, 20 06:31 AM

Want to avoid paying yachtbroker's fees and commission charges? Here's where boat owners can advertise their sailboats for sale privately, absolutely free of charge.

May 25, 20 06:30 AM

Medium sized cruising yachts like these are often the sailboat of choice for short-handed crews, and if properly equipped and maintained, will take long offshore voyages in their stride.

May 16, 20 03:34 PM

Here's where people with sailing equipment for sale advertise their stuff entirely free of charge. If you're looking for used sailing gear or other used boating accessories, here's where to find it!
---