'Zeffiraglia III', a Wauquiez Gladiateur Sailboat for Sale
by Giorgio
(Italia)
Zeffiraglia III
This Wauquiez Gladiateur 'Zeffiraglia III' has had maniacal maintenance and improvement from her owner in the last 20 years.

Zeffiraglia III' has been completely renewed for a trip to Azores and for the Atlantic traverse, she will need just normal maintenance for many years. May be the boat is just too much equipped!

In the last four years, the owner Giorgio Daidola invested on her more than €25,000 euros for improvement and special maintenance, as documents and invoices can demonstrate.

After the crossing from Cape Verde islands to Grenadines in January 2020, Zeffiraglia III' has been hauled in Trinidad, Peake Boatyard. A special cover protects her from sun and rain. Fabio Branca, a professional skipper living in Trinidad, is entrusted to take care of her.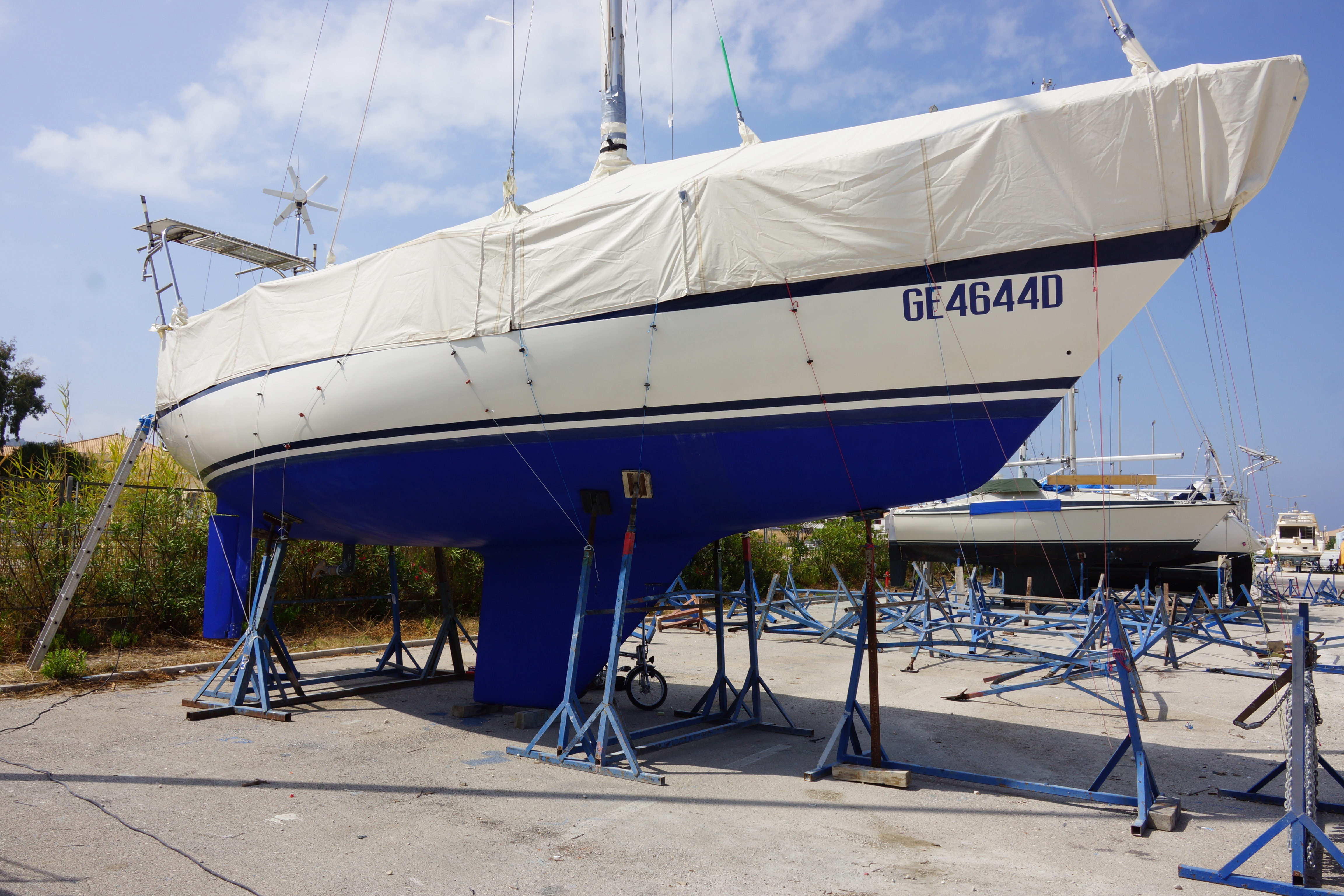 Long-term storage cover
The boat inspired Giorgio Daidola in writing the books "Viaggio in Mediterraneo" (see the trailer in www.frangente.com) and "Dal Mediterraneo alle Azzorre". Giorgio also published many articles in the sailing Italian magazines "Vela", "Fare Vela" and, in the last five years, "Bolina".
It is possible to read about him, that is also a mountaineer and an adventure skier, in www.montura.it, click on "Testimonials". The two books, a folder with all the articles, a rare book with the boat project and the designs of all the original spare parts will be given away to the new owner of the boat.
Model: Wauquiez Gladiateur, sloop 10.00m x 3,35m, draft 1.80m;
Gros tonnage 11.52 tonn;
Year of construction 1979;
Weight: 7/7,5 tons, with all the equipment;
Material: reinforced fiberglass;
Approved for 6 persons (6 berths).
Flag: Belgium, to be renewed in 2023.
Insurances valid all over the world:
- UNIQA Osterreich, total and partial failure, insured value €55,000
- AVIVA Italia, third party liability insurance.
Extraordinary maintenances and improvements:
Osmosis treatment with Hotvac vacuum machines, made in Turkey in 2014. The boat has been hauled on dry for 9 month every year after this treatment, allowing the fiberglass to dry completely.
New tiller made with carbon fiber and kevlar in 2014, by the same company that made the osmosis treatment in Marmaris.
Construction of one spare wood helm.
Volvo Penta MD 2030-D/ self-drive, diesel engine, three cylinders, replacing the original two cylinders, CV 17.5, 21 kW at 3600 rpm. The engine has now 2100 hours.
Volvo Penta MD 2030-D
Kiwi Prop propeller replacing a Volvo 3 folding blades propeller. 1 spare blade and other spare parts available on the boat. This Volvo propeller and a normal 3 blades propeller (new) are now in the boat as spare parts.
Last change of self-drive gasket May 2018.
Full set of original spare parts inside the boat: oil and fuel filters, belts, anods, impellers, heating bougie, etc...
Electric ventilator for the engine room.
Sails: main sail with battens and Harken sliding carriages, year 2010, genoa 130, year 2009, genoa 100, year 2019, fore staysail for the new stay with Harken tension system, year 2016, gennaker with Bamar self-furling year 2009, spinnaker used very few times (to be sent from Italy), storm bag year 2016 (small double tourmentin to put easily over the genoa furler brand, new). All sails and halyard are in perfect conditions. 2 covers for the main sail on the boom. Full set of blocks and Harken fairleads. Gooseneck Lewmar.
Harken self-furling year 2016, replacing a Bamar self-furling.
Bamar self-furling for gennaker 2016.
Selden bowsprit for gennaker year, 2016, two spinnaker poles to be used with two sails open at bow.
The genakker
Internal wood floor made completely new in Turkey, year 2013
Original Walder boom-brake, year 2017.
All shrouds, backstay and stay changed in 2015/2016.
Chain plates changed in 2015, reinforced (special steel dimension) and improved with Lewmar inox joint system.
Arimar inflatable liferaft with grab bag, year 2015, second inspection made in 2019, for 4 pax.
EPIRB, year 2016, battery changed in 2019.
Renewal and reinforcement of the base of the mast inside the boat in 2016 (Almerimar, Spain).
Equipment
Full cover for the boat for the winter in two pieces (perfect condition, to be sent from Italy);


Frigidaire, ventilator, gas kitchen, all kitchen equipment. Two camping gaz cylinders of 3 litres plus one 1 l litre;


Two ventilators working with solar panels mounted on deck to aerate the boat, two ventilators as spare parts;


All mattress and covers have been made new in Italy in 2015;


New anti-roll sheets for two berths;


1 binocular 7x50;


2 radio VHF, one Icom and one Geonav with AIS, GPS antenna, mobile unit P4800, year 2017;


1 VHF Standard HX205S, portable, year 2018;


Radio Pioneer KEH-P4900R with 4 speakers (2 outside);


Harrier Speedometer;


Raymarine ST 60+ (wind). New wind vane assembly, year 2020 as spare part;


Inmarsat Satellite phone with Dock Lite Unit and Beam external antenna, year 2017;


Dedicated external antenna for Iridium Go Satellite phone and support for the phone inside, year 2019;


Easy Navtex with special antenna outside, year 2017;


Garmin GPS 721, year 2017, blue charts up to date 2020 available for Caribbean, North America, Africa, Europe;


Garmin 301 C, echosounder year 2016;


Garmin AIS, interfaced with GPS, internal antenna, year 2019;


D 1000 original depth sounder (perfectly working);


Digital Multimeter;


Complete set of tools to repair the boat, including nippers;


8 fire signals (expire April 2021);


60 metres floating rope for mooring, around an inox wheel attached to the stern;


Windglass Orvea renewed in 2020;


Textile lifeline all around the boat;


Three automatic pilot perfectly working: Raymarine Smart Pilot ST600R, Raymarine ST 2000 Plus, Autohelm ST 2000 Plus. One arm as spare part;


Wind Pilot Pacific 2017, with new special stern platform realized by Sopromar in Lagos, Portugal, year 2018. The platform has a folding inox stair and attacks for folding inox walkway. The folding walkway to be sent from Italy;


3 batteries: 1 for engine (2019), 2 for services (2017). Special switch to start engine with service batteries;


Victron Energy BMV battery monitor (2016);


4 original winches in the cockpit, 3 original winches on mast;


Merveille Radar detector V7 with external antenna, year 2015;


Radar Furuno model 1623 (2014);


Delta anchor 14 kg with 50 metres chain and 30 metres rope;


Danford anchor 14 kg with chain 4;


Admiral anchor 12 kg;


Drag anchor;


Floating anchor;


Anchor kit: kong and instrument to free the anchor for another one;


2 magnetic compas Plastimo in the cockpit;


1 Minimed tank for diving 30 minutes to inspect and clean the boat (new!);


Whale pump for sea water year 2017;


Tender LodeStar with hard tissue protecting cover made in Turkey and full protected cover when not in use;


Outboard Mercury 4 stroke for the tender, year 2016;


Bumpkin and inox outrigger for the outboard engine;


Special inox arm to take the tender inflated over the stern while sailing;


Electric inflator 12 volt for tender, with long wire;


Electric Jabsco bilge pump and manual pump;


2 water flexible tanks (300 liters total) renewed in 2019, plus one inox tank 50 liters in the middle;


One new flexible water tank as spare part;


8 diesel jerrycans (total 160 litres), plus 90 liters tank, special inox holders on deck;


1 gasoline jerrycan, 5 litres;


Inverter 220/12 volt;


Wallas Marine 1300 heating system, with inox chimney (new), working with lamp oil;


4 fire extinguishers, renewed in 2019;


2 flat solar panel 140 + 40 amp. mounted on the inox rollbar realized in Turkey in 2014. 2 solar charger controller;


Aerogen wind generator 1 A. controller, 2014;


Switching Battery Charger MSC2612;


Boat's awing (bimini), white and waterproof (new);


2 barometers;


1 hygrometer;


2 alarm clocks;


1 brass petrol lamp with spare glass;


1 bansigo;


1 foldable table for the cockpit;


All halyards and sheets have been always stored inside the boat when she is ashore for a long period;


Full set of good mooring ropes and shock absorbers (rubber and inox);


50 metres electric cable, plugs for every marina, spare plug;


Everything will remain on boat, except two marine paintings with frame.
'Zeffiraglia III' is delivered ready for the sea!