Hi


The Sailboat Cruiser
The Sailboat Cruiser is the free monthly newsletter of sailboat-cruising.com and sets out to bring you the news, views and general musings of, well, me - Dick McClary, a sailboat cruiser and owner of the website.
If you like this newsletter, please feel free to email it to your friends.
If one of your friends did forward this to you and you like what you read, please subscribe by visiting The Sailboat Cruiser
---
Newsletter #14 - November 2014
What's in This Issue:
With 'Skylark' - my Drascombe Lugger - laid-up ashore for the winter, I decided that now was time to disconnect the pick-up line from the mooring buoy.

This involved pulling the mooring buoy into my inflatable dinghy so that I could get at the shackle fitted beneath it. For some reason, I couldn't lift it. Either I'm getting older or it was a lot heavier than it was last year.

It soon became obvious that if I continued heaving on the pick-up line I'd be risking inverting the dinghy with me in it. Time to enlist some help...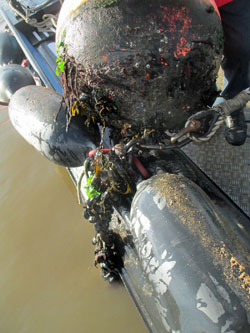 This took the form of the Tamar River Sailing Club's tender and a couple of helpful members. Soon it was clear what the problem was. Mytilus edulis - mussels!
Just under the buoy there wasn't too many, but on peering into the murky depths of the Tamar indicated that there was an infestation of biblical proportions a little further down.
Owing to the long hot summer we'd had there'd been an explosion of mussel growth in the river, and they've taken up home on the mooring riser chains.
This explained the mysterious disappearance of many of the mooring buoys at high water (there's a 6m range on spring tides) and their re-appearance as the tide drops.
A resourceful friend of mine has made up a device that he's sure will clear the riser chains of these shellfish.
Can't wait to give it a try - I'll let you know how we get on...


---

Bit of a long shot this, but you never know...

One of our club members owns Seachest in Plymouth, and owing to a spectacular piece of mis-ordering, finds himself with two rather splendid, but unwanted - Cayman Islands ensigns.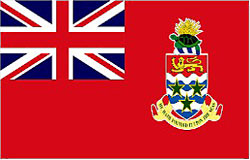 There not small ones either - 2yard versions in fact.

But they're handmade - not printed ones - and certainly weren't cheap.

So if this is exactly what you're looking for, give Roger Boynes a call on +44 1752 222012 or email him at Info@seachest.co.uk and you just might get a bargain!

Tell him I sent you...



---

Tinted windows are more often found on sailboats that most of us can only dream about, but are they a good idea?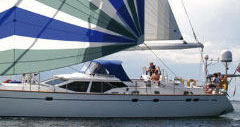 Clearly they're great on a hot sunny day, so they're ideal for tropical sailing - in the daytime.

But at night or in low light conditions, when you need all the vision you can get, they don't work to your benefit at all.

That's fairly obvious, but what is less so is the effect of photochomic lenses in your spectacles. These react to uv light, getting darker as uv increases. But in low light conditions these don't lose all of their tint, which is not good - particularly if you're already looking through a tinted window.

So if you do need glasses for distance vision it's worth keeping your reactolites for daytime and using a clear pair for low light conditions.


---

Or to be more accurate - like it was.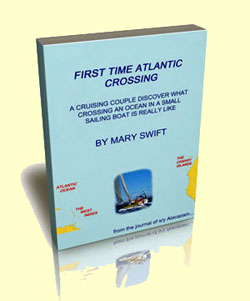 When on a passage of any significance, Mary writes a day by day journal of events.

Through it, many of you will have followed our exploits (via sailboat-cruising.com) as we made our way south from Plymouth to the Canary Islands.

But recently she came across her hand-written journal for the crossing from Tenerife to Guadeloupe in the West Indies and, following a degree of encouragement from me, typed it up.

I've now put it all together as an eBook, which - for less than the price of a beer - you can get your hands on by clicking here...

I've not been allowed to change a word of it - particularly those bits in which she seems a little underwhelmed by my performance.

So it's all hers - and a valuable insight into living aboard a cruising boat on a long ocean passage it is too.

But they do see things differently you know...


---

Whenever I'm asked "If you could have just one fishing lure, what would it be?", my answer is always the same - "A cedar Plug".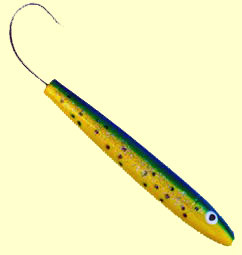 Why? Because:~
They are proven fish catchers;
They are extremely robust and last for years;
They incorporate a lead weight, so you don't need to put another weight on the line:
They've only one hook, making them much safer to handle than multi-hooked lures.
They come either painted - like the young dorado look-alike shown here - or plain, unpainted cedar. I find that the plain ones are just as good as the painted versions.
If you can't find them in the fishing tackle section of your local chandlers, you can always get them online from BassPro.com
.


---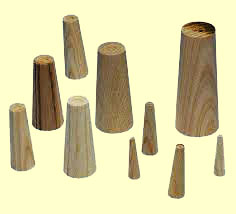 We've probably all got a pack of these aboard - softwood bungs - and likely, few of us have had to be unfortunate enough to need to put them to the test.

The idea is that in the event of a hole in the hull or a failed through-hull fitting, we hammer a suitably sized one of these in whereon it swells and seals the hole.

Recently, a new product has appeared on the market to make these wooden plugs redundant.

It's called the Seabung and this is how it works...

Ingenious? Yes, but I don't think I'll be throwing out my pack of softwood plugs any time soon.


---
'Avocet of Ryme'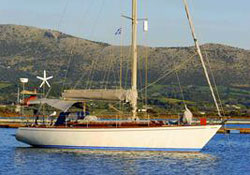 Being a fan of wood-epoxy construction, if I was looking for a cruising boat to replace 'Alacazam' then I would definitely want to have a good look at the 45 foot (14m) 'Avocet of Ryme'.

Ideally for cruising, she's a cutter-rigged sloop - but she'd would soon have a windvane self-steering gear on her stern if she became mine!

For more pics, a full specification and inventory, click here...



'Lost'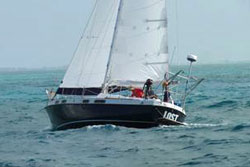 This one's a Morgan 33 'Out Island' - and she's definitely not your average 40 year old Morgan 33.

Over the last few years, the owner has - in his own words - 'put over $90,000 into her.'

But now, the owner having bought a Leopard 39 catamaran, it's time for her to go.

For more pics, a full specification and inventory, click here...



Lyman-Morse 70' Performance Cruiser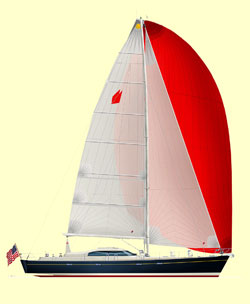 No, you won't find this one for sale on sailboat-cruising.com.

Unbelievably, it's up for grabs on eBay!

Feeling lucky?



But hurry, the auction ends on Friday - and last time I looked there were no bids!



---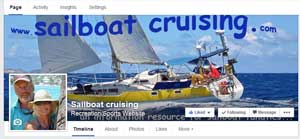 Sailboat-Cruising.com has a Facebook Page!

Clicking the image here will take you right to it, where you can browse through many more posts and articles.

Please take a look, and feel free to make a post - and don't forget to 'Like' us of course...

Thanks!

Visit sailboat-cruising.com's Facebook Page...
---
And finally...
If you know anyone who might be interested in the contents of this newsletter, feel free to email it to them. It's not secret!

And this newsletter can be a two-way thing. If you've read anything you'd like to comment on, or perhaps there's an event you'd like to see announced in a future newsletter, then please let me know.

See you next month!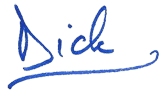 Dick McClary
Go to Sailboat-Cruising.com's Home Page...
---