The Atlantic Crossing
from 'The Journal of Alacazam', by Mary Swift...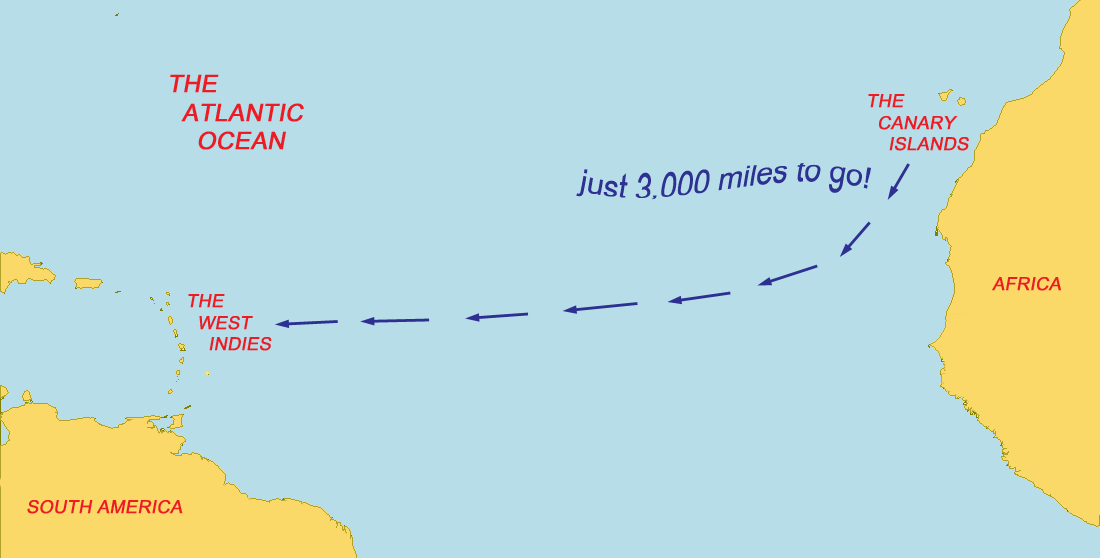 Alacazam followed the classic tradewind route across the Atlantic Ocean

Skipper's notes...
As an ex-singlehander, I can confirm that life aboard a sailboat is much easier and far more rewarding when it's shared by two people who are at least marginally fond of each other. Well most of the time, anyway...
My bet is that most sailboats which make an Atlantic Crossing are crewed by a cruising couple - a man and woman team. And usually, but certainly not always, the male half of the arrangement is the skipper and the other infinitely better half - is crew.
I may be drifting into dangerous territory here, but that's how it was for Mary and I when we took our 38ft (11.5m) sailboat 'Alacazam' across the pond.
One thing's for sure - Mary pulls no punches and tells it as it is!

Mary says...
I'll never be the 'natural' sailor that Dick is - in fact, I'd never been on a sailboat until I met him, but I took to it like a duck to water.

I've just finished reading Mary Swift's eBook [First Time Atlantic Crossing] and now my wife is into it. Maybe, just maybe, it will give my wife the courage to share my dream and follow in your footsteps.
Jonathon Jacobs, s/y Dream Catcher
I've heard him say about me, that "She can cook in any weather, if she get's scared she keeps it to herself, and she never gets seasick". He's more or less right - we make a good team.

When we set off from the UK for distant shores, I decided to write a daily journal. Dick describes it as "A 'warts-and-all' journal in which most most of the warts are his". I've no idea why he says that.
It was just for us really - something to read and look back on when we're too old and decrepit to go cruising anymore - but Dick persuaded me to let him publish it on this, his website. But it was incomplete, getting us only to the start of the Atlantic Crossing. 
Mary Swift's eBook tells it like it really is!

Apparently, more than a few of you have made contact to say how much you enjoyed it, and "Where is the rest of it?"

So, after a great deal of nagging from Dick, I've recently typed up my hand-written notes for Alacazam's Atlantic crossing from Tenerife in the Canary Islands to Guadeloupe in the West Indies.


To my surprise it ended up an 80 page 39,000+ word epic - too big, he said, for publication on the website. So he's added illustrations and put it all together as an eBook.

"You should make a small charge for it" he said, "to cover costs" - which is why you'll have to part with just $4.99 to download it.
My promise to you...
I do hope you enjoy my eBook of the crossing - but if you're not happy with it in any way, just drop me a line and I'll make sure that Dick refunds the purchase price to you in full. And that's a promise!
Mary Swift
---
---
Nov 29, 23 08:35 AM

Here's where people with sailing equipment for sale advertise their stuff entirely free of charge. If you're looking for used sailing gear or other used boating accessories, here's where to find it!

Nov 10, 23 02:34 AM

My 47' Cheoy Lee sailboat is for sale. Designed by Bill Luders, she is a beautiful and functional liveaboard cruising yacht.

Oct 30, 23 04:22 PM

This article explores the journey of chartering a sailing yacht, from the initial planning stages to the final touches. It provides insight into the joys and challenges of embarking on a voyage of dis…
---