Hi


The Sailboat Cruiser
The Sailboat Cruiser is the free monthly newsletter of sailboat-cruising.com and sets out to bring you the news, views and general musings of, well, me - Dick McClary, a sailboat cruiser and creator/owner of the website.
If you like this newsletter, please feel free to email it to your friends.
If one of your friends did forward this to you and you like what you read, please subscribe by visiting The Sailboat Cruiser
---
Newsletter #34 - January 2017
What's in This Issue:

There's been a bit of a gap since the last newsletter. Well, with Christmas and New Year commanding your entire attention who would have time to read it anyway? Which reminds me to take the opportunity - somewhat belatedly - of wishing you all the best, fair winds and following seas for 2017. And for those of you who fish, 'tight lines' too.

We've been pretty busy, Mary and I (which is more like the honest reason for my tardiness with this newsletter), since rousing 'Alacazam' from her 7 month slumber in her hurricane cradle at Jolly Harbour in Antigua, West Indies.

Micron 66 antifoul paint lasts two seasons out here, but sadly it was time to do it again. I say sadly because it's double the price that it is back home in the UK - and it's expensive there! The post-Brexit fall in the value of the British Pound hasn't helped either, with everything in these $US and € based economies now eroding our cruising fund by 20% more than it did last year.

I'm always looking for a way to prevent - or at least slow down - growth on Alacazam's sterngear. This year I thought I'd try TK Line Antifouling Spray - a hard matrix clear antifouling spray paint that is designed to protect gear cases & propellers for up to 3 months of submersion. It came well recommended by the chandler I bought in from back home in Plymouth.

3 months eh? We'll see...

Soon we were launched, and with strong winds (the infamous 'Christmas Winds') forecast we left our marina berth and motored around to the sheltered Falmouth Harbour where we could anchor for free and complete our preparations for our 2017 Caribbean cruise.


---

Here we found our old friends Christopher and Jeanette, anchored nearby on their impressive 50 ft catamaran 'Hummingbird'. A table for four was booked at 'Catherines' on Pigeon Beach and an excellent Christmas Day lunch was enjoyed by all of us.

And it was here that they dropped a bombshell of Brexit/Trumpescue proportions - they were thinking of selling 'Hummingbird'!

Mary and I were surprised and rather saddened by this news, having first met up with this cruising couple on the other side of the Atlantic some 15 years ago.




'Hummingbird' is an exceptional cruising catamaran, robustly constructed, fully equipped and properly maintained for extended cruising and living aboard. If they do decide to sell, she'll be advertised on sailboat-cruising.com.

If you want to know the moment the ad is published, please click here...

With Christmas and New Year festivities behind us, 'Hummingbird' and 'Alacazam' went their separate ways, they heading north to St Maarten, and we heading south towards Martinique via Guadeloupe, Les Saintes and Dominica.


---


Approaching the anchorage at Bourg des Saintes (in Les Saintes), you might be pleased to see the visitors mooring buoys with the high and easily accessed rings for your line.

Your delight though, may be short-lived...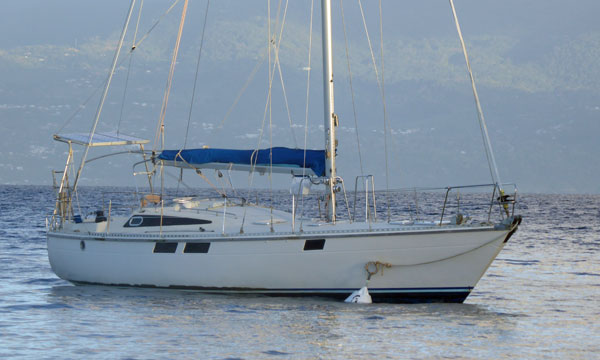 They're fine while a breeze keeps your boat and the buoy in line, but as soon as the breeze dies away the buoy will head for your boat - as if by magnetic attraction - and the high steel ring will gouge grooves in your topsides.

But there is a solution - not a very pretty one but it works. Just haul in your mooring line so the buoy is tight up under your bow roller. This puts a great deal of strain on your mooring lines and cleats, but it's that or find somewhere to anchor - which is not easy in the very deep water outside the moorings in this anchorage.

Still on the subject of French moorings, but in Martinique this time. A few years ago, a large number of moorings were laid in Grand Anse D'Arlet at the north end of the island.

These were immediately grabbed by local boat owners leaving few if any for cruisers, and little space left for anchoring. This year, they've all disappeared for a reason unknown to me.

But it's just the buoy and top gear that's gone though - the mooring blocks remain on the seabed, lying in wait to trap your anchor. Be very careful where you drop the hook!


---


Six of us were sat around the cockpit in a freinds boat. The couple that we had just met had recently sailed accross the Atlantic in a boat that was new to them, and much larger than they were used to.

It was a 49 footer, of Swedish manufacture, expensive and highly regarded. It had powered roller furling on the jib and staysail, and powered in-boom furling on the mainsail. Halyard and sheet winches were electrically powered.

On the way over they had:
Pulled the kicking strap attachment off the mast;
Stretched the leech of the mainsail;
Stripped the outer covering off a halyard by pulling it through an un-released jammer;
Ripped a headsail sheet track off the deck.
Clearly there had to be some heavy-handedness involved to create this amount of carnage, but why aren't powered winches protected by an adjustable clutch - in the same way that electric anchor windlasses are - or some overload warning alarm?

I know that many readers of this newsletter will be saying "Well, I've got powered winches on my boat and I've never had any such problems". If so please drop us a line with your tips and advice on using them successfully, and I'll publish your comments in a future issue.


---


Now, I've got a beard - not for any reasons of personal vanity you understand, just the result of pure indolence. As a consequence, I never have much success with a conventional snorkel and face mast. I just can't get a proper seal around the mask which allows water to get in, intent on drowning me.

Following a recommendation, I recently purchased an all-in-one face mask and snorkel - a Tribord Easybreath Snorkeling Mask
.

Would this solve the problem?
The answer, my friends, is "YES!" - it has transformed snorkeling for me. No leaks, all-round vision and no fogging. Absolutely brilliant.
I let my similarly bearded pal John try it out - and you can see what he thought of it in the pic below.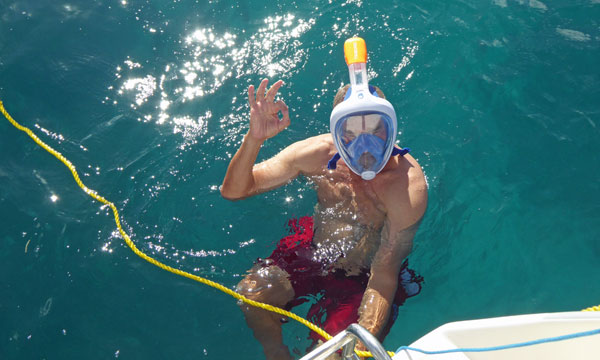 I was probably lucky to get it back!


---


Not the Tribord EasyBreath - that worked wonderfully - I'm talking about the TK Line Antifouling Spray on my propeller, which you may remember was said to give up to three month's protection from marine growth.

One month after launching, it was time for a look-see...




Already it's got more whiskers than I've got, but I'll leave you to decide whether the TK Line Antifouling Spray worked or not.

The Micron 66 was doing its job though, but I'll be having a word with that Plymouth chandler when I get back...


---


Anyone recognize the make and model of this one?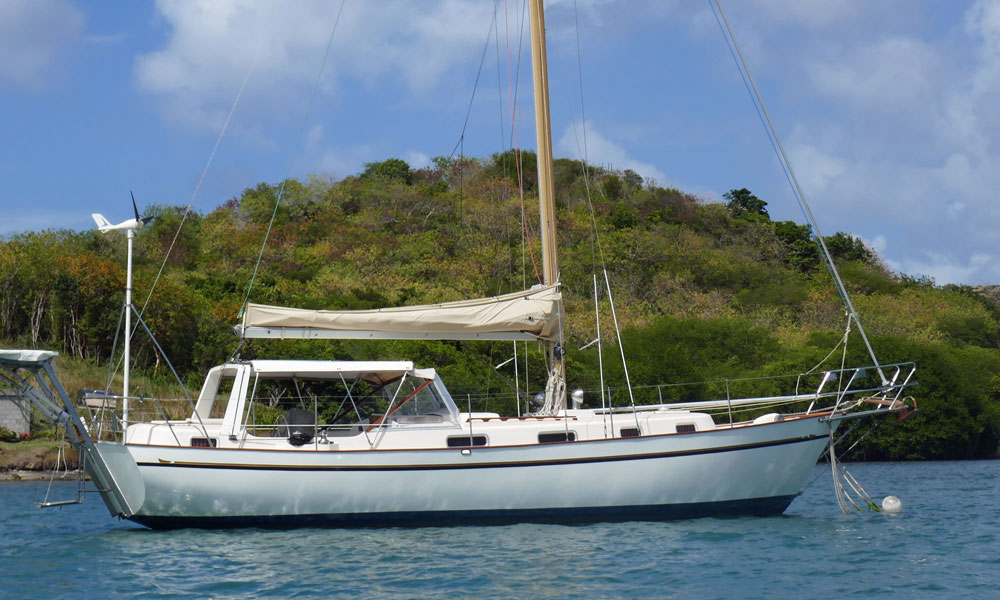 Pic taken in Falmouth Harbour, Antigua a few weeks ago. Looks about 40 foot LOA and it has a distinctive sweeping curve to the cabin top.


---


It's always worth taking a look at what our visitors are getting rid of. Remember one mans junk is another man's gold!

Among other items this month, we have:
A Laser Dinghy Radial Sail;
A Brunton Autoprop;
Some Assorted Sailing Gear;
A Sterling 11 Sailing Dinghy;
Take a look at these and all the other stuff at used cruising gear for sale...


---

If you're thinking of selling your cruising boat - or know someone who is - remember you can advertise it entirely free of charge on sailboat-cruising.com - which is what the owners of these boats have done...
'RC Louise', a Boreal 44;
'Ta Shing', a Taswell 49 ;
'Chantemer', a Leopard 40 Catamaran;
'New World', a Valiant 40;


Want to check out a whole load more? Then take a look at the full list secondhand cruising boats for sale...


Don't forget...
If you're thinking of looking at a secondhand sailboat, or just want to be aware of what to look for - and when to walk away no matter what - then you really ought to take a look at Andrew Simpson's eBook Secrets of Buying Secondhand Boats...

It's full of sound advice from an acknowleged expert and could quite literally save you $$$$$thousands!



---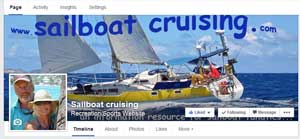 Sailboat-Cruising.com has a Facebook Page!

Clicking the image here will take you right to it, where you can browse through many more posts and articles.

Please take a look, and feel free to make a post - and don't forget to 'Like' us of course...

Thanks!

Visit sailboat-cruising.com's Facebook Page...
---
And finally...
If you know anyone who might be interested in the contents of this newsletter, please forward it to them. It's not secret!

And this newsletter can be a two-way thing. If you've read anything you'd like to comment on, or perhaps there's an event you'd like to see announced in a future newsletter, then please let me know.

See you next month!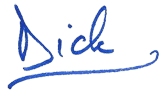 Dick McClary
Go to Sailboat-Cruising.com's Home Page...
---