Hi


The Sailboat Cruiser
The Sailboat Cruiser is the free monthly newsletter of sailboat-cruising.com and sets out to bring you the news, views and general musings of, well, me - Dick McClary, a sailboat cruiser and creator/owner of the website.
If you like this newsletter, please feel free to email it to your friends.
If one of your friends did forward this to you and you like what you read, please subscribe by visiting The Sailboat Cruiser
---
Newsletter #29 - June 2016
What's in This Issue:


With Alacazam now laid-up ashore in Antigua it's time perhaps to reflect on what's been a season of two parts - events of the first part leaving me wondering if I should abandon cruising altogether and take up gardening or some other less stressful activity.

The problem with our type of cruising (December to mid-May aboard Alacazam in the West Indies, the rest of the year back at our Plymouth UK home) is that the boat doesn't get the attention it deserves. Certainly not like it would if it was nearby during the period of lay-up, rather than thousands of miles away. OK, we do of course deal with routine/planned maintenance but it's the unexpected failures that catch us out.

Take this year for instance...

The first part...

We arrived in Grenada finding Alacazam as we left her the previous May in Spice Island Marine, and set about doing the work we knew had to be done before she could be launched:~
Fitted a new cutless bearing;
Fitted a new shaft seal (see below);
Fitted a new prop anode;
Fitted a new windcharger;
But what we hadn't budgeted for was:~
Four new engine mounts;
Three new AGM batteries;
A new charge controller for the solar panels (it was the old one that was responsible for the demise of the AGMs);
A new alternator;
A new smart regulator for the alternator;
Two new stainless steel access hatches in the fuel tank;
Reeling from this raid on our cruising budget, we set out on our shake-down sail heading south towards Trinidad with two cruising friends. The forecast was for 18 knots of wind, we got 38 knots.
During the sail one of our friends fell heavily and broke two ribs. She was a very experienced ocean sailor, younger than us, fitter than us and far more agile. And yet she'd come to grief - on our boat, under my skippership.
I asked myself a number of questions:~
Was I responsible for the accident that destroyed my friends' cruising season?
Were we still willing to accept the risks of this clearly dangerous pastime?
Could we afford to continue with this lifestyle?
Were we really enjoying it anyway?
I was in a low state of mind. If anyone had made an offer for Alacazam at this time, they would have got a bargain.
The second part...
However, things got better for us after that, and with everything - other than our great concern for our injured friend - put behind us, we set off on our 2016 Caribbean cruise.
And it was great. The conditions were very kind to us. Winds seldom much ahead of the beam, nothing more than 20 knots - warm, constant trade winds that filled our sails and white fluffy clouds in a blue sky that tanned our bodies. Pure hedonism. Ok, it did rain now and again - but it was warm rain.
We came across more whales this year (one far too close for comfort) than we'd ever seen before - more flyingfish and ballyhoo too, and thankfully far less sargassum weed than in 2015.
But could last year's sargassum epidemic been the reason for the increase in flyingfish and ballyhoo? After all, that's where they breed and hide their eggs. Expert opinion anybody?


---


Now I know this is getting a bit nerdy, but I thought I might do an analysis of our cruising activity.

Not from a cost point of view you understand - I did that once and I'll never do it again, especially after this year's experience.

No, this one compares the amount of time we actually spent under sail with time spent swinging on the hook.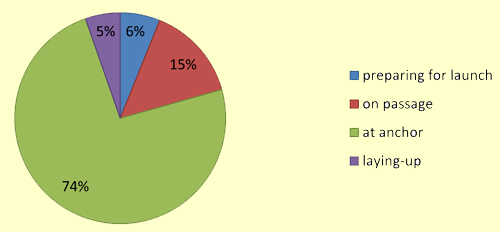 So what does this tell us about or 5 month cruising season? Fairly obviously, that we spend a lot more time at anchor than under sail - which may explain why you see an awful lot of cruising catamarans in the Caribbean...


---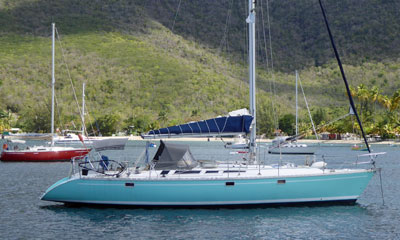 This rather elegant cruiser was anchored close by us in Grand Anse D'Arlet in Martinique. I would say that she's around 45 feet (14m) long.

I didn't recognise the make/model and couldn't see any identification markings on her - and I'm curious as to what she is.

Any ideas anyone?


---


One of planned maintenance items at the beginning of this season was to replace Alacazam's cutless bearing, a task that required removing the shaft. This was a good time to replace the Volvo shaft seal which had provided sterling service for a number of years.

It still worked perfectly but it did require regular attention:~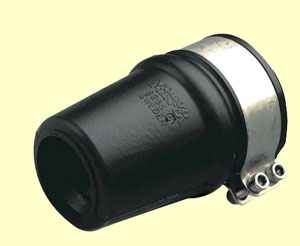 First the forward end of it needs to be 'burped' by squeezing it to allow the air trapped within to escape. If you fail to do this on a fairly reqular basis it will get hot, dry out and squeal alarmingly.
Secondly, grease must be squeezed in between the seal and the shaft to keep it lubricated - a task much like trying to get toothpaste back into the tube.
The one I replaced it with is shown below. It's a RMTA Shaft Seal, manufactured by ELICHE RADICE S.p.A. It seems they've identified the two maintenance issues of the Volvo seal and addressed them:~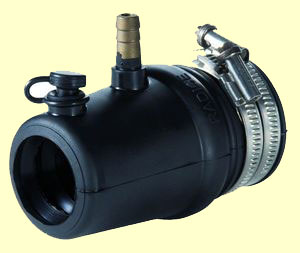 The taller connection provides for a clear plastic tube which is carried up above the waterline to release the build-up of air and allow the water to keep it cool.
The forward, capped one allows grease to be squeezed in easily to keep the seal well lubricated.
After one full season it was still working flawlessly - no drips, squeals - and not a single burp!


---


If you're really lucky you can tie your dinghy up to a dock designed specifically for yachties' dinghies, like the floating version shown below.

Otherwise you have to make do with a commercial dock, which are often supported on piles and have a space below. Given half a chance, your dinghy will contrive with wind and current to get itself firmly wedged under it - with often dire consequences for both dinghy and outboard motor.

Most cruisers are wise to this and usually ship a folding stern anchor and warp to prevent it from doing so.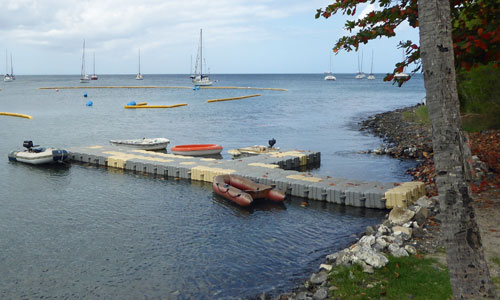 Sometimes though, the ground is too rocky to risk your stern anchor, in which case the solution is to do what these cruisers have done...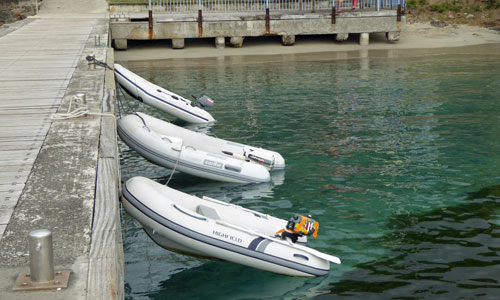 Or perhaps they didn't have a stern anchor. Either way it's not too kind on the dinghy perhaps, but infinitely better than getting it stuck under the dock.


---


Bryan Severance of Original Media contacted me recently regarding a TV documentary he plans to make. Here's what he said...

"Sailors, Boaters, Watermen and Women - I am looking to make a documentary TV series on the world of solo expeditions on the water.

Whether it is micro cruising, kayaking, rowboat, or sailing - we are looking for people who plan to make a crossing of the Atlantic Ocean in 2017 in somewhat confined spaces.

If this is you, or yow know someone that I need to speak to - I would love any help in finding these inspiring stories so we can tell their story.

Thanks and look forward to speaking."

Can you help Bryan? If so, drop him a line at bryan@originalmedia.com


---


It's always worth taking a look at what our visitors are getting rid of. Remember one mans junk is another man's gold!

Among other stuff this month, we have an unused Maptech Chart Kit for the Florida East Coast & Cays...


---

If you're thinking of selling your cruising boat - or know someone who is - remember you can advertise it entirely free of charge on sailboat-cruising.com - which is what the owners of these boats have done...


'Petronella', a Joshua 40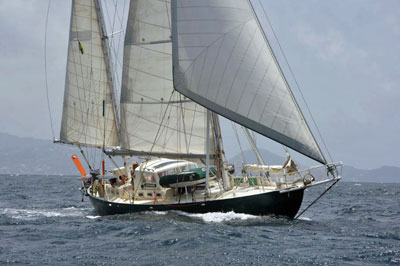 The original Joshua 40 was owned by Bernard Moitessier and was made famous in the Golden Globe race of 1968. More details...


'Our Alibi', an Elan Impression 434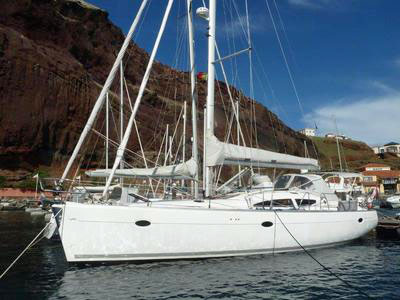 Perfectly positioned for her next Atlantic crossing! More details...


'Jack Iron', a Corbin 39 Centre Cockpit Cruiser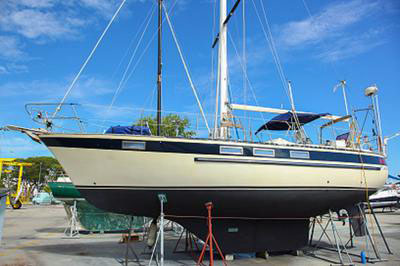 Spacious accommodation and well fitted-out for long distance cruising. More details...


Dean 37' Cruising Catamaran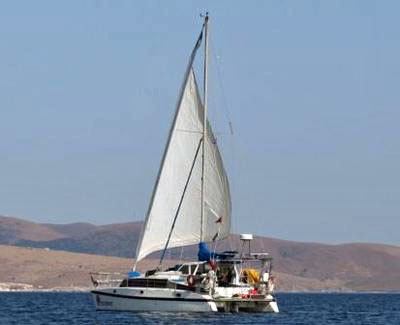 The owner of this one has just reduced his asking price dramatically. More details...


Take a look at what other secondhand cruising boats are currently for sale...


Don't forget...
If you're thinking of looking at a secondhand sailboat, or just want to be aware of what to look for - and when to walk away no matter what - then you really ought to take a look at Andrew Simpson's eBook Secrets of Buying Secondhand Boats...

It's full of sound advice from an acknowleged expert and could quite literally save you $$$$$thousands!



---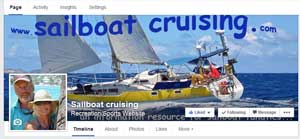 Sailboat-Cruising.com has a Facebook Page!

Clicking the image here will take you right to it, where you can browse through many more posts and articles.

Please take a look, and feel free to make a post - and don't forget to 'Like' us of course...

Thanks!

Visit sailboat-cruising.com's Facebook Page...
---
And finally...
If you know anyone who might be interested in the contents of this newsletter, feel free to email it to them. It's not secret!

And this newsletter can be a two-way thing. If you've read anything you'd like to comment on, or perhaps there's an event you'd like to see announced in a future newsletter, then please let me know.

See you next month!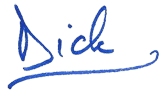 Dick McClary
Go to Sailboat-Cruising.com's Home Page...
---