Hi


The Sailboat Cruiser
The Sailboat Cruiser brings you the news, views and general musings of, well, me - a sailboat cruiser, and owner of sailboat-cruising.com.
If you like this newsletter, please let your friends know about it and do both them and me a big favour.
If a friend did forward this to you and if you like what you read, please subscribe by visiting...
---
Issue #5 February 2014
THE TRAGEDY IN ST LUCIA
Whilst the bludgeoning to death of yachtsman Roger Pratt aboard his anchored sailboat Magnetic Attraction is no longer headline news in the international press, it remains at the forefront of the minds of all of us who sail in the Caribbean.


Read the original newspaper article...


Four St Lucia nationals have been arrested and charged with his murder and presumably, if found guilty, will be appropriately sentenced.

Following so soon after the vicious attack on Christina Curtin aboard s/v Rainbow whilst anchored off Frigate Rock, Union Island, the cruising community is even more mindful of their personal security arrangements.

But just how far do we go? I know some crews lock themselves below each night when at anchor, which is something I'd be very loathe to do. Some carry firearms; should we all? I don't think so! Or do we quit the West Indies all together?

Although revolted by these atrocities, I believe we may be in danger of over-reacting to them. When taken into context with the number of yachts cruising around the West Indies, these horrendous attacks still remain 'isolated incidents' with a relatively low probability of occurrence for any particular one of us.

So although we should remain vigilant and take whatever counter-measures we each consider appropriate, we must also remember that the vast majority of the local people are friendly and welcoming, and are just as horrified by recent events as we are.

---
A CHEAP AND EFFECTIVE WINDSCOOP FOR USE AT ANCHOR
Sadly, I can't take any credit for the design of this; I believe - although I'm not certain - that this should go to Lynn and Larry Pardy.

You can't buy one as far as I'm aware, you have to make your own. But that is very easy to do, and here's how...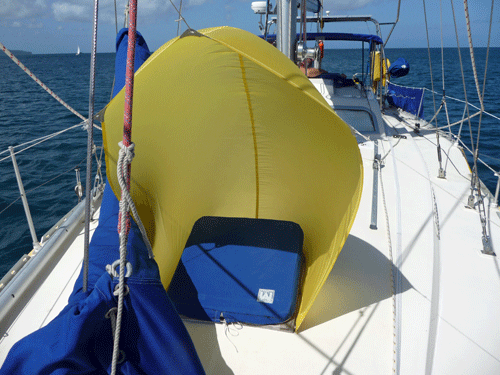 As you can see, it's made from two pieces of nylon spinnaker cloth stitched together and attached around the outside of the foredeck hatch surround. Attached thus, you can close the hatch from below when it starts to rain.


If your hatch is hinged at the forward edge as shown above (the most seaworthy approach), a partially closed hatch - as in the above pic - will still provide ample ventilation whilst preventing rainwater from getting below.
The first piece is shaped as shown below. It's a right-angled triangle, the longest side of which is curved.
The length of the foot is half the WIDTH plus the LENGTH of the hatch surround as shown on the left. The height is about three times the length of hatch surround - that's usually around 5 feet (1.5m) or so.
The curved edge should approximate to the shape shown. Allow 1" (25mm) all round for seaming.
The second piece is a mirror image of the first one, so use one as a template to draw the other.
Then cut them both out and stitch them together along the curved edge as shown below. Ideally, you'll use a zig-zag stitch for this.

Then turn in the remaining seams and stitch them together.

Just two more things to attend to:~
Holding it down and, er,
Holding it up...
Holding It Down
On Alacazam, the forehatch is bedded on a teak surround which makes holding it down with lift-the-dot fasteners a cinch.
Two of these are fitted to each of the three sides, the male part screwed into the surround, and the female part pressed into the seam around the foot of the windscoop. No special tools are needed.
Holding It Up
Using a halyard to hold it up just doesn't work - you need to hold it both up and forward. First though you need to provide an attachment point on the windscoop for a light line - a short loop of webbing strap stitched on is ideal. If you're lucky you'll have a convenient forestay, cutter stay or babystay to attach it to. Otherwise you'll have to be a little more creative. One solution would be to take a halyard down to a deck fitting just ahead of the hatch.
You'll find that this windscoop will direct an impressive breeze throughout the boat which you can vary by adjusting the position of the hatch cover.
---
SAILBOAT FISHING TIPS
As a regular visitor to Sailboat-Cruising.com you'll be familiar with my fondness for catching a few fish for supper, so you probably won't be surprised to see the occasional tip offered in this newsletter. Here's this month's...
Skirted Lures for Trolling
There is no more important item on our trolling line than the hook. Not only must it be razor-sharp, it must be of the right size and, when incorporated in a lure, in the right place.

Skirted lures are ideal for our trolling lines, but many cruisers complain about losing fish before they can get them up to the transom. This can only mean that the hook hasn't got a secure hold in the fish's mouth, and here's a couple of tips that should prevent any more fish regaining their freedom.



The gape of the hook should be about the same as the width of the lurehead - one hook size either way will be fine.
If it's much smaller, the skirt will mask the hook point and reduce hook-ups. Much larger and it will unbalance the lure and spoil its action.

The hook should be positioned well aft, but not so far back that it's visible at the end of the skirt.

In the illustration on the right it could probably go a little further back. The position is adjusted by threading beads on the line, extending the distance between the hook eye and the inside of the lurehead.



Read more sailboat fishing tips...
---
A NEW eBOOK LAUNCHED ON SAILBOAT-CRUISING.COM
It's not every month we can announce the publication of a new eBook, but this month we're doing just that.

It's Andrew Simpson's 'Secrets of Windvane Self-Steering' and you can get it for the incredibly low price of $1.99!
---
SAILBOAT IMAGES
First, thanks to all of you that submitted pics of your boats. But we still need MORE! Some people are never satisfied. Here's a small sample of what we've got so far...


Albin Nova 32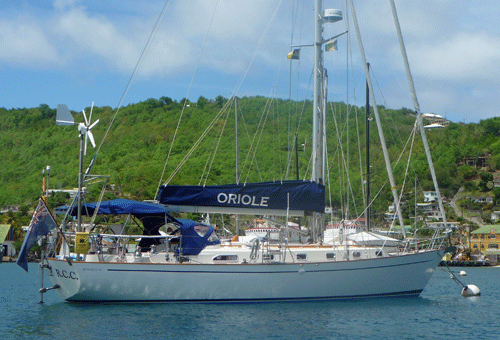 Bowman 40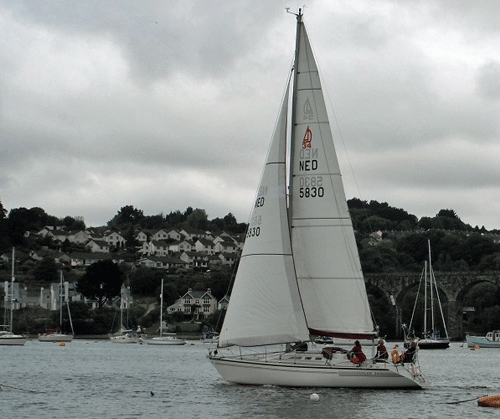 Dehler 34


Fisher 34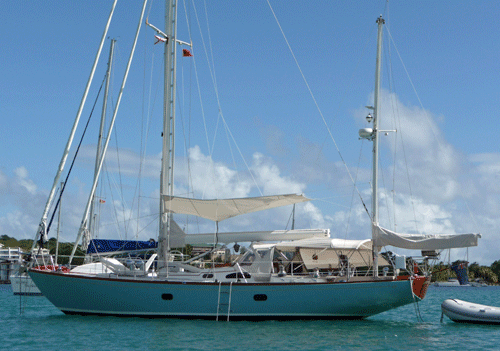 Hinckley 49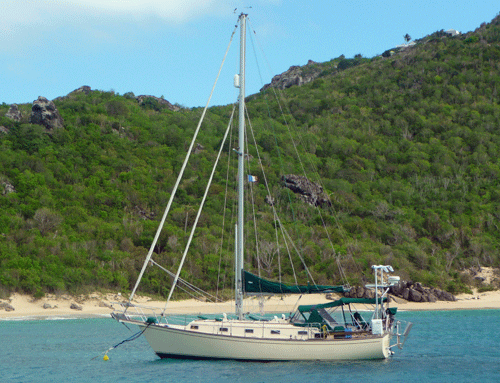 Island Packet 35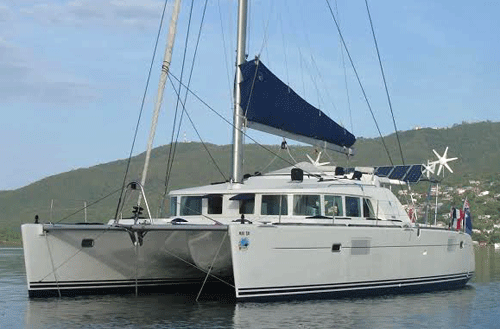 Lagoon 440 Catamaran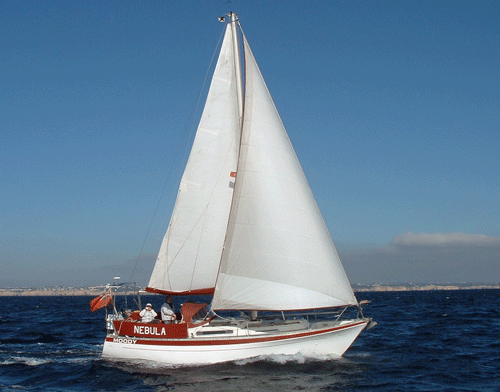 Moody 33


Prout 'Snowgoose' 37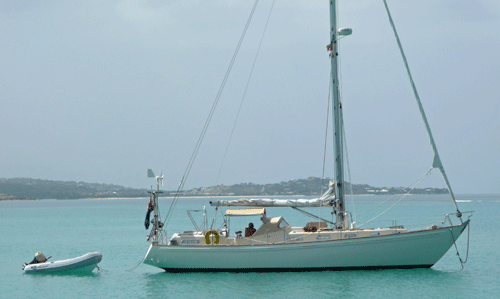 Rival 41


Tartan 40


See a lot more sailboat pics here...
---
And finally...
If you know anyone who might be interested in the contents of this newsletter, feel free to email it to them. It's not secret!

And this newsletter can be a two-way thing. If you've read anything you'd like to comment on, or perhaps there's an event you'd like to see announced in a future newsletter, then please let me know.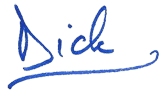 Dick McClary


Go to Sailboat-Cruising.com's Home Page...



---
---