Windvane Self-Steering for Cruising Sailboats
There's no arguing that steering a sailing boat by hand can be very exhilarating - but not for hour after hour. Even the most dedicated helmsman will sooner or later be looking to engage the autopilot.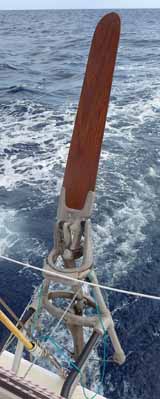 And these days, odds are it will be an electrically driven one.
Not that there's anything wrong with that, providing you have the means to generate sufficient power to satiate the beast's prodigious appetite for your precious amps.
But reliability isn't one of their strong points either, so you could find yourself back on the helm before too long.
Of course you know where this is heading - I'm going to start singing the praises of windvane self-steering gears.
Well yes, guilty as charged!

But just look at the evidence...

"OK", you say, "I'm convinced - but I have a few questions..."
"Just how do wind vane systems keep the boat on course?"
"I know there are different types of windvane self-steering systems available but how do they compare?"
"Does the size of my boat have any bearing on the vane gear I should choose?"
"My boat has a centre cockpit. Is there a vane gear design that's compatible with this type of layout?"
"My boat's got wheel steering. Does this rule out a windvane self-steering system?"
Good questions! The answers to which are set out - in detail - in Andrew Simpson's eBook'Secrets of Windvane Self Steering'.
---

Getting The Best Out Of Your Windvane Self Steering Gear
Miraculous though these devices might seem, there are limits to what they can achieve. Self-Steering issues are likely to occur with the extremes of sailboat designs such as very heavy monohulls, very light designs (especially multihulls) and flat-bottomed, beamy designs.
Andrew explains the cause of these problems and outlines the measures that can be taken to help Wind Vane Self-Steering Gears earn their keep.

Who's This eBook For?
Anyone who...

So How Much Does 'Secrets of Windvane Self Steering' Cost?
Incredibly, you can be reading this excellent, easy to understand and lavishly illustrated eBook in the next few minutes for
just $4.99!
Just One More Thing...
The eBook 'Secrets of Wind Vane Self Steering' comes with a No-Quibble Guarantee!
Sailboat-Cruising.com's Promise to You:
"I'm so sure that you'll be absolutely delighted with your purchase that I'll refund the price you paid in full if you're dissatisfied in any way". Dick McClary, Owner of Sailboat-Cruising.com
So what are you waiting for?
---
---
Sep 30, 23 11:02 AM

Experience luxury and performance with our Bavaria 44AC sailboat! With its well-crafted interiors, state-of-the-art navigation gear, spacious layout, and robust sailing capabilities, it's perfect for…

Sep 29, 23 05:38 PM

Sailing characteristics and performance predictions, pics, specifications, dimensions and those all-important design ratios for the Hanse 400 sailboat...

Sep 29, 23 03:17 AM

Interested in the Gulf 32 sailboat? Here are the pics, specs and performance predictions you're looking for...
---