Hi


The Sailboat Cruiser
The Sailboat Cruiser is the free monthly newsletter of sailboat-cruising.com and sets out to bring you the news, views and general musings of, well, me - a sailboat cruiser, and owner of the website.
If you like this newsletter, please feel free to email it to your friends.
If one of your friends did forward this to you and you like what you read, please subscribe by visiting The Sailboat Cruiser
---
Newsletter #12 - September 2014
What's in This Issue:
September already? Can't be, that's Autumn! Where did the summer go? It'll soon be time to lay up my Drascombe Lugger Skylark for the winter again. >

Just why does time seem to pass more quickly the older you get? Doesn't seem fair somehow...

But enough of that, there's a brighter side - the hurricane season in the Caribbean will be coming to an end soon so we can look forward to some cruising in the tropics.
---

There'll be a few jobs to do before we can leave Antigua's Jolly Harbour though, including
replacing Alacazam's anchor chain which I can't possible put off for another season;
reconditioning the aging Aries windvane self-steering gear with a spares kit supplied by Helen Franklin (daughter of the designer Nick Franklin);
and, at least thinking about replacing the rubber duck - that's the inflatable Avon tender.
Another headlong dive into the cruising budget...
A new RIB would be nice, faster and drier than the inflatable-floored Avon Redcrest but how could I avoid having to tow it everywhere, where it would slow Alacazam's progress and get in the way of the fishing lines. Davits are out because of the windvane self-steering gear.
A rigid sailing dinghy would be great, but because Alacazam is a cutter, there's no room to de-rig and stow one upside-down on the foredeck.

Read more about choosing a new dink...
---

Alacazam's chain was purchased in Trinidad som years ago - it's 3/8" BBB and it's definitely passed its best. It was my intention to just replace it with more of the same, until I started looking around for prices.

But is BBB chain the best way to go? It certainly isn't the only one, hi-test is definitely worth a look. As hi-test is stronger I could maybe:
go for 5/16" and stow a greater length of it in the anchor locker or;
replace the BBB with the same length and size of hi-test and benefit from the additional strength or;
go for the same length but smaller chain size of hi-test and have less weight in the chain locker.
Another problem to wrestle with!

Read more about BBB Anchor Chain versus Hi-Test Anchor Chain...
---

One of the joys of cruising is the interesting and talented people you meet.

I don't just mean those that can change a water pump impeller in 30 seconds or pull apart an alternator and re-wire the stator in slightly longer, but those natural artists who can paint and draw - and make music.

One such cruiser is Steve Izac, a British singlehander who lives aboard his ferrocement yacht 'Meteor'. I first met Steve at Barnacles Bar in St Maarten, West Indies.

He's a singer/songwriter who writes and performs his own music - which, on reflection, I suppose is what singer/songwriters do - and he's very, very good.

If I had to categorise his music - which he wouldn't thank me for - it would be "Jimmy Buffett meets Eric Clapton". But don't just take my word for it, take a listen to him right here...


---

Many cruisers attach a fishing lure to a length of line and tow it behind the boat in the hope that a fish will gladly leap upon it - and so it will, sooner or later.

But if you'd prefer it to be much sooner rather than considerably later, a little skill and knowledge will go a long way to getting the desired result.

Take lures for example. How on earth do you know which one does what? Here's a couple of things to look for in fishing plugs or 'swimbaits' as they're often called.

Plugs are hard lures, usually made of wood or resin resembling a small fish in both appearance and swimming action. Some are designed to operate close to the surface, others at greater depths - and here's how you tell which is which...

It's all in the size and angle of the lip. Small and steeply inclined, then that's one that operates near the surface; large and less steeply inclined, then that will dive to much greater depths.


This one, with its large flat lip will dive to depths of 20 to 30 feet when trolled at 6 knots.



Compare the almost vertical small lip of the one on the right to the one above. This one will operate just under the surface.

If you really want to improve your fishing skills, take a look at my ebook 'Secrets of Sailboat Fishing' then check out Steal the Deal below...


---

After reading my article about seaworthy sailboat interiors, Maggie Koerth asked the following question:~

"We're trying to figure out an ideal layout to look for for bluewater cruising with a family of (definitely) three and (potentially) four. Short of deciding not to have the second kid, do you have any suggestions? The V berths forward are fine and we could probably make that work, but is there a way to get a layout that's good for bluewater and allows two children to each feel like they have their own tiny nook they can retreat to and get away from each other?"

Any thoughts on this? If so please take a look at Maggie's comment (it's at the bottom of the page) and post your reply.

---

Most of us have installed red lights at the navigation station, the galley and the heads so that we can use these facilities when underway during the hours of darkness without losing our night vision - but have we been deluding ourselves?

New research suggests we have, indicating that red light is no less harmful to our night vision than any other colour light.

What does matter apparently is the brightness of the light, rather than its colour.

Read more about the red light night vision myth...
---

The major boating event here in the UK this month, is The Southampton Boat Show.

Second only in size to the Annapolis Boat Show in Maryland (which I attended last year), this event runs from 12th to 21st September so there's still time to make it if you hurry. You'll probably find me in the Guinness Tent...

Even closer to home (my home, that is) is the next South West Boat Jumble which is due to take place at the Newton Abbot Racecourse in Devon on Saturday September 27th 2014. Admission is £3.00, accompanied children and car park free. Telephone Compass Events 01803 835 915 for more details.

A few of us from the Tamar River Sailing Club might just pop along to that...

It's definitely Boat Jumble season now - here're a few more UK events...
Sunday 14th September 2014 - West Sussex Boat Jumble. Open 10:00. Selsey Road, Chichester, Sussex, PO20 1NP. B2145 off A27 Chichester Bypass.
Sunday 21st September 2014 - Humberside Boat Jumble. Open 10:00. Carlton Towers, Snaith, Goole, Yorkshire, DN14 9LZ.
Sunday 5th October 2014 - West of Scotland Boat Jumble. Open 10:00. Irvine Water Sports Club, 66 Harbour Street, Irvine, Ayrshire, KA12 8PY.
Sunday 5 October 2014 - Solent Boat Jumble. Open 10:00. The Royal Victoria Country Park, Netley, Southampton, Hampshire, SO31 5GA. Junction 8 M27.
Sunday 12 October 2014 - Kent Boat Jumble. Open 10:00. The Hop Farm, Maidstone Road, Paddock Wood, Kent, TN12 6PY. Junction 4/M20 or Junction 5/M25.
Sunday 19 October 2014 - South Wales Boat Jumble. Open 10:00. Margam Country Park, Port Talbot, Glamorgan, SA13 2TJ.
Sunday 26th October 2014 - Suffolk Boat Jumble. Indoor/Outdoor event. Open 10:00. Trinity Park Events Centre, (A1156) Ipswich, Suffolk, IP3 8UH.
Sunday 2nd November 2014 - East Hampshire Boat Jumble. Open 10:00. Havant Leisure Centre, Civic Centre Way, Havant, Hampshire, PO9 2AY.
But what's on in your area? With so many readers of this newsletter hailing from the United States, Canada, Australia and many other parts of the world we'd like to hear about your boating-related events too. Just send me an email with details and I'll be pleased to announce it here.
---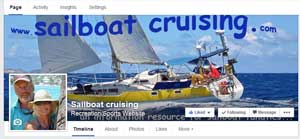 Sailboat-Cruising.com has a Facebook Page!

Clicking the image here will take you right to it, where you can browse through many more posts and articles.

Please take a look, and feel free to make a post - and don't forget to 'Like' us of course...

Thanks!

Visit sailboat-cruising.com's Facebook Page...
---
---
And finally...
If you know anyone who might be interested in the contents of this newsletter, feel free to email it to them. It's not secret!

And this newsletter can be a two-way thing. If you've read anything you'd like to comment on, or perhaps there's an event you'd like to see announced in a future newsletter, then please let me know.

See you next month!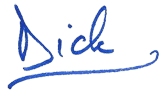 Dick McClary
Go to Sailboat-Cruising.com's Home Page...
---