Hi


The Sailboat Cruiser
The Sailboat Cruiser is the free monthly newsletter of sailboat-cruising.com and sets out to bring you the news, views and general musings of, well, me - Dick McClary, a sailboat cruiser and creator/owner of the website.
If you like this newsletter, please feel free to email it to your friends.
If one of your friends did forward this to you and you like what you read, please subscribe by visiting The Sailboat Cruiser
---
Newsletter #17 - March 2015
What's in This Issue:
Last month saw us - having launched Alacazam at Jolly Harbour Marina, Antigua - preparing to depart for Barbuda, an island to the north. Our trip was not without incident...

Our destination was Palm Beach, an 11 mile (usually deserted) stretch of pristine white sand, from which we could visit the world famous frigate bird colony in the mangroves at the northern end of the island.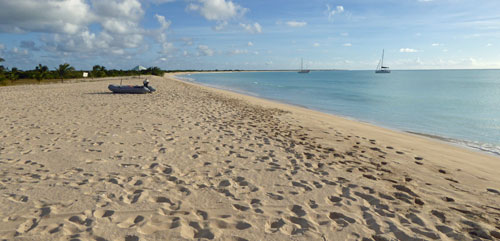 We had almost arrived, we'd dropped our sails and were motoring around the appropriately named Nine Foot Bank. Suddenly the engine temperature alarm went off.

Similarly alarmed, I immediately stopped Alacazam's Yanmar 3YM30. Sails were hastily raised and we got ourselves away from the dangerous bank and dropped the hook in 6m on sand, an appropriate distance off the beach.

Once the engine had cooled, I restarted it and checked for a flow of cooling water from Alacazam's wet exhaust. No water.

The impeller looked fine although a couple of the blades were turned anticlockwise. That's weird, I thought. But I changed it anyway, taking the opportunity to fit the excellent 'Speedseal' kit that I'd brought out from the UK.

The inlet strainer wasn't blocked and the water pump drive belt was fine. If the problem was a faulty thermostat then we still would have had water flowing from the exhaust - which we hadn't.

Puzzled, I disconnected the pipe downstream of the impeller and tried blowing through it. It was blocked. Hah! Back pressure had turned the blades around.

Continuing the 'disconnect and blow' approach up to and through the heat exchanger eventually found the blockage. It was in the small casting where the raw cooling water line from the heat-exchanger enters the exhaust elbow.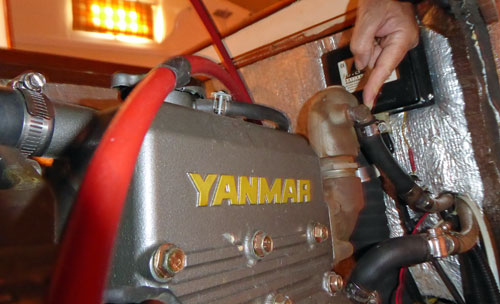 I took it off, cleared out all the carbon deposit - for that's what was blocking it - replaced the fitting and tentatively started the engine. To my great relief, water was again flowing from Alacazam's wet exhaust system but not, I thought, quite as much as it should be.

About an hour later, the north-east trade winds decided to blow from the west for a while. Alacazam swung to her anchor and was far too close to the surf line for my liking.

Fortunately we were able to start the engine and re-anchor further off the beach. Had it happened before I'd fixed the engine I think my heart rate may have set an all-time record!


---

Happy that Alacazam had a fully functional engine again, we left her anchored off the beach and set off in the dinghy to explore ashore. Just behind the beach was a large lagoon, the other side of which was Codrington, the island's capital.

We got chatting to a local fisherman who introduced himself as 'Goldilocks'.

Did he live with three bears, I asked. No, apparently in his youth he sported a full head of ginger locks, and the name had stuck.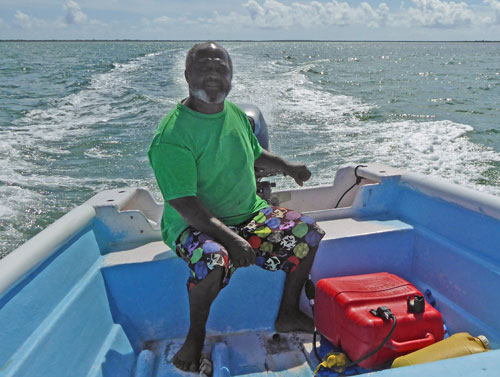 "Been to Barbuda before?" he asked. We hadn't, but I knew what was coming next. "Wanna visit the frigate bird colony?" We agreed a reasonable fee, and set off with Goldilocks in his pirogue.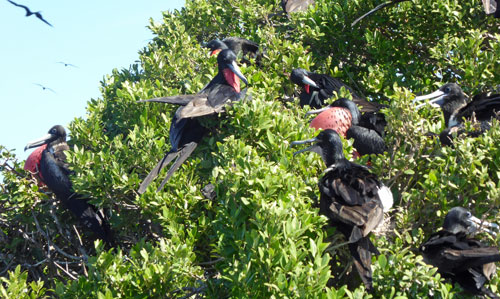 Frigate birds are seen all over the Eastern Caribbean, wheeling and soaring high above the ocean. Although they live entirely on fish they're not diving birds and never land on the surface of the sea - their huge wingspan relative to their body size would prevent them from taking off again - so they have two principal approaches to cathing fish:
they scoop up fish that are unwise enough to be very close to the surface;
they harrass other birds in flight until that bird either drops or disgorges its recent catch.
The Barbuda frigate bird colony is one of the largest in the world - if you ever visit the island, it should not be missed.
In the colony these birds show no fear of man, allowing Goldilocks to manouver quite close to the nesting birds without disturbing them.
Many had a single fluffy white chick to provide for whilst others where still incubating their egg - or carrying out the activity that would hopefully lead to one.
The primary seduction technique of the male birds is to inflate their red throats to the point of bursting and make a grunting sound. Well, it works for them.
Thank you Goldilocks for a great trip and telling us all about these magnificent birds.


---

Next stop, the French island of St Bartholomew or 'St Barts', a favourite playground of the very well heeled. Having been here before, we were to longer impressed by the Porsche Cayenne taxis!

Keen to get further north, we didn't linger long here - just long enough to capture this spectacular sunset over the Anse de Corossol anchorage off Gustavia, St Barts' capital.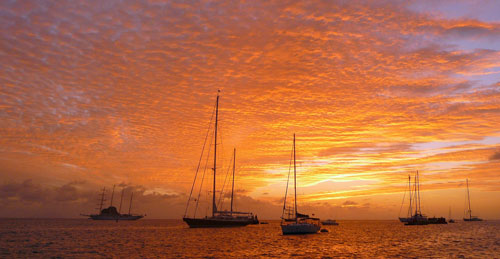 ---

Sint Maarten has a Dutch side and a French side, where it's spelled St Martin.

After clearing customs and immigration we motored under the lifting bridge into Simpson Bay Lagoon and tied up to a dock on the Dutch side, close to two large chandleries - Island Water World and Budget Marine.

It was also conveniently close to Lagoonies, a popular cruisers bar.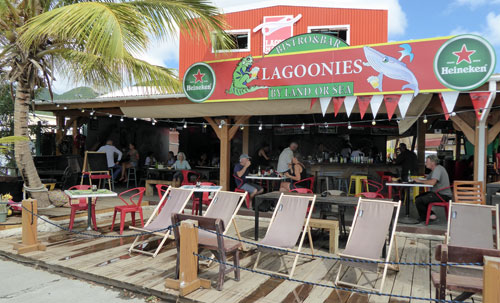 There's nowhere better in the West Indies than Sint Maarten to buy boat stuff or get things done. Prices are good (tax free), parts are readily available and boatyard services are excellent.

We had a few things to buy and I wanted to get a professional opinion as to why the exhaust elbow had carboned up.

I spoke to Greg at Simpson Bay Lagoon Diesel Company about it, an acredited Yanmar expert. "Yanmars are renowned for it", he said. "Best to get the elbow off and cleaned out every 1,000 hours or so".

So that's we did, and was I mightily pleased that we did so - it was in a very poor state, almost choked with a thick carbon deposit. Greg cleaned it out to as new condition using a machine Diesel Co had for the purpose and refitted it - cooling water now ran in copious amounts from Alacazam's exhaust. Job done, for another 1,000 hours anyway.

Owners of Yanmar marine diesels, take note!

My tendency to nurse the engine hadn't helped. Marine diesels need to be run hard from time to time. What is particularly bad for them is to leave them at tickover during battery charging for hours at a time.

If you have to do this (fortunately we don't - a combination of solar panels, windcharger and easily charged AGM batteries makes us self-sufficient both at anchor and underway) the manufacturers advice is to race the engine every couple of hours.

Do this by accelerating the engine from low speed to high speed and back to low speed - then do it again four more times.

The cruising budget got quite a bashing in Sint Maarten. Not just at Lagoonies Bar, but also in the chandleries. First I decided it really was time to replace the 10mm (3/8 inch) anchor chain - all 70m of it. Then the inverter decided to call it a day, and was pronounced beyond economic repair.

Fortunately I was able to replace it at reasonable cost with a 1,000 watt Modified Sine Wave Sinergex unit. I was just about to skip the old one when I noticed the 12v cooling fan in the base of the unit. Might come in handy, I thought. And so it did.

I fitted it in the fridge compressor compartment where it now improves ventilation by removing the warm air produced by the compressor and replaces it with cool air drawn from the bilge.

The fan draws just 0.1amps but reduces the cycling time of the air-cooled Waeco fridge compressor unit, providing a considerable net improvement in efficiency.


---

While in Sint Maarten we got chatting to the skipper of the boat alongside us, Mike, a Canadian singlehander on a Tartan 3700. We immediately hit it off and it wasn't long before we were trading fishy stories during Lagoonies 'happy hour'.

He told me told me about a fish he'd caught on his trolling line as he approached Sint Maarten. A triple disappointment, he told me...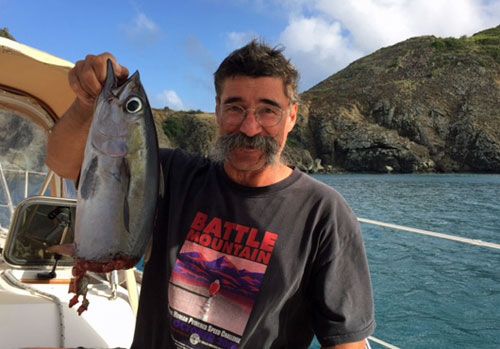 Mike was disappointed because he only got half of what he thought was rightly his;
The shark was disappointed for a similar reason;
And the tuna? Well, it just wasn't his day was it?
But Mike ate his half and the shark presumably did the same, so all was not lost.


How to Gut a fish
A sizeable fish (like Mike's tuna once was) is best cut into individual steaks for cooking, but first of course you've got to remove those parts that you can't eat - primarily its guts and other internal organs - you can't always rely on a shark doing the job for you.

To maximise the amount of edible fish recovered, this how is how the professionals go about it.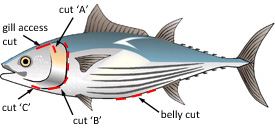 First cut off the fins and remove the scales, then:
Insert your knife into the underside of the fish, about 6 inches (150mm) ahead of the vent, and slice through the abdominal cavity towards the vent. On reaching the vent (the fish's anus), don't cut into it but cut a tight circle around it.
Insert your fingers into the cavity and pull out the digestive tract and all attached organs. Leave it whole, don't cut anything.
Now you need to remove the gills. Making the cut at the top of the gill cover (both of them) where shown will give you better access for the next part of the procedure.
Next, lift up the gill cover and make cut 'A' to detach the gill structure from skull, then make cut 'B' through the membrane around the perimeter of the gill, and finally make cut 'C' to detach it from the lower jaw.
Now return to the belly cavity with a sliming knife. The main point of these is that they don't have one – a point, that is. Instead they're made with a rounded end to the blade which reduces the risk of making a hole where you don't want one. Use it to scrape away all the membranes that attach the guts and other organs to the inside of the fish.
Next, carefully scrape away the bloodline from the spinal cord. There should now be nothing attaching the guts and the gills to the inside of the fish.
Finally, grab the gill structure and pull it, along with the guts and all other attached organs, out through the gill opening (shown as in the pic as a broken green line). And that's it, job done. Just give it a thorough wash out in seawater and it's ready for cutting into steaks. Yummee!
The above is an extract from my eBook Secrets of Sailboat Fishing.

---

We'd not been to the Virgin Islands before, being put off by stories of anchorages full of moorings hogged by charter boats leaving little space for the likes of us cruisers to drop the hook. But other cruisers had told us that it's not like that at all, and shouldn't be missed. We decided to find out for ourselves.

So are the Virgin Islands charter boat heaven and cruiser hell? Well, that's for next months issue!
---

Some of our readers wishing to sell their boats have taken advantage of Sailboat-Cruising.com's free advertising facility.

Here's another example~



S/Y 'Chinook Arch' - a Gulf Star 36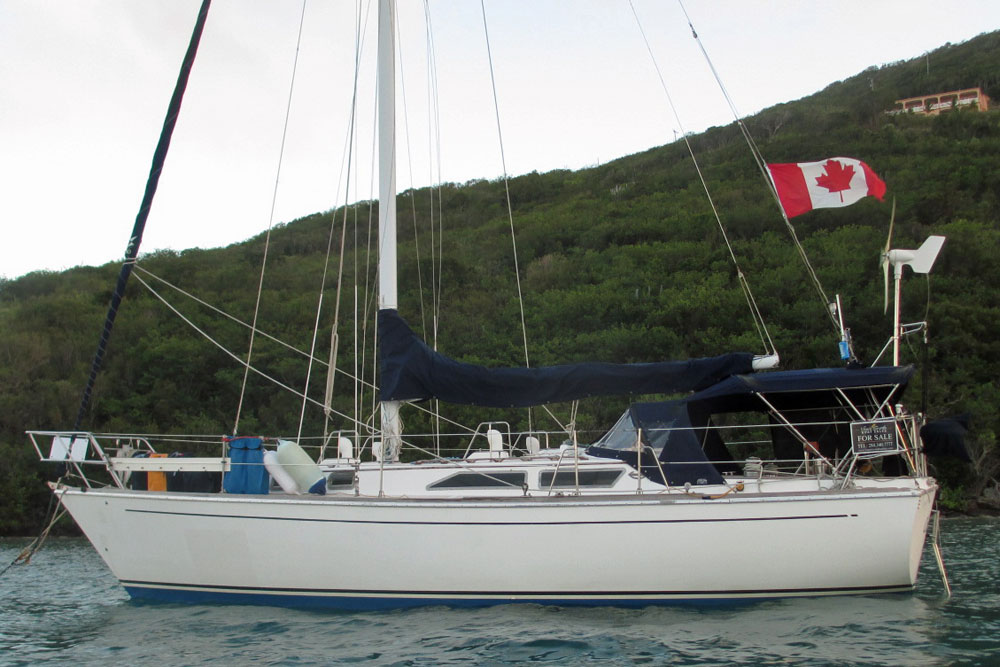 The owner says:~

"Chinook Arch has been cruising the US east coast, Bahamas Islands and Caribbean islands for the past 12 years.

She is a well maintained and comfortable cruising sailboat. The 2 prior owners kept her as a weekend sailing boat on the US east coast.

The interior is beautifully appointed in teak wood built by proud craftsmen. She has served us well these past years and provided us with exceptional memories. "
Good Advice Can Come Cheap!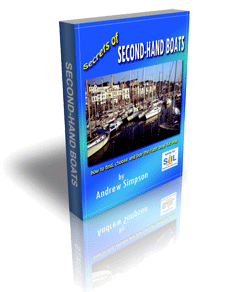 And speaking of secondhand boats, there's no better advice on buying one than Andrew Simpson's ebook on the subject - Secrets of Buying Second-hand Boats.

And like all of our 'Secrets of ...' series of eBooks, you can download it right now less than $5!


---
Did you know that you can leave a comment on every article on Sailboat-Cruising.com?

Was there something you disagreed with perhaps? Something left out that you think shouldn't have been? Or anything else you'd like to add?

If so, we'd love to hear what you've got to say. Just type directly into the comment box on the page - it's as simple as that!


---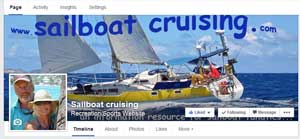 Sailboat-Cruising.com has a Facebook Page!

Clicking the image here will take you right to it, where you can browse through many more posts and articles.

Please take a look, and feel free to make a post - and don't forget to 'Like' us of course...

Thanks!

Visit sailboat-cruising.com's Facebook Page...
---
And finally...
If you know anyone who might be interested in the contents of this newsletter, feel free to email it to them. It's not secret!

And this newsletter can be a two-way thing. If you've read anything you'd like to comment on, or perhaps there's an event you'd like to see announced in a future newsletter, then please let me know.

See you next month!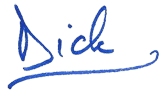 Dick McClary
Go to Sailboat-Cruising.com's Home Page...
---