Hi


The Sailboat Cruiser
The Sailboat Cruiser is the free monthly newsletter of sailboat-cruising.com and sets out to bring you the news, views and general musings of, well, me - Dick McClary, a sailboat cruiser and creator/owner of the website.
If you like this newsletter, please feel free to email it to your friends.
If one of your friends did forward this to you and you like what you read, please subscribe by visiting The Sailboat Cruiser
---
Newsletter #20 - July 2015
What's in This Issue:
With the Caribbean sailing season now over for another year, Alacazam is tucked up ashore at Spice Island Marine boatyard in Grenada.

With vivid memories of how she suffered at the hands of hurricane Ivan back in 2004 we've done all we can to prepare her for the coming hurricane season - now it's down to luck.

But dear to us as she is, we have to remind ourselves she's is just a boat, and she's insured. The local people of Grenada have far more to lose.



Arriving back home in Plymouth, England, I was delighted to find that my home club, The Tamar River Sailing Club (TRSC) had been selected to host the 2015 Jester Challenge or, to be more correct, the Jester Baltimore Challenge.

So apart from being for boats of under 30 foot long overall, what's the Jester Baltimore Challenge all about?

When the Observer Singlehanded Transatlantic Race (the OSTAR) got a bit too elitist, the Jester class decided to break away and create their own 'race' - except it wasn't a race, it was to be a challenge. There would be no winner, or perhaps all those that accepted the challenge would be winners. Either way there'd be no kudos in arriving first.

And there're no rules, just a few guidelines.

These days there are three Jester Challenges, which rotate on an annual basis:~
The Jester Baltimore Challenge (2015) - the shortest event, starting in Plymouth and finishing in Baltimore, Ireland;
The Jester Azores Challenge (2016) - From Plymouth to Ponta Delgada, Sao Miguel in the Azores;
The Jester Challenge (2017) - The big one, transatlantic from Plymouth to Newport, Rhode Island in the US.
One of the entrants told me of another 'guideline':- "If you get in trouble" he said, "you drown quietly and don't make a fuss."
Predictably, this event attracts a very special self-reliant and pragmatic type of sailor and some very interestingly adapted cruising boats.
Mary and I were invited aboard the TRSC's President Terry Orton's boat 'Rumteazer' (a UFO 34) to accompany the Jester boats down-river to the start line in an initially windless Plymouth Sound. Here are a few of them...
The Jester Challenge boats begin to congregate on the TRSC pontoon in the shadow of Isambard Kingdom Brunel's famous railway bridge over the River Tamar, completed in 1859. The much more recent suspension road bridge is just upstream of it.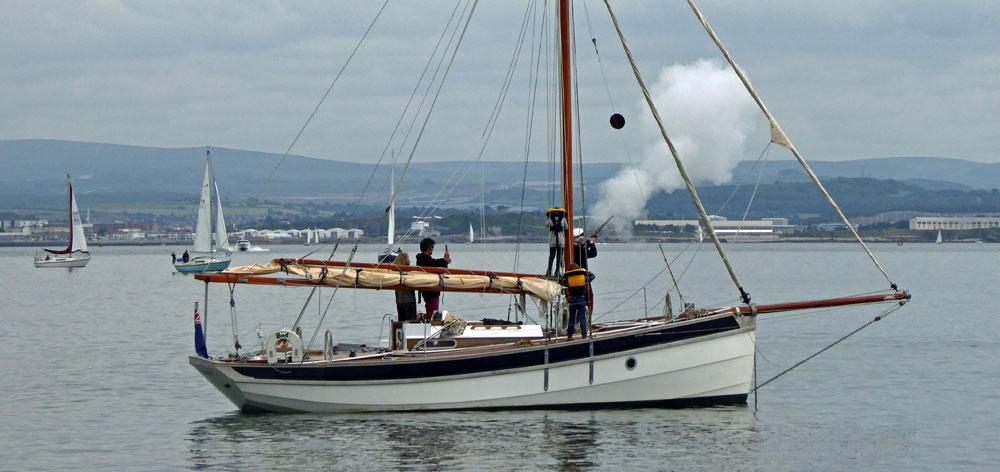 Aboard Black Velvet, Ewan Southby-Tailyour starts the 2015 Jester Baltimore Challenge by letting go both barrels of a 12bore shotgun loaded with baby powder. Then in true Jester fashion, he and other extraneous crew members disembarked leaving Hamish Southby-Tailyour to cross the start line and join in the Challenge.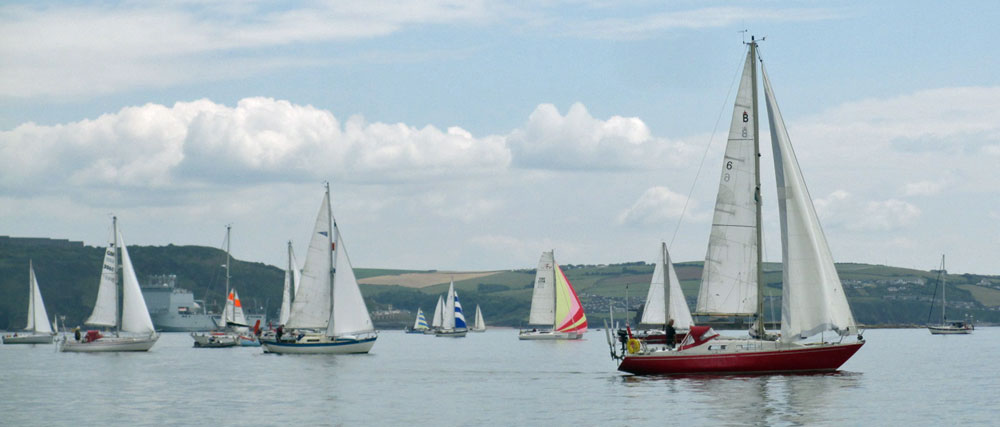 They're off! Albeit rather slowly in the almost windless conditions in Plymouth Sound. Soon though the wind filled in and the fleet disappeared around Rame Head. 31 of the 43 entrants started from Plymouth, the remaining 12 starting from Pwllheli in Wales.




The Jester Challenge isn't just for Monohulls...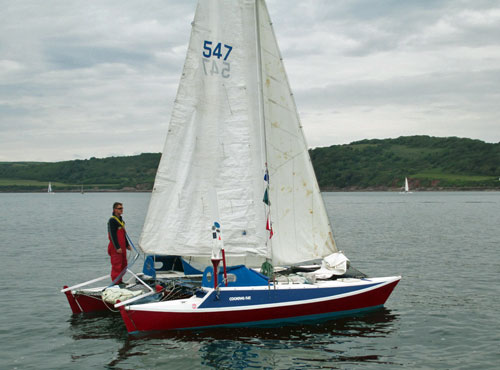 Rory McDougall's diminutive Cooking Fat (it's a spoonerism - think about it!) is a Wharram Tiki 21 catamaran. Rory's done a circumnavigation in this boat.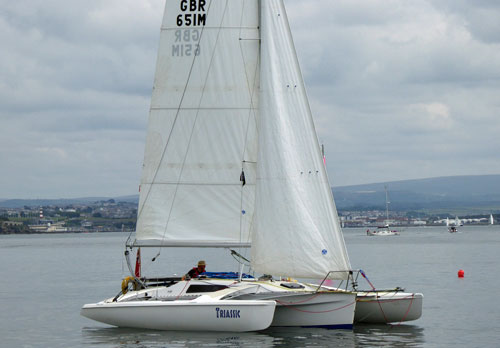 Above is Nigel Stevens' trailerable (its hulls fold inwards) F27 trimaran. Nigel, a retired policeman, was the first to arrive in Baltimore which, in the ethos of the Jester Challenge counts for nothing of course!

You can find more pics and specifications of the Jester Challenge boats on sailboat-cruising.com at cruising boats under 30ft long overall...
---


If, like the owners of Sea Glass and Pythagoras, you're the proud owner of a cruising boat and would like to see it featured here, please send me a pic together with a few words about it at DickMClary@sailboat-cruising.com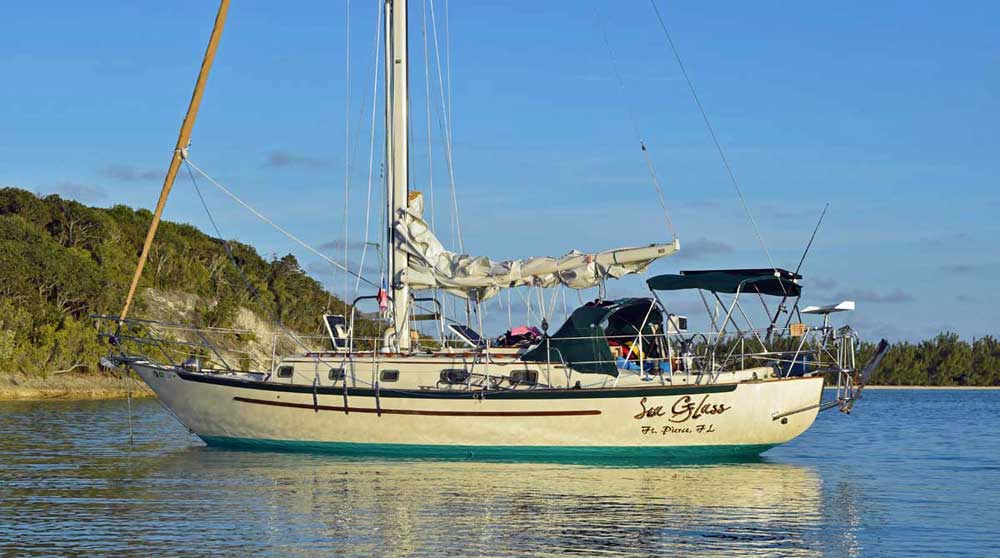 'Sea Glass', a Pacific Seacraft 37, the much loved cruising home of Jamey, Jill and Jessie Liddell. Like to see just how well 'Sea Glass' sails? Thought so, just click here to watch the video...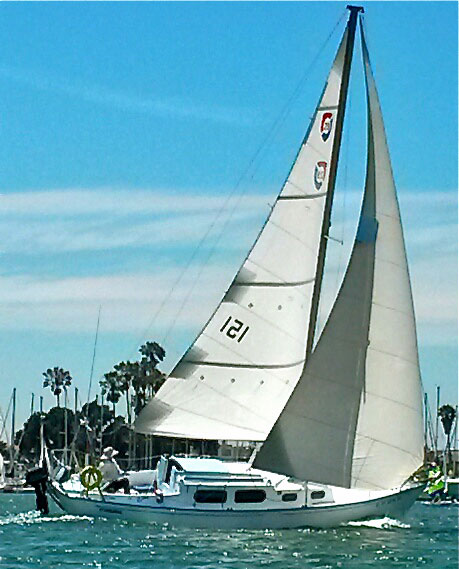 'Pythagoras', a Columbia 29 Mk1. Owner Don Litton tells us that this Sparkman & Stephens designed long-keeler is "just a great little boat".
---


I received a very interesting email recently from Stu who's looking to buy a cruising boat. Clearly Stu'd given it a lot of thought already as he was quite specific in his requirements, which you'll see from the relevant parts of his email which I've paraphrased below:~

Stu says...

" I'm currently living in in DE just south of Philadelphia between the Chesapeake and Delaware Bay. Flying as a corporate pilot I usually have about 12 days to 2 weeks off per month. With this in mind I'm very interested in doing some coastal cruising to start with and eventually the Caribbean. Hopefully one day I can make it across and enjoy some of the many places in the Mediterranean and Aegean Seas as well. I would welcome you opinion(s) on several points.

I'm trying to find the right compromise in a live aboard cruiser that would provide safety and "relative" comfort in bluewater as well as remain manageable when at anchor and I'm back at my regular job.

My idea is that the boat of choice is something I can grow with in terms of it being more capable than I am at the moment. Obviously my first trek out isn't going to be across the Atlantic, but being located on the eastern seaboard of the US I thought it would be good to get some miles under my belt by heading south and into the Caribbean or Gulf of Mexico for a bit. Longer term goals being to head out for deeper waters and needing a boat that's able to do that; I'd rather consider a boat up to the task so as to avoid having to sell one to buy another.

You may be able to make a few suggestions based on your experiences? A few boats that seem to come up rather often in my research are both Cape Dory and Pearson. Hunter and Morgan are also usually mentioned. My current budget is reasonable but nowhere near the 100 grand club. I'm looking for something that would be seakindly and nimble, yet with space for things that if not already aboard could be installed to make life a little easier; a watermaker for example. That considered I'm also not looking for a 5-star resort with sails either.

Particularly I am looking for either an older boat that may need a little work or one that may sell a little higher but has been upgraded and barring the usual maintenance may not need major repairs within about 2-5 years. Given that I'm looking to live aboard I'd like to have a shower installed (even at the expense of a sink in the head) and would prefer an aft cabin so as to utilize the V-berth as a single berth/work bench configuration.

Any and all advice and suggestions are most welcome"


Right Stu, here goes...
As a liveaboard, a basic requirement is that you need a sleeping area separate from the living accommodation. I once lived aboard a Nicholson 32 which had no such arrangement and with the forepeak taken up by sailbags and other stuff I had to sleep on a saloon berth, which was not ideal.
Another essential requirement is that you have full standing headroom throughout the boat.
For long-distance cruising you'll need a boat with a decent seaberth, parallel to the boat's centreline and away from its ends.
You wisely mention that you want a boat that is seakindly, comfortable and nimble. Whilst a heavy displacement long-keeler is likely to provide the first two, you can forget about any nimbleness. My Nicholson 32 was such a boat; whilst she tracked as if on rails in a seaway she was a nightmare to handle under power in the confines of a marina. A much better choice for me would have been the fin and skeg Nicholson 35, which had the benefit of a quarter berth and superior performance under sail.
My basic advice? A monohull cruising yacht, fin and skeg configuration, moderate displacement (length/displacement ratio 250 to 350), length overall probably not less than 34 feet.

Things to avoid:-
Teak decks - they deteriorate in hot, tropical conditions;
Brightwork - You'll spend too much of your time maintaining it, particularly so in the tropics;
In-boom or in-mast furling systems - OK I know many cruisers disagree with me, but here's why I dislike them;


Wheel steering - On a centre-cockpit boat you'll have to have a wheel of course, but on an aft-cockpit nothing beats the simplicity of a tiller, and here's why;


At this point I know you're expecting me to name a few boats that meet this criteria, but I really don't want to do that. I'm familiar with quite a few UK-built boats but my knowledge of US-built boats is much more sketchy. So now I appeal to readers of The Sailboat Cruiser:~

Are you familiar with a particular boat that you think might be ideal for Stu? Please tell us why and I'll include your recommendations in next month's newsletter.

Please email your suggestions to me at DickMClary@sailboat-cruising.com


---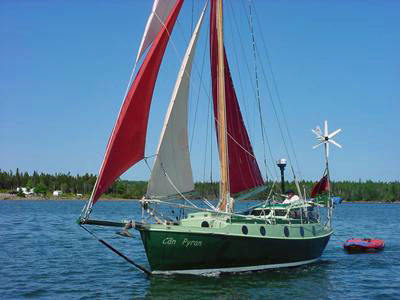 When Your Past Catches Up With You...
Some years ago, waiting in Tenerife in the Canary Islands for more affable Atlantic-crossing conditions, we became pals with John and Silvia on 'Can Pyran', a steel Wylo design from the board of Nick Skeates.
John and Sylvia are accomplished musicians, and regularly entertained the cruising community playing traditional folk music on their accordion and recorder. Recently they've advertised 'Can Pyran' for sale on sailboat-cruising.com, reminding me of the piece of doggerel I wrote for 'Can Pyran's Guest Log...
To repel those unwelcome boarders,
Such as pirates and other marauders,
'Can Pyran' deploys,
Not guns or such toys,
But a squeeze box and assorted recorders!
I don't think the poet laureate need worry too much. More pics and details of 'Can Pyran' here...


---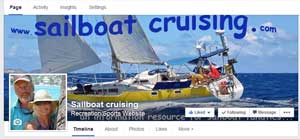 Sailboat-Cruising.com has a Facebook Page!

Clicking the image here will take you right to it, where you can browse through many more posts and articles.

Please take a look, and feel free to make a post - and don't forget to 'Like' us of course...

Thanks!

Visit sailboat-cruising.com's Facebook Page...
---
And finally...
If you know anyone who might be interested in the contents of this newsletter, feel free to email it to them. It's not secret!

And this newsletter can be a two-way thing. If you've read anything you'd like to comment on, or perhaps there's an event you'd like to see announced in a future newsletter, then please let me know.

See you next month!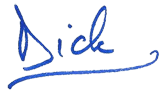 Dick McClary
Go to Sailboat-Cruising.com's Home Page...
---