Sailboat Tillers and Wheels Compared
I'm a big fan of sailboat tillers; and I have a question:~
"Just who told the marketing men that we all want to steer our boats with wheels?"
Admittedly, centre cockpit designs have to be wheel steered owing to the distance between the helming position and the rudder. And so do large heavy displacement designs where the tiller would need to be inconveniently long. But...
For most designs under 45 feet (14m) or so a sailboat tiller often makes more sense, and is much more fun to use.
Nothing beats sitting out on the coaming with a tiller extension helming the boat like a large dinghy. Well for a while anyway - gone are the days when I'd do this for hour after hour.
When we built Alacazam, a boat which responds enthusiastically to this kind of involvement, we positioned the primary and secondary winches a bum-width apart for this very purpose.
Strangely, over the years, these winches have got closer together...
Comparison of Sailboat Tillers and Wheels
Having confessed my preference, perhaps I should explain myself...
Well, in an aft-cockpit boat, a tiller:~

lets the helmsman, steering with the tiller between his legs, trim the jib, mainsheet and if he's really brave the

spinnaker

without disturbing the offwatch crew;

Whereas a wheel:~

clutters up the

cockpit

when at anchor;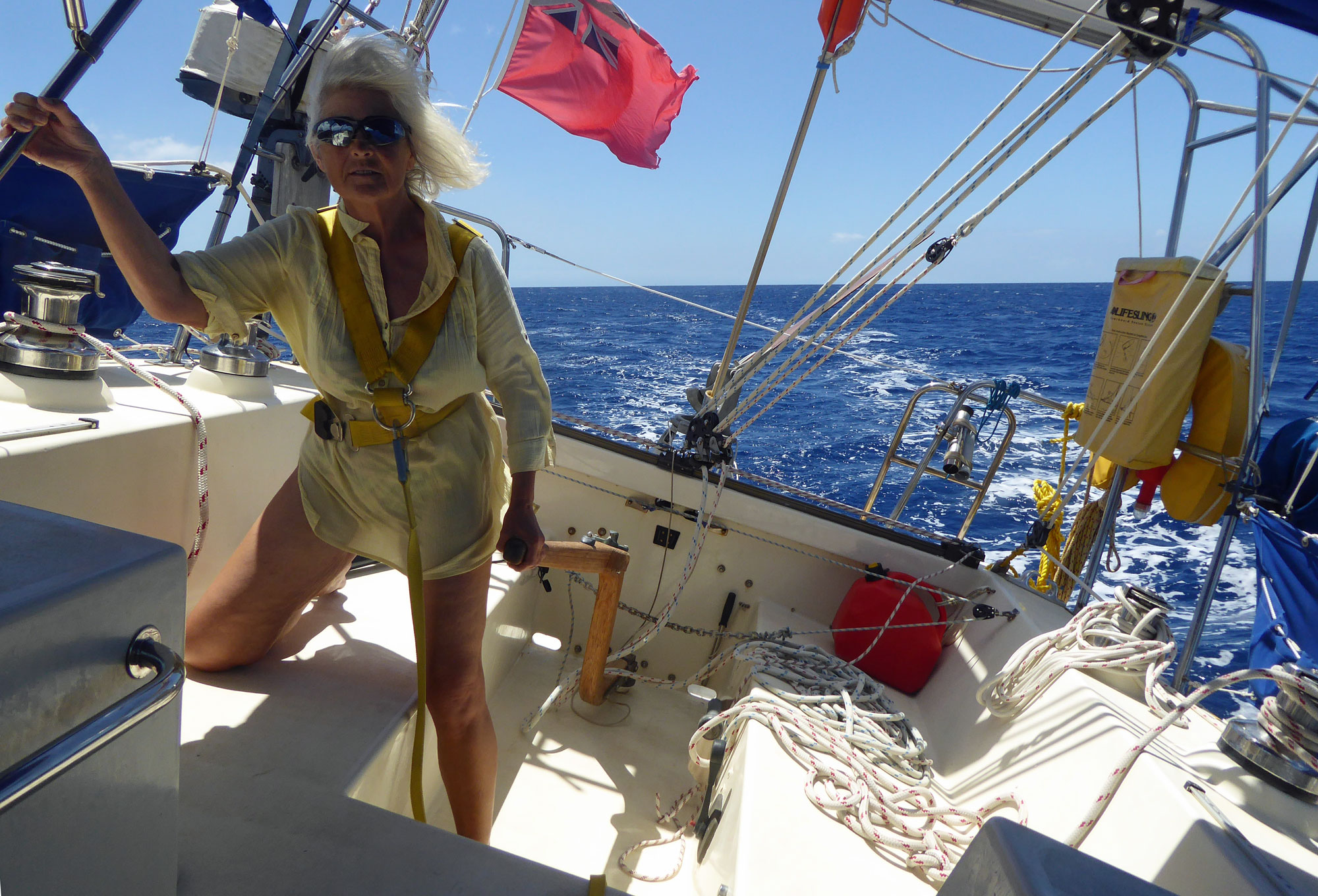 A tad too much weather helm, Mary. Drop the mainsheet car down the track a little?
A convincing case for a tiller? Well, that's really for you to decide, but pointedly, all wheel steered boats have - or should have - an emergency tiller, which may tell us something.
Fashion has a lot to answer for!
---
You are here: Sailboat Cruising > Cruising Sailboats > Sailboat Tillers
---
---
Jul 03, 20 02:40 AM

Model: EDEL CAT 35; Builder: EDEL, France; Year: 1996; Hull material: Composite (plywood/epoxy/polyester/sandwich); Total length: 10,65 meters; Beam: 6,04

Jun 30, 20 12:41 PM

Here's where people with sailing equipment for sale advertise their stuff entirely free of charge. If you're looking for used sailing gear or other used boating accessories, here's where to find it!

Jun 29, 20 02:57 PM

The 5 sailing knots that every member of the crew must know how to tie - and here's how...
---