Sailboat Tillers and Wheels Compared
I'm a big fan of sailboat tillers; and I have a question:~
"Just who told the marketing men that we all want to steer our boats with wheels?"
Admittedly, centre cockpit designs have to be wheel steered owing to the distance between the helming position and the rudder. And so do large heavy displacement designs where the tiller would need to be inconveniently long. But...
For most designs under 45 feet (14m) or so a sailboat tiller often makes more sense, and is much more fun to use.
Nothing beats sitting out on the coaming with a tiller extension helming the boat like a large dinghy. Well for a while anyway - gone are the days when I'd do this for hour after hour.
When we built Alacazam, a boat which responds enthusiastically to this kind of involvement, we positioned the primary and secondary winches a bum-width apart for this very purpose. Strangely, over the years, they've got closer together.
Comparison of Sailboat Tillers and Wheels
Having confessed my preference, perhaps I should explain myself...
Well, in an aft-cockpit boat, a tiller:~

through its direct attachment to the rudder, rewards the helmsman with ultimate feel and feedback;

by virtue of its mechanical simplicity ensures reliability and robustness;

lets the helmsman, steering with the tiller between his legs, trim the jib, mainsheet and if he's really brave the spinnaker without disturbing the offwatch crew;

allows the helmsman to gain shelter from the sprayhood;

at anchor can be lifted up out of the way, leaving the cockpit clear;

can't be geared down to make high steering loads manageable.

Whereas a wheel:~

can be geared down to make high steering loads manageable;

positions the helmsman right aft, denying him any protection from the sprayhood;

in most cases, doesn't allow the helmsman to trim the sails on his own;

is less precise than a tiller, offers the helmsman little feedback;

requires an expensive and complicated linkage arrangement of wires and blocks, which without regular maintenance is prone to failure;

is awkward to link to both windvane self-steering gears and electronic autopilots, and

adds weight right aft, just where you need it least;

clutters up the cockpit when at anchor;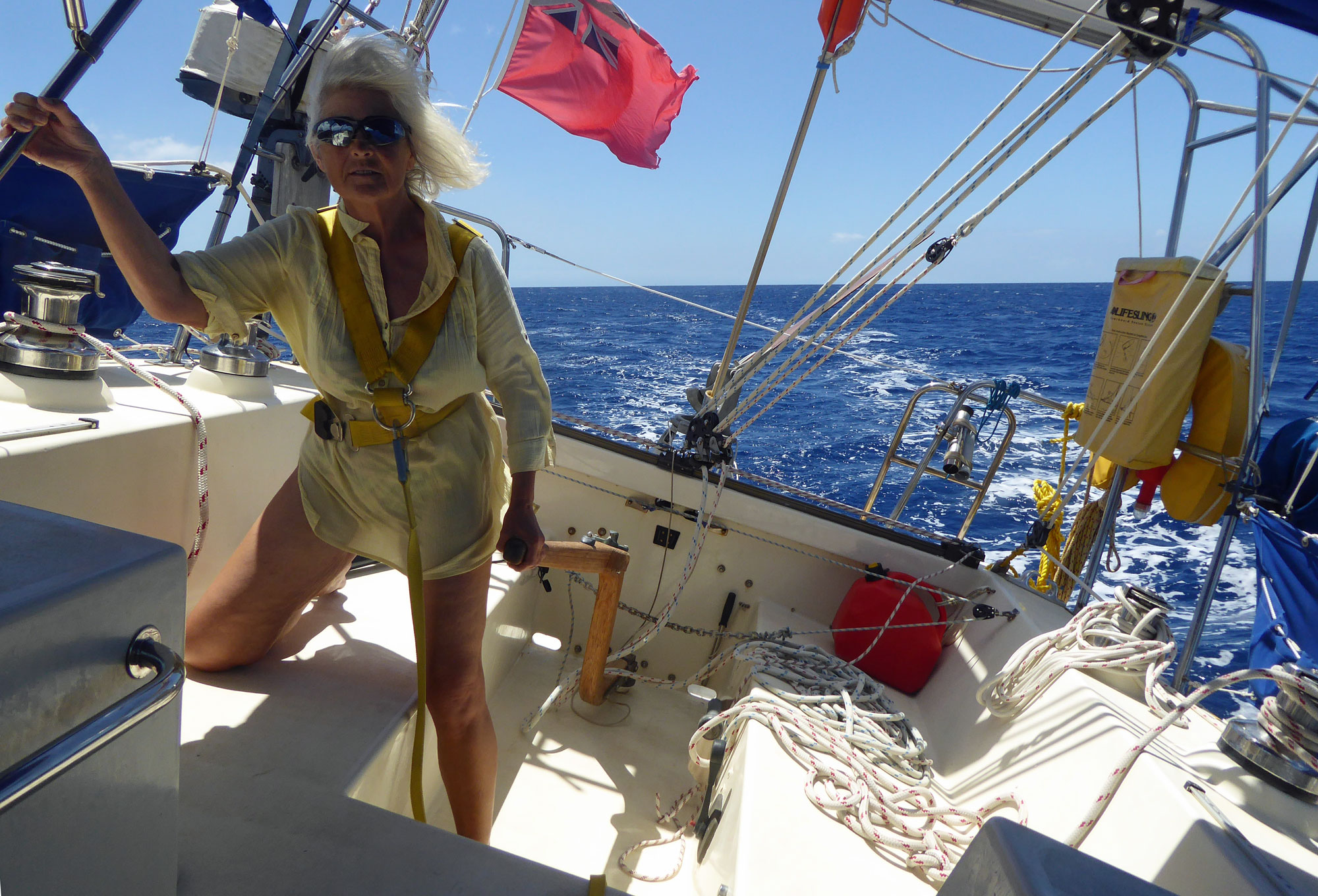 A tad too much weather helm, Mary. Drop the mainsheet car down the track a little?
A convincing case for a tiller? Well, that's really for you to decide, but pointedly, all wheel steered boats have - or should have - an emergency tiller, which may tell us something.
Fashion has a lot to answer for!
---
You are here: Sailboat Cruising > Cruising Sailboats > Sailboat Tillers
---
---
Mar 28, 20 12:51 PM

SORRY, NOW SOLD! For more boats like this one that are currently for sale please go to Cruising Sailboats for Sale... After 33 years of Europe, Atlantic

Mar 04, 20 05:49 AM

A Deep Cycle Marine Battery is definitely the way to go, but which type is best? A liquid lead acid boat battery or one of the Valve-Regulated Lead Acid (VRLA) types? Find out here!

Mar 01, 20 07:24 PM

If you are looking for a fast, quality bluewater catamaran suitable for single-handing, take a look at this Broadblue 42, currently located in Grenada,
---