Hi


The Sailboat Cruiser
The Sailboat Cruiser is the free monthly newsletter of sailboat-cruising.com and sets out to bring you the news, views and general musings of, well, me - Dick McClary, a sailboat cruiser and creator/owner of the website.
If you like this newsletter, please feel free to email it to your friends.
If one of your friends did forward this to you and you like what you read, please subscribe by visiting The Sailboat Cruiser
---
Newsletter #23 - October 2015
What's in This Issue:


If you're like me, you take a lot of interest in the ocean's wildlife.

Whales and dolphins are everybody's favourite of course - who can possibly not be awed by these magnificent creatures when they approach our boats?

And then there are seabirds, entertaining us as they wheel and dive around us.

Some actually join us aboard, often exhausted little beauties that have been blown off their migration route or an occasional opportunist that just decided to hitch a ride.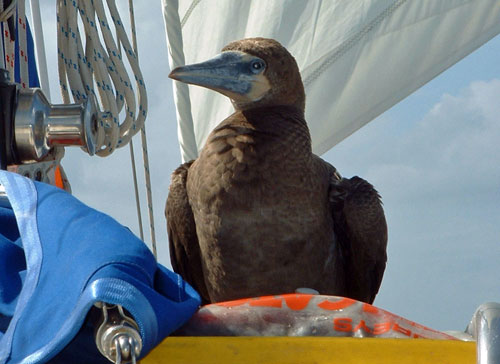 One such stowaboard was this handsome fellow, a blue-footed booby, who arrived aboard Alacazam in mid-Atlantic. Read more...

If you're fortunate enough to have any bird arrive aboard your boat when you're out at sea there's a special group of people that would very much like to hear about it.
They're a group of scientists running an Environmental Programme 'The Birding Aboard SeaBC Sea Bird Count'.
So whether you're a beginner, advanced, casual or dedicated birder and would like to get involved in the project, please take a look at the Birding Aboard website and/or the Birding Aboard FaceBook page. You'll be able to download all sorts of useful stuff - Tally sheets, Cockpit Guides, Posters, Kid's Certificates etc.
Don't know what sort of bird it is? No problem, send them a pic and they'll identify it for you.

---


Most of the time fish will find your trolling lure close to the surface, but sometimes you'll need to get the lure down deeper. There are several ways of doing this, but one of the most convenient is with a 'Poor Man's Downrigger Planer' setup as shown here...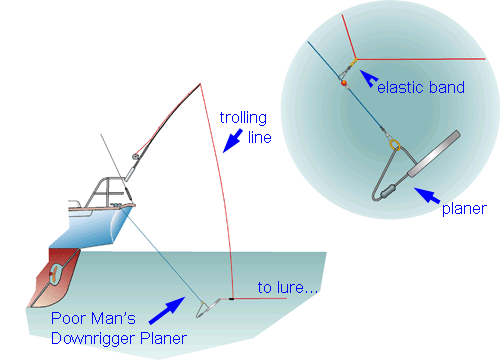 Why a Poor Man's Downrigger Planer? Well, the setup used on sport fishing boats is a crane like device deploying wire line, and they're often electrically operated. The sailboat version is much less complicated - and considerably cheaper!

Typically, a 60ft (18M) planer line and 5 knots of boat speed will achieve a lure depth of around 24ft (8m) - considerably more if the lure is a deep-diving plug. Here's how to deploy it...

1. Set the planer line to the required depth.

2. Start paying out your trolling line, but stopping the line when your lure's about 40ft (12m) or so behind the boat, then

3. Attach an elastic band to the swivel (not the snap) ofthe snap swivel with a cow hitch

4. Attach the elastic band to the trolling line in a similar fashion - you may have to do this several times to ensure that the elastic band has got a good grip on the line - then connect the trolling line to the planer line using the snap shackle.

5. Release the trolling line slowly allowing the snap swivel to be drawn along the downwardly angled planer line by the drag of the lure, until it's stopped by a bead fixed a short distance above the planer.

When a fish strikes, the elastic band will break, leaving the trolling line free of the planer line in place ready for you to do it all over again with a new snap swivel and elastic band.

A fish for the price of an elastic band? Sounds like a deal to me!

When you eventually bring in the planer line, you'll be able to recover the snap swivels for future use. Neat, or what?

Of course you could use one of the very heavy trolling weights in place of a planer, but my guess is you'll prefer a much lighter planer and rely on hydrodynamics to do its stuff.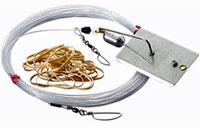 You can buy a Poor Man's Planer Downrigger online at BassPro.com. Incidentally, the artwork was done by Andrew Simpson who also illustrated my eBook 'Secrets of Sailboat Fishing' from which the above was extracted.
---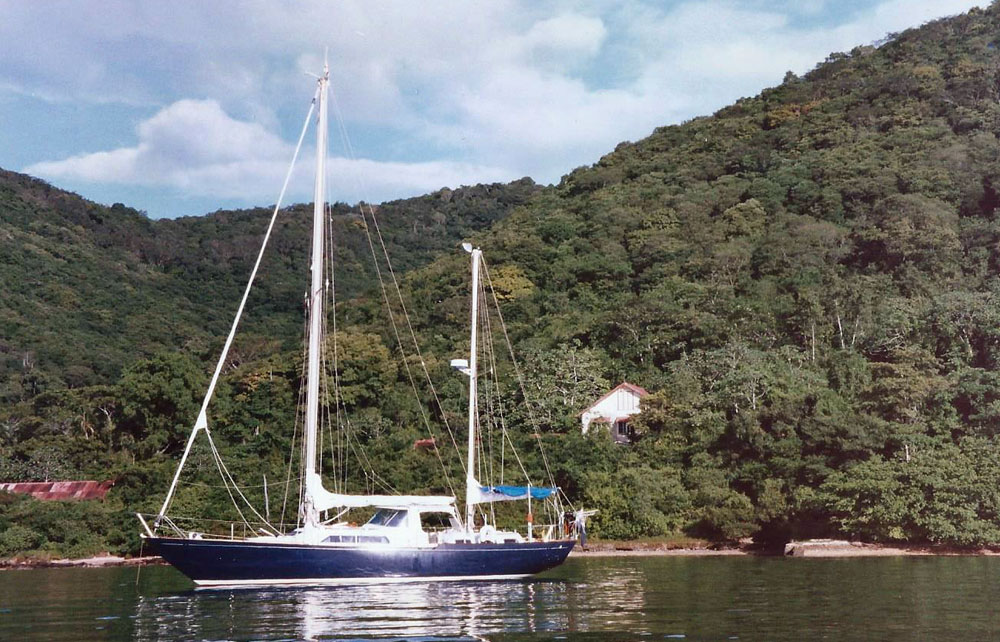 This Nicholson 48 ketch from 1978 has been sailed extensively in the Mediterranean, the Caribbean and UK waters by her very experienced owners.

You can learn a lot more about this fully equipped cruising boat at Scotland BoatShed where she's currently offered for sale for at less than £70,000 (that's around $110,000).

OK, she's getting a little long in the tooth but for someone looking for a capable long-distance cruising live-aboard home, she looks to me like a fantastic opportunity. 'Capercaillie' is a lot of boat for that kind of money...

And on the subject of your boat pics on Sailboat-Cruising.com, we always need more! So, if you'd like to do so, please send tham to me at dickmcclary@sailboat-cruising.com.

Don't bother with resizing, cropping or any editing - I'll do all that on PhotoShop before I put them on the website.


---


Two very different solutions for offshore cruising this month - a 44 foot monohull and a 42 foot catamaran. No prizes for guessing which one has the more spacious accommodation, but which would be your choice?
'Passat' a Montivideo 44 Monohull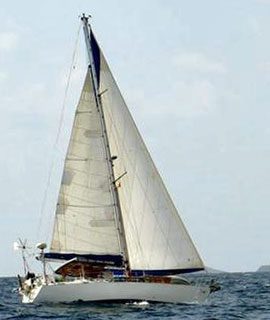 She has been the current owner's home for 10 years who have sailed her extensively around the Caribbean, USA, Venezuela, Panama and Guyanas. Read more...


'Exit Strategy', a Lagoon 42 Catamaran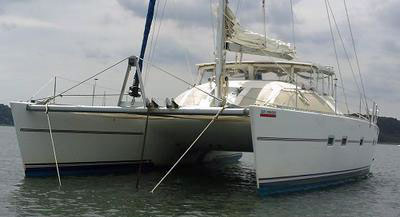 The owners have lived aboard for 6 to 9 months per year, cruising from Connecticut to South America and back and many months playing in between. Read more...
---


I'm not sure when I last took my sextant out of its box, or opened my Marine Sight Reduction Tables - but I know it wasn't recently. Nevertheless I still keep them aboard ready for the unlikely event of a simultaneous failure of all three of my GPS devices (chartplotter, standalone GPS and handheld GPS).

And I'm in good company too, as the US Navy no less is reinstating classes on celestial navigation for all new recruits, teaching the use of sextants because of rising concerns that computers used to chart courses could be hacked. Read more...

So if you'd feel reassured to have a sextant aboard, here's a really nice Freiberger Yacht Sextant for sale...
---


When it comes to choosing a tender for your cruising boat, most people will choose an inflatable - either a roll-up or a RIB (Rigid-Hulled Inflatable Boat).

The roll-up is very convenient as you can deflate and stow it away when underway, but they're slow and wet when compared to a RIB.

But a RIB can be a real pain to stow on deck, and you'll often see them towed astern if you don't have a set of davits on the stern. And davits mean that you can't have windvane self-steering gear - a 'must have' as far as I'm concerned.

What would be really ideal would be a RIB with the convenience of a roll-up.

Well, guess what?

Enter, stage left, to a fanfare of trumpets - the foldable RIB!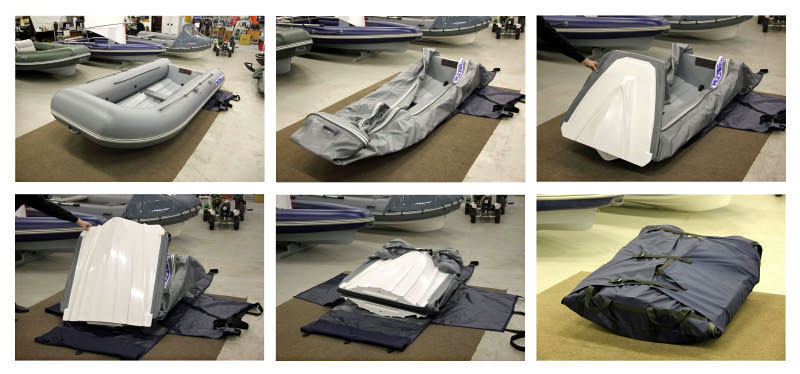 Could this be the ideal solution? The speed of a RIB together with the convenience of a Roll-Up.

This one's 9 feet long, folds down to a package 2'10" x 3'0" x 1'6" (0.85m x 0.9m x 0.45m) overall and weighs-in at just 79 pounds (36kg).
---


Luiz Felipe tells me he's in the Canary Islands looking for a crewing position aboard a sailboat planning to head across the pond. He's asked me to mention that he has experience as a deckhand and has sailed most of the Brazilian coastline.

You can contact him at surferangra@gmail.com
---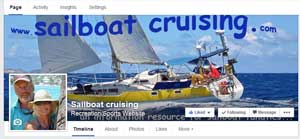 Sailboat-Cruising.com has a Facebook Page!

Clicking the image here will take you right to it, where you can browse through many more posts and articles.

Please take a look, and feel free to make a post - and don't forget to 'Like' us of course...

Thanks!

Visit sailboat-cruising.com's Facebook Page...
---
And finally...
If you know anyone who might be interested in the contents of this newsletter, feel free to email it to them. It's not secret!

And this newsletter can be a two-way thing. If you've read anything you'd like to comment on, or perhaps there's an event you'd like to see announced in a future newsletter, then please let me know.

See you next month!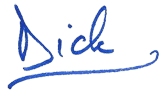 Dick McClary
Go to Sailboat-Cruising.com's Home Page...
---