Hi


The Sailboat Cruiser
The Sailboat Cruiser is the free monthly newsletter of sailboat-cruising.com and sets out to bring you the news, views and general musings of, well, me - Dick McClary, a sailboat cruiser and creator/owner of the website.
If you like this newsletter, please feel free to email it to your friends.
If one of your friends did forward this to you and you like what you read, please subscribe by visiting The Sailboat Cruiser
---
Newsletter #36 - April 2017
What's in This Issue:
But before we get into any of that, I'd like to share this latest pic of Alacazam with you.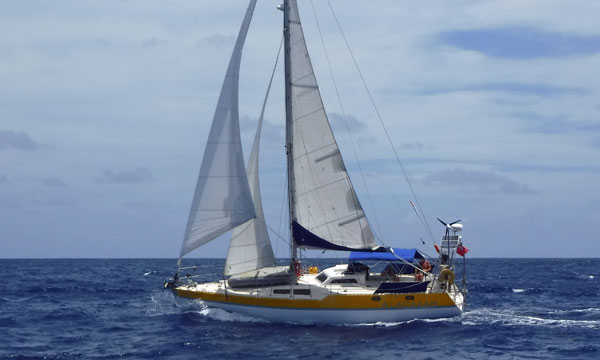 Alacazam reaching at 8.5 knots on passage for Antigua from Guadeloupe in March 2017.
15 knots of wind on the beam; slight sea; yankee, stayail and one reef in the main - perfect conditions for a cutter.
It's notoriously difficult to get a good pic of your own boat under sail, so many thanks to Alan Phillips and Brenda Russell on s/v Haven for this one.


---

Well where did that time go? It seems but a short while ago that we launched Alacazam for our 2017 season of Caribbean cruising but already we're having to think about laying her up again for this year's hurricane season, whilst we sit it out back home in the UK.

For old Caribbean hands like us, we believe we know all the boatyards that have adequate facilities for providing maximum protection against tropical storms and hurricanes.

Cost, as ever, is a major consideration and there are surprisingly large variations between the various boatyards. There are other things to think about too, for example:
Does the yard provide 'hurricane proof' cradles with tie-down straps to ground anchors?
Is there a separate, long-term storage facility with 24/7 security?
Are you permitted to work on the boat yourself or do you have to use the boatyards own personnel?
Are water and electricity supplies available?
Can you live aboard for a few nights or do you have to find accommodation elsewhere?
Are there direct flights home from the island?
If these issues are of interest to you, you may want to take a look at the latest article on Sailboat-Cruising.com, Choosing a Boatyard for the Caribbean Hurricane Season.


---

At times it can blow quite hard out here in the West Indies, and large northerly swells can develop from storms far away in the North Atlantic. When this happens we cruisers, with no real schedule to keep, hole up in a sheltered anchorage and wait for conditions to improve.

But bareboat charterers don't have this luxury. They have to get their boats back to the marinas from whence they came by a particular date and time - if they don't there will be a hefty penalty to pay.

So what does the charter skipper do? It will largely depend on his own experience, the strength of his crew and his confidence in his boat, but I've seen them set off in conditions that I'd certainly baulk at.

The risk is that the threat of the penalty encourages them to go when the the seamanlike decision is to stay put.


---


Chatting to a Canadian cruiser a few days ago, the subject of anchor swivels came up. I'd ditched mine years ago as I thought it was, quite literally, the weak link in the chain. He'd ditched his quite recently as it didn't do what he thought it would - stop twists developing in the anchor chain.

He still has this problem. The twists are accumulative, eventually reaching the point where the chain becomes a twisted serpent in the locker which jams in the hawse pipe and is the very devil to sort out.

At this point I confess to feeling a tad smug having experienced the problem and KNOWING THE SOLUTION!

Here's how it happens...

The anchor chain twists as the anchor is raised and the twists pass over the bow roller and under load, the odd one passes over the gypsy and into the anchor locker. When the anchor is dropped, there's little load on the chain so the twists don't pass back over the gypsy but remain in the chain that's left in the locker.

After a period of time, ALL the chain left in the locker becomes twisted - and there's your problem.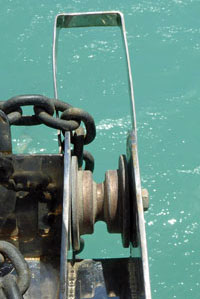 And here's how to stop it happening...
Get a bow roller fabricated in bronze with a groove machined in the centre of it, just wide enough to ensure that alternative chain links are aligned vertically as they pass over it, leaving the intermediate links laying flat.
This aligns the chain as it passes over the roller, preventing twists from developing between the bow roller and the gypsy and hence none ends up in the locker.
It forces any twists to sort themselves out between the bow roller and the anchor and - most importantly - ensures that the anchor arrives at the bow roller correctly orientated to stow properly every time.
Similarly machined Delrin bow rollers soon wear and their chain aligning ability is lost, which is what had happened to my Canadian friend's.
So if you have an anchor swivel - why?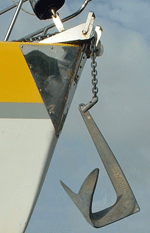 And if you need another very good reason for not having an anchor swivel, take a look at the pic on the right.

The pin in the swivel has jammed in the slot in this Bruce anchor. Imagine relying on that in a blow...

Apparently they make very good paper-weights!


---


Now and again you meet really special cruising sailors. Clair & Magoe Menning are two such people, who we were fortunate enough to get to chat to in Monty's Bar in Prince Rupert Bay, Dominica.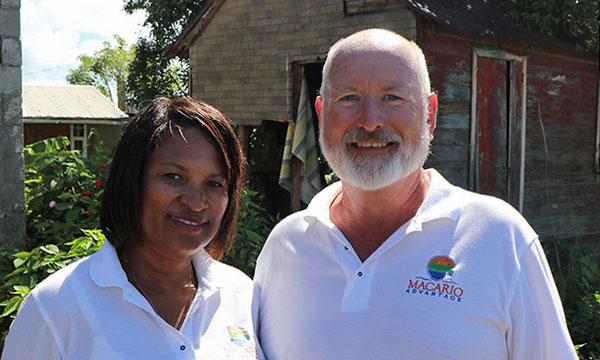 I'd heard Clair on the Dominica Cruiser's Net (channel 68, 0800 Monday to Saturday) where he's a Net Controller, but hadn't met him or his wife before.

They sail on their Leopard 46 Catamaran 'Macario' and are the co-founders of a nonprofit organisation called 'The Macario Advantage', to which they devote their time freely and wholeheartedly.

Their mission statement is 'to create a more blessed, happy and purposeful everyday life for the citizens of Eastern Caribbean nations'.

As they say on their website...

'Like so many places in the world, the island nations in the eastern Caribbean have a wide disparity between the 'haves' and the 'have nots.'

While the 'haves' have built luxury homes or enjoy the fancy resorts that tend to dominate the best beaches and the most scenic views of these beautiful islands, many of the permanent residents really struggle to make ends meet.

Through no fault of their own, these 'have nots' have been born into poverty, live in substandard conditions, and are seriously impacted by hurricanes, flooding, volcanoes and earthquakes that are endemic to the region.

These people tend to suffer from a strong sense of powerlessness to do anything about the seemingly insurmountable obstacles they face in life, which include lack of education, jobs, food, money, clean water, sewage management, medicine and proper housing.'

To see how they go about achieving this aim, take a look at their website, The Macario Advantage...

And while I've got you in a sharing and caring mood, what do you do with your old sails? Here's another nonprofit organisation that can put them to really good use - Sails for Sustenance...


---


A few years ago I bought a GoPro camera at the duty-free store at Portland (Oregon) Airport. It was a spur of the moment decision, brought on largely by a particularly persuasive salesman and the then favourable US$/UK£ exchange rate - and they were the same price in dollars as they were back home in the UK in pounds.

I never really got around to using it much as I couldn't find a reliable mount for fixing it securely on the boat - until this year, when I discovered this flexible clamp mount.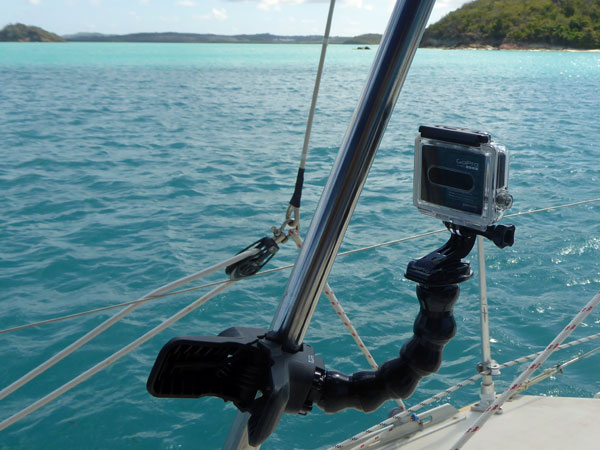 If you've got a GoPro, or are thinking of getting one, then this clamp-on flexible mount is perfect for use on a boat.

Clamp it to the pulpit, guardrails, stanchions, handholds, pushpit, gantry etc - turn on the bluetooth on the GoPro and take pics or videos remotely using your smart phone or tablet.

Highly recommended!

You can get one at Amazon.com...


---


Last month's mystery boat beat everyone - including me.

We had suggestions from readers who thought it might be a centre-cockpit CT, a Formosa in the 40 foot range, a Downeast 38 or maybe a Cheoy Lee 42 Clipper.

I checked them all out, and don't think it was any of them.

So we'll just have to give up on that one. Meanwhile here's this month's...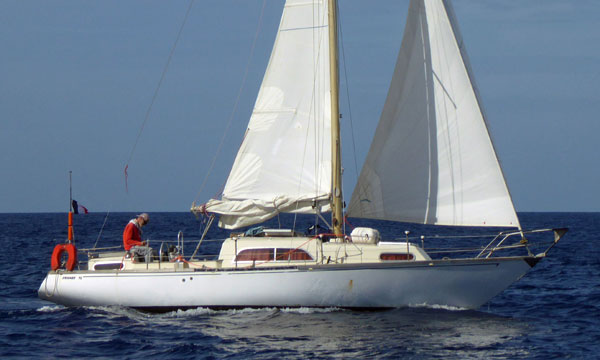 He was on passage from Martinique to Guadeloupe. The words at the after end of the hull read SWANEE TL, but googling that got me nowhere.

Any ideas anyone?


---


It's always worth taking a look at what visitors to sailboat-cruising.com are getting rid of. Remember that one man's junk is another man's gold!

Among other items this month, we have:

a set of Henri Lloyd (Ladies) Ocean Jacket & Salopettes;

a Navionics+ Electronic Chart for Central & Western Europe;

a South Atlantic Self-Steering Gear;

and a Raytheon L760 Chart Plotter.

Take a look at this and all the other stuff at used cruising gear for sale...


---

If you're thinking of selling your cruising boat - or know someone who is - remember you can advertise it entirely free of charge on sailboat-cruising.com - which is what the owners of these boats have done...

'Lady-U', a Tosca 36;

'Zafarse', a Privilege 42 Catamaran;

'Irish Mist', a Charger 33;

'Rat Catcher', an Island Spirit 401 Catamaran;

'Deep Blue' a Jeanneau Sun Odyssey 452;

Want to check out a whole load more? Then take a look at the full list secondhand cruising boats for sale...


Don't forget...
If you're thinking of looking at a secondhand sailboat, or just want to be aware of what to look for - and when to walk away no matter what - then you really ought to take a look at Andrew Simpson's eBook Secrets of Buying Secondhand Boats...

It's full of sound advice from an acknowleged expert and could quite literally save you $$$$$thousands!



---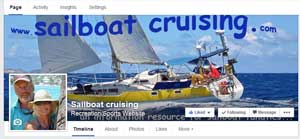 Sailboat-Cruising.com has a Facebook Page!

Clicking the image here will take you right to it, where you can browse through many more posts and articles.

Please take a look, and feel free to make a post - and don't forget to 'Like' us of course...

Thanks!

Visit sailboat-cruising.com's Facebook Page...
---
And finally...
If you know anyone who might be interested in the contents of this newsletter, please forward it to them. It's not secret!

And this newsletter can be a two-way thing. If you've read anything you'd like to comment on, or perhaps there's an event you'd like to see announced in a future newsletter, then please let me know.

See you next month!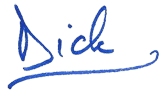 Dick McClary
Go to Sailboat-Cruising.com's Home Page...
---