Caribbean Hurricane Season
Choosing a Boatyard for the Caribbean Hurricane Season
During the Caribbean hurricane season, which runs from June 1st through November 30th, many cruisers (including us) choose to have their boats hauled out and stored in a manner which affords them the best protection from these violent storms. 
Your insurance company will be pretty specific about how you should go about it, where you can leave your vessel and where you can't.
Leaving your boat afloat in a marina isn't an attractive option in my view - it's far better to have her hauled out and properly stored ashore.
All yacht insurers changed their attitude to risks associated with yachts left unattended during the Caribbean Hurricane Season after the category 5 hurricane 'Ivan' devastated Grenada, with tragic loss of life and the destruction of thousands of homes and many boats.
These days, for most yacht insurance companies 'properly stored ashore' means leaving your boat in either a hurricane pit, a one-piece cradle or to a slightly lesser degree, welded-together boat stands.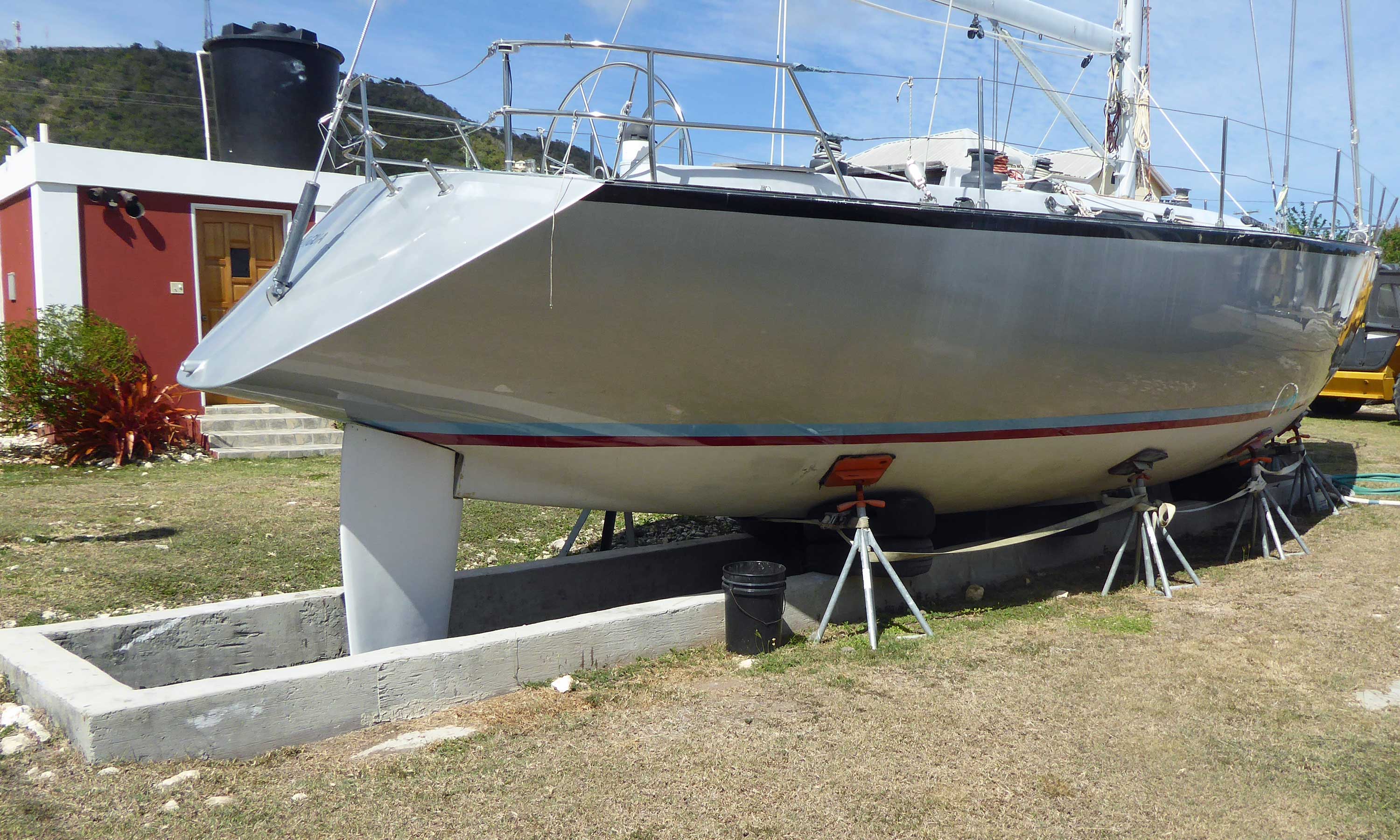 One way of storing your boat through the Caribbean hurricane season - in a properly constructed concrete pit.
---
Another approach to securing your boat in preparation for the Caribbean hurricane season - in a substantial one-piece cradle, with tie-down straps.
To the best of my knowledge, the following boatyards provide hurricane storage facilities like these - I apologize profusely if I've missed any out.
No doubt you'll let me know if I have...
Antigua

Antigua Slipway;

Bailey's Boatyard;

Jolly Harbour Marina;

North Sound Marine;

Grenada 

Carriacou

Carriacou Marine;

Tyrrel Bay Marina;

Martinique

St Kitts

Sint Maarten and St Martin

Crown Boat Yard;

Time Out Boatyard;

St Lucia

Trinidad

Peake Yacht Services;

Powerboats;
For the contact details of the boatyards listed here, take a look at Boatyard & Marinas of the Eastern Caribbean...

But how do you decide on the one for you?
The main factors you'll want to think about are:
Services available
Unless your boat is stored in a hurricane pit it will need to supported in a cradle or on welded-together boat stands. The cradle is the more secure option but it comes at a price. Your insurance company will almost certainly require that your boat is strapped down to ground anchors. Speaking for Alacazam, as a victim of 2004's hurricane Ivan in Grenada, strapping down is an essential feature for a hurricane season layup.
Is there a separate, secure facility for yachts hauled out for long-term storage? Is it on a properly drained concrete hardstanding or plain ground? You'll appreciate the difference in the rainy season. 
Does the yard allow you to live aboard while the yacht is on the hard? Many don't, and certainly won't if it's in a long-term secure storage facility.
Is there nearby accommodation for short-term rent? If you're like us you'll much prefer to spring a few dollars for this than living aboard while working on the boat during layup and launch preparation. Some yards - Powerboats in Trinidad, and Spice Island Marine in Grenada for example - have rental apartments available in the boatyard for that very purpose.
Does the yard allow you to work on the boat yourself? Once again some don't, forcing you to use their own workforce or charging a daily fee if you want to use an outside contractor. This is annoying if you have the requisite skill and time to do the work yourself.
Cost
There are two elements to boat storage costs:
A fixed element for lifting out and launching, power-washing, provision of a one-piece cradle and mast removal/stepping for example, and
a recurring element relating to the monthly or weekly fee for storage.
Some boatyards try to be a bit smart with this, offering a low monthly fee but high haulout/launch charges in the hope that you might not notice. But this can sometimes work to your advantage if you're planning on a long period of storage ashore, but definitely not for a short period. 
When searching around for prices, always get the boatyard to quote for the entire cost over the full period ashore, and make sure they believe they're competing for your business with other boatyards - even if they're not! And always negotiate - some yards offer a discount for repeat business which you might not get unless you ask for it. 
I've just gone through this process for those yards which meet my (and my insurer's) requirements and the price difference between the cheapest and the most expensive would pay for our flight home to the UK.
But of course it's not just about boatyard costs...

Location
The key factor here is whether you can get a direct flight to the island from your home country. 
We're based in the UK when we're not aboard Alacazam, which means we'd have to travel to Paris, France to get a direct flight to Martinique. So we've ruled out those two boatyards 
Similarly there are no direct flights to St Kitts - you'd have to fly to another island and then get an inter-island flight. Hassle we can do without.
Non-stop flights to Sint Maarten and St Martin originate from Amsterdam and Paris respectively, so we won't be hauling out there either.
You can only get to Carriacou either by ferry from Grenada or an inter-island air service, which is not ideal.
That leaves us with 4 preferred island locations, all of which have regular direct flights from London Heathrow or Gatwick Airport:
So where did we decide to store our sailboat for the Caribbean Hurricane Season?
At this point the process lost all of its previous rationality.
"Where shall we go then?" I asked Mary.
"Antigua" she said.
So that was it, Antigua it was to be. This left us with four boatyard options - any of which I'd be happy with, but one stood out as the obvious choice for us...
Antigua Slipway - Right in the heart of English Harbour, but nowhere close-by for us to stay while working on the boat.
North Sound Marine - By far the best value from a pure cost basis, but a little out in the sticks. No chandlery close by. We'd need accommodation in St Johns and a hire car to get around in.
Bailey's Boatyard, Falmouth Harbour - Easy access to a chandlery and all facilities, including accommodation close by, but the most expensive. 
Jolly Harbour Marina - A separate gated a 24/7 secure yard for long-term storage boats, and all facilities (including customs and immigration) nearby. A belt-and-braces, no compromise approach to hurricane storage. The clincher was the availability of a short-term waterside apartment close to the boatyard and the beach. 
Well, sometimes you just have to spoil yourself...
---
You are here: Sailboat Cruising > Caribbean Sailing > Choosing a Boatyard for the Caribbean Hurricane Season
---
Jun 07, 23 01:51 AM

Looking for used sailboats for sale that are capable of crossing an ocean? These cruising yachts are already in the Caribbean, but what are the risks and benefits of buying out there?

Jun 04, 23 08:32 AM

If you're looking for a unique Bluewater Cruising Yacht for sale in the Caribbean, then 'Shindig' is certainly worth a look...

Jun 04, 23 06:26 AM

Here's where people with sailing equipment for sale advertise their stuff entirely free of charge. If you're looking for used sailing gear or other used boating accessories, here's where to find it!
---