Hi


The Sailboat Cruiser
The Sailboat Cruiser is the free monthly newsletter of sailboat-cruising.com and sets out to bring you the news, views and general musings of, well, me - Dick McClary, a sailboat cruiser and creator/owner of the website.
If you like this newsletter, please feel free to email it to your friends.
If one of your friends did forward this to you and you like what you read, please subscribe by visiting The Sailboat Cruiser
---
Newsletter #38 - August 2017
What's in This Issue:
---

One of the problems with a cutter rig become evident when it's time to tack; the bowlines attaching the jib sheets to the clew of the headsail can get caught up on the inner stay as the bow goes through the wind. Having put up with this for years I've now decided it needs sorting.

The solution? Splice a small loop in the end of each sheet and attach them to the clew with a soft shackle.

They'really easy to make up, after all they're nothing more than a length of rope with a spliced eye at one end and a stopper knot at the other. Take a look at Soft Shackle Tying to see how it's done.

I had a go at making one up out of a length of 6mm Dyneema, and this is the result: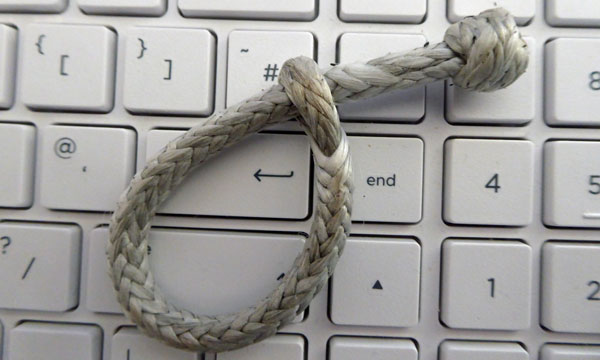 Although the rigger I spoke to said that 6mm Dyneema would be adequate for anything on my 38 foot (11.5m) sailboat 'Alacazam', I decided to use 7mm as the universal standard for my soft shackles in future.

So apart from the two for the jib and staysail sheets, which of Alacazam's stainless steel shackles could I replace with soft ones? These for starters:
jib halyard to furling gear swivel;
staysail halyard;
staysail tack to deck fitting;
mainsail halyard;
mainsail clew outhaul;
mainsail tack to gooseneck;
mainsheet attachment to boom;
topping lift attachment to boom;
kicker blocks to mast and boom;
runner blocks to chainplates;
control lines to mainsheet car;
That's 15 so far, which is why I'm knocking them out with the fervour of a future grandmother knitting socks and stuff for her first grandchild.
Here's How to Tie Soft Shackles...


---

Are you familiar with Pinterest? I wasn't until recently.

Seems it's an image-based social-media search engine - sort of.

Being a glutton for punishment, I thought perhaps sailboat-cruising.com should have a presence on it.

Our Pinterest Boards are in their early days yet, but here's what we got so far:



Sailboat Cruising on Pinterest...


---

Fishing at anchor is best done with your baited hook placed firmly on the seabed - and after sunset. Normally you won't have to wait too long before an interested customer shows up, particularly if your bait is a piece of fresh oily fish or squid.

Sometimes though, when the fish are not so accommodating, you may get involved with something else on board, leaving your fishing line unattended.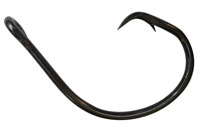 If a fish takes your bait now, he'll swallow it greedily taking both it and the hook into its gut. Now the fish will be in some discomfort at best, or severe pain at worst - and no living creature deserves that.

If you're likely to leave your line unattended you need to replace your normal hook with one of these; a circle hook, so-called because of its inward facing point.

Now, if the fish swallows the hook, any tension on the line will pull it back into its mouth, the inward hook point failing to catch on any internal part of the fish.

But when the direction of pull changes as the hook is drawn from the fish's mouth, the hook will secure a firm hold in the hinge of the jaw, from where it can be easily removed with little or any lasting damage to the fish.

This is particularly useful if you catch a fish you really wish you hadn't, as happened to us...


---

The problem with yacht insurance is that you don't know if its worth having until you need it. Will your insurance company pay up in accordance with their general obligations or try and wriggle out of them wherever they can?




Back in 2004, Hurricane Ivan resolved any doubts I may have had about my insurers. The vessel store alongside Alacazam was blown over, in turn knocking Alacazam over into the boat on her starboard side. As you can see, she suffered a deal of damage as a result.

My insurers own surveyor reported that "Alacazam's mast was of superior quality and should be replaced by one of similar quality."

Pantaenius, my insurers, made sure of that by having a new identical mast fabricated by the original UK suppliers and shipping it out to Grenada, rather than having one made up locally at a much lower cost. Their support during Alacazam's repair was outstanding, which is why they continue to insure Alacazam to this day.

Consequently I was delighted when Pantaenius approached me about advertising on sailboat-cruising.com.

I have absolutely no hesitation in recommending them to you.

Check out the Three Reasons why Pantaenius is Right For You...


---

Kraken Yachts have commissioned award-winning New Zealand designer Kevin Dibley to produce a new yacht that is 'Built for Purpose' - and that purpose is to be a true Blue Water Cruiser.

Kraken chairman and founder Dick Beaumont tells us that "The Kraken 50 does not cut corners or compromise. Unlike many production yachts, it offers - as standard - features that ensure safe and comfortable blue water cruising". For example...
It has a twin headsail rig. This sail combination adapts well to all weather conditions and – thanks to the standard electric winches - is easily handled from the cockpit by a small crew;
For offshore safety and protection against UFOs (unidentified floating objects), the Kraken 50 incorporates a tough full-length skeg that is moulded as an integral part of the hull. Whereas many modern yachts have no skeg at all;
The Kraken 50's Zero Keel ™ (so called because it has zero keel bolts) is also an integral part of the hull with the lead ballast encapsulated in a long bulb. It cannot become detached;
whereas an iron keel bolted beneath a flat-bottomed hull can;
The Kraken 50 has a deep, well-protected centre cockpit with high seatbacks for security. These are carefully angled for maximum comfort in a seaway;
An internal raised navigation station enables crew to stay warm and dry when on watch in bad weather.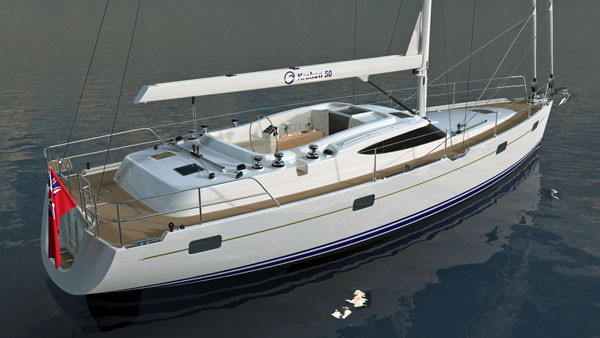 Dick Beaumont has strong views as to what makes a safe and comfortable Blue Water Cruiser - it all makes good sense to me...

What makes a safe and comfortable Blue Water Cruiser?


---

There were several different suggestions for the identity of last month's mystery boat, including a Hinckley Sou'wester 42, a Hinckley 43 and a Bristol 39/40.

Thanks to all of you for your replies, but my money is on it being a cutter-rigged version of the Hinckley Sou'wester 42 Mk2 introduced in 1995.

Meanwhile here's this month's mystery boat...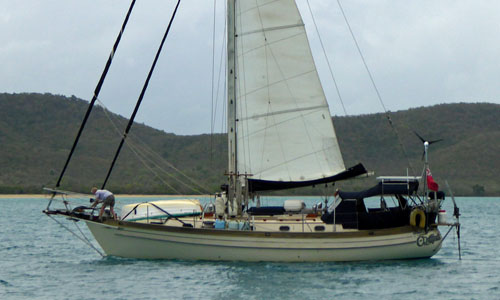 A heavy displacement, canoe-sterned cutter preparing to drop the hook in Five Islands Bay, Antigua.

Any ideas anyone?


---

It's always worth taking a look at what visitors to sailboat-cruising.com are getting rid of. Remember that one man's junk is another man's gold!

Among other items this month, we have:
Simpson Model 8 Electric Davits;
A Voyager Windvane Self-Steering Gear;
A pair of Barient 27 Two-Speed Self-Tailing Aluminium Winches;
Various items items for an Ericson 35.
Take a look at this and all the other stuff at used cruising gear for sale...


---

If you're thinking of selling your cruising boat - or know someone who is - remember you can advertise it entirely free of charge on sailboat-cruising.com - which is what the owners of these boats have done...

'Gypsy Girl', a Deancat 365 Catamaran

'Sanctuary', an Island Spirit 37 Catamaran

'Thetis', a Tropic 12 Catamaran

'Apollo of Brough', an Ohlson 38

'Surgiamo', a Beneteau 500

'Sea Symphony', Formosa 51

'Onward', a Taswell 43

'Hakuna Matata', a 65' Custom Design

Want to check out a whole load more? Then take a look at the full list of monohulls for sale here, and multihulls for sale here...


Don't forget...
If you're thinking of looking at a secondhand sailboat, or just want to be aware of what to look for - and when to walk away no matter what - then you really ought to take a look at Andrew Simpson's eBook Secrets of Buying Secondhand Boats...

It's full of sound advice from an acknowleged expert and could quite literally save you $$$$$thousands!



---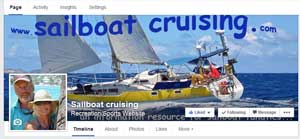 Sailboat-Cruising.com has a Facebook Page!

Clicking the image here will take you right to it, where you can browse through many more posts and articles.

Please take a look, and feel free to make a post - and don't forget to 'Like' us of course...

Thanks!

Visit sailboat-cruising.com's Facebook Page...
---
And finally...
If you know anyone who might be interested in the contents of this newsletter, please forward it to them. It's not secret!

And this newsletter can be a two-way thing. If you've read anything you'd like to comment on, or perhaps there's an event you'd like to see announced in a future newsletter, then please let me know.

See you next month!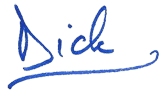 Dick McClary
Go to Sailboat-Cruising.com's Home Page...
---