Hi


The Sailboat Cruiser
The Sailboat Cruiser is the free monthly (OK, monthly-ish) newsletter of sailboat-cruising.com and sets out to bring you the news, views and general musings of, well, me - Dick McClary, a sailboat cruiser and creator/owner of sailboat-cruising.com.
If you like this newsletter, please feel free to email it to your friends.
If one of your friends did forward this to you and you like what you read, please subscribe by visiting The Sailboat Cruiser
---
Newsletter #65 - March 2021
What's in This Issue:
---

If you already own a boat, you won't need me to tell you about the costs involved but if you're considering buying one for the first time, then the true cost of ownership is something I probably can help you with...

This time of the year Mary and I would be halfway through our annual sabbatical, cruising around the islands of the West Indies aboard our 38 foot sailboat 'Alacazam'. This year of course, for obvious reasons, it was not to be.

With 'Alacazam' languishing in her hurricane cradle in Grenada, the boatyard costs continue to bite monthly chunks out of our cruising budget. Had we been cruising in a normal year, there'd be no such costs during these winter months. Swinging on the hook in the anchorages of the Caribbean Islands is free; we avoid moorings and marinas unless there's no alternative, happily leaving them for the better-funded charterers.

So as things stand, not sailing is costing more than sailing! This revelation got me thinking about all those other costs and expenses that owning a sailboat entails.

That's one of the problems of being locked-down ashore - you've got too much time to think about things that would be better not thought about at all.

But against all my instincts, I thought about it in some depth...

So read on - but you have been warned!


---

If you're fortunate enough to cruise the Caribbean islands you'll be familiar with the requirement to check in through Customs & Immigration (and sometimes the Police too) each time you visit an island country - and check out through a reverse of the procedure when it's time to move on.

Sometimes all this officialdom can get a little tedious, but now and again it can be a pleasant and memorable experience...

Back in 2013 we were checking in to St Martin - a half-Dutch, half-French island at the northern end of the Leeward Islands. I had completed all the paperwork and handed it to the Customs Officer at the Customs & Immigration Office on the Dutch (St Maarten) side by the Simpson Bay Bridge.

"Boat name?", she asked, clearly not impressed by my handwriting.

"Alacazam" I replied, "Alpha-Lima-Alpha-Charlie-Alpha-Zulu-Alpha-Mike", offering further explanation...

"It's from a Nat King Cole Cole song - 'Orange Coloured Sky' - and when Mary's had a couple of gins, she's been known to sing it".

I regretted this last comment the moment it passed my lips, as Mary, clearly needing no alcoholic inducement burst into song...

"I was walking along, minding my business,
When out of an orange-coloured sky,
Flash! Bam! Alacazam!
Wonderful you came by..."

To my intense relief a broad grin spread across the bemused lady's face, followed by a round of hearty applause from her colleagues. "Welcome to St Maarten" she said.

A few years later we were back in St Maarten, clearing in at the same Customs & Immigration Office under the gaze of the same lady Customs Officer.

She perused my proffered paperwork. "Good morning ma'am" I said.

She held up her hand to stop any further communication, and stabbed at several buttons on her computer. What breach of protocol had I committed to cause this unexpected rebuffal, I wondered?

Suddenly the computer provided the musical answer...

"I was walking along, minding my business,
When out of an orange-coloured sky,
Flash! Bam! Alacazam!
Wonderful you came by..."

Not just Mary's few lines of the song this time, now we got the full version by the great Nat King Cole.

"Welcome back to St Maarten, Alacazam" said my new favourite Customs Officer.


---

With trading spats between the EU and the UK becoming dafter by the day, they've now jointly conspired to make trading secondhand boats between each other unnecessarily more expensive and complicated.

The additional costs of course will ultimately be borne by the boat owners and are likely to be in the range of $700 to $7,000. International yacht brokers will also be affected.

You can, if you wish, read the details of the whole sorry tale here...


---

You may have noticed that I've included the 'Comfort Ratio' as one of the Design Ratios for the new additions to our Gallery of Cruising Yachts. This is as a result of reading again Ted Brewer's excellent book 'Understanding Boat Design', for it was Ted who came up with the Comfort Ratio and the formula to quantify it.

Ted tells us that:

"The Comfort Ratio is a ratio that I dreamed up, tongue-in-cheek, as a measure of motion comfort but it has been widely accepted and, indeed, does provide a reasonable comparison between yachts of similar type.

It is based on the fact that the faster the motion the more upsetting it is to the average person. Given a wave of X height, the speed of the upward motion depends on the displacement of the yacht and the amount of waterline area that is acted upon.

Greater displacement, or lesser waterline area, gives a slower motion and more comfort for any given sea state.

Beam does enter into it as wider beam increases stability, increases waterline area, and generates a faster reaction. The formula takes into account the displacement, the waterline area, and adds a beam factor.

The intention is to provide a means to compare the motion comfort of vessels of similar type and size, not to compare that of a Lightning class sloop with that of a husky 50 foot ketch.

Ratios will vary from 5.0 for a light daysailer to the high 60s for a super heavy vessel, such as a Colin Archer ketch.

Moderate and successful ocean cruisers, such as the Valiant 40 and Whitby 42, will fall into the low-middle 30s range."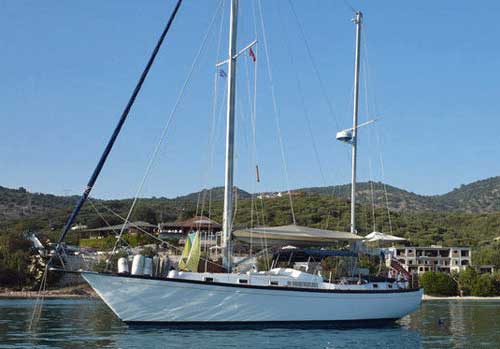 A popular cruising design by Ted Brewer - The Whitby 42

---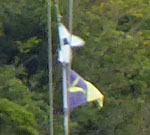 Although there were a number of suggestions for the identity of last month's mystery boat 'Sweet Dreams', which looked like a Wauquiez 48 but wasn't, none were correct.

How can I be so sure? Well I spotted something in the pic that I should have seen earlier - the burgee of the Ocean Cruising Club flying on the flag halyard.

Being a member of the OCC, I was able to look up 'Sweet Dreams' in the members handbook and there it was - a Stevens Custom 53. Incontrovertible evidence if ever there was!

But let's see how you get on with this one...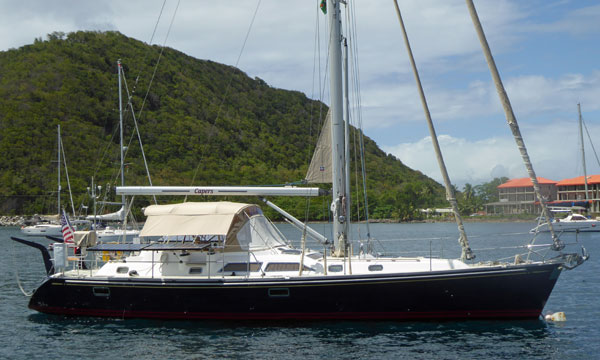 Any ideas anyone?
If so, please let me know by clicking here...

---

I know that many of you are already members of the OCC, but to those of you who aren't here's why you might want to think about joining...

The OCC is a world-wide club for bluewater sailors. It has no premises and members regard the seas and harbours of the world as their clubhouse. Members proudly fly a distinctive blue and gold burgee with a flying fish on it. Make yourself known by flying the burgee and you'll be sure of a warm welcome, hospitality, fellowship, and assistance if you need it.

The OCC has a vibrant programme of shore and afloat events, including rallies and cruises in company, organised by the various Regional and Roving Rear Commodores. The OCC also has more than 200 Port Officers worldwide who have a detailed knowledge of their area and are prepared to help visiting members in whatever way they can: locating spare parts or services, receiving mail, coping with local formalities or organising informal get-togethers.

There are two levels of membership:
Full Membership - A Full Member of the OCC must have completed a non-stop ocean passage between two ports, where the distance between the ports is not less than 1,000 nautical miles measured by the shortest practical Great Circle route, as skipper or member of the crew in a vessel of not more than 70ft (21.3 m) LOA;


Associate Membership - An Associate Member must have made a clear commitment to achieve the qualifying passage in a realistic and reasonable time-scale. The time allowed is at the discretion of the General Committee and shall take account of all the circumstances of each individual applicant, but it shall not normally exceed three years.
If you're a bluewater sailor, or intend to become one, come and join us!

---



But here's a tip - If you're thinking of looking at a secondhand sailboat, or just want to be aware of what to look for - and when to walk away no matter what - then you really ought to take a look at The Boat Buyer's Bundle...
---

It seems that many owners are holding back from advertising their boats due to the current Covid-related travel restrictions, but you can check here for the most recent sailboats for sale...

---

It's always worth taking a look at what visitors to sailboat-cruising.com are getting rid of. Remember that one man's junk is another man's gold!

Among other items this month, we have:
Sala Climbing Harness;
Garmin-Airmar H2183 Heading Sensor;
Assorted Blocks & Other Boating Hardware;
75ft Aluminum Mast;
Crusader Magic Furl Cruising Chute;
Winslow Life Raft;
ORIGO 4000 Alcohol & Alcohol/Electric Stove;
Harken 46ST 2-Speed Winches;
Ritchie Navigator Compass;
Take a look at these and all the other stuff at used cruising gear for sale...
---
And finally...
If you know anyone who might be interested in the contents of this newsletter, please forward it to them. It's not secret!

And this newsletter can be a two-way thing. If you've read anything you'd like to comment on, or perhaps there's an event you'd like to see announced in a future newsletter, then please let me know.

See you next month!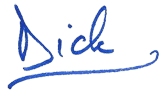 Dick McClary
Go to Sailboat-Cruising.com's Home Page...
---