True Cost of Boat Ownership
The True Cost of Boat Ownership
If you haven't properly considered the true cost of boat ownership before buying one, you'll very likely be in for a nasty shock. The cost of buying the boat is only the beginning - take these recently advertised beauties for example...
But whoa, hold on a minute!
Before you rush out and put down a deposit, first you may wish to consider a few inescapable facts relating to the cost of owning and operating a sailboat:

Fact #1:

Owning and operating cost are not directly proportional to the length of the boat; they increase exponentially. For example, take a sailor cheerfully pottering around in his 25-foot sailboat. One day he comes into money, sells his 25-footer and treats himself to a 50-footer. It won't be long before he discovers that doubling his monthly boat budget just won't cut it anymore; doubling in size increases these costs by a factor of around 4, not 2.
Fact #3:

It will cost a lot more in terms of labour and materials to apply bottom paint to a heavy displacement cruiser with its substantial wetted area, than a shallow-hulled light-displacement flyer of similar length overall.
Having got those out of the way, and before analysing a 'real-life' example based on a 36-foot cruising boat, let's take a look at the annual components of cost (items 1 to 7 below) that go to make up the true cost of boat ownership.

1. Capital Cost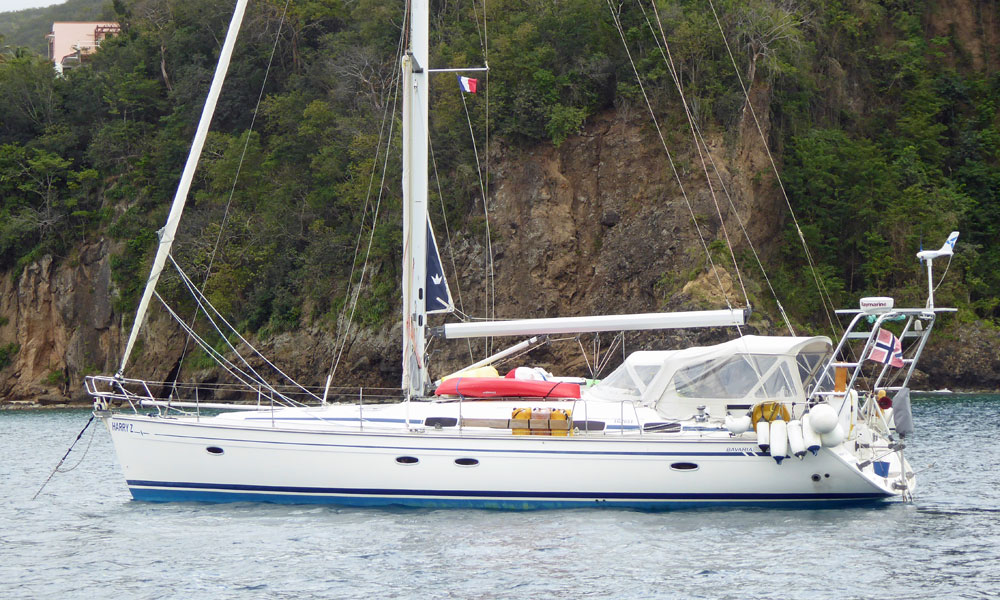 Is this 50 foot cruising boat a better home for your capital than an interest-earning bank account? If you're a sailor, of course it is!
The capital cost represents the amount paid for the boat, plus the cost of all additional equipment required to make her ready for sea. 
On a new boat, the additional equipment required (for example safety gear, mooring lines, ground tackle, autohelm, davits, dinghy and outboard, solar panels and/or wind generator, bimini, dodger etc, etc) will be substantial, but a secondhand boat will probably have most of this included in the sale price.

2. Finance Costs
Unless you've raided your bank account for the full purchase price and all the additional required gear, you'll need to take out a loan. The interest you pay on the loan is another cost to be taken into account.

3. Depreciation
A new boat will probably depreciate at around 10% in the next year, then 5% for each of the next 4 years, after which it will level off. So, for a well-maintained used boat more than 5 years old you don't need to consider depreciation as part of the true cost of boat ownership.

4. Insurance Cost
When the true value of a good marine insurance policy becomes apparent!
As a general rule, boat insurance costs around 1.5% of the boat's value. However, if you keep your boat in a hurricane zone you can expect to pay a premium - from personal experience, a substantial one! And that's if you can find a marine insurance company willing to offer cover for named storms - most of them won't.

5. Mooring or Berthing Costs
Low cost certainly, but not very convenient
It's an inescapable fact that you have to keep your boat somewhere and wherever that may be, someone is going to charge you for it. How much is largely a matter of geography and convenience.
For example, the convenience of a berth in a swanky marina is always going to be more expensive than a half-tide mooring in a muddy tidal river - particularly so in the case of a multi-hull.
For more on this aspect of boat ownership, take a look at 'Should I Buy a Boat?'.

6. Off-Season Storage Ashore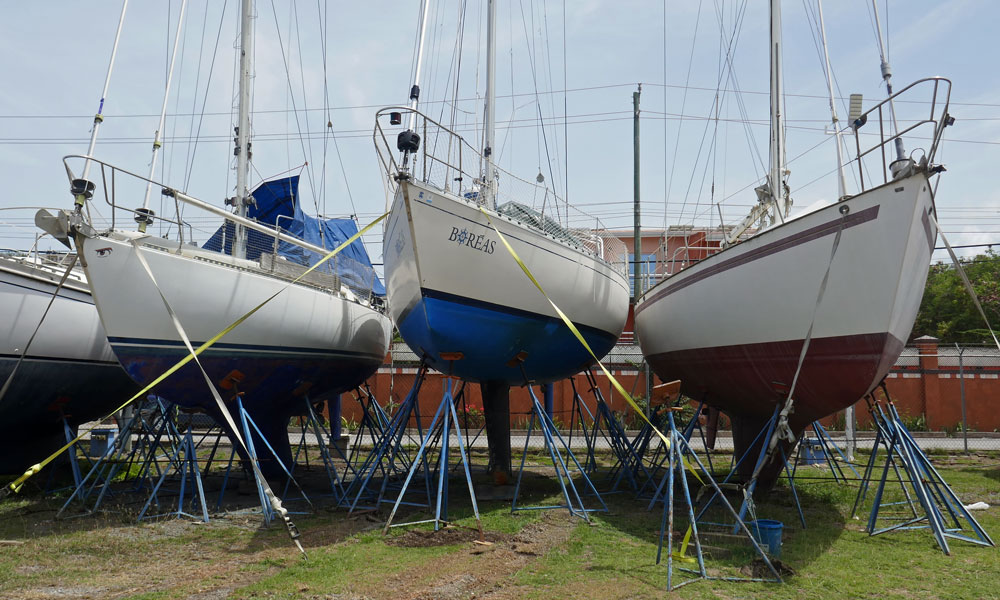 Layed-Up ashore for the hurricane season
Most of us like to keep our boats out of the water during the off-season as it's no bad thing to let modern GRP hulls dry out annually. Storage costs ashore are generally cheaper than a marina berth, but of course you will be faced with the cost of hauling-out and laying-up.

7. Maintenance & Upgrades
Other than the costs of annual anti-fouling (bottom paint) you should be spared most of these costs for the first few years of ownership if you've sprung for a new boat. 
But for the rest of us, maintenance costs are very much something we have to budget for. There's always something that needs servicing or replacing.
---

The True Cost of Boat Ownership - An Example...
Let's assume we're looking at a pre-owned Catalina 36 MkII from 2001. The asking price was $79,900 but we've negotiated a deal at $75,000 - subject to survey of course.
We've got $25,000 to put down and will take out a bank loan for the remaining $50,000 to be repaid over a 5 year term. 
We intend to keep her in a marina year-round, giving ourselves the opportunity to maximise her use.
What will be the true cost of ownership for this boat? Read on...
1. Capital Cost
In these days of relatively low interest rates you'll be lucky to get 3% per annum on any money left in a bank account, so the loss of interest on the $25k you're about to spend would be just:

$750 per annum
2. Finance Costs
Using this On-Line Boat Finance Calculator, the total amount to be repaid on a $50k loan over 5 years at 7.9% APR would be $57,948. So the total cost of the loan would be $7,948, which equates to:
$1,590 per annum
3. Depreciation
This is a 20 year-old boat, so providing we keep up with maintenance and updating she's unlikely to depreciate at all. Annual depreciation cost:
$zero!
4. Insurance Cost
According to boat insurance experts, a good ballpark figure for the annual premium is around 1.5% of the market value, which in our example equates to:
$1,125 per annum
5. Mooring or Berthing Costs
Assuming a cost of $14/ft per month, a berth in a marina such as Marinatown Yacht Harbour, Florida will cost:
$6,048 per annum

6. Off-Season Storage Ashore
Having decided on an annual marina berth, this cost doesn't apply.
$zero!

7. Maintenance & Upgrades
Here we've just taken a stab at the major items - some are annual, whilst others occur after long periods:
Item
Frequency
Cost
Annual
Provision
Anti-Fouling (Bottom Paint)
Yearly
$500
$500
Batteries
5 years
$600
$120
Sails
10 years
$6,000
$600
Running Rigging
6 years
$6,000
$1,000
Standing Rigging
10 years
$5,000
$500
Engine
20 years
$8,000
$400
Deck Gear
20 years
$10,000
$50
Safety Gear
10 years
$500
$50
Total:
$3,220
Whilst the expenditure in some years will be relatively low, other years will be very different. In our example it would be prudent to put aside a maintenance and upgrade budget of:
$3,220 per annum
So the true cost of boat ownership in our example is estimated to be $12,233 per annum.
As an owner of a 38 foot monohull myself, I can tell you that this estimate isn't too far out!
Incidentally, a calculation any boat owner should never make is to divide this annual cost by the number of days his boat spends at sea!
---
Nov 29, 23 08:35 AM

Here's where people with sailing equipment for sale advertise their stuff entirely free of charge. If you're looking for used sailing gear or other used boating accessories, here's where to find it!

Nov 10, 23 02:34 AM

My 47' Cheoy Lee sailboat is for sale. Designed by Bill Luders, she is a beautiful and functional liveaboard cruising yacht.

Oct 30, 23 04:22 PM

This article explores the journey of chartering a sailing yacht, from the initial planning stages to the final touches. It provides insight into the joys and challenges of embarking on a voyage of dis…
---