Hi


The Sailboat Cruiser
The Sailboat Cruiser is the free monthly newsletter of sailboat-cruising.com and sets out to bring you the news, views and general musings of, well, me - Dick McClary, a sailboat cruiser and creator/owner of the website.
If you like this newsletter, please feel free to email it to your friends.
If one of your friends did forward this to you and you like what you read, please subscribe by visiting The Sailboat Cruiser
---
Newsletter #22 - September 2015
What's in This Issue:


Along with a whole armada of other anchored boats we'd been watching the annual British Fireworks Championship in Plymouth Sound. The six top pyrotechnics companies had set off four tonnes of fireworks over the Plymouth Waterfront as they battled it out to become the British Firework champion. Mary and I had been invited aboard a fellow Tamar River Sailing Club couple's Dehler 36.

There were five of us on board. We'd been pals of the skipper and his wife for some 20 years or so, and as we motored down the river towards Plymouth Sound with the highly experienced skipper on the helm, I pondered the degree of experience aboard - over 100 years and tens of thousands of sea miles between us! We should be OK then...

Having dropped the hook, we settled down in the cockpit for a couple of beers and a bite to eat while daylight ebbed away. Later, now in total darkness, we were enthralled by the spectacular displays - and had I remembered to take my camera you'd be seeing evidence of them right here.

Anyway, it all came to an end and the whole armada up-anchored and set off for their various moorings and marina berths. The girls were below, the skipper and I in the cockpit as we motored home to our TRSC mooring.

The behavior of the other boats was becoming alarming, getting very close to us before swerving away. There was some shouting too, in an uncomplimentary tone.

"Bloody idiots, you'd think we're invisible, wouldn't you?", said the skipper.

Then, with a degree of urgency - "Switch the bloody navigation lights on somebody. Now!"

You just can't beat knowledge and experience, can you?

To save his blushes I've purposely not named the skipper or his boat - but there's only one Dehler 34 in the TRSC!
---


Back in Issue #20 of The Sailboat Cruiser I wrote about the 2015 Jester Challenge in which this intrepid band of single-handed small-boat sailors set off from Plymouth for Baltimore, Ireland.

This event was hosted by my club, the Tamar River Sailing Club. Well, we must have done a good job because the Jesters want to come back. Every year, in fact!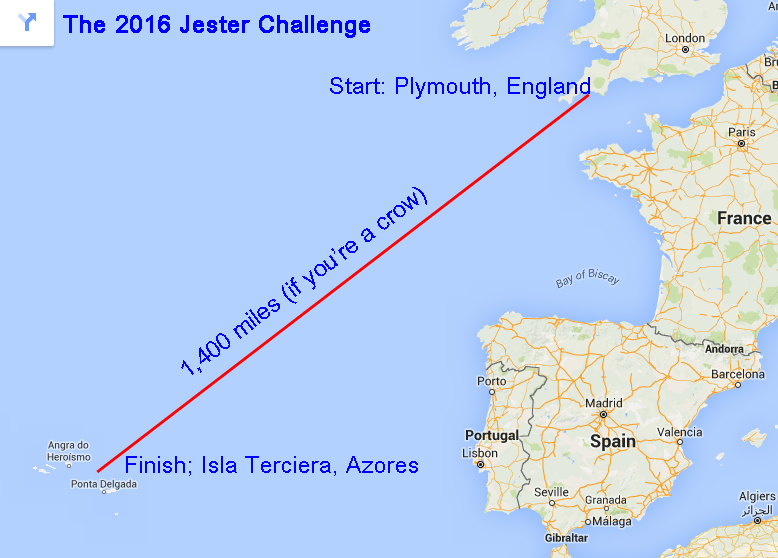 So, in May 2016 we'll see them all again, this time for their single-handed Plymouth to The Azores Challenge (1,400 miles as the crow flies - considerably more if you've got to tack against a south-westerly wind!).

Well done to the TRSC Committee and all those other club members who helped make this happen.

I just love the ethos of this event. Here are the 'rules'...

The Jester Azores Challenge is run on a 'gentlemanly basis' within the following guidelines:
for sailing vessels between 20 and 30 feet (including multi-hulls);
for skippers who are over the age of 18 on the 15th May 2016;
human power is the only acceptable alternative propulsion to that of the wind: rowing, kedging or clubhauling, for instance, are permissible;
single-handed to Praia de Vitoria, Terceira, Azores;
one way;
stops allowed;
no time limit;
engines may be fitted but only used to charge batteries for equipment such as mobile telephones, steering and navigation systems. The sole exceptions to this, within the spirit of the Jester Azores Challenge, would be the avoidance of an imminent 'mayday' situation; responding to a distress call from a fellow seafarer or when within the harbour limits of an intermediate port en route. If the use of an engine - or the acceptance of a powered tow from another vessel, whether a Jester Azores Challenger or not - becomes necessary to meet, for instance, a personal time limit or, simply, to avoid a frustrating calm, then the details should be declared on arrival to fellow Jester Azores Challengers. By common agreement - and using the co-ordinator as an arbitrator if there is no common agreement - the arrival order may then be amended;
no entrance fees;
no inspections;
no regulations: skippers will be entirely responsible for the equipment they take, based on their own experience - the only hint of bureaucracy will be the signing of a form of indemnity accepting the skipper's full duty of care for himself, his dependents and his fellow seafarers during his participation in the JAC 2016;
skippers should ensure that they have the correct visa (if required) for entry into the Azores and any likely mid-way stop;
Recommendations:
a 500 mile, non-stop, single-handed voyage be made in the same vessel;
at least third party insurance be obtained;
Interested anyone? The entry list currently stands at 27 but it's still open...
---


I heard from Brian the other day who, after living in Clearwater (Florida) for some years, bought a vacation home on the west coast of France to avoid the Florida summer climate.

Winter in that part of France is cold, wet and windy so Brian wants to avoid all that unpleasantness and get back to the Florida winter sunshine.

He's not interested in buying Florida real estate again but wants a comfortable, capable sailboat around 34 to 40 foot LOA for living aboard on a slip or marina berth on the Atlantic or Gulf Coast.

He's unsure of the availability/affordability of live aboard slips/berths and wondered if I could help him. Sadly, Florida is well outside of my territory so, my fellow Sailboat Cruisers, it's over to you. Can you help or advise Brian in any way?

If so, please drop him a line...


---


My engine starter batter used to be exactly the same as the AGM batteries that made up my house bank. That was before I heard about Red Flash starter batteries.

These, apparently were developed to spin up jet engines in military aircraft. Worth a look I thought - and I liked what I saw...
Small size;
Impressive cold cranking amp capacity;
AGM technology, rapidly charges back up;
Can be fixed in any orientation - on its side, on its end, upside down even;
Leakproof;
Maintenance free.
So I bought one, a Red Flash 750.
Its small size - 165mm (6.5") x 176mm (7") x 125mm (5") - allowed me to locate it alongside the existing engine starter battery, which I then connected to my house bank - a real win/win situation!
I've been relying on my Red Flash battery for 4 seasons now. It spins my Yanmar 30 over very nicely and has never let me down.
They're marketed by DMS Technology in the UK who will happily ship one to you whichever side of the Atlantic you're on.
You can find out more at www.dmstech.co.uk/red-flash/red-flash-high-rate.
---


We're all aware of the dangers of not deploying sufficient rode when we drop the hook, and most of us like to let go a little more than the minimum just to be on the safe side.

But you can overdo it - and if you have, it will be when the wind drops that you'll know about it. You see it particularly in crowded anchorages, where one skipper - having let out considerably more than the others - finds himself making new acquaintances with those nearest to him.

But what is too much scope and what is about right? Some basic trigonometry based around a critical angle of 15 degrees provides a clue.
A well dug-in Bruce anchor. Providing the chain remains flat on the seabed your boat is secure - there's no need for laying out more chain as long as this situation is maintained.

Same Bruce anchor, same seabed - but now the critical angle of 15 degrees has been reached. Your boat is no longer secure.
---


There are loads of online weather forecasting apps and websites, but this colour coded and animated one is a new one on me.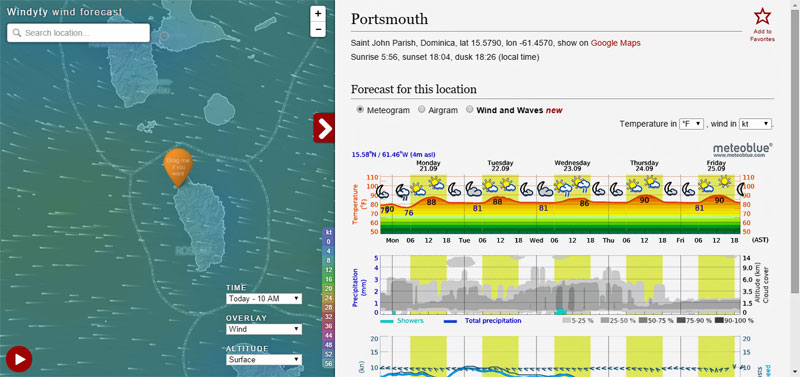 It's called Windyty and it's rather good - you can take a look at it here...
---


Fish get very excited when they detect a shoal of baitfish splashing around on the surface. It sounds to them like an invitation to lunch, and will draw them in from a considerable distance.

You can replicate this activity by towing a splashy object a few feet in front of your lure. A half-filled plastic bottle works well, as does a net bag full of wine bottle corks - it's known by sport fishermen as a 'teaser'.

Don't attach this to your trolling line, but tow it on a separate line adjusted such that all the splashy surface activity takes place a few feet (2 or 3m or so) ahead of your lure.

If you're using two trolling handlines, one from each quarter, tie the teaser line between them adjusted such that it's doing its stuff ahead of the lure that's closest to the boat.

The teaser should never be astern of your lures, as then the fishes' attention would remain on the teaser and they'd not get past to attack your lure.

This simple deception is probably the most effective way of getting fish to take an interest in your lures.

For everything you need to know about fishing from a sailboat, take a look at Secrets of Sailboat Fishing...
---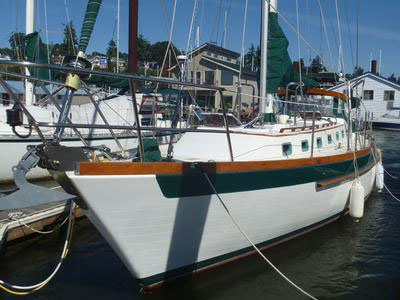 'Summer Rose' - A Passport 42
---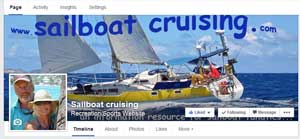 Sailboat-Cruising.com has a Facebook Page!

Clicking the image here will take you right to it, where you can browse through many more posts and articles.

Please take a look, and feel free to make a post - and don't forget to 'Like' us of course...

Thanks!

Visit sailboat-cruising.com's Facebook Page...
---
And finally...
If you know anyone who might be interested in the contents of this newsletter, feel free to email it to them. It's not secret!

And this newsletter can be a two-way thing. If you've read anything you'd like to comment on, or perhaps there's an event you'd like to see announced in a future newsletter, then please let me know.

See you next month!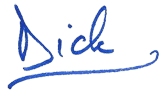 Dick McClary
Go to Sailboat-Cruising.com's Home Page...
---