Hi


The Sailboat Cruiser
The Sailboat Cruiser is the free monthly newsletter of sailboat-cruising.com and sets out to bring you the news, views and general musings of, well, me - Dick McClary, a sailboat cruiser and creator/owner of the website.
If you like this newsletter, please feel free to email it to your friends.
If one of your friends did forward this to you and you like what you read, please subscribe by visiting The Sailboat Cruiser
---
Newsletter #21 - August 2015
What's in This Issue:


Not only has the site had something of a facelift, it's now bang up to date in terms of its functionality. We've gone 'Responsive', which means that the site is now smart enough to know when it's being accessed via a mobile device and re-sizes and re-formats itself accordingly in both landscape and portrait orientation.

Well that's the theory anyway. Maybe you know different and I've more work to do?

So I'd be really grateful if any of you with mobile phones or tablets could test it for me by clicking here , and let me know if all is OK on your particular device.

Please send me your comments at dickmcclary@sailboat-cruising.com or just click the 'reply' button.
---


"Where are we going to put all the music CDs?" asked Mary.

We were halfway through building in Alacazam's interior, so it was a good time to ask. Our solution was to build in a bespoke storage space under the saloon table. It worked well, with space for 76 music cd's - and yes, we filled it.

A car Radio/CD, a 6-stack CD player and a couple of stereo speakers completed the system. It worked well for a couple of seasons, then the 6-stack player decided it didn't want to play anymore.

I replaced it with a similar unit until it, too, failed. Clearly this multi-CD player wasn't designed to be thrown about in a rough sea. What's more, when it was working it was worryingly profligate with our precious amps.

Last season the radio failed. Time for a rethink...

76 CDs in total at 3.6oz each weigh in at 17lb - or 7 bottles of wine. That settled it, the CDs had to go, but not the music.

The solution was a new car radio with a USB port and a 32GB memory stick which holds our entire music library. Current draw is now practically nothing - and we've got several more bottles of wine aboard.

Light music and heavy wine. Wonderful!

Truly a win/win situation - or it would be if I could remember what I've done with the memory stick...
---


I received an interesting email from Mike a few days ago, who was in something of a quandary. It went like this:~

"If you had a choice between an Island Packet 1988 31 foot sailboat and a 1988 31 foot Tartan sailboat with only about a $2800 difference in price, what would you suggest? Both are in excellent condition."

Not having sailed on either of them, I was unable to give an answer based on personal experience, so I thought it might be interesting to see how they stacked up 'on paper'.

Following some on-line research, this what I came up with...
The Tartan 31
Key data:~
Underwater configuration - Fin Keel and Spade Rudder
Rig - Masthead Sloop
Length overall - 31'4"
Waterline length - 26'0"
Beam - 10'11"
Draft - 6'0"
Displacement - 9,030lb
Displacement/Length Ratio - 228
Sail Area/Displacement Ratio - 18.7


The Island Packet 31
Key data:~
Underwater configuration - Long Keel
Rig - Cutter
Length overall - 31'0"
Waterline length - 27'9"
Beam - 11'7"
Draft - 4'0"
Displacement - 11,000lbs
Displacement/Length Ratio - 230
Sail Area/Displacement Ratio - 17.2

Comparison
Unfortunately Mike didn't say how he intended to use his boat, so it's impossible to say which one would be best for him - not that I'd be inclined to be so presumptuous anyway.
But it's immediately obvious from the underwater profiles that the Tartan would be the quicker boat. Particularly so in light airs, where the high surface area and associated drag of the Islands Packet's long keel would absorb much of the wind's energy.
The performance difference is further borne out by the difference, albeit small, between the two sets of sail-area/displacement and length/displacement ratios. If you're not familiar with these all-telling performance ratios, you can find out about them here...

But - there's always a but - speed isn't everything of course. The long keel, greater displacement, increased beam and waterline length of the Island Packet will get you a more stately ride at sea than you might get in the Tartan.
Another area where a long keel is a plus is when sailing amongst crab and lobster pots. In parts of the Chesapeake Bay for instance the crew of the Island Packet is likely to spend a lot less time disengaging themselves from fishing gear than would that of the Tartan.
The Tartan's spade rudder would be particularly prone to entanglement. Many cruisers view spade rudders with a degree of suspicion, rightly feeling their cantilevered design is 'asking for it'. Whilst clearly not as innately secure as a full skeg arrangement, the inherent weakness of a spade rudder can be greatly reduced by sound engineering.
However, it's in close quarters maneuvering that the Tartan will have a distinct advantage. If the handling of the Island Packet is anything like that of my old long-keel Nicholson 32, then getting in and out of a marina berth is best done when there are no witnesses around.
I'm a big fan of the cutter rig for cruising, so the Island Packet scores there for me. However, looking at the profile it seems that the sail shown is a 110% genoa which means that it's more of a slutter than a cutter.
I imagine the Island Packet would win hands down on accommodation, largely due to its increased beam. In fact it does look as though the accommodation in the Tartan has been shoe-horned in. However, I do like the fold-down pilot berth in the Tartan; in the Island Packet the off-watch crew would need to hunker down on the port saloon seating.
But which boat is best? Well of course there is no 'best boat' - if there was we'd all want it.
I suppose if you wanted a boat for general cruising and some occasional club racing, then the Tartan would be the one to go for. But for more serious offshore work maybe the Island Packet would be more suitable.
My advice to Mike? Draw up a list of pros and cons for both boats, make a notional decision as to which one suits him best 'on paper', then trial sail them both. Only after that will he know for sure which one's for him.
Oh yes, most important this, don't forget to download a copy of Andrew Simpson's eBook Secrets of Buying Second-hand Boats...


---


Another emailer, William, asked:~

"I hope to find a 36' sloop or ketch in the upper mid-west, Michigan or Wisconsin, that is seaworthy enough to sail to northern Europe, then south to the Caribbean for winter. If you hear of a used bluewater boat, please advise."

I've searched through our Sailboats for Sale section and there's nothing there to suit William's requirements, so if any of you in his neck of the woods know of a suitable bluewater boat for sale please drop William a line.

See you in Plymouth, England one of these days, William?
---


Several readers have taken advantage of our free advertising facility for boats and equipment recently. Here's a sample of what's been added recently:~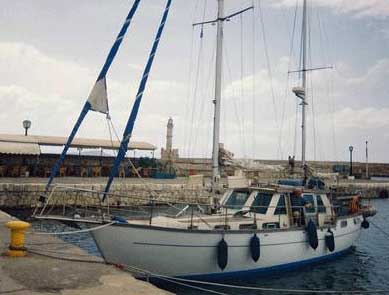 Looking for a set of 'as new' Fender Socks?

Or a Walder Boom Brake maybe?

Or even a SeaBrake Drogue perhaps?

You can find all these along with a bunch of other useful stuff on our Used Gear and Equipment page.
---


The tropical West Indian sun has really got to Alacazam's yellow hullsides over the last few years - so much so that it's time to be thinking of a respray. This means that I'll have to get a couple of new name stickers.

Trawling around the internet found me a California based outfit called boatnamesdirect.com.

On their site you can very easily design your own custom graphics - I currently favour the 'MASQUE' font in slanted blue letters, maybe with a white shadow effect. I didn't bother with the home port or registration number - a degree of anonymity can be useful at times.

It came out like this...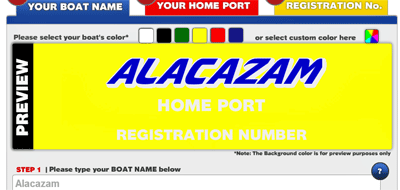 Good news is they'll ship direct to the Caribbean island of Grenada where Alacazam is currently laid-up ashore.
---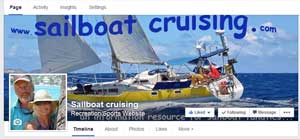 Sailboat-Cruising.com has a Facebook Page!

Clicking the image here will take you right to it, where you can browse through many more posts and articles.

Please take a look, and feel free to make a post - and don't forget to 'Like' us of course...

Thanks!

Visit sailboat-cruising.com's Facebook Page...
---
And finally...
If you know anyone who might be interested in the contents of this newsletter, feel free to email it to them. It's not secret!

And this newsletter can be a two-way thing. If you've read anything you'd like to comment on, or perhaps there's an event you'd like to see announced in a future newsletter, then please let me know.

See you next month!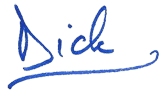 Dick McClary
Go to Sailboat-Cruising.com's Home Page...
---