Hi


The Sailboat Cruiser
The Sailboat Cruiser is the free monthly newsletter of sailboat-cruising.com and sets out to bring you the news, views and general musings of, well, me - Dick McClary, a sailboat cruiser and creator/owner of the website.
If you like this newsletter, please feel free to email it to your friends.
If one of your friends did forward this to you and you like what you read, please subscribe by visiting The Sailboat Cruiser
---
Newsletter #25 - January 2016
What's in This Issue:
But first, my apologies. The December issue of 'The Sailboat Cruiser' didn't happen. Christmas, New Year celebrations and preparations for Alacazam's Caribbean cruise just got in the way.

But here we are now, just launched and lying at anchor in Prickly Bay, Grenada, West Indies.

And it hasn't all been plain sailing - in fact there hasn't been any sailing at all yet, just an endless erosion of the cruising budget as we repair and replace parts on Alacazam.

First it was the Cutless Bearing and Shaft Seal, something we knew had to be done before starting out on this year's cruise. But then there was a load of other stuff that we hadn't seen coming at all...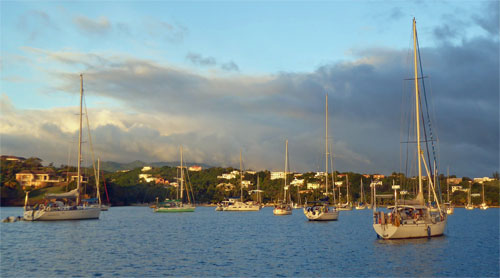 The Prickly Bay Anchorage, Grenada, West Indies


First, we discovered that the two year old AGM batteries were completely shot. And it was my fault apparently.

Some time back I'd added another AGM battery into the house bank. What I hadn't done was increase the size of the solar panel regulator to suit.

Over the hurricane season, with Alacazam laid-up ashore at Spice Island Marine, the solar panels had been pouring amps into the house bank and their now inadequate charge control unit had allowed the panels to over-charge the batteries.

AGM batteries can take any amount of current, but charge them at more than 14.4 volts and you'll quickly kill them. So new AGM 'Lifeline' batteries and a 30amp solar power regulator it had to be. Read more about choosing boat batteries...


---


Next it was the multi-stage regulator for the engine alternator.

For years I'd had an Adverc Smart Charger, but this too had become senile and may well also have contributed to the demise of the batteries.

Budget Marine in Spice Island Marine had a state-of-the-art Multivolt Regulator in stock but the regulator in my Yanmar Alternator had to be either removed or bypassed to accept the external Multivolt unit - neither of which were possible.

So back to Budget Marine for a new alternator. The good news? I sold the old one. Read more about charging marine batteries...


---


I'd promised Mary that this year we'd have a quieter windcharger. The existing Air X Marine unit was noisy - so noisy that we had to switch it off at night to have any chance of a decent kip.

Fortunately a catamaran owner offered me a good price for it, saying that he could install it well away from the sleeping accommodation. I did make a mental note not to anchor anywhere near him though.

So back to Budget Marine - I'm sure Nicolas (the Manager) is always pleased to see me - where I opened negotiations for a new Air X 'Silent' Windcharger.

This one has hand-crafted carbon-fibre blades which greatly reduce the blade-tip vortices and along with them all extraneous noise. Yeah, right.

At the moment, this has been a very disappointing purchase - few amps, switching itself off just when its starting to work a sweat up. And silent? You've got to be joking!

Which is why we're still in Prickly Bay trying to get the thing sorted.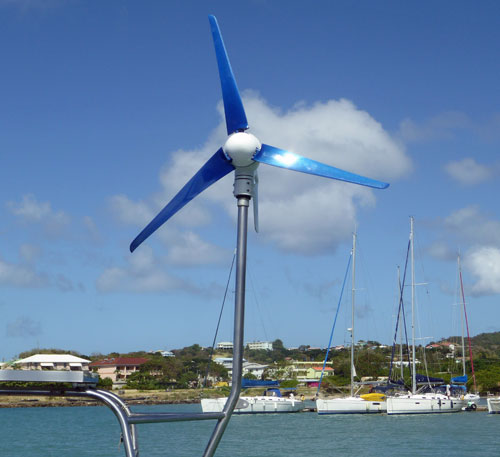 Air X Marine 'Silent' Wind Turbine
I had hoped to be able to write a glowing review of this device, but that might have to wait until next month.


---


Boats definitely do not like being left unattended for long periods. The 14 year old chart table light decided to throw in the towel too, its wiring having gone brittle and corroded.

Hah, but no trip to Budget Marine this time.

Some weeks ago I bought an LED laptop light off the internet for just a few dollars. It plugs into a USB port. I have a 12v socket plug with a couple of USB ports - suddenly I saw the light.

Voila - a cheap, low current draw and efficient chart table light!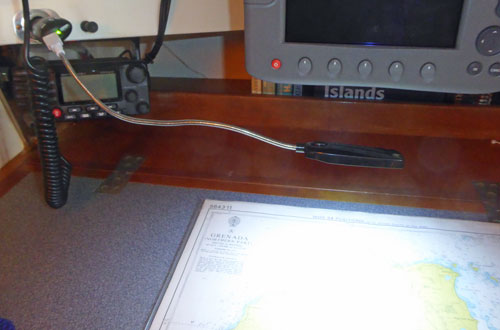 ---


One of the joys of cruising is the new friends that you make. Most of ours seem to be Brits and Americans, but a couple of days ago we went seriously up market and teamed up with a couple of Canadians - Jeff and Debbie on Sea Sparrow, a Leopard 40 catamaran.

"Come to the Prickly Bay Bingo session" they said, "It's great".

Against my better judgement, and after some spirited cajoling from Mary, we went along. Strong drink can erode a fellow's willpower alarmingly.

Mary won $400 dollars and a flock of sheep. Real, live sheep - a small flock admittedly, there were just two of them (an ewe and her lamb) - and they were paraded on stage for her approval.

An immediate bond was evident. Clearly there was a willing home for the $400 in the cruising budget, but sheep?

Mary found the answer. After an emotional farewell with the two bemused creatures, they were handed over to a new owner - and Mary pocketed another welcome addition to the cruising fund. She made sure that the new owner was going to treat the animals with respect before the deal was done, and we were both happy that they would be returned to the farmer from where they originated.

Bingo's great - you should try it!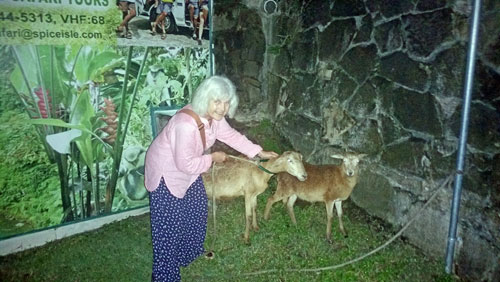 Mary and her Bingo Sheep
---


Those of you who are accustomed to my strange habits won't be surprised to learn that I couldn't wait to catch a fish or two while at anchor in Prickly Bay.

My set up was a string of Sabiki Bait Lures with a very small jig lure at the end of the string.

It wasn't long before I hooked up - a Lookdown Fish to start with, followed by a number of small Jacks. They were all returned unharmed from whence they came.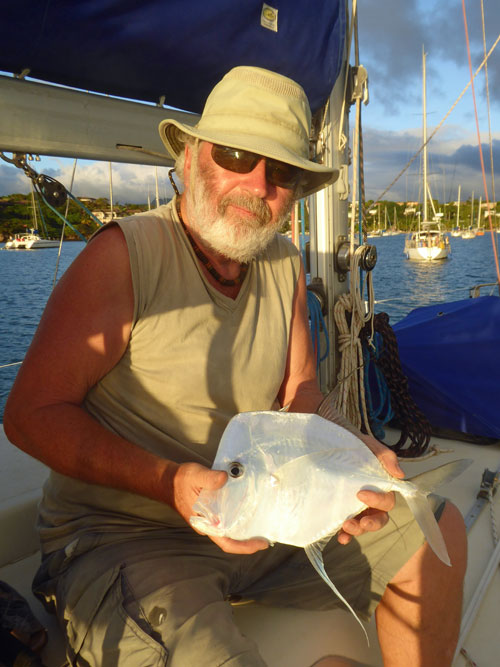 The Lookdown Fish
A couple of small jacks
We should catch something edible once we get out to sea and get the trolling lines rigged. If sailboat fishing grabs you as it does me, you might want to download my eBook 'Secrets of Sailboat Fishing...'


---
A Hand-Held GPS, a Marine Air Conditioner, a Bosun's Chair and Sleeping Bags
Now this isn't another venture into our current spending frenzy, these are new additions to the list of used sailing equipment on sailboat-cruising.com. You can take a look at the full list of items here...


---
---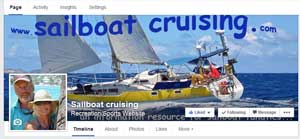 Sailboat-Cruising.com has a Facebook Page!

Clicking the image here will take you right to it, where you can browse through many more posts and articles.

Please take a look, and feel free to make a post - and don't forget to 'Like' us of course...

Thanks!

Visit sailboat-cruising.com's Facebook Page...
---
And finally...
If you know anyone who might be interested in the contents of this newsletter, feel free to email it to them. It's not secret!

And this newsletter can be a two-way thing. If you've read anything you'd like to comment on, or perhaps there's an event you'd like to see announced in a future newsletter, then please let me know.

See you next month!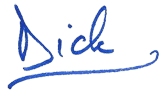 Dick McClary
Go to Sailboat-Cruising.com's Home Page...
---