Hi


The Sailboat Cruiser
The Sailboat Cruiser is the free monthly (OK, monthly-ish) newsletter of sailboat-cruising.com and sets out to bring you the news, views and general musings of, well, me - Dick McClary, a sailboat cruiser and creator/owner of sailboat-cruising.com.
If you like this newsletter, please feel free to email it to your friends.
If one of your friends did forward this to you and you like what you read, please subscribe by visiting The Sailboat Cruiser
---
Newsletter #64 - February 2021
What's in This Issue:
---

One advantage a long-keel boat has over a fin-and-skeg boat is that you can sail over practically anything and stand a good chance of getting away with it.

On several occasions my fin-and-skeg boat's progress has been dramatically slowed by commercial fishing gear caught around the root of the rudder skeg. Murphy's Law dictates that it usually occurs at night or in poor conditions - and it's seldom any fun.

My usual remedy is to tack or jibe, when - with any luck - the gear will fall off as the boat changes direction. Some time ago, another skipper told me how he deals with this situation...

"What you need, he said, is a large heavy shackle. Feed a length of line through it and take it to the bow, along with another crew-member. Drop it over the bow, with each of you holding one end of the line. Now you both make your way aft along the sidedecks making sure the shackle in the bight of the line passes below the keel and the rudder."

Note: The success of the operation depends heavily on neither person letting go of his end of the line.

He went on to say:

"On arrival at the stern, one of you makes his end of the line fast to a stern cleat, after which the other heaves in on his end. This will bring with it the fishing gear where you can grab hold of it with a boat hook and cut it free - with due apologies to the fisherman of course, who not be best pleased."

Next time it happens to me - and it will of course - I'll give the shackle trick a go, following which I'll do my very best to be over the horizon before the fisherman shows up.


---

Sailing is definitely a participant sport; it's not something to be watched on the TV - or so I thought until I tuned into the current Prada Cup Challenger's Trophy coverage, which is the series of match races to select the challenger in the 2021 America's Cup.

The difference this year is that the boats are 75ft monohull foilers, and they are quick - very quick.

Incredibly, the US entry 'American Magic' managed a boat speed of 53knots before crashing out of the race, subsequently leaving just 'Luna Rossa' (Italy) and INEOS (UK) to battle it out in the final, with the winners going on to race for the Americas Cup against the current holders Emirates Team New Zealand.

The racing is very close, unless one boat makes a mistake (and as they're right on the edge that can happen - ask 'American Magic'!).

OK, the boats are far removed from anything we're ever likely to sail on; some would say they're not really sailboats at all.

But it's GREAT TV and not to be missed. The Prada Cup Final is on Saturday 13th February - hey, that's tomorrow!

This household, as you might have guessed, will be rooting for Sir Ben Ainslee and his crew on Team INEOS UK.

You can watch the Prada Cup Final live at www.youtube.com/americascup


---

Most of us, at sometime during our sailing life, have wished we had ducked a little lower as the boom swung over - and have lived to tell the tale.

But was it just a painful bump, or did we suffer a concussion?

Boom-versus-Head events are one of the most common causes of serious injury on a sailboat and are clearly best avoided.

Having studied the video of the 'American Magic' crash in the Prada Cup semi-finals, our eminent guest author Michael Martin Cohen M.D. asks:


Do Safety Helmets Prevent Concussions on the Water?


---

Nothing is more aggranoying on a sailboat than a persistent rattle, and a common culprit is the clinking of the bottles in the wine locker.

We've solved this on 'Alacazam', not by drinking all the wine and ditching the bottles, but by replacing the wooden bottle holders with a closed-cell foam base to the locker.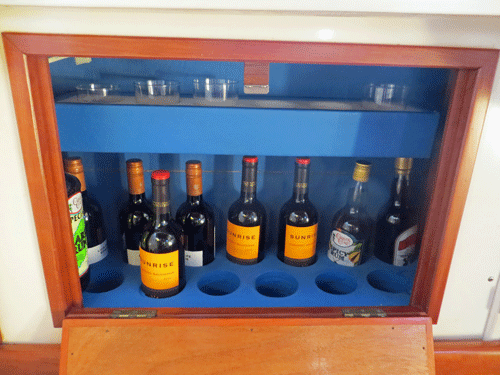 The bottle-sized holes were cut with a hole-saw and that irritating clinking is now a thing of the past.
A similar solution was provided for the glasses in the rack above the bottles.

---
Going forward on a sailboat underway in anything more than the most benign conditions you should always be hooked on; not to the guardwires, but to a jackstay that runs the full length of the boat.
I prefer webbing jackstays rather than the plastic-coated wire alternative as these don't roll around underfoot.
But if you use Gibb safety hooks on the end of your harness tether, the problem shown here can occur: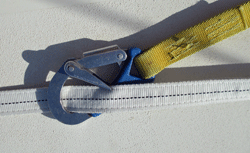 The webbing strap gets caught in spring-loaded snap on the hook, locking the two together. As you can see from the pic, pulling on the tether isn't going to persuade the safety hook to let go of the jackstay - it's jammed.
The only way to clear it is to get down on your hands and knees and ease the webbing strap clear of the snap. This is highly inconvenient at best, and can be downright dangerous in lively conditions.
But as we all know, prevention is better than cure, so here's how to prevent it happening:

Just slide a heavy-duty stainless steel welded ring on the jackstay as shown here, and attach the Gibb hook to that.
Problem solved!

---
I thought last month's Mystery Boat had got everyone beat again, but then I received two emails.
The first from Alfredo who said it was an Italian boat, a Francini 47.
The second was from the owners themselves who confirmed it was indeed a Francini 47, so well done Alfredo.
Here's this month's Mystery Boat: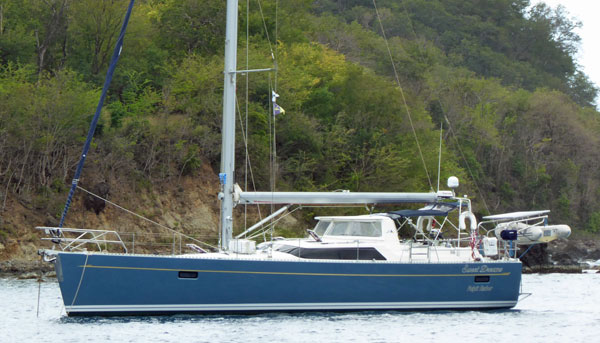 When I took this pic, I thought the boat was a
Wauquiez 48.
Checking on-line later revealed that it clearly wasn't - so what is it?
Any ideas anyone?
If so, please let me know by clicking here...

---
---
Just four of our readers are offering their boats for sale since the publication of the previous newsletter...
'Chardonnay', a Seidelmann 34
'Umnyama', a Catana 42 Catamaran
Don't forget...
If you're thinking of looking at a secondhand sailboat, or just want to be aware of what to look for - and when to walk away no matter what - then you really ought to take a look at
The Boat Buyer's Bundle...
---
It's always worth taking a look at what visitors to sailboat-cruising.com are getting rid of. Remember that one man's junk is another man's gold!
Among other items this month, we have:
Monitor Windvane Self-Steering Gear;
Fortress FX-7 Anchor;
Clarke Power 2 stroke 720W Generator;
Hella Vintage Boat Deck-Mounted Navigation Lights;
Mystic Boarding Ladder;
Lewmar 48 2-Speed Self-Tailing Winch, Ocean Series;
Navionics+ MSD card US & Canada;
Sta-lok Long Stud Terminals;
Yanmar Type B Replacement Stick-On Faceplate;
2 x 100w Solar Panels on Gantry
Take a look at these and all the other stuff at used cruising gear for sale...
---
And finally...
If you know anyone who might be interested in the contents of this newsletter, please forward it to them. It's not secret!
And this newsletter can be a two-way thing. If you've read anything you'd like to comment on, or perhaps there's an event you'd like to see announced in a future newsletter, then please let me know.
See you next month!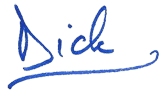 Dick McClary
Go to Sailboat-Cruising.com's Home Page...
---