Hi


The Sailboat Cruiser
The Sailboat Cruiser is the free monthly newsletter of sailboat-cruising.com and sets out to bring you the news, views and general musings of, well, me - Dick McClary, a sailboat cruiser and creator/owner of the website.
If you like this newsletter, please feel free to email it to your friends.
If one of your friends did forward this to you and you like what you read, please subscribe by visiting The Sailboat Cruiser
---
Newsletter #40 - November 2017
What's in This Issue:
---

We, that's my pal who-shall-not-be-named and I, were having a pint or two in our local pub. A stranger arrived at the bar and, as is the way of English pubs, introduced himself as Chris and got chatting to us.

It turned out he was more than just a plain old 'Chris' - he was Professor Chris Reid, a Professor of Oceanography and Senior Research Fellow at The Sir Alister Hardy Foundation for Ocean Science (SAHFOS).

So when it came to Global Warming, he knew what he was talking about - unlike my pal, who believes that global warming is a load of old tosh, and drives a 5 litre V8 XK Jaguar just to prove it.

This is going to be interesting, I thought; scientific fact and knowledge versus the byproduct of a male cow. And so it was, both of us learning much in the process from our very interesting new friend.

It transpired that Chris has written a book on the subject, and kindly agreed to allow me to share the electronic version of it with you, and here it is:

Climate Change and European Marine Ecosystem Research


It makes for fascinating - and alarming - reading.


---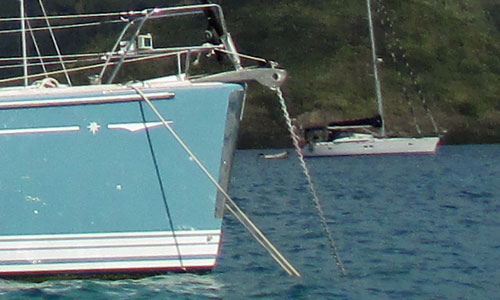 Look carefully at this pic...

An all-chain rode - that's good;

A snubber line - yup, that's good too.

But take another look. There are two snubber lines - one from each side of the bow - attached to the anchor chain as a bridle. But that's got to be better than just one, isn't it?

No, I don't think so, and here's why...

The snubber line is there to absorb the shock loads that can be transferred to the anchor when using an all-chain rode in lively conditions. So the snubber line should be of stretchy rope; three-strand nylon or multi-plait is the way to go.

The more load that is applied to the snubber, the more it will stretch. But with a double snubber as shown here, the total load will be shared, so the total stretch will be less than if just a single snubber was used - and the anchor will be less effectively 'snubbed' as a result.

More anchoring tips and techniques...


---

It's that time of the year again.

In the Caribbean, with the hurricane season at last coming to an end, cruisers are preparing their boats for launching.

Here in the UK and other parts of similar latitude, boats are being hauled in readiness for the coming winter. We all have our own 'Hauling Out and Laying Up Checklist' - here's ours...

Accessories
Clean and bag dinghy;
Remove BBQ;
Remove Danbuoy and HS lifebuoy;
Remove Life Sling;
Lubricate locks;
Remove all batteries from torches etc;
Wash insect screens;
Domestics
Clean watermaker filters;
Pickle watermaker;
Turn off gas at cooker and bottle;
Turn off gas locker vent valve;
Sort chart table contents;
Flush toilet with fresh water;
Electrics
Turn off inverter circuit breaker;
Turn off battery isolators;
Turn off anchor windlass circuit breaker;
Fabrics and Interior
Clean underside main hatch;
Clean bilge;
Clean carpets and cabin sole;
Clean and close curtains;
Clean upholstery;
Tanks
Fill fuel tank;
Drain and dry water tanks;
Hull, Deck and Cockpit
Remove tiller;
Check condition of anodes;
Fit deck hatch covers;
Remove thru-hulls and install insect mesh;
Deck/Hull clean;
Wash anchor, chain and locker;
Clean stainless steel;
Fit instrument covers;
Mechanical
Tie up windcharger and turn off;
Lay up outboard motor;
Main engine oil/filter change;
Grease shaft seal;
Drain and disconnect exhaust box;
Lubricate seacocks;
Clean and grease prop;
Sails & Canvas
Remove and wash bimini;
Remove and wash dodgers (weathercloths);
Remove/bag sails;
Remove and wash sailcovers;
Remove and wash sprayhood;
Clean cockpit seats and cushions;
Spars and Rigging
Remove jackstays;
Remove mainsheet, vang, runners etc;
Tie out halyards;
Secure boom on deck;
OK, now you can have that beer...
---

Mary has a hard time getting me to participate in the weekly trip to the supermarket - unless it's Lidl. Reason? Lidl has a 'boys toys' section. It varies week on week but there's always something there that you didn't know you needed - socket sets, screwdriver sets, pumps for sucking out engine oil, drones, wire strippers, drill bit sharpening machines etc, etc - and this...


It's a waterproof LED camping light, and it makes the perfect cabin light. It has a solar panel on the top and it can also be charged via a USB port.

The lantern part is made of squidgy plastic, so it won't break when you drop it. Hung under the bimini it will illuminate your cockpit perfectly.

There are three settings; the first is good enough to read by but if you really want to impress your nearby anchored neighbours you can switch it to the second setting, and to really make yourself unpopular you can select the flashing mode.

Find out more at 2 in 1 Crivit Solar Camping Light...

I bought two to make sure I've always got one that's fully charged. Highly recommended!


---

I'm not talking about the razor wire topped fencing around a building site - I'm talking about your personal security on sailboat-cruising.com.

I'v always striven to make the site as secure as possible, but now every page has achieved the very top level of internet security.

Take a look at the home page.

See that green padlock and the word 'Secure' in the address line? It took a lot of work to get it - and I'm rather proud of it.


---

Finally the long-running mystery boat below has been correctly identified:-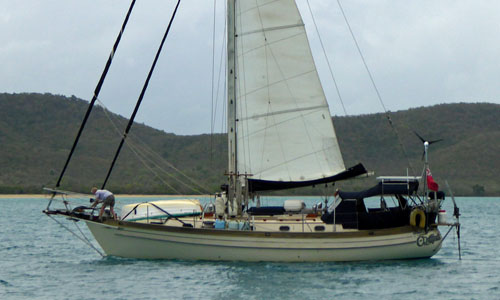 It's not a Westsail or a Hans Christian as had been suggested by a number of you - 'C-Drifter' is a Bob Perry designed Tashiba 40 which was also marketed as the Baba 40 and the Panda 40.

Many thanks to all of you who finally got it right, a result of which is that 'C-Drifter' now appears on the site at Tashiba 40 (aka Baba 40 and Panda 40) where you can discover at lot more about this interesting boat.

Now then, how about this one?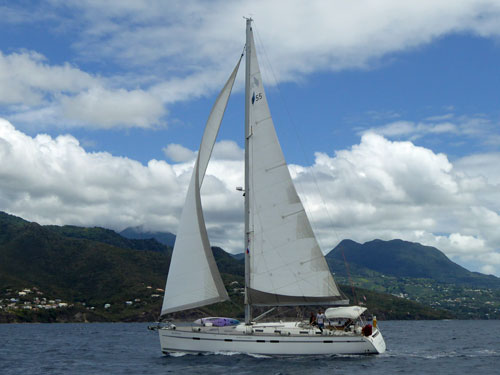 I felt no shame in being overhauled by 'Anna Maria' as we sailed north along the western shore of Dominica. She's a 55 ft, fractionally rigged, performance cruising sloop and when she slipped up the inside of Alacazam she was sailing beautifully.

Any ideas anyone?
---

It's always worth taking a look at what visitors to sailboat-cruising.com are getting rid of. Remember that one man's junk is another man's gold!

Among other items this month, we have:
Two Magic Marine Pro Sailing Harnesses and a Ronstan Wetsuit;
A fully battened, brand new, never used mainsail for a Hallberg-Rassey 34;
An un-used Tasman 15 Para Anchor and all associated gear;
A ladies Musto MPX Offshore suit;
Take a look at this and all the other stuff at used cruising gear for sale...


---

If you're thinking of selling your cruising boat - or know someone who is - remember you can advertise it entirely free of charge on sailboat-cruising.com - which is what the owners of these boats have done...

'Hummingbird', a Freebird 50 Catamaran

'Adina', a Hylas 46;

'Aldarion', a 38' wood epoxy stays'l schooner;

'Fox', a Leopard 40 catamaran;

'Mystic Courage', Morgan 41 OutIsland Ketch;

'Catherine', a CT 42;

'Another Way', a CSY 37;

'Island Spell', a Vertue 25;

'Nautorious', an Irwin 52;

'Teepee', a Via 36 catamaran;

'Drakkar', a 46' Fountaine Pajot Casamance catamaran;

Want to check out a whole load more? Then take a look at the full list of monohulls for sale here, and multihulls for sale here...


Don't forget...
If you're thinking of looking at a secondhand sailboat, or just want to be aware of what to look for - and when to walk away no matter what - then you really ought to take a look at Andrew Simpson's eBook Secrets of Buying Secondhand Boats...

It's full of sound advice from an acknowleged expert and could quite literally save you $$$$$thousands!



---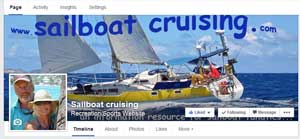 Sailboat-Cruising.com has a Facebook Page!

Clicking the image here will take you right to it, where you can browse through many more posts and articles.

Please take a look, and feel free to make a post - and don't forget to 'Like' us of course...

Thanks!

Visit sailboat-cruising.com's Facebook Page...
---
And finally...
If you know anyone who might be interested in the contents of this newsletter, please forward it to them. It's not secret!

And this newsletter can be a two-way thing. If you've read anything you'd like to comment on, or perhaps there's an event you'd like to see announced in a future newsletter, then please let me know.

See you next month!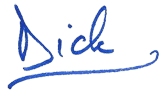 Dick McClary
Go to Sailboat-Cruising.com's Home Page...
---