'Safe , Strong , Spacious' a Rare Freebird 50 is For Sale

The most important characteristics of a cruising sailboat are safety and comfort...

Safety because if you  have to face extreme weather you need the assurance that your boat has the strength to look after you in all conditions, and

Comfort equals space and this is important because most cruising boaters spend more than 90% of their time relaxing at anchor, rather than on passage.
Hummingbird was a new boat when we bought her 20 years ago and since then we have lived on her for 9 months of every year. We have crossed oceans and sailed in storm force conditions. At all times the well protected cockpit has provided everything needed for our safety. We have also lived  outdoors in the Caribbean for 15 years and loved the comfort, space and stability which can only be found in a well built catamaran.
Our boat has many more years of wonderful experience to provide for her owners, but we are showing more signs of wear and tear, so for us, the time has come to sell.

Specification:
Length overall 50 ft;
Waterline length 48 ft;
Beam 25 ft;
Draft 3 ft 6 ins;
Displacement 12.5 tons;
Fuel capacity 180 gal ( Imp ), 216 gal ( US );
Water capacity 175 gal ( Imp ), 210 gal ( US );
Mainsail area 610 sq ft;
Genoa area 720 sq ft ( High cut Yankee );
Construction

Monocoque shell of multi-axial GRP over cores of polymer sealed balsa and PVC foam.
Composite beams transmit rig loads to the main hull structures and these, plus all high stress areas are reinforced with carbon fibre. In particular, the main beam which takes the mast loadings, has additional carbon fibre reinforcement.
The keels have single skin laminate to withstand grounding and are independent of the hull structures. They form grey water and bilge tanks which are interconnected with high baffles.

The rudders are semi balanced with stocks of 3 inch diameter thick walled stainless steel tube.
The  steering system is by Whitlock with rudders connected by drag links and driven by a torque tube and bevel gearbox system from the single cockpit mounted wheel. A wheel brake is incorporated and emergency steering access is available in each hull.

Before launching, the underside of each hull was given a full application of Coppercoat and this was renewed 6 years ago. Therefore, no underwater treatment is necessary other than occasional scraping although the aluminium sail drive legs do need antifouling from time to time.

Accomodation:

The saloon measures approximately 15 ft by 14 ft and contains a six seat dining table with L- shaped settee, two armchairs, sideboard, chest of drawers and full size chart table.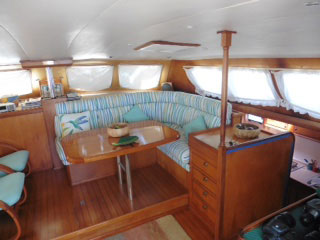 Hummingbird's Saloon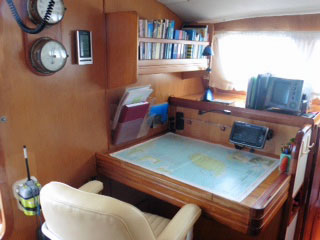 Hummingbird's Navigation Station
The main electrical control panels and radios are also built in.
All surfaces are either solid wood or veneered marine grade plywood in cherry and maple.

The owners suite occupies the whole of the port hull other than the engine room and watertight bow space. It is 34 ft long, 7 ft wide and the spacious heads compartment adds another 6 ft to the overall length of  the suite.
The standard double bed is fore and aft with side access. There are 3 full length wardrobes, 11 drawers, a 5 ft 6 in settee, an 8 ft long dressing table and ample additional locker and shelf space.
The heads contains a shower, washbasin and electric toilet.
The Spacious, Well-equipped Galley on Hummingbird
Hummingbird's utility area
The galley is situated amidships in the starboard hull and measures 11 ft 6 in by 6 ft. It has 25 square feet of GRP work surfaces, with ample cupboard and shelf space above and below.
There is a double sink unit with strainer sink, 2 Waeco 110 litre refrigerators fitted in 2015. Cooking is by a 4 burner propane / butane hob with a separate oven / grill.

Guest cabins - There is a spacious double cabin forward of the galley on the starboard side. It has a large double berth, full length hanging locker, dressing table and ample further locker and shelf space. The large attached heads contains a manually operated large bowl toilet, with wash basin and shower.

There is a twin berth cabin with en-suite heads aft of the galley. This has limited storage space ad is generally used as single berth accommodation.
The Cockpit:
The cockpit is the centre of life on Hummingbird. It measures 13 ft by 9 ft and is protected by a hard bimini measuring 12 ft by 8 ft.
The windscreen is 12 ft wide and slopes forward to a height of 3 ft with 2 opening panels. It provides a perfect combination of ventilation and protection.
The other sides of the bimini are fitted with roll down screens for further weather / sun protection as needed.
Hummingbird's Cockpit
Hummingbird's Foredeck
Access from the cockpit to the saloon is through a pair of heavy teak doors fitted with armoured glass.
In the middle of the cockpit is a flush mounted hatch 4 ft by 3 ft giving access to a dry locker measuring approximately 10 ft by 5 ft 6 in by 1 ft 3 in deep.
This huge space houses the sails when not rigged and is also used, when at sea, for stowing a folding teak dining table and folding aluminium reclining chairs.
Hummingbird is sailed entirely from within the cockpit. 6 winches are installed and an electric Lewmar #40 hoists the main and furls the genoa.
All reefing and sail trimming operations are handled without needing to leave the cockpit. Therefore, regardless of weather conditions, the crew remain in a secure and protected location. The boat was designed for ease of sailing and this objective has been achieved spectacularly well.
Rigging:
The Freebird 50 is almost unique in the world of catamarans in that it is fitted with a divided backstay and therefore has a masthead rig . This ensures an unusually strong rig with a 16 mm forestay, 14 mm shrouds and 2 x 10 mm backstays.

There is a Furlex roller reefing system fitted to the forestay and 3 in-boom single line reefing systems are led back to the cockpit from the mainsail.
The mainsail is controlled through a 14 ft track supporting a Lewmar size 3 Triple Block car system. The genoa sheets are led through Lewmar size 3 cars wth stainless steel stirrups and are controlled by 2 Lewmar 66ST winches. Other winches are Lewmar #54, #48 and #44 all self-tailing.
Guard rails are 6 mm Dyneema supported by 2 ft 4 in stanchions, with midship and stern gates.
Sails, (by North Sails):
Main: 610 sq ft, fully battened with lazy jacks. Selden  recirculating ball car system.
Genoa: 720 sq ft, mast head 130 % high cut yankee.
Sail bag: Fully zipped and battened , replaced 2015.
Machinery:
Main engines - 2 Yanmar 3JH 2CE rated at 38 hp each driving 17 in Flex-o-Fold propellers through Yanmar SD31 saildrive legs. The engines have run for approximately 6000 hours and have been serviced in accordance with the manufacturers recommendations.
Generator - Northern Lights M735k producing 6 Kw at 220 volts. It has run for approximately 6000 hours and has also been serviced in line with the manufacturers recommendations.
Water Systems:
Seafresh watermaker, 22 gallons per hour to starboard tank;
Bimini catchment system, connects directly to the starboard tank via a fine strainer.
Transfer pump, starboard to port tanks;
Pressurised water is provided by Whale or Jabsco pumps and each engine room contains a 25 litre calorifier for the provision of hot water from the engine. 220 volt immersion heaters are also fitted;
Grey water drains into tanks in the keels which also contain bilge tanks . Each tank has a separate discharge pump and there is an overflow system between adjacent tanks;
The owners suite toilet has a 20 gallon holding tank which is discharged by a macerator pump. There is a 12 gallon tank serving the forward guest cabin and this is discharged by a manual pump. The holding tank serving the twin cabin has been disconnected
Electrical System - Inputs:
Batteries: 8 x Duracell AGM Gp 27 92 amp , installed 2015;
Alternators: 2 x Balmar model 80 / 90 amp with Balmar ARS 4/5 regulators;
Battery chargers: ProNautic C series 60 amps.  Xantrex Truecharge 2 60 amps;
Inverters: Sinergex PureSine2 2000 watts at 220 volts and  two Xantrex 300 watt at 220 volts;
Solar panels : 6 at total 730 watts output. Mounted on top of the cockpit bimini;
Wind generator : Eclectic Energy D400;
Electrical System - Loads, 12 volts:
2 x Waeco 110 litre refrigerators;
1 Waeco 85 litre freezer;
Lighting throughout the boat divided equally between halogen and LED sources;
2 x Hella ventilation fans fitted over double berths;
Electrical System - 220 volts:
Watermaker;
Washing machine, standard domestic, front loading;
220 volt ring main powering : vacuum cleaner, iron, bread maker, hair dryer,heat gun, hot knife, soldering iron, ventilation fan, hand food blender and food processor.
Electronics and Navigation:
Plastimo 5" magnetic compass;
Silva magnetic bearing compass;
Raymarine Seatalk system - Type 300 course computer, type 50 wind and depth instruments, i70 multifunction instrument, e7 hybrid touch chart plotter, ST7002 and p70 autopilots;
Raytheon R20XX radar;
Full set of Imray charts of Eastern Caribbean;
406 EPIRB;
Ground Tackle:
Anchor capstan - Lewmar V5 capstan / windlass, installed 2016;
230 ft ACCO BBB 0.5 in chain;
32  ft  ACCO BBB. 0.5 in chain with 100 metres  32mm anchor plait rope;
100 metres. 25 mm anchorplait rope;
65 lb Spade anchor;
35 lb Spade anchor, same size as above, but aluminium;
Fortress FX 55 anchor;
Fortress FX 37 anchor;
Fortress FX 11 anchor;
Bridle with 2 x 20 ft 16 mm ropes to 0.75 in chain hook;
Safety:
Lifesling, inflatable dan buoy and horse shoe buoy;
Galley fire blanket;
5 fire extinguishers;
Firdell Blipper, a very effective radar reflecter;
There are watertight bulkheads in each bow. The first 8 ft of each hull is behind a bulkhead and the space is similarly sub-divided horizontally. This creates a very substantial degree of buoyancy and the bows have never been submerged.
The presence of the backstay gives a high level of additional confidence.
Deck Fittings:
These are commensurate with the style and quality of Hummingbird. Cleats, mooring ropes, fenders etc are, if anything, oversize and this is reflects the builders underlying approach to safety.

A large locker on the port side of the foredeck holds mooring ropes, spare sheets and anchors. The matching space on the starboard side is used for fender storage
Dinghy:
The dinghy is a AB Ventus 260, 9ft 6ins with bow locker, good condition. It stows between the hulls from stainless steel davits.
The engine is a new Yamaha Enduro 15hp.
Other Stuff:
Hummingbird is equipped with a comprehensive tool kit which, in addition to the power tools mentioned above, includes a cordless drill and a tethered dive kit. This has a 12 volt compressor and a tethered range of 60 feet to a depth of 23 feet.
The range of spares is also extensive, from fan belts to hatch and window seals to pump service kits, hoses and electrical wiring.
Location:
Hummingbird is currently based in Antigua in the Eastern Caribbean.
Asking Price: $225,000 - Recently reduced from $295,000!

The owner, Christopher Price, may be contacted by clicking here...
---
You are here:~ Sailboat Cruising > Cruising Sailboats for Sale > Catamaran for Sale
---
---
Jun 14, 18 10:11 AM

Hauling out your boat and laying her up safely ashore at the end of the the sailing season is not something to take lightly. Here's how to do it right.

Jun 14, 18 06:56 AM

LED Boat Lights are definitely the way to go for both cabin lighting and navigation lights - around 90% savings in power consumption and 50,000 hours before they need replacing!

Jun 12, 18 01:47 PM

It's always a good thing to get the ballast as low down as possible on a sailboat, which is why the bulb keel is so popular on performance boats. Here's how we built and fitted ours
---