Hi


The Sailboat Cruiser
The Sailboat Cruiser is the free monthly newsletter of sailboat-cruising.com. and sets out to bring you the news, views and general musings of, well, me - a sailboat cruiser, and owner of sailboat-cruising.com.
If you like this newsletter, please do your friends and me a big favour and "pay it forward".
If a friend did forward this to you and you like what you read, please subscribe by visiting...
---
Issue #9 June 2014
Prop Drag and Efficiency
I learned a couple of interesting facts about boat propellers recently...

Fact 1 - A 2-bladed propeller is more efficient than a 3-bladed version. Hence a properly sized 2-blade will give you a higher speed at a given shaft speed in flat water than a properly sized 3-blade.

But the 3-blade, because of its larger blade area, will accelerate your boat faster. This means a 3-blade is better for boat handling around marinas, also when powering against a head sea and when bringing the boat to a stop. But of course a 3-bladed prop will create more drag than a 2-bladed prop.

Fact 2 - When under sail, a stationary propeller will create much less drag than one which is left free to rotate. Apparently the drag of a stationary prop is proportional to the total area of the blades' surface, whilst that of a turning prop is proportional to the area of the circle swept by the blades.

So if sailing quickly takes precedence over performance under power, then a 2-bladed prop is for you. But if you go for a folding or feathering propeller, you can enjoy the benefits of a 3-bladed prop without suffering from the considerable drag that a fixed version would produce.

Which type though, folding or feathering? Read on...
---
Wheel or Tiller?
It has to be a fashion-thing doesn't it? Why else would so many modern cruising boats have wheel steering instead of tiller steering? Admittedly in a centre-cockpit boat there's Little choice; a wheel it has to be. But otherwise a tiller:~
through its direct attachment to the rudder, rewards the helmsman with ultimate feel and feedback, and
by virtue of its mechanical simplicity ensures reliability and robustness, and
lets the helmsman, steering with the tiller between his legs, trim the jib, mainsheet and if he's really brave the spinnaker without disturbing the off-watch crew, and
works well with both windvane servo-pendulum self-steering gears and electronic autopilots, and
allows the helmsman to gain shelter from the sprayhood, and
at anchor can be lifted up out of the way, leaving the cockpit clear.
Whereas a wheel:~
positions the helmsman right aft, denying him any protection from the sprayhood, and
in most cases, doesn't allow the helmsman to trim the sails on his own, and
is less precise than a tiller, offers the helmsman little feedback, and
requires an expensive and complicated linkage arrangement of wires and blocks, which without regular maintenance is prone to failure, and
is awkward to link to both windvane self-steering gears and electronic autopilots, and
adds weight right aft, just where you need it least, and
clutters up the cockpit when at anchor, and is expensive.
Am I right, or am I missing something? What do you think?
---
Snubbing the Anchor
Like most cruising boats, Alacazam is equipped with an all-chain rode for her bower anchor - and lots of it. But we always use a snubber, for three reasons:~
to stop the noise produced by the chain grating around in the bow roller
to take the load off the windlass
and - most importantly - to absorb the shock loads on the anchor caused by sudden gusts in the wind.
A good material for a snubber is 14mm to 20mm diameter nylon rope - 3 strand is fine, but better still is 8 plait multiplait.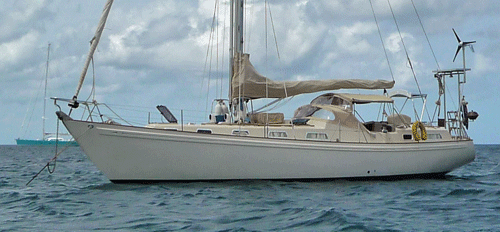 The skipper of the Rival 41 in the above pic has chosen to use a short snubber on a bridle. This will take the load off the windlass and keep the chain quiet in the bow roller, but won't take any shock loads off the anchor.

For it to introduce enough stretch and work properly as a snubber it needs to be around 10m long, attached to the chain with either a rolling hitch or a chain hook, with the other end secured to a strong point on deck.

It won't reduce the ultimate load on the anchor, but it will greatly reduce the severity of the snatching.
---
Cruising Boats for Sale on Sailboat-Cruising.com
Two more boat owners are taking advantage of our free advertising facility this month...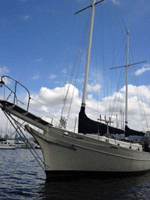 Built in British Hong Kong in 1967 of teak and gumwood, the King Cyrus is perfect for sailing or simply living in on weekends or year round.

With plenty of storage space and easy room for four, you can cruise in classic style, say her owners.

Click for more info and the asking price etc...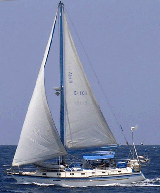 Fia, an Endeavour 40, was built in 1981 in St. Petersburg, Florida, used as the showboat, then privately owned by one of the owners of Endeavour Yacht Corp.

Click for more info and the price etc...









---
Back Issues of The Sailboat Cruiser - by popular demand!
With more and more people signing up for The Sailboat Cruiser there's been a call for back issues to be made available. I've finally discovered how this can be done - and here they are...
---
Our Artwork
And on the subject of back issues, some of you were kind enough to comment on the quality of the artwork in the May issue, assuming that it had been done by me.

Now as much as I'd happily wallow in your praise and adulation, I cannot rightfully do so. That privilege belongs to the artist, my old pal Andrew Simpson.

Andrew has illustrated all of the "Secrets of..." series of ebooks. He's also written two of them, and is currently working on a new one - Secrets of Multihull Cruising.

Here are a few examples of Andrew's artwork from each of the ebooks...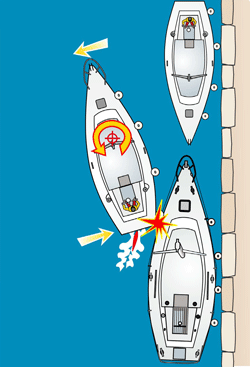 This one's from Secrets of Boat Handling in Marinas by Rob Gibson.
To a soundtrack of splintering fibreglass (just joking), Rob tells us here exactly how not to do it!
Incidentally, Bill Giles was kind enough to say about Secrets of Boat Handling in Marinas that "It is well written, clearly illustrated and worth twice as much."
Well Bill, it soon will be twice as much, as the introductory price period is coming to an end. Still well written, clearly illustrated and great value though...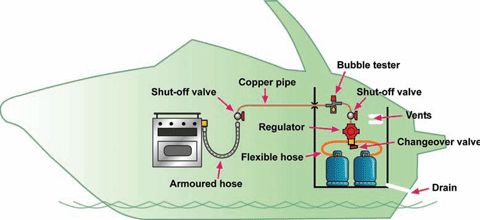 This one's from Andrew's eBook Secrets of Buying Second-Hand Boats.

Andrew rightly tells us "The terrible dangers associated with gas are well known to all of us and, yet, a horrifying number of dangerous installations remain. The diagram below shows schematically an ideal arrangement. Although sometimes not practicable on every boat, as far as is possible, every feature should be adopted. Basically, the gas cylinders are stowed in a locker venting to the open air but sealed from the boat's interior. This minimizes the chances of any accidental discharge collecting inside the boat where it could form potentially explosive pockets. Obviously the various other elements in the system must be very carefully installed and then meticulously maintained."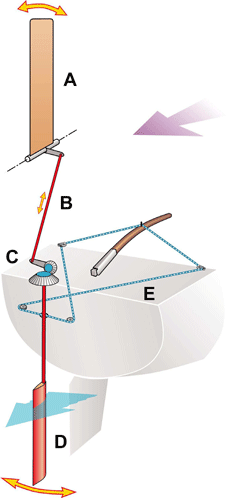 From Secrets of Windvane Self-Steering by Andrew Simpson

Here Andrew explains how servo-pendulum windvane systems work:
"When the boat strays off course the change in the apparent wind is sensed by the vane (A) which is pressed to one side or the other. If for example, the boat turns to port, the vane will incline in the same direction.
The vane's action is transmitted by the pushrod (B) to the gears (C) which converts the action from vertical to rotary – thereby turning the pendulum blade (D)
This turns the blade which is swept to one side (again to port in our example) by the waterflow.
The steering lines (E) are led to the boat's primary steering control – either a tiller, as shown here, or a drum and clutch arrangement on a wheel."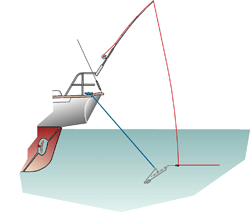 From Secrets of Sailboat Fishing by Dick McClary

Here I explain how to get your lure down deep with a lightweight planer rather than a very heavy weight:
"First, make sure the planer line is securely attached to a strong point on the stern of your boat, then...
Let out your trolling line until the lure is 30ft (9m) or so behind the boat;
Next, at deck level. attach the trolling line to the quick-release clip fixed to the after end of the planer before;
Slowly ease out the planer line to its required extent, allowing it to draw out your trolling line as it goes; then...
Set the drag on your reel and
Sit back, pop a beer, and await further development!"
All of these illustrations are of course the copyright of Andrew Simpson.
The international appeal of these eBooks has been quite surprising, truly reflecting the worldwide enthusiasm for the this great pastime (lifestyle, sport, recreation?) of ours, having been downloaded in 29 different countries to date.
And finally, if you've downloaded any of our eBooks it would be great if you'd let me know what you think of them.
Just one last thought...
It may be the early bird that catches the worm, but it's the second mouse that gets the cheese.
---
And finally...
If you know anyone who might be interested in the contents of this newsletter, feel free to email it to them. It's not secret!

And this newsletter can be a two-way thing. If you've read anything you'd like to comment on, or perhaps there's an event you'd like to see announced in a future newsletter, then please let me know.

See you next month!
---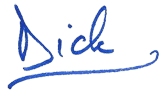 Dick McClary
Go to Sailboat-Cruising.com's Home Page...
---