Hi


The Sailboat Cruiser
The Sailboat Cruiser is the free monthly newsletter of sailboat-cruising.com and sets out to bring you the news, views and general musings of, well, me - Dick McClary, a sailboat cruiser and creator/owner of the website.
If you like this newsletter, please feel free to email it to your friends.
If one of your friends did forward this to you and you like what you read, please subscribe by visiting The Sailboat Cruiser
---
Newsletter #16 - February 2015
So what happened to the January newsletter? Many apologies, but there wasn't one. I've been just to busy getting Alacazam ready for a season of Caribbean cruising.
What's in This Issue:
January 2nd saw us launching Alacazam at Jolly Harbour Marina in Antigua, West Indies.

Having been layed-up ashore and strapped down to ground anchors she had come through October's hurricane 'Gonzalo' unscathed other than being covered in bits of rotting vegetation.

But yes, she was pretty dirty.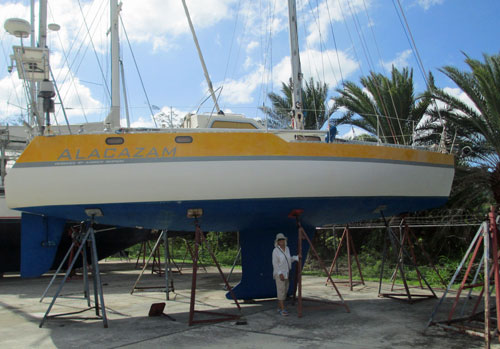 Opening the main hatch for the first time after so many months we expected to be greeted by the familiar 'boaty' smell, but all seemed well. No damp or mould - just a couple of small areas of mildew in the usual places in the forepeak.


Squaring-off for new boot topping with a spirit level and a ply template.
Clearly you can't just measure up a fixed distance from the anti-fouling due to the varying curvature of the hull, or the boot topping line will look of varying depth when seen from the side - you need a template and a spirit level.

It was only after the 6th time of dropping the template did I drill a hole in it and attach it to my wrist with a lanyard...

Once launched, I held my breath as I turned the ignition key. She started on the first turn. Excellent! All the hard work at lay-up time had paid off.

Now moored stern-to in the marina we're getting her ready for sea again, with initial cruising plans for Barbuda, St Barts, St.Maarten and the British Virgin Isles.

More on these adventures next month...


---

Anti-foul Paint (or bottom paint) is expensive anywhere, and Interlux Micron 66 is one of the more expensive concoctions, but $461/gallon? That's £304!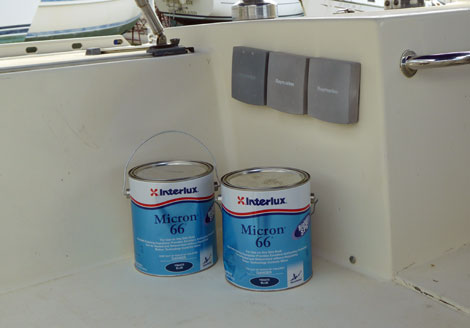 That's what it costs here in Antigua, where they're not at all shy in applying local taxes on top of an already high price.


---

Not surprisingly after 40+ years of use, my Aries Windvane Self-Steering Gear was showing signs of wear last season, as demonstrated by a marked reluctance to do as it was told.

The Aries is a servo-pendulum type of windvane self-steering systems and was designed and built by Nick Franklin in the Isle of Wight, off the south coast of England.




The last couple of days have been spent rebuilding it, using a rebuild kit purchased from Aries Wind Vane Spares (Helen Franklin) This company is owned and operated by Helen Franklin Bell, Nick Franklin's daughter and is based in Falmouth, Cornwall.

This was mainly the replacement of all the teflon bushes - and it would have taken much less time had it not been for all the stainless steel grub screws tapped into the aluminium casting, which were extremely difficult to remove.

But now we have an as-new (well almost) vane gear which should work perfectly - I'll let you know if it does in next month's issue.

In the meantime you might want to take a look at Windvane Self-Steering Gears - How They Work


---

While I was labouring away at the Aries, I got to chatting to the owner of the boat next to Alacazam, a cutter-rigged Hylas 46.

He was one half of a very experienced cruising couple. The subject of furling gears came up, particularly my distrust of inmast mainsail furling gears.

Like me, he much preferred slab reefing and lazyjacks on the mainsail with furling gears on the headsails. His though, was electrically powered.

It failed once, he said, just when conditions were worsening and darkness was setting in. Fortunately there was a manual back-up to it - but it required 2,500 turns and took him over one and a half hours to get the jib in completely.

That must have been a lot of fun, being bounced around up there at the pointed end in the dark and getting very wet...



And talking of headsail furling gears, if you get a halyard wrap at the top end, the system will jam.

Here's how to avoid it...

In the top pic, there's too much jib halyard between the masthead sheave and the jib furling swivel.

Any friction in the swivel will encourage the halyard to twist around the luff extrusion when you haul in on the furling line.

If this happens you may be able to free it by playing around with the halyard and the furling line, but it's far more likely that a trip up the mast will be needed.






The lower pic shows how to avoid it.

Incorporate a wire strop (or Spectra/Dyneema) between the head of the jib and the swivel.

Now the length of jib halyard is much reduced, along with the possibility of it wrapping around the foil.

Getting the Best from Your Headsail Roller Reefing Gear...



---

Melvyn Tate was kind enough to send me this email the other day:~

"Hi Dick, Thought you might be interested in this Mahi-Mahi i caught off the Exuma Keys a couple of weeks ago off the back of our rented 40ft sailboat. It went over 5ft long and took half an hour to land.

The point is I'd read your eBook ( Secrets of Sailboat Fishing ) and it helped immensely as you can see.

It was caught on a green and silver Salt Life Lil lure, trolled 70 yards off the stern at 6 knots.

It was unexpected because the locals said they were rare that time of the year - a wahoo would have been a more likely catch, they told me."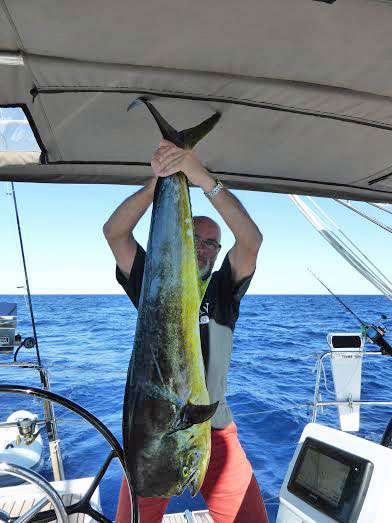 A fantastic catch, Melvyn. It's a male mahe-mahe or dorado (a 'bull'), as you can tell by the distinct hump to its forehead which the females don't have.

As you'll have discovered their brilliant flourescent green, turquoise and yellow colouring rapidly fades to a dull grey once they've met their end.

And as you'll have also discovered, they're absolutely delicious!

It's bigger than any dorado I've caught on my trolling line - perhaps I should read my eBook again!


---

Just one this month~



S/Y 'NEMO' - a Gib'Sea 51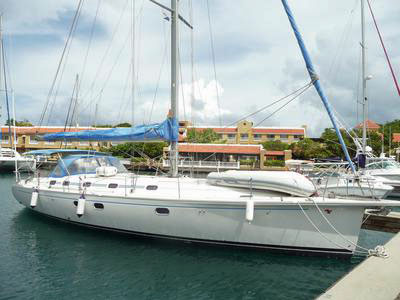 The owner says:~

"The Gib'Sea 51 is the flagship of the Dufour Family cruising line.

Created for the charter market and further developed into a private cruising yacht, the GS51 offers the best of all the Gib'Sea line of innovative and sensibly designed yachts." Read more...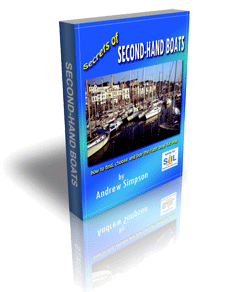 And speaking of secondhand boats, there's no better advice on buying one than Andrew Simpson's ebook on the subject - Secrets of Buying Second-hand Boats.

And like all of our 'Secrets of ...' series of eBooks, it's priced at less than $5!


---
Did you know that you can leave a comment on every article on Sailboat-Cruising.com?

Was there something you disagreed with perhaps? Something left out that you think shouldn't have been? Or anything else you'd like to add?

If so, we'd love to hear what you've got to say. Just type directly into the comment box on the page - it's as simple as that!


---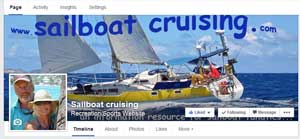 Sailboat-Cruising.com has a Facebook Page!

Clicking the image here will take you right to it, where you can browse through many more posts and articles.

Please take a look, and feel free to make a post - and don't forget to 'Like' us of course...

Thanks!

Visit sailboat-cruising.com's Facebook Page...
---
And finally...
If you know anyone who might be interested in the contents of this newsletter, feel free to email it to them. It's not secret!

And this newsletter can be a two-way thing. If you've read anything you'd like to comment on, or perhaps there's an event you'd like to see announced in a future newsletter, then please let me know.

See you next month!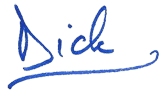 Dick McClary
Go to Sailboat-Cruising.com's Home Page...
---