Hi


The Sailboat Cruiser
The Sailboat Cruiser is the free monthly (OK, monthly-ish) newsletter of sailboat-cruising.com and sets out to bring you the news, views and general musings of, well, me - Dick McClary, a sailboat cruiser and creator/owner of the website.
If you like this newsletter, please feel free to email it to your friends.
If one of your friends did forward this to you and you like what you read, please subscribe by visiting The Sailboat Cruiser
---
Newsletter #48 - February 2019
What's in This Issue:
---


There's no doubt that boats don't like being left unattended for very long - it gives them far too much time to conspire against their owners. Or so it seemed when we launched 'Alacazam' after 8 months of lay-up in Antigua, West Indies.

Mary spotted them first, "Ants" she said, "Lots of them!". And so there were, crawling in and out of the small vent holes on top of the liferaft. Chemical warfare commenced in the form of the insecticide spray 'Raid'. It was only after a week of targeted spraying that we considered the liferaft to be ant-free. The prospect of sharing a liferaft with millions of angry ants was not a cheerful one.

Then it was the black smoke. We'd motored out of Jolly Harbour Marina to the anchorage without problem, the engine was as sweet as a nut, no smoke and plenty of exhaust water. But before I closed the engine down, I opened it up in neutral to max revs a few times to clear out any sooty deposits. I always do it, but this time the result was spectacular - clouds of black smoke and a sooty deposit on the water. "Oh dear" I said, or words to that effect...

Black smoke from the exhaust is normally associated with unburnt fuel, and can mean one of several things:
An overloaded engine;
A dirty air filter;
A partially blocked exhaust;
A fuel injection issue.
Well, it couldn't be 1. I was revving the engine in neutral, it wasn't loaded at all.
It might have been 2, although the filter looked clean enough. Even so I cleaned it thoroughly and tried the engine again. More black smoke.
It had to be 3.
I didn't want to think about 4 and the associated hit on the cruising budget. So I started by disconnecting the Vetus Exhaust Box. Had I forgotten to remove the oily rag I'd stuffed up the engine side of the exhaust pipe for the long lay-up period? No, I hadn't, but the water in the box was pretty black so I got rid of that and connected things up again.
Next came the water injection fitting at the exhaust elbow. There was a little deposit inside but not much. I had a poke around inside the exhaust elbow with an Allen Key but it seemed clear in there too.
I fired the engine up again - yup, still the black smoke.I closed it down in a hurry, had a beer and thought about things. That didn't help either.
Anchored directly astern of us was 'Brisa', a Cape Dory 33 owned by Simon and Hilda, OCC (Ocean Cruising Club) and long-time cruising pals of ours who had been the main beneficiaries of the black smoke.
I had a chat with Simon. "You need to speak with Frank" he said, who was anchored nearby. I did as suggested and within minutes Frank had dinghy'd over.
Frank turned out to be a fellow Brit and OCC member, and an absolute whizz on all things mechanical. I demonstrated the black smoke event once more.
"Not unburnt fuel" advised Frank "or you'd see fuel on the surface. That's just a sooty carbon deposit you've got there. It needs to cleared out by running the engine under full load for a while."
I had been very nervous about doing this as, when I see smoke of any colour emitted from an exhaust pipe, my natural inclination is to turn it off and search for the cause before something goes bang.
However, I took Frank's advice and sure enough after a few minutes of flat-out, buttock-clenching motoring the black smoke petered out and all became well in my world. Thanks Frank, you're my new best friend!
Frank and his wife Amanda own 'Infinity B', a Najad 460 - take a look at their blog, Infinity B's Atlantic & Caribbean Adventure
Now in full engine maintenance mode, I decided it would be an excellent time to change the fuel filters - and it's very fortunate that I did, or I might not have discovered THE LEAK.

---



There was water in the bilge below the engine - what's more I could hear it trickling in somewhere.

There's a rubber pipe that delivers cooling water from the seawater pump to the heat exchanger. On it there is a tee-junction with the tee - clearly redundant - plugged and secured by a jubilee clip. The jubilee clip had failed and the plug had been forced out by water pressure over a period of time, hence the leak.

To be honest, I had no idea it was there. It was part of the engine manufacturer's original installation, presumably to deliver cooling water to some other component not present on 'Alacazam'.

I shall be replacing the pipe soon with a single length that runs direct from the seawater pump to the heat exchanger - without redundant fittings and opportunities for leaks. The engine is a Yanmar 3YM30, if your boat has one you might want to check those jubilee clips!

It was most fortuitous that we were aboard when it happened, as it could have sunk the boat. Maybe the automatic bilge pump would have taken care of it but I wouldn't want to put it to the test. It serves as a clear reminder that we should close the seacocks when we leave the boat, but just how many of us do?

It was on the passage round from Jolly Harbour to Falmouth Harbour (Antigua) that we discovered that the Raymarine ST4000 Tillerpilot no longer wanted to play it's role in life.

Don't you just love boats?

---



White smoke most often isn't smoke at all, but water vapour. It's caused by water finding its way into the combustion chamber, usually the result of:
a blown head gasket;
a cracked exhaust manifold;
a cracked cylinder head casting.
Blue smoke isn't good news either. This is the result of crankcase oil finding its way into the combustion chamber, usually the result of:
worn piston rings;
worn valve guides;
thermostat stuck open;
blocked crankcase breather;
a cracked cylinder head casting.
All of which are very good reasons for having sails.

---



Inflatable dinghies don't like being folded away for long periods either. Having fixed another leaking seam in our 19 year old Avon Redstart we were approaching Falmouth Harbour's public dinghy dock.

I spied a man ashore beating a snake to death. Closer inspection revealed that it wasn't a snake at all but a length of plastic tubing.

"Toilet outlet hose" the man said, "blocked solid".

He seemed to be having fun so I disturbed him no further and continued my quest for someone ashore who could breathe new life into the defunct Tillerpilot.

But the hose thrashing incident set me thinking about the unkind comments I'd made about the electric freshwater flush toilet in 'The Sailboat Cruiser, Issue #45'.

Had the snake beater's boat sported a freshwater flush toilet like that aboard 'Mehalah', then he would have been spared his current activity.

The blockage in the outlet hose - in case you're wondering - was a build up of calcium deposits, the inevitable result of the salt and calcium carbonate in saltwater reacting with uric acid.

Freshwater doesn't contain these minerals, so uric acid has nothing to react with - hence, no calcium deposit and incidentally, no more 'rotten egg' smell (hydrogen sulfide gas) that's associated with saltwater toilets. So maybe there is a valid argument for freshwater flushing providing you have enough of it.

Perhaps a Y-valve could be incorporated on the intake side, providing the option of flushing with freshwater when you have an abundant supply and don't need to be too sparing with it, and seawater when you do.

If you have the luxury of two or more heads, clearly at least one of them should be a manual sea-toilet.

But my concern would be the potential for cross-contamination between the freshwater supplying the head and that in the main tanks.

Jabsco produce a Head Solenoid/Anti-Syphon Valve for their 12v electric toilets to take care of this risk - even so, I don't think 'Alacazam' will be sporting a freshwater flush toilet any time soon...

---


Only one of you got December's Mystery Boat right. One person thought it was a Columbia 43, several thought it was a Dufour.

But thanks Jason, after researching your suggestion on line I came across a pic of an identical boat.

So thanks Jason, you're right - she's a Jouet 1300.

But let's see how you get on with this one: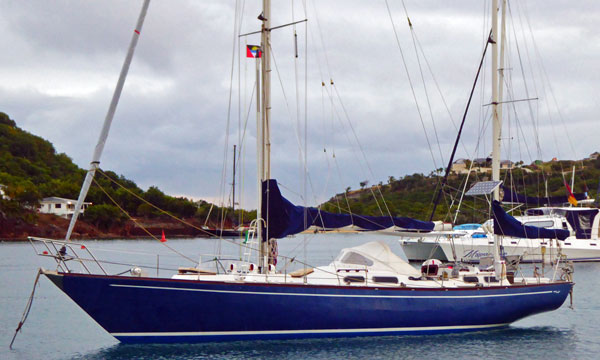 This handsome yawl was anchored close to us in Falmouth Harbour, Antigua. By the time I decided to dinghy over and ask the couple aboard the make and model of their boat, they'd weighed anchor and left.

So people, it's over to you.

Any ideas anyone?

If so, please let me know by clicking here...
---


It's always worth taking a look at what visitors to sailboat-cruising.com are getting rid of. Remember that one man's junk is another man's gold!

Among other items this month, we have:
Yanmar 3GM30F Diesel Engine;
OMC Seal for 85hp Johnson Outboard;
Mainsail cover for 13' long boom;
Offshore/Coastal Women's Foul Weather Bib Trousers;
Drysuit;
EPIRB 406;
Harken Bosun's Chair;
Perko Switch;
Foam-Filled Seat Backs;
Two Nicro Solar Vents;
Take a look at this and all the other stuff at used cruising gear for sale...


---



If you're thinking of selling your cruising boat - or know someone who is - remember you can advertise it entirely free of charge on sailboat-cruising.com - which is what the owners of these boats have done...

'Empress', a Finnrose 37;

GibSea 37 ketch;

'Orua', a Lagoon 380 catamaran;

'Chanticleer', a CSY 44;

'Lola', a Frans Maas 50 Schooner;

'Lola', a Frans Maas 50 Schooner;

'Pipe Muh Bligh', a Catalina Morgan 440DS;

'Gypsy Wind', a Caliber 38;

'Shamaness', a Chung Hwa 36 Ketch;

'Falkor', an Adla 30;

'Windward Lady', a Westerly Oceanlord 41;

Want to check out a whole load more?

Then take a look at the full list of monohulls for sale here and multihulls for sale here...



Don't forget...

If you're thinking of looking at a secondhand sailboat, or just want to be aware of what to look for - and when to walk away no matter what - then you really ought to take a look at Andrew Simpson's eBook Secrets of Buying Secondhand Boats...

It's full of sound advice from an acknowleged expert and could quite literally save you $$$$$thousands!



---


Sailboat-Cruising.com has a Facebook Page!

Clicking the image here will take you right to it, where you can browse through many more posts and articles.

Please take a look, and feel free to make a post - and don't forget to 'Like' us of course...

Thanks!

Visit sailboat-cruising.com's Facebook Page...

---




And finally...

If you know anyone who might be interested in the contents of this newsletter, please forward it to them. It's not secret!

And this newsletter can be a two-way thing. If you've read anything you'd like to comment on, or perhaps there's an event you'd like to see announced in a future newsletter, then please let me know.

See you next month!


Dick McClary

Go to Sailboat-Cruising.com's Home Page...

---