Hi


The Sailboat Cruiser
The Sailboat Cruiser is the free monthly newsletter of sailboat-cruising.com and sets out to bring you the news, views and general musings of, well, me - Dick McClary, a sailboat cruiser and creator/owner of the website.
If you like this newsletter, please feel free to email it to your friends.
If one of your friends did forward this to you and you like what you read, please subscribe by visiting The Sailboat Cruiser
---
Newsletter #42 - February 2018
What's in This Issue:
---


On returning recently to Jolly Harbour, Antigua, where Alacazam had been stored ashore for the 2017 hurricane season, Mary and I were much relieved to find her in exactly the same condition as we had left her back in April.

Sadly, it was not the same for many other owners who had stored their boats in St Martin or The Virgin Islands where few were left undamaged and many were completely destroyed by the unbridled malevolence of hurricanes Irma and Maria.

It set me thinking about what might have happened to Alacazam if the paths of these hurricanes had tracked across Antigua.

Just how well was she protected, and how do the top Caribbean Boatyards go about looking after the boats they are trusted with?

I spoke to Jo Lucas about this, General Manager of Jolly Harbour Marina & Boatyard - and this is what she told me...
---


Anyone who has read any of my website articles about multihulls will know that, for my tastes, catamarans have one hull too many.

But when my brother Doug and his wife (from Portland, Oregon) invited Mary and I to join them and two of their pals aboard a chartered catamaran for a 2 week cruise around Antigua, we jumped at the chance. Primarily of course for the delight of being in the company of great people, but also to find out if spending a couple of weeks aboard would change my opinion about catamarans. We shall see...

The charter boat turned out to be a Lagoon 42. She, Bella Luna, had just been delivered from the factory in France - we were the first charterers.

Bella Luna had been designed and fitted out for the charter market in anticipation of crews requiring all the comfort and convenience of a luxury shoreside apartment.

There were 3 double air-conditioned cabins, each one with a heated shower, and an electric flush toilet, 110/220v sockets and two USB ports- there were few shared domestic facilities on this boat!

There was a fridge and a freezer in the saloon, and a separate booze fridge in the cockpit - all big, and a microwave in the kitchen - sorry, galley.

Surprisingly, there were no manual backups for flushing the heads, the pressurised water supply or anything else - even the seawater supply in the galley was pumped electrically.

Bella Luna had 4 140ah batteries (totalling 560ah) which seemed a reasonable capacity, but we soon realised with 6 people wanting hot showers every day and with laptops, tablets and phones constantly on charge - it wasn't. Not by a long way, hence the large Cummins Onan generator.

Similarly the fresh water tank could hold a maximum of just 80 gallons. Nowhere near enough - hence the 17gal/hour watermaker.

On deck, all sail control lines were led back to one of two electric winches.

This was one power-hungry boat!

We were all monohull-owning cruising couples, familiar with the economy/frugality ethos that cruising 'normal' boats demands. But this push-button boat was intended for a 2 week 'who-cares-about-the-cost' holiday. So we used it accordingly and had the generator running several hours a day as a result.

She was clearly a mass-produced, production-line boat with none of the craftsman-built accommodation of the Stephens 47 described below, but everything seemed to be well screwed together and all the systems worked. Well so they should, it was a new boat, but I couldn't help thinking about the future costs of keeping things that way.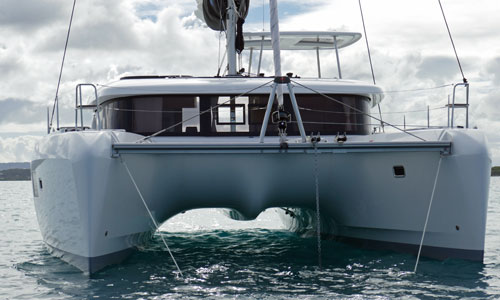 Bella Luna was a fat old girl with wonderful accommodation, but not designed with sparkling sailing performance in mind. The closest she would sail to the wind was around 50 degrees. OK, you could point up a bit to make it look better, but then you would make a lot more leeway.

Motoring into the wind was a crashing, banging and bone-jarring experience that would shake the fillings out of your teeth. Off the wind, sailing was pleasant enough.

But it would not be fair to condemn all cruising cats on the basis of Bella Luna's sailing performance; there are other less condominium-like cruising cats that perform much better under sail.

At anchor, which is of course where cruisers spend most of the time, living aboard was extremely comfortable with none of the rolling that nearby monohulls were having to contend with. There was plenty of lounging space for 3 couples, both in the cockpit and below.

I've certainly not been converted to catamaranism by Bella Luna, but it's easy to see why charter catamarans are so popular here in the Caribbean.
---
---


Two friends of mine who sold their boat last year are now back in UK, looking for a replacement monohull suitable for long-distance, liveaboard sailing.

They found one that appealed in Antigua - "would I mind taking a look?" So leaving Alacazam at anchor in Falmouth Harbour, Mary and I taxied to Nelson's Dockyard, where Serenade was moored stern-to the dock.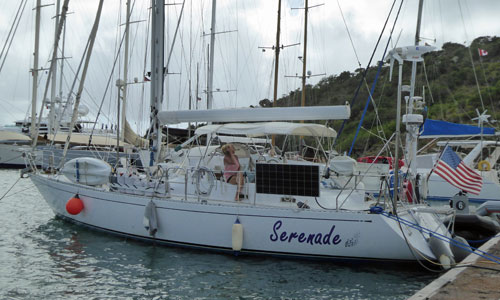 The owners welcomed us aboard and showed us around, on deck and below. She had been superbly looked after by her owners and was very well set up for liveaboard, long-distance cruising, which is what they had been doing for the past 10 years.

But the first thing that struck me was how much bigger this Stephens 47 was than our 38 footer. She seemed huge compared to Alacazam, and I started thinking about how that extra 9 feet made such a difference - after all she was only about 1.25 times longer.

That factor of 1.25 applies to all three dimensions - length on deck, beam and (to a lesser extent) headroom. Once a boat has full standing headroom throughout, any further increase would be largely wasted space. So the additional 9 feet in length increases the internal volume exponentially, ie 1.25 x 1.25 x 1.25 - which is 1.95, nearly double that of Alacazam, and it felt like it too.

And this length, width and depth relationship applies exponentially to cost comparisons as well.

For example, if you you swap your 40 footer for a 50 footer, many 2 dimensional items will increase by 1.25 squared - that's 56%, not 25% which is something you'll be reminded of when it's time to buy new sails, apply antifouling bottom paint or replace those teak decks!
---


Back in the summer I was having a pie and a pint with Mary and an old friend (I'm not saying you're old, John - I'm referring to the length of time we've known each other) at a prestigious Plymouth yacht club - OK, it was the Royal Western.

We were all wearing sunglasses at the time - I swapped mine for a pair of reading glasses when the menu arrived.

"I used to have to do that", John said, "before I bought these".

An inspection of his shades revealed that they had diopters in the lower part of the lens.

"Not only that, but they've got photochromic lenses too" he said proudly, "and they float - and they've got polarized lenses".

That really got my attention - suddenly I felt sadly deficient in the sunglasses department and made a mental note of the name on the frames - 'Barz Optics'.

Later, I checked them out online. Barz Optics are an Australian company specialising in sunglasses for the watersports enthusiast, and they're marketed here in the UK by 'YachtingSunnies.com'

I now have a pair from their CABO range with all the bells and whistles - 2.50 diopters, floating, photochromic and polarized, which I've found to be ideal for out here in the Caribbean, both aboard and ashore.

My mistake was telling Mary how good they were - now she's got mine and I've had to spring for a second pair! Oh well...
---

The weight of opinion is that last month's mystery boat (shown below) is a Hayden Gozzard designed Bayfield 40, built in Canada.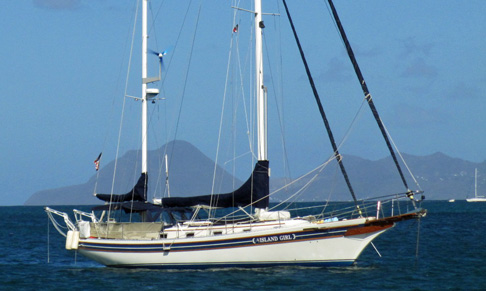 Well done to Ron Bruno, Thomas Hele, Leonard Webb, Andy Rangecroft and Julien Bertrand.

Yes, I think you're right, so 'Island Girl' now appears at Popular Cruising Yachts from 35 to 40 Feet. Sorry Craig, it's not a Bob Perry designed Tashiba 40, an example of which you can also see on that page.

I was running out of 'mystery boats' for you to identify, but in the last couple of weeks I've bagged a whole year's worth.

So here's the next one, a pretty little double-ender I snapped in English Harbour, Antigua. The name on the bow is ELLAMIA'.


Any ideas anyone?


---

It's always worth taking a look at what visitors to sailboat-cruising.com are getting rid of. Remember that one man's junk is another man's gold!

Among other items this month, we have:
Fleming Windvane Self-Steering System;
Windpilot Self-Steering Gear;
Winslow 6 Person Life Raft;
Mustang Survival Immersion Suits;
Flotation Jacket;
ICOM VHF IC M71 Transceiver;
Take a look at this and all the other stuff at used cruising gear for sale...

---

If you're thinking of selling your cruising boat - or know someone who is - remember you can advertise it entirely free of charge on sailboat-cruising.com - which is what the owners of these boats have done...

Jeanneau Sun Magic 44

Fountaine Pajot Bahia 46 Catamaran

'Shanti' an Amel Sharki 39 for sale;

'La Scala a Mare' a Tayana 55' Cutter for sale;

'Tsabalok' a Leopard 42;

'Mimi' a Lagoon 380;

'Island Sister' a Hunter 45DS;

'Polair Star' a Beneteau Oceanis 50;

'Badgers Sett' a Westerly Oceanlord 41;

'Fireball' a Ranger 27;

'Small World II' a Tayana Flying Dutchman 50;

'Snatch' a Lavranos 42 ft Steel Cruising Cutter;

Want to check out a whole load more?

Then take a look at the full list of monohulls for sale here and multihulls for sale here...


Don't forget...
If you're thinking of looking at a secondhand sailboat, or just want to be aware of what to look for - and when to walk away no matter what - then you really ought to take a look at Andrew Simpson's eBook Secrets of Buying Secondhand Boats...

It's full of sound advice from an acknowleged expert and could quite literally save you $$$$$thousands!

---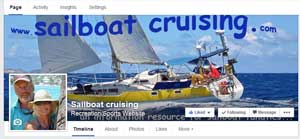 Sailboat-Cruising.com has a Facebook Page!

Clicking the image here will take you right to it, where you can browse through many more posts and articles.

Please take a look, and feel free to make a post - and don't forget to 'Like' us of course...

Thanks!

Visit sailboat-cruising.com's Facebook Page...
---
And finally...
If you know anyone who might be interested in the contents of this newsletter, please forward it to them. It's not secret!

And this newsletter can be a two-way thing. If you've read anything you'd like to comment on, or perhaps there's an event you'd like to see announced in a future newsletter, then please let me know.

See you next month!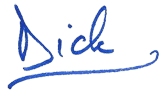 Dick McClary
Go to Sailboat-Cruising.com's Home Page...
---