Hi


The Sailboat Cruiser
The Sailboat Cruiser is the free monthly newsletter of sailboat-cruising.com and sets out to bring you the news, views and general musings of, well, me - Dick McClary, a sailboat cruiser and creator/owner of the website.
If you like this newsletter, please feel free to email it to your friends.
If one of your friends did forward this to you and you like what you read, please subscribe by visiting The Sailboat Cruiser
---
Newsletter #44 - June 2018
What's in This Issue:
---


Wouldn't it be great if we never had to make a trip to the masthead to change a bulb in the tri-colour nav light?

OK, having a LED Tricolour makes such a trip a much less likely requirement, but these come in at around $200 last time I looked.

But hang on a minute...

With the the power consumption of LED navigation lights so miserly, why not just replace the incandescent bulbs in your bow and stern lights with LED ones and forget about the tricolour altogether?

There is no legal requirement for sailboats to show a tricolour at the masthead. It's actually a concession to enable a vessel to save power when under sail, but it is illegal to show a tricolour when a vessel is under power.

In that situation a sailboat is regarded as a motor vessel and must comply accordingly with the International Regulations.

These replacement LED navigation light bulbs cost around $8 each. It makes sense to me...
---


Depending on your global location, laying your boat up ashore will take place in the Autumn or Spring. Either way, it's best to follow an established routine.

Here's the procedure we follow on Alacazam...


Each season it seems that something else gets added to the list. This year it was the removal and cleaning of the cooling water injection fitting that enters the mixing elbow (which sits on top of the exhaust elbow) on Alacazam's Yanmar 3YM30.

Unlike the exhaust elbow, it's easy to remove with a spanner (sorry, my American friends - I meant wrench).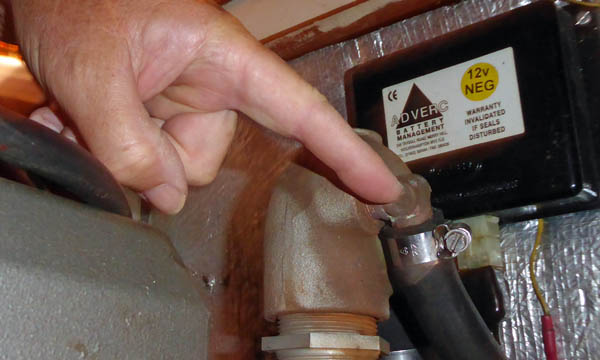 This is where the carbon build-up which will eventually block the exhaust elbow starts to accumulate.

Once removed, poking around inside it with a small screwdriver will quickly remove any carbon deposits.

Before you replace it, have a poke around inside the mixing elbow (you won't be able to reach the inside of the exhaust elbow) with an appropriately sized allen key - choose one that enables you to get past the 90 degree bend. If there's any significant carbon build-up there you should be able to dislodge most of it. If you can't then the exhaust/mixing elbow will have to be removed and cleaned properly.

It really is worth doing this regularly, otherwise you could suffer the same as what happened to us back in 2015...
---


One of the benefits of having a popular website is that I occasionally get a request to sample a product, in the thinly-disguised hope that I'll give it some publicity. If it's something I can't in all honesty recommend, then it doesn't get a mention.

But I am going to mention Nutberg, a drinkable meal made from oats, coconut, almonds and other real food ingredients. It comes in three flavours - Classic, Cocoa and Banana - each of which is supplied in a vacuum-packed sachet.

Preparation is quick and easy, just mix it with milk or water.

Mary and I tried one each for breakfast and found it to be extremely nutritional - and tasty!

From a sailing point of view, it's just the thing to have aboard as a viable alternative to a cooked meal in rough weather or on a night passage. A few packs of Nutberg will definitely be going back with us to Alacazam next season.

May I suggest you take a look at the Nutberg website? If you decide to order 15 meals or more, remember to include the word 'SAILBOAT' in the order comment and you'll get an additional 5 meals for free.
---


There's a bewildering array of trolling lures to choose from - skirted lures, trolling feathers, soft-plastic swimbaits, hard lures, metal spoons, diving plugs, topwater plugs etc, etc - so how on earth do you decide which one to use?

Most cruisers choose one of the many skirted lures, but there are hundreds of different types of those to choose from.

Setting out from Union Island to Carriacou in the West Indies, I had that decision to make and here's how it went...

But if I had to choose just one lure to have aboard, it wouldn't be a skirted lure - it would be a Cedar Plug.

They are constructed, as the name suggests, from solid cedar and equipped with a lead head and a sharp hook. Unlike most other trolling lures they're virtually indestructible.

Trolled a couple of boat-lengths astern, they're effective fish-catchers.
---


The newly created General Data Protection Regulation (GDPR), drawn up by the EU, strengthens the data rights of EU residents and harmonises data protection law across all member states, making it identical.

It increases the potential fines organisations face for misusing data, and makes it easier for people to discover what information organisations have on them. In essence, it seeks to bring more transparency to people about what data organisations collect about them, and what those organisations use it for, as well as enabling people to prevent unnecessary data collection.

It was aimed at the major global internet players - Google being a prime example - but it seems that unless the internet minnows of this world like www.sailboat.cruising.com comply fully with GDPR they will be prevented from using any of Google's services.

GDPR compliance is complicated and not straightforward to achieve. However, I'm pleased to report that both of my websites, sailboat-cruising.com and go-saltwater-fishing.com are now fully GDPR compliant.

Please take a look at our new Privacy Policy to see how your privacy is protected.
---

For the first time there was a zero response to last month's mystery boat, so we'll try again for one more month.

She's called 'Mr Curly', and I snapped her as she was anchoring off Ilet de Gosier, Guadeloupe.

I thought she looked like one of Steve Dashew's designs or a Chuck Paine designed Bourgainvillaea, but an internet search suggests to me that she's something different.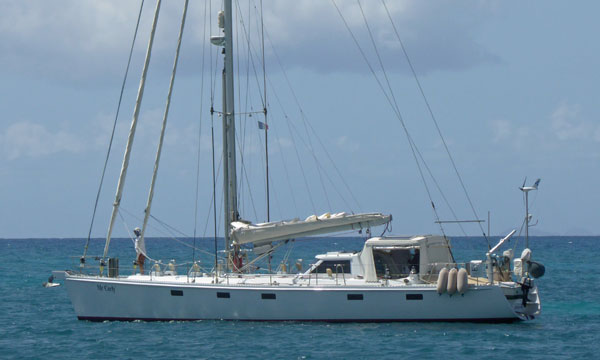 Any ideas anyone?
---

It's always worth taking a look at what visitors to sailboat-cruising.com are getting rid of. Remember that one man's junk is another man's gold!

Incidentally, can the person who uploaded the monitor windvane for sale please do so again, because somehow or other I've lost it. Apologies all round.

Among other items this month, we have:
An Asymmetric Spinaker;
Cruising Guides;
Jacklines and Safety Tethers;
Take a look at this and all the other stuff at used cruising gear for sale...

---

If you're thinking of selling your cruising boat - or know someone who is - remember you can advertise it entirely free of charge on sailboat-cruising.com - which is what the owners of these boats have done...

'Beach House', an Endeavour 42 for sale

'Lorrigray', a Dix 65 for sale

'Cattitude', a Leopard 47 for sale

Cabo Rico 38 for sale

Pearson 38 for sale

'Southern Cross', a Hunter Passage 450 for sale

Cape Dory 36 for sale

Seaward 25 for sale

Tayana 37 for sale

Want to check out a whole load more?

Then take a look at the full list of monohulls for sale here and multihulls for sale here...


Don't forget...
If you're thinking of looking at a secondhand sailboat, or just want to be aware of what to look for - and when to walk away no matter what - then you really ought to take a look at Andrew Simpson's eBook Secrets of Buying Secondhand Boats...

It's full of sound advice from an acknowleged expert and could quite literally save you $$$$$thousands!

---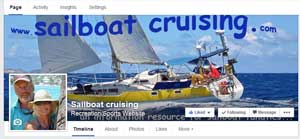 Sailboat-Cruising.com has a Facebook Page!

Clicking the image here will take you right to it, where you can browse through many more posts and articles.

Please take a look, and feel free to make a post - and don't forget to 'Like' us of course...

Thanks!

Visit sailboat-cruising.com's Facebook Page...
---
And finally...
If you know anyone who might be interested in the contents of this newsletter, please forward it to them. It's not secret!

And this newsletter can be a two-way thing. If you've read anything you'd like to comment on, or perhaps there's an event you'd like to see announced in a future newsletter, then please let me know.

See you next month!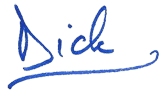 Dick McClary
Go to Sailboat-Cruising.com's Home Page...
---