Hi


The Sailboat Cruiser
The Sailboat Cruiser is the free monthly (OK, monthly-ish) newsletter of sailboat-cruising.com and sets out to bring you the news, views and general musings of, well, me - Dick McClary, a sailboat cruiser and creator/owner of the website.
If you like this newsletter, please feel free to email it to your friends.
If one of your friends did forward this to you and you like what you read, please subscribe by visiting The Sailboat Cruiser
---
Newsletter #49 - March 2019
What's in This Issue:
---


One of the joys of long-term cruising is that you have plenty of time to laze around on the boat - limin' as they call it here in the West Indies.

I've long believed there's no better place to read a book than in the cockpit of an anchored sailboat - or as it turned out this year, writing one, whilst awaiting the arrival of a new autopilot.

And it was you, my readers, that prompted me to write it.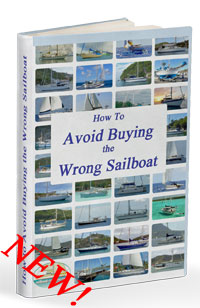 Sometime ago I had written an article Choosing a Cruising Sailboat which set out an innovative approach to selecting a sailboat to suit your requirements.

It was based on a process of elimination which quickly ruled out those boats that wouldn't suit your requirements, before homing in on those that probably would.

It generated a deal of correspondence, mainly saying nice things but also that it "needed more explanation", "didn't go far enough" or "needed a few illustrations"; and more than a few of you asked for a "downloadable printable checklist".

My attempts to re-write the article failed; it became too long and difficult to navigate.

To do the job properly, it needed an eBook.

Consequently the article has now been replaced by my new eBook How to Avoid Buying the Wrong Sailboat , in which all the issues you identified have been addressed - along with more besides.

The eBook (more than 80 pages and over 50 illustrations) is all about making practical, pragmatic choices whilst carefully steering you away from allowing your heart to rule your head.

---



Here's a boat you could easily fall in love with...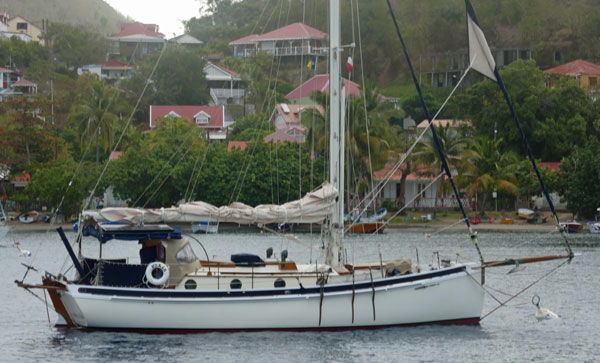 She's a delightful and eminently seaworthy Lyle Hess designed Pilot Cutter, owned by a good pal of mine.

She's 36 foot on deck, but if you add the bowsprit and the boomkin she's more than 43 foot overall.

Boatyards and marinas will of course measure these extremities and take pleasure in charging you accordingly, greatly increasing the ownership costs for what is effectively a 36 foot sailboat.

Problem is, you really want to own a boat like this one, but swelling the profits of boatyards and marinas are not high on your list of priorities.

So what's it to be, pragmatism or passion? Your call!

---



Falmouth Harbour, Antigua is a protected anchorage with good holding. It can be crowded at times, as it was when we were there recently.

We'd dropped the hook in 10m and let out 40m of chain, and backed down hard on the anchor to make sure we were well dug in.

However, we ended up closer to another boat than I'd normally like to be, and we hadn't attached the 5m long snubber yet.

The skipper was on deck, looking in our direction. "What do you think?" I called. "I think you're fine" he said, "I've got 75m out, so I'm going nowhere!".

With the wind forecast to veer from northeast to south in a few hours, we weighed anchor and found another spot.

We'd probably been OK if we'd stayed, provided that both boats would swing in unison, but why take the chance?

And why put out 7.5:1 scope in a protected anchorage?

Well over-the-top in my opinion and, dare I say it, a tad inconsiderate in a crowded anchorage.

---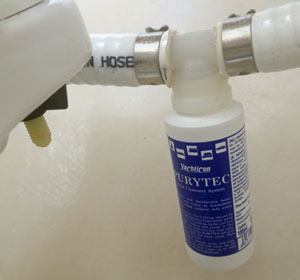 Having got involved with seawater toilets in the previous two issues of The Sailboat Cruiser, I may well have to fend off accusations of developing something of a toilet fetish.

I hasten to assure you that I'm not, but I can't deny that in the previous issue of this newsletter, we touched on the tendency of seawater-flushed marine heads to get a little whiffy.

There is a solution (pun intended) and it's called Purytec. You'll be able to find several suppliers online.

It's produced by the German company, Yachticon, who tell us that one container is good for up to 1,000 flushes.

So, number of days before replacement equals 1,000 divided by (number of crew, times ahem, number of visits per day).

I'll let you work it out...

There'll be nothing about toilets or related issues next month. Well, probably not...


---


Thank you Rokas for correctly identifying last month's mystery boat as a Bowman 46 Yawl.

But let's see how you get on with this one:




I should know this one, a small centre-cockpit aft-cabin ketch, as I think it's a British design from the 1960s - but I don't.

Any ideas anyone?

If so, please let me know by clicking here...
---


It's always worth taking a look at what visitors to sailboat-cruising.com are getting rid of. Remember that one man's junk is another man's gold!

Among other items this month, we have:
Monitor Self Steering Windvane;
MPS1000 250, powered marine subwoofer;
Henry Lloyd Freedom Jacket;
Fisher Panda 8kw Diesel Generator;
Galley Maid 300 Watermaker;
SailRite Sewing Machine;
Intellian i2 US System;
Trolling Motor;
Nylon Dock/Anchor Line.

Take a look at these and all the other stuff at used cruising gear for sale...


---



If you're thinking of selling your cruising boat - or know someone who is - remember you can advertise it entirely free of charge on sailboat-cruising.com - which is what the owners of these boats have done...

'Idylle 5', an Oceanis 500;

Ecume de mer 26;

'Gdyinianin', a Roberts 28;

'Kalihi', a Samson Marine C-Mist 32;

'Lady Di', a Hunter 45DS;

'Conquistador', a 13.5m Beneteau Idylle;

'Merrimist', an Ericson 38;

Want to check out a whole load more?

Then take a look at the full list of monohulls for sale here and multihulls for sale here...



Don't forget...

If you're thinking of looking at a secondhand sailboat, or just want to be aware of what to look for - and when to walk away no matter what - then you really ought to take a look at Andrew Simpson's eBook Secrets of Buying Secondhand Boats...

It's full of sound advice from an acknowleged expert and could quite literally save you $$$$$thousands!



---


Sailboat-Cruising.com has a Facebook Page!

Clicking the image here will take you right to it, where you can browse through many more posts and articles.

Please take a look, and feel free to make a post - and don't forget to 'Like' us of course...

Thanks!

Visit sailboat-cruising.com's Facebook Page...

---




And finally...

If you know anyone who might be interested in the contents of this newsletter, please forward it to them. It's not secret!

And this newsletter can be a two-way thing. If you've read anything you'd like to comment on, or perhaps there's an event you'd like to see announced in a future newsletter, then please let me know.

See you next month!


Dick McClary

Go to Sailboat-Cruising.com's Home Page...

---