Hi


The Sailboat Cruiser
The Sailboat Cruiser is the free monthly (OK, monthly-ish) newsletter of sailboat-cruising.com and sets out to bring you the news, views and general musings of, well, me - Dick McClary, a sailboat cruiser and creator/owner of sailboat-cruising.com.
If you like this newsletter, please feel free to email it to your friends.
If one of your friends did forward this to you and you like what you read, please subscribe by visiting The Sailboat Cruiser
---
Newsletter #55 - February 2020
What's in This Issue:
After last month's crowing about how well Alacazam's launch had gone after her seven month layup, with all systems working perfectly, I have to report we were soon back in Prickly Bay awaiting the repair of the alternator. What's that old saying about pride coming before a fall?

---

There's nothing very fashionable about a tiller - wheel steering is most skippers' preference these days - ideally two of them for maximum kudos. But not for us - 'Alacazam' sports a tiller.

At anchor we tie it up to the backstay to maximize space in the cockpit. This though, allows the rudder to turn which does nothing to reduce any tendency to swing - and sometimes the top bearing squawks until Mary threatens it with a squirt of WD40.

When we retire below, we lash the tiller amidships which does reduce swinging, but the bearing still squawks. Well, not any more it doesn't.

I've had the boatyard make up one of these...


A length of stainless steel tube, flattened at one end and drilled to locate over the tillerpilot pin on the tiller.

A spigot is welded on the other end which locates in the tillerpilot socket in the cockpit seat.

Tiller tamed, no squawks or cockpit-spanning lines to trip the unwary. It's only taken twenty years of intermittent squawking to come up with that!

And I know the cockpit needs a lick of paint - it's on the list.

Read more: The tiller versus wheel argument...

---


Prickly Bay anchorage in Grenada can be the gunwhale-to-gunwhale rolling capital of the world. It was being just that when we launched 'Alacazam' a few weeks ago.

But right up in the northwest corner of the bay, just south of the customs jetty, is a mooring field of some 20 or so moorings blissfully out of the rolly zone.

Normally we shun moorings (except those in marine parks), in favour of anchoring but having satisfied ourselves as to its robustness we picked one up in about 4m.

It wasn't long before we became aware of the grassy meadow that was the seabed below us. Further south in the bay, seabed-scything anchor chains had long put paid to such an underwater pasture.

As a result of the non-disruptive nature of mooring blocks we have turtles turtling about all around us, hopeful herons stalking the foreshore and a sea eagle circling overhead.

And the fishing!!! Hey, I'm catching snapper to order!

But my new-found approval of moorings is not universal - far from it. It only applies when it's mandatory or ecologically beneficial to the seabed and the creatures that live there.

I remain totally opposed to illegal, commercially opportunistic and unregulated moorings that are laid where anchoring would be a much better option.

---


You won't get a sniff of a snapper in the daytime, they only come out to feed after the sun has gone down.

For almost guaranteed success, present your baited hook about a foot off the bottom where it won't get caught up in the grass.

And the bait? Ah, that's my secret.

But as you've read this far, I'll tell you. But keep it to yourself, OK? It's Pork Luncheon Meat, I kid you not. The snapper absolutely love it - and they are delicious.

How do you know it's a snapper?


See those two canine teeth? It's a snapper. No canines, no snapper!

Read more: Fishing at Anchor...

---


Wandering around the boatyard the other day, I came across this: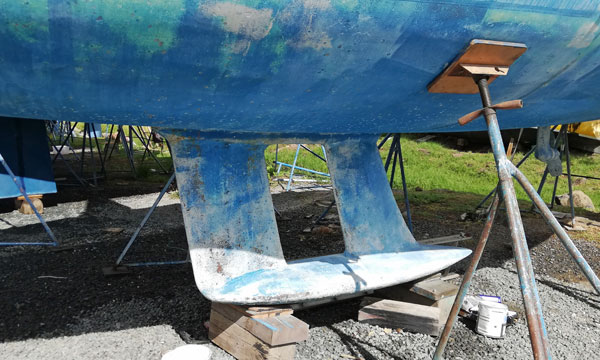 It's a tandem keel, designed by Warwick Collins back in the 1980's. Essentially a tandem keel comprises two foils and a delta endplate to create a shoal draft keel which is genuinely as effective upwind as a deep keel.

These keels had some success on the racing circuit and were also found on cruising yachts, including Bavarias and Etaps.

At first glance it would seem that the water flow around the forward foil would disrupt the flow around the after one, but this is not the case. Owing to the boat's leeway, both keels operate in laminar flow.

Benefits of the tandem keel include:
With 55%-60% of its weight in the endplate, stability is very good.
The end plate dampens the boat's motion at sea, increasing crew comfort.
The additional stability allows the rig to work more efficiently creating more drive and better boat speed.
The tandem keels' lower aspect ratio (shallow and long) improves directional stability.
So what's not to like? Very little it would seem, although going aground with this (or any wing keel design) is likely to be embarrassing. And of course, they're expensive in comparison to less radical designs.

Read more: Keels & their Characteristics...

---


Most of us attach the end of our anchor snubber line to a cleat on the foredeck. This creates a loop of anchor chain somewhat longer than the length of snubber we've deployed.

Not an issue if you've got plenty of chain left in the locker but if you haven't, this loop of chain - adding nothing to the shock-absorbing catenary - is effectively wasted. But Peter Munro dropped me a line recently to say:

"In order to keep my snubber line out of the water and so to protect it I run the line back to a cockpit winch if a bit of a blow is forecast. This gives me a line length of about 12m on my Dufour 41 Classic."

Well Peter, I think that's a great idea because:
A nylon snubber of that length will be very effective, providing plenty of stretch to minimize the shock loads on the anchor;
In relatively shallow water you wouldn't be able to deploy a snubber of that length from a cleat on the foredeck, as the chainhook would be likely to drag on the seabed and fall off;
and there's no 'wasted' loop of chain - you're left with another 12m+ length of chain to deploy if it's needed.
Nice one Peter!

Read more: Snubbing the Anchor...

---


First, an update on 'Mr Curly'...'Mr Curly' was the mystery boat back in Issue #43.

No-one was able to identify her so after 3 issues we admitted defeat and moved on. But recently we were chatting with another cruising couple who, in passing mentioned their boat. Guess what? 'Mr Curly'!

They commissioned her as a Bourganvillia 60, designed by Chuck Paine and built in Ontario, Canada by Kanter Yachts. But prior to commencement of the build the owners decided to make her more suited for tropical rather than the North Atlantic cruising.

Chuck Paine was involved and the modified design was re-named the Southern Cross 62. So there you have it. Mystery solved!

But back to last month's Mystery Boat, pictured below.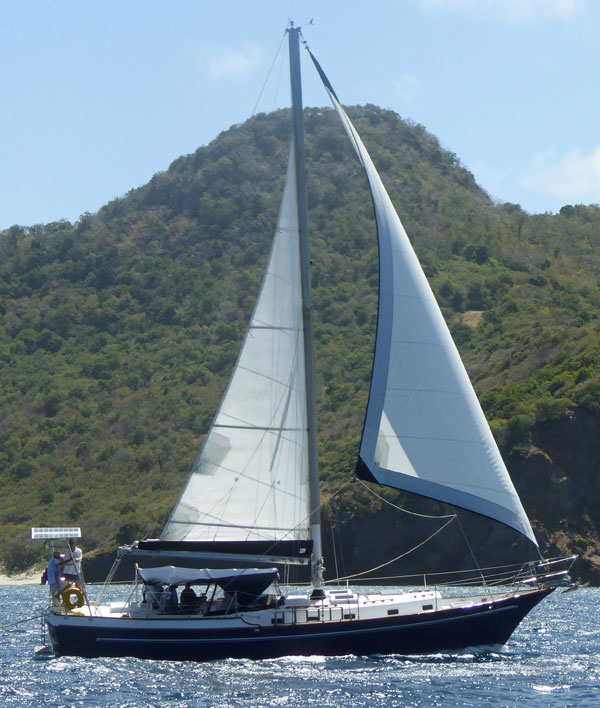 Well people, you've let me down again. Apparently no-one had any idea as to what this one might be either, so we'll leave it for another month.



Any ideas anyone?

If so, please let me know by clicking here...

---

---

If you're thinking of selling your cruising boat - or know someone who is - remember you can advertise it entirely free of charge on sailboat-cruising.com - which is what the owners of these boats have done...


'Passat II', a Tayana 55,
Owner's comments:
"'Passat II' is a classic Tayana 55. Her interior is an excellent layout with 2 cabins forward with en-suites and one large cabin aft with a Kingsize bed, bathroom and proper separate shower. Galley and Nav station off to Starboard and Saloon seating to Port with engine room entrance there also. There is also a lazerette in the stern and bow 'foxhole' storage in the bow.
She was bought a year ago as our forever home. Unfortunately my husband has passed away and I must swallow the anchor, which is why I am selling her for such a very reasonable price.
Pics & info for 'Passat II'...


'Snowflake' a Flica 35',
Owner's comments:
"I purchased 'Snowflake' because I was looking for a comfortable vessel that could take me far and keep me safe. After looking at several other makes of catamarans, it was obvious that 'Snowflake' was the boat I was looking for. Sailing her in the Mediterranean, through heavy storms in the Gulf de Lyon, across the Atlantic Ocean, and through dark squalls in the Eastern Caribbean, she never let me down.
'Snowflake' has been my home for 6 years. She's great fun to sail and extremely comfortable at sea and at anchor. The designer, Richard Woods has always been very responsive to my emails whenever I had questions when refitting the boat. It's been a hard decision, but I'm deciding to sell her so I can follow my dreams and do a different type of sailing in higher latitudes."
Pics & info for 'Snowflake'...


'Tayana', a Tayana 37
Owner's comments:
"'Tayana' is for sale. She's a classic bluewater cutter-rigged sailboat. With a thick fiberglass hull, she's a full keel double-ender designed by the famous Robert Perry.
The Tayana 37 has been described as safe and secure with high coamings, high lifelines, and substantial bow and stern pulpits. 'Tayana' a 1975 Blue Book Canadian registered vessel."
'Ocean Phoenix', a C&C 37R,
Owner's comments:
"Currently located in Barrington, Rhode Island, 'Ocean Phoenix' has been in the water for the last 3 years and out in storage during the winter months.
The 37R hull was built entirely with DuPont hybrid material that combines Kevlar with Glass Reinforced Plastic. The deck is constructed in typical C&C fashion using end-grain balsa core. This process results in a very high strength or stiffness to weight ratio. Unidirectional glass is used for additional local stiffing. Her sleek lines and deep keel allow for some amazing sailing.
If you are looking for a fast boat that points well, is outfitted for a family or a couple, and can handle many different situations, then look no further."
Pics & Info for 'Ocean Phoenix'...


Dufour GibSea 37ft Ketch,
Owner's comments:
"This GibSea 37 Ketch is Fully Loaded for Liveaboard, and Ready to Set Sail!
The boat is currently in Martinique, French West Indies.
We have lots of good memories on this boat, gave all our hearts and time for this solid boat, and it saddens us to sell her, but it is time for us to start a new page of our life, family and new work are calling us back to the land.
This boat is a highly reliable boat with its tough and thick hull. She is very easy to handle and provides good secured feeling and safety with a center cockpit. It has lots and lots of storage space, which is very convenient! It sleeps 6 comfortably."
Pics & info for this GibSea 37 Ketch...


'Lady Rebel', an Irwin 52,
Owner's comments:
"A 1983 Irwin 52 centre cockpit ketch, our boat for 8 years and our home for 6. In that time she has completed almost 25,000 Nm, two trans-atlantics, a UK circumnavigation, an East and West Caribbean circumnavigation and cruised the Eastern US.
'Lady Rebel' underwent a major refit in 2007 ($300,000, supervised by Gene Gammon himself), and has been continually upgraded since (approx. $100,000 US) with many additional features. She is a fully functional, true blue water boat, looking for her next adventure.
Our cruising plans are changing but we shall continue to sail 'Lady Rebel' in the Western Caribbean this season until she sells; we are currently in Guatemala undergoing a complete hull and deck Awlgrip repaint."
Pics & Info for 'Lady Rebel'...


'Salicorne', a Whitby 42,
Owner's comments:
"This fabulous centre cockpit liveabord is currently berthed in Kota Kinabalu Sabah Malaysia. She is one of only a few Whitbys which were converted from a ketch to a cutter rig (Florida 2005). New boom, spreaders etc were added then. New standing rigging again replaced in 2013 including Harken roller reefing.
'Salicorne' is a spacious, sturdy and rugged full-keeled, heavy displacement center cockpit monohull ideal for those who want more living space on board. She has two double berths each with private toilet and large saloon (which converts to a double berth plus single) and galley. The owners have lived on board for the last three years so she is well maintained. She is Guernsey registered and comes with lots of extras."
Want to check out a whole load more?
Then take a look at the full list of monohulls for sale here and multihulls for sale here...


Don't forget...
If you're thinking of looking at a secondhand sailboat, or just want to be aware of what to look for - and when to walk away no matter what - then you really ought to take a look at my eBook 'How to Avoid Buying the Wrong Sailboat'

---

It's always worth taking a look at what visitors to sailboat-cruising.com are getting rid of. Remember that one man's junk is another man's gold!

Among other items this month, we have:
Boom, Vang & Mainsail for Hylas 46;
Hydrovane Self-Steering Gear;
Interior Cushion Set for Island Packet 350;
Auto-Inflatable Life Vests;
Mast Climber;
Various Winches;
West Marine Bosun's Chair;
Take a look at these and all the other stuff at used cruising gear for sale...
---
And finally...
If you know anyone who might be interested in the contents of this newsletter, please forward it to them. It's not secret!

And this newsletter can be a two-way thing. If you've read anything you'd like to comment on, or perhaps there's an event you'd like to see announced in a future newsletter, then please let me know.

See you next month!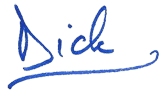 Dick McClary
Go to Sailboat-Cruising.com's Home Page...
---