Hi


The Sailboat Cruiser
The Sailboat Cruiser is the free monthly (OK, monthly-ish) newsletter of sailboat-cruising.com and sets out to bring you the news, views and general musings of, well, me - Dick McClary, a sailboat cruiser and creator/owner of the website.
If you like this newsletter, please feel free to email it to your friends.
If one of your friends did forward this to you and you like what you read, please subscribe by visiting The Sailboat Cruiser
---
Newsletter #50 - May 2019
What's in This Issue:
---


We were anchored at Grand Anse D'Arlet in Martinique. It was blowing a bit - in fact it was blowing quite a lot, with gusts of up to 35 knots in the squall.

Along with all the other anchored boats, 'Alacazam' was pitching, rolling and swinging through 60 degrees or so. Lovely.

"What's that noise?" asked Mary.

There was plenty of noise going on, what with the wind howling, the waves bashing into the hull and a recalcitrant halyard attacking the mast, so it seemed appropriate to ask Mary which particular noise she was referring to.

"That one" she said, after a few seconds.

I heard it then. A drumming sound which came and went intermittently. The search for its source was on...

It was Mary who found it. "There!" she said, indicating the port-side tension strap on the bimini.

As the boat swung the strap started to vibrate, setting up a thrumming sound. A few seconds after the port strap returned to equilibrium the starboard one started up. Musical, it wasn't. Something had to be done...

Clearly, strap tension, angle to the wind and wind speed were conspiring to set up a resonant frequency in the strap.

The solution was easy, which is the whole point behind this somewhat long-winded story:
Disconnect the strap;
Put a number of twists in it;
Reconnect and tension the strap.
Now the airflow around the strap was disrupted by the twists and as a consequence it ceased to vibrate.
OK, so one element of the cacophony had been dealt with, but we were stuck with the rest until the squall passed over and tranquility returned to the anchorage.

---



Thank you all for saying nice things about my new eBook 'How to Avoid Buying the Wrong Sailboat' but it seems I've created some confusion by the use of the word 'Showstopper'.

Apparently it's a theatrical term, describing the event in which something happening on stage is so much appreciated by the audience that their applause is sufficient to interrupt the progress of the show.

But it doesn't mean that in the construction industry, which is where I spent most of my working life. In that industry 'a Showstopper' is an unacceptable risk.

Being more familiar with the construction industry than the performing arts business, my use of 'Showstopper' describes a situation where one particular feature of a sailboat is incompatible with a prospective buyer's Primary Criteria - sufficiently so to cause that boat to be excluded from further consideration.

A few examples of 'my' types of possible 'Showstoppers':
A prospective buyer intends to keep his boat in the tropics. One of the boats for sale he's looking at has teak decks. He knows that teak decks and tropical sunshine are not a good combination, so for him teak decks are a 'Showstopper' item, and any boat sporting them will be immediately dismissed from his list of 'possibles'.
A prospective buyer has no acceptable alternative but to keep his boat in a local marina. One of the boats he's interested in is a cutter with a long fixed bowsprit. He knows that the marina will include this otherwise commendable projection in the measurement of 'length overall' and will charge him accordingly. His budget won't stretch to this so, for him, a fixed bowsprit is a 'Showstopper' item.
Rightly or wrongly, a prospective buyer has an aversion towards inmast roller reefing, much preferring the simplicity and reliability of Slab Reefing & Lazyjacks. For him, inmast roller reefing is a 'Showstopper' item.
I could go on and on in this vein - there's over 60 examples of possible 'Showstoppers' listed in the eBook, but I'm sure you've got the picture.

Once you've identified your personal 'Showstoppers', what you're left with is a pretty clear indication of the boat that would suit your individual requirements. At that point you can then start looking at the features, gear and equipment you would really like to have - and there's another long list of those.

Now you really are beginning to home in on the specification of your ideal sailboat and can start looking in a far more focused approach at the used sailboat market.

What do you mean, you haven't downloaded How to Avoid Buying the Wrong Sailboat yet?

---



It must be 5 years since we replaced Alacazam's manual anchor windlass with an electric Lofrans Tigres version. It has performed flawlessly ever since - well, until a few days ago.

We were about to anchor in Saline Bay, Mayreau in St Vincent & the Grenadines. Mary was on the helm and I was on the foredeck directing her to a suitable patch of sand over which to stop the boat.

With Alacazam suitably placed and almost stationary, a series of clicks greeted my foot as it pressed the 'DOWN' button.

The anchor stayed precisely where it was on the bowroller.

Einstein said that doing the same thing repeatedly and expecting a different result is an act of stupidity - and so it proved.

OK, I could have dropped it manually, but the prospect of winching it back up a few links at a time didn't appeal, so we picked up a nearby mooring - something I'm very loath to do out here in the West Indies.

The local approach to maintenance in these parts seems to be 'If it ain't broke don't fix it, and when it does break restore it to the condition it was in just before it broke', and this very much applies to many moorings.

But as far as I could see it looked robust enough. We survived the night and were relieved of 60 Eastern Caribbean Dollars ($22.50 US) by 'Papa San', apparently the mooring owner, in the morning.

We decided to check out of St Vincent & the Grenadines and sail south to the next island, Carriacou, where we knew that Tyrrel Bay Marine could provide us with a reliable mooring and professional electrical/mechanical expertise if we needed it.

Having arrived at the anchorage, further attempts to challenge Einstein's Theory of Stupidity confirmed that he was indeed correct.

The source of the clicking was the solenoid, located in a control box remote from the windlass. How do you fix that? Absolutely no idea. Perhaps it wasn't getting enough power. But my multimeter confirmed that it was getting the full slug of 12v from the battery.

Starting the engine and holding 1,500 rpm made no difference.

Clearly professional assistance was called for - and was quickly supplied in the form of 'Manny' from Tyrrel Bay Marine, who confirmed that the 'clicking' was indeed the solenoid, and proceeded to dismantle the windlass.

Three hefty power cables were revealed. Tugging each of them in turn confirmed that the +ve and -ve ones were securely attached but the earth cable came away in his hand. "Poorly crimped" said Manny, then "Hey, it's not been crimped at all!"

And so it hadn't - the stripped cable had just been stuffed into the terminal. The company that had fitted the unit in Grenada just hadn't done the job properly, but how the windlass had performed perfectly for five years was nothing short of a miracle.

Manny produced the correctly sized hydraulic crimper and 'Alacazam' and her fully-functional electric windlass were quickly re-united. Thanks Manny, you're a star.

---



I received an email from Tony, a subscriber to this newsletter, a few days ago...

"Did I think anyone would be interested in learning how to make a water pump impeller puller for less than $10?"

Silly question, Tony!

A few days later Tony submitted his article, describing how to do just that, which you can read here...

Thanks Tony, very ingenious!

This is probably a good place to mention that I welcome submissions such as this one for publication on the site. So, let's have them, people!

Full instructions as to how to write and submit them can be found here...


---



A few days ago I received an email from Peter Bryttne, asking to advertise his boat on my site...

"Some 12 years ago I bought a Derecktor 50 ketch in USA. She's a racer with aluminium hull and composite deck, carbon fibre rig etc. I started this major refit project a number of years ago turning her into a first class 'go anywhere' cruising boat but for some reason I just don't have the energy to finalize her. So she's a project that requires quite a bit of work but still a lot has been done and when finished she will be a true one-of-a-kind amazing boat. There's quite a lot of equipment coming with her, some of it brand new and never used."

This could be a great opportunity for someone to take over from Peter.
---


Many thanks to all of you who correctly identified last month's mystery boat as a Seadog 30 Ketch.

Nicholas Head (who, like Mary and I, is a member of The Tamar River Sailing Club ) went on to explain further that there were two versions of the Seadog 30; the twin keel version and the Deep Seadog which had a deep finkeel. The difference is not obvious from an on the water photo. The interesting thing is that of the 140 built almost all are still sailing.

But let's see how you get on with this one: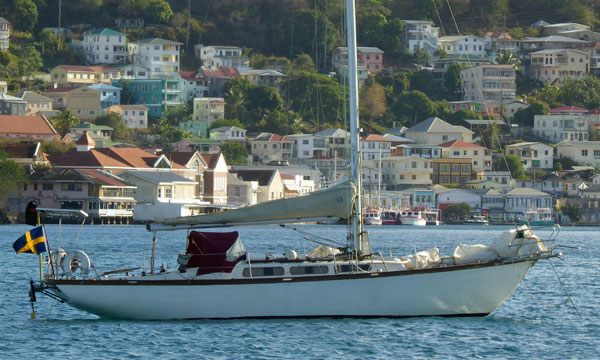 Image taken in March 2019 in anchorage outside St Georges Harbour, Grenada, West Indies.

Any ideas anyone?

If so, please let me know by clicking here...
---

It's always worth taking a look at what visitors to sailboat-cruising.com are getting rid of. Remember that one man's junk is another man's gold!

Among other items this month, we have:
Various parts for a 1972-1977 Pearson P-30;
Katadyn Survivor 35 Watermaker;
Aries Windvane Self-Steering Gear;
Monitor Self Steering Windvane;
MPS1000 250, powered marine subwoofer;
Henry Lloyd Freedom Jacket;
Fisher Panda 8kw Diesel Generator;
Galley Maid 300 Watermaker;
SailRite Sewing Machine;
Take a look at these and all the other stuff at used cruising gear for sale...

---


If you're thinking of selling your cruising boat - or know someone who is - remember you can advertise it entirely free of charge on sailboat-cruising.com - which is what the owners of these boats have done...

'Nada', a Amel Super Maramu 2000 for sale

'Charisma', an Islander 55 (Hull #1) for sale

'Ananda', a Cherubini 44 for sale

'Maia', a Pacific 38

'Blowin' Bubbles', a 45 ft Dufour CT12000 Pilothouse Ketch

'Waxwing', a Bristol Channel Pilot Cutter

'Dulces Suenos', a Gulfstar Sailmaster 47

Want to check out a whole load more?

Then take a look at the full list of monohulls for sale here and multihulls for sale here...


Don't forget...
If you're thinking of looking at a secondhand sailboat, or just want to be aware of what to look for - and when to walk away no matter what - then you really ought to take a look at my eBook 'How to Avoid Buying the Wrong Sailboat'


---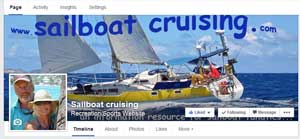 Sailboat-Cruising.com has a Facebook Page!

Clicking the image here will take you right to it, where you can browse through many more posts and articles.

Please take a look, and feel free to make a post - and don't forget to 'Like' us of course...

Thanks!

Visit sailboat-cruising.com's Facebook Page...
---
And finally...
If you know anyone who might be interested in the contents of this newsletter, please forward it to them. It's not secret!

And this newsletter can be a two-way thing. If you've read anything you'd like to comment on, or perhaps there's an event you'd like to see announced in a future newsletter, then please let me know.

See you next month!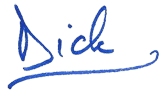 Dick McClary
Go to Sailboat-Cruising.com's Home Page...
---