Hi


The Sailboat Cruiser
The Sailboat Cruiser is the free monthly (OK, monthly-ish) newsletter of sailboat-cruising.com and sets out to bring you the news, views and general musings of, well, me - Dick McClary, a sailboat cruiser and creator/owner of sailboat-cruising.com.
If you like this newsletter, please feel free to email it to your friends.
If one of your friends did forward this to you and you like what you read, please subscribe by visiting The Sailboat Cruiser
---
Newsletter #59 - August 2020
What's in This Issue:
---

A couple of weeks ago (mid-July 2020), a tropical disturbance formed in the Atlantic off the coast of Africa. It soon became a tropical depression and later developed into a tropical storm, earning itself the name Gonzalo as a result. Picking up strength, Gonzalo tracked across the ocean towards the southern Grenadines in the Eastern Caribbean , looking as though it had every intention of becoming a full-blown hurricane.

With memories of the destruction to life and property dealt by Hurricane Ivan in 2004, this naturally caused a great deal of anxiety with local residents and the cruising community alike.

Predictably, the more sheltered anchorages along the south coast of Grenada - Prickly Bay, Mount Hartman Bay, Hog Island and Clarkes Court Bay - rapidly filled with cruising yachts.

But Covid-19 restrictions are stll in place in Grenada. As a result, many yachts and their crews are held in quarantine in less protected anchorages, notably outside St Georges Harbour which together with its exposed location and renowned poor holding is definitely not the place to be in a hurricane.

This put the Grenada Government - whose priority lay in proctecting the resident population fron the virus - in something of a quandary; they couldn't demand that these hapless cruisers stay put in such a vulnerable location nor could they allow them ashore until they'd completed their 14 day quarantine period.

The obvious compromise was that they be allowed to move to more sheltered anchorages but to stay aboard their boats and take their chances - hurricane or no hurricane. And that's what happened.

The morning of Friday 24th July saw Gonzalo - still a tropical storm, promising 50knot sustained windspeeds - now barrelling towards Carriacou, a small island to the north of Grenada.

Carriacou has one of the best hurricane holes in the Eastern Caribbean, a well protected mangrove swamp in the northwest corner of Tyrrel Bay and it was to here all wise cruisers migrated burying their bows deep into the mangroves.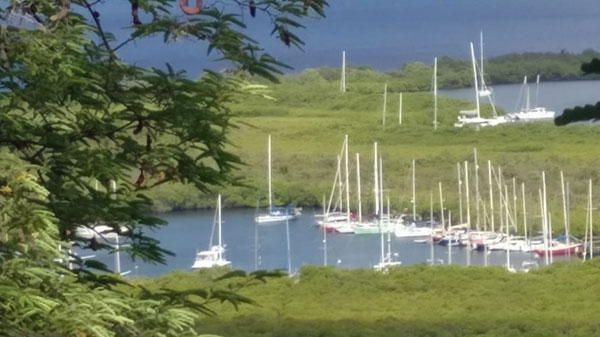 Gonzalo never made it to a full hurricane, nor did it arrive on land. The following morning it had lost much of its power, swerved south and passed harmlessly between Grenada and Trinidad before fizzling out altogether.

None of the forecast models predicted that.

All this was of more than passing interest to Mary and I of course, with our boat 'Alacazam' laid up ashore in Spice Island Boatyard in Grenada, whilst we run the Covid-19 gauntlet back here in the UK keeping an anxious eye on NOAA hurricane forecasts.

---


A recurring piece of advice I'm given by visitors to sailboat-cruising.com is along the lines of:

"You need a 'Knots for Sailors' page".

Conscious of the complexity of the artwork this would involve, and the indolence that comes with advancing age, I'd so far turned a blind ear - or is it a deaf eye - to such proposals.

But with time on my hands during the 14 day UK-based self-isolation period I decided to have a crack at it. And once I realised that the trick was to tie the knot first and take pics during the untying process it all became much more straightforward.

You can see the results of my labours at the somewhat unimaginatively entitled page 'Sailing Knots'.

Let me know if you'd like to see a particular knot there that currently isn't.


---

Earlier this year, pre-Covid, Alacazam's alternator decided it would only work when it wanted to. I'd had a poke around with my multimeter and couldn't find anything wrong, so decided to shell out for the services of someone who knew what he was doing.

After about five minutes or so, the electrician said "Here it is", wriggling a cable connection around which had been perfectly alright when I tested it.

Apparently, due to the vibration of the engine, the connection was doing intermittently what it was supposed to be doing all the time. My old friend Sheldon, the electrician, cut it off.

"Seen these?" said Shelden.

"Yes, lots of them" I replied, somewhat puzzled, as it looked like a perfectly ordinary electrical crimp connector to me.

He made a good job of the connection, crimping it with the proper tool. Then he gave it the heatgun treatment, whereon the plastic covering shrunk tightly around the connection.

For someone like me who normally makes the connection before remembering to slide on a length of heat-shrink tubing, this seemed like a good idea.

"They're Solder/HeatShrink Connectors" explained Sheldon.

"They contain an adhesive sealant which melts round the connection, followed by the contraction of the outer covering which makes the whole thing watertight. No amount of vibration will shake that loose."

I hope he's right I thought, as I made a mental note to get a selection of them for my Electrical Spares Kit.

---


Some mooring buoys come with a pick-up line attached; others, top-loaders, just with a ring for you to attach your own line to.

With the latter kind we cruisers always use two separate mooring lines to provide back-up if and when one of them chafes through. We don't wait for them to chafe right through of course, but replace one as soon as it shows signs of wear.


On some buoys of this kind, the ring can develop some surface corrosion which is really bad news for your line. Replacing lines on a regular basis is an expensive hobby and best avoided. And here's how...


By splicing a length of chain into the middle of your mooring line.

Cheap and simple to make up, I can't think of one single reason not to have one aboard.

---


Several of you thought that last month's Mystery Boat was a Beneteau 57, but I'm not so sure.

It's very similar, but the Beneteau 57 has several portlights in the hull side and doesn't have a hard dodger.

And the Mystery Boat is a cutter, whilst the Beneteau has a fractional rig.

So I'm going to leave it for another month.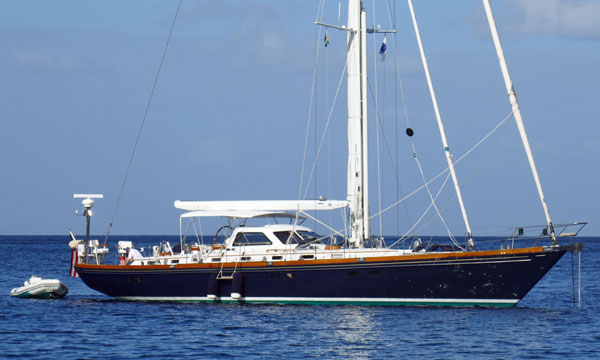 Any other ideas anyone?
If so, please let me know by clicking here...

---

---

Once again there's been very little activity from boat sellers or buyers over the last month or so for obvious reasons.

But we do have:
Lezardo', a Beneteau Oceanis 321;
'Sea Pixie', a Gib Sea 37 Ketch;
Lagoon 440 for sale;
'Vite & Rêves', a Catana 401 for sale;
'Yemanja', an Edel 35 Catamaran for sale;
'Tehani-Li'. a Tayana 52 for sale;
---
Don't forget...
If you're thinking of looking at a secondhand sailboat, or just want to be aware of what to look for - and when to walk away no matter what - then you really ought to take a look at my eBook 'How to Avoid Buying the Wrong Sailboat'

---

It's always worth taking a look at what visitors to sailboat-cruising.com are getting rid of. Remember that one man's junk is another man's gold!

Among other items this month, we have:
Monitor Windvane Self-Steering Gear;
Complete Sail Rig for 25ft MacGregor;
Henri Lloyd Elite 2 Jacket & Trousers;
20HP Beta Marine Diesel Engine;
Phasor Marine 3.5kW LP1 Diesel Generator;
Lewmar Ocean AST50 Winches;
Yanmar 4JH2-HTE Turbo Diesel with Velvet Drive Transmission;
Replacement rudder for Pearson 26 or 30;
Swiftech VHF Marine Radio;
Safety Gear;
35lb CQR Anchor;
Complete Sail Rig for 25ft MacGregor;
Dodger Window Covers;
Muir VE-3000 Anchor Winch;
Jeppesen C-MAP Chart Chip;
Take a look at these and all the other stuff at used cruising gear for sale...
---
And finally...
If you know anyone who might be interested in the contents of this newsletter, please forward it to them. It's not secret!

And this newsletter can be a two-way thing. If you've read anything you'd like to comment on, or perhaps there's an event you'd like to see announced in a future newsletter, then please let me know.

See you next month!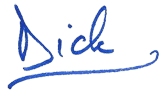 Dick McClary
Go to Sailboat-Cruising.com's Home Page...
---