Hi


The Sailboat Cruiser
The Sailboat Cruiser is the free monthly (OK, monthly-ish) newsletter of sailboat-cruising.com and sets out to bring you the news, views and general musings of, well, me - Dick McClary, a sailboat cruiser and creator/owner of sailboat-cruising.com.
If you like this newsletter, please feel free to email it to your friends.
If one of your friends did forward this to you and you like what you read, please subscribe by visiting The Sailboat Cruiser
---
Newsletter #62 - November 2020
What's in This Issue:
---

I used to own a heavy displacement, long-keel sailboat - this one in fact, 'Jalingo II'. Although she had many endearing qualities, close quarters manoeuvring wasn't one of them.

When we replaced her with 'Alacazam', a light displacement fin-and-skeg cruiser I knew we could expect much improved marina manners. But she did bite me once...

I was reversing out of a tight marina berth; all went well until I put the helm over, when it quickly became clear that I'd got too much throttle on. The water that should have been flowing co-operatively past the rudder suddenly grabbed hold of it, throwing the helm over with such force that the tiller pinned me into the corner of the cockpit.

Helplessly trapped, with growing concern for the integrity of my ribs and with the throttle lever out of reach, things were destined to rapidly get worse. Fortunately, Mary - who was coiling the bow line on the foredeck - sensed that all was not going entirely to plan, rushed back to the cockpit and restored control.

That was nearly twenty years ago - I've not done it since.

---

Every 4 years the Vendée Globe Single-Handed Round-the-World Race takes place, starting from Les Sables d'Olonne in Western France. I follow it on-line avidly, in total awe and admiration of the super-tough and competitive madmen that take part. Since the first race in 1989 it's always been a French skipper that has been first across the finish line, which is somewhat irritating if you're a Brit.

This year 33 of said madmen set out on November 8th, among them the British hope Alex Thomson. His vessel is 'Hugo Boss', 60 ft long overall with a 95' mast, a displacement of just 7.6 tonnes and costing $7.5 million to design and build. Like the current crop of American Cuppers, 'Hugo Boss' sports hydrofoils that enable her to achieve speeds of up to 38 knots.

A couple of years ago, Alex famously fell asleep and ran aground in the Singlehanded Transatlantic Race when leading with just a few miles to go. Understandably, he's now extremely conscious of sleep management and has trained himself to sleep for 20-40 minutes every 2-4 hours, and be ready for instant action on waking.

With exquisite timing, our favourite guest author Dr Michael Cohen just yesterday submitted an extremely relevant and fascinating article entitled Solo Sailing & the Need for Sleep. All of us that sail offshore should read it.


---

Skulking around a local boatyard a few weeks back - taking pics for last month's article about sailboat rudders in fact - I became aware that the chattering melody of halyard against masts had, in the rising wind, increased to truly orchestral proportions. With the rudder pics safely shuttered away, I ventured out from the shadows.

A good 50% of the boats were active contributors to the orchestra (the string section?) with most of the others muted through having their halyards tied off to the shrouds, clear of the mast.

Only one of the boat owners had gone to the trouble of removing the halyards completely and replacing them with mousing lines.

A couple of others had secured the halyards to the toerail, but there was one boat that I thought had solved the noise/chafe/sunlight problem best.

Here the owner had attached the forward-facing masthead halyards - twin foresail halyards and the spinnaker halyard - to a loop in a separate length of line.

He'd then pulled these three halyards close to the top of the mast with the separate line trailing below; the fall of which he'd secured to a strong-point on deck.

The three halyards had then been tensioned individually in their jammers, with their remaining lengths coiled and stuffed into a sailbag. The sailbag was suspended from a mast cleat clear of the deck to aid drainage.

Similar but separate arrangements were made for the staysail halyard and the twin pole lifts. The boom had been dropped to the sidedeck and the main halyard and topping lift given the same treatment as their relatives on the forward face of the mast.

The only parts of the halyards exposed to the elements were the short lengths at the top of the mast and where they entered the sailbag.

Nicely done skipper!

It's only now, while writing this newsletter, do I ask myself why on earth I didn't take a pic of it at the time rather than trying - probably unsuccessfully - to explain it all in words.

---

In any normal year - which this one most certainly isn't - we'd have booked our flights back to Grenada in the West Indies by now, and made arrangements with the boatyard to launch 'Alacazam' early in the New Year. But as yet, we've done neither of those things.

The reason of course is this wretched virus, and the cruising restrictions necessarily imposed upon us by the governments of the various Island Nations of the West Indies.

On arrival in Grenada we would be quarantined in a Government-Approved hotel where, after a few days, we would be tested for the virus. Only if this was found to be negative would we then be allowed to mix with the local people - an eminently sensible precaution from a wise government.

However much of our subsequent cruising time would be taken up with complying with the vital testing/quarantine protocols as we cruised around the islands. Some of them, notably Martinique, are closed completely.

On a more philanthropic note, were we unfortunate enough to become ill with the virus we would be yet another burden on the limited medical facilities in those parts, which would not be fair on the local people.

And it's not a 'fixed' situation - things can change very quickly as we discovered back in March. But even so...

However, something happened in the last couple of weeks that changed everything for us - the announcement that several effective vaccines had been created and would be available for use imminently.

So, decision made. We'll stay in the UK until we've had the vaccine. If there's enough of the season left we'll get those flights booked PDQ, otherwise we'll be staying at home. Sorry, 'Alacazam'.

---

As voyages go it could hardly be described as epic. In fact, it was hardly worth putting the sails up. So they didn't, my pals J&G (you know who you are) - just set off to motor the couple of miles around from Tyrell Bay to Sandy Island in Carriacou.

They hadn't got far before an extremely loud wailing sound came from below.

AN ALARM!

Skipper G leapt into action, turning off the iron topsail while First-Mate J dived below. A joint in the raw water cooling system had let go, allowing an impressive jet of water to spray into the engine compartment. The ingress was easily beating the best efforts of the bilge pump, so something needed to done - and fast! Gaffer tape and jubilee clips soon had it under control, after which J&G returned to Carriacou where they could get the problem more permanently sorted.

"Fascinating", I hear you say, "but so what?"

Well, the point of this tale is that they had the previous day fitted a stand-alone Water Leak Detector they had purchased from Amazon for less than £15, and it was that that had alerted them to the problem.

When you're talking 'marine' it's unusual - very unusual - to find something which costs such a tiny part of its true value. All boat owners should buy one of these - maybe two!

---

Several readers thought last month's Mystery Boat was a Swan, but the most popular suggestion was that it was a Jongert, and after a little research I was inclined to agree with them - it was a Jongert 21S.

Thanks everyone for your input.

Let's see how you get on with this month's Mystery Boat: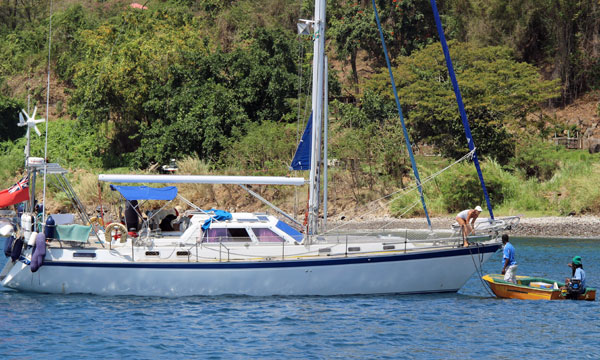 Any ideas anyone?
If so, please let me know by clicking here...

---

---

It looks like the used sailboat market has slipped a little. Here's what we've got since the publication of the previous newsletter...
'Makaha', an Island Packet 350;
'Barbara Ann', a Mason 43;
'Ibis', an Albin Vega 27;
Don't forget...

If you're thinking of looking at a secondhand sailboat, or just want to be aware of what to look for - and when to walk away no matter what - then you really ought to take a look at The Boat Buyer's Bundle...

---

It's always worth taking a look at what visitors to sailboat-cruising.com are getting rid of. Remember that one man's junk is another man's gold!

Among other items this month, we have:
115l Gill Marine Roller Suitcase;
Raymarine P70S AutoPilot Control Head;
Walker Excelsior IV Ship Log;
Old, Collectable Charts;
Hi-Cut Reefable Headsail;
Telescopic Spinnaker Pole;
Life-Sling & Rail Mount;
Para-Anchor;
Alloy Hull Dinghy;
Take a look at these and all the other stuff at used cruising gear for sale...
---
And finally...
If you know anyone who might be interested in the contents of this newsletter, please forward it to them. It's not secret!

And this newsletter can be a two-way thing. If you've read anything you'd like to comment on, or perhaps there's an event you'd like to see announced in a future newsletter, then please let me know.

See you next month!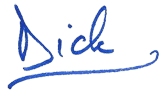 Dick McClary
Go to Sailboat-Cruising.com's Home Page...
---