Calculating Sailboat Design Ratios
Without Having to Wrestle with the Mathematics!
Not only do the Sailboat Design Ratios tell us a great deal about a cruising boat's performance and handling characteristics, they also enable us to make objective comparisons between individual designs.
Here are the five main ones in common use by yacht designers and the formulae from which they are derived.

Five Key Sailboat Design Ratios:

The Displacement/Length Ratio
D/L Ratio = D/(0.01L)3
Where D is the boat displacement in tons (1 ton = 2,240lb), and L is the waterline length in feet.
---

The Sail Area/Displacement Ratio
SA/D = SA/D0.67

Where SA is sail area in square feet, and D is displacement in cubic feet.
---

The Ballast Ratio
BR = (B/D) x 100
Where B is ballast in lbs, and D is displacement in lbs.
---

The Capsize Screening Formula
CSF = 3√(Bm/D)
Where Bm is the maximum beam in feet, and D is displacement in cubic feet.

---

The Comfort Ratio
CR = D/[0.65 x (0.7L1+0.3L2) x Bm1.33]
Where D is displacement in pounds, L1 is waterline length in feet and L2 is length overall in feet, and Bm is the maximum beam in feet.
---
Problem is, can you always trust the ratios published by the manufacturers? The answer, sadly, is "no".
So when you think you're comparing like-for-like, you may not be.
But let's be generous, it's not always an intentional deceit - there are two main parameters where ambitious data can lead to misleading Design Ratios. These are found in the manufacturers' published data for displacement and sail area.
In almost all yacht manufacturers' published data, displacement is quoted as the 'light ship' or unladen weight displacement.
This is unrealistic, as the laden weight of a fully equipped cruising boat is much higher.
As displacement is a key parameter in all of the Design Ratios, the laden weight should be taken account of when comparing one boat's ratios with those of another.
Published SA/D ratios can similarly be misleading as some manufacturers, keen to maximize their vessels' apparent performance, quote the actual sail areas which could be based on a deck-sweeping 150% genoa. On paper this would compare unjustly well against a competitor's boat that has the ratio calculated on the basis of a working jib.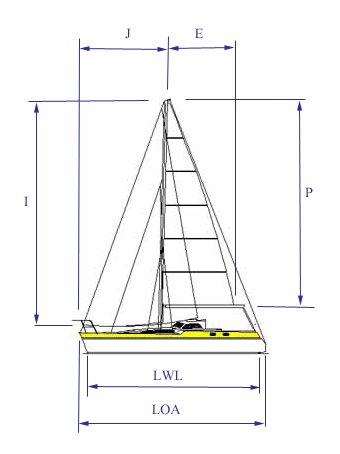 These few measurements together with displacement data is all you need to make objective comparisons between different sailboat designs...
Making an objective comparison between two such sets of SA/D ratios would be impossible.
An objective comparison can only be made if sail areas are calculated on the same basis using the J, I, P and E measurements as set out in the above sketch.
So now to the point...
What we have here is our Interactive Sailboat Design Ratio Calculator, which does all the calculations for you instantly and avoids all the pitfalls described above. The pic below is where you would enter the dimensional data on the downloaded Design Ratio Calculator: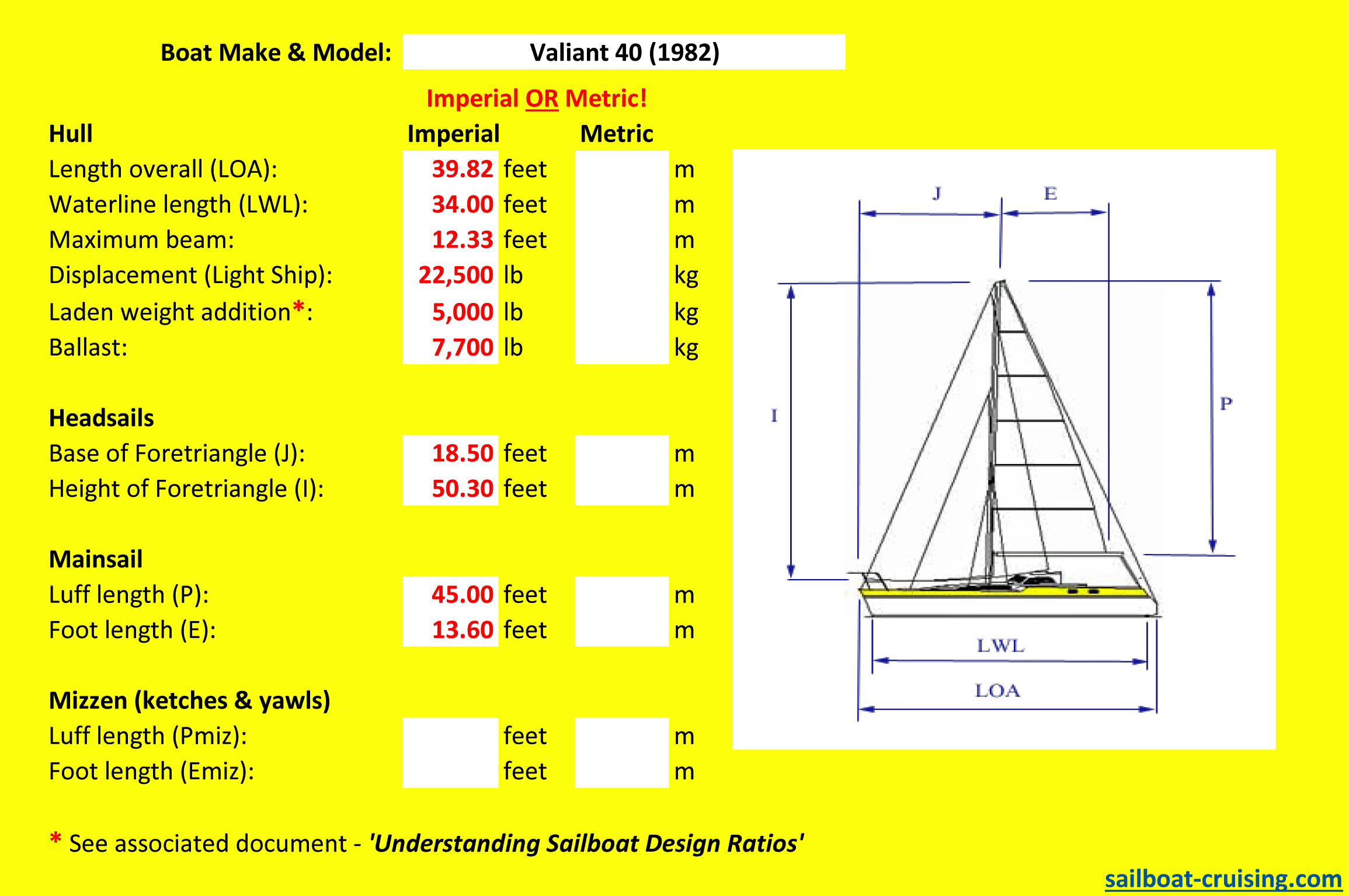 Design Ratio Data Input (in Red)
The following pic shows the Design Ratios which are automatically calculated in the blink of an eye!

Calculated Design Ratios
Download the Sailboat Design Ratio Calculator...
The Interactive Sailboat Design Ratio Calculator is accompanied by a free eBooklet 'Understanding Sailboat Design Ratios' which will help you make sense of the numbers. 
Our 'Sailboat Design Ratio Calculator' takes all the hard work out of calculating the numbers and will provide a valuable insight into a sailboat's performance and handling characteristics.
We make a small charge of $4.99 for this useful tool as a contribution towards the costs of keeping this website afloat. 

This Sailboat Design Ratio Calculator and eBooklet comes with a No-Quibble Guarantee!
Sailboat-Cruising.com's Promise to You:
"I'm so sure that you'll be absolutely delighted with your purchase that I'll refund in full the price you paid if you're dissatisfied in any way", promises

Dick McClary, Owner/Creator of sailboat-cruising.com and member of:
So what are you waiting for?
---
---
Jun 07, 23 01:51 AM

Looking for used sailboats for sale that are capable of crossing an ocean? These cruising yachts are already in the Caribbean, but what are the risks and benefits of buying out there?

Jun 04, 23 08:32 AM

If you're looking for a unique Bluewater Cruising Yacht for sale in the Caribbean, then 'Shindig' is certainly worth a look...

Jun 04, 23 06:26 AM

Here's where people with sailing equipment for sale advertise their stuff entirely free of charge. If you're looking for used sailing gear or other used boating accessories, here's where to find it!
---