The Essential Features of All Good Cruising Sailboats
You could say there are just two basic types of sailboats; cruising sailboats and racing boats, plus perhaps those 'cruiser-racer' hybrids which hover on the borderline between the two.
Whereas racing boats willingly sacrifice pretty much everything in the quest for performance, cruising boats have to be more of a compromise.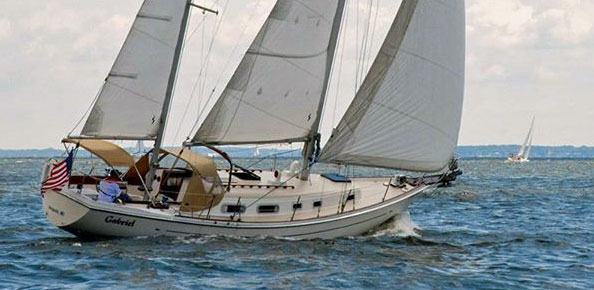 The Allied Princess - a heavy displacement cruising ketch
For a shorthanded crew – as many cruisers are – good handling characteristics are paramount. Poor sail trim contributes greatly to poor handling of course, but some sailboats defy all attempts to get them to handle in an acceptable manner.
Such tiresome vessels, despite any other wonderful attributes they may have, are the antithesis of good cruising boats.
But not only must offshore cruising sailboats handle well, they should also have a comfortable, easy motion underway.
Size of course, has much going for it as far as sea kindliness is concerned, as the bigger the sailboat the less it will leap about — you can't really expect the motion of a weekender sailboat to compare favourably with that of a capable bluewater cruising boat.
And it's an inescapable fact that when the sea gets up, heavier, narrow-beamed, deep-hulled offshore sailboats with longish overhangs will be more comfortable than beamy, flat-bottomed performance cruising sail boats.

What Do We Really Want from Our Cruising Sailboats?
I put this question to a group of my sailing pals clustered around the bar at my local sailing club on a wet and windy October evening.
Unsurprisingly perhaps, opinions were diverse – one skipper even insisting that a plumbed-in washing machine was essential on 'proper' cruising sail boats. Another felt that cruising should be closer to camping than a luxury hotel experience.
Incidentally, I was closer in spirit to him than his colleague, believing that too many perceived 'home comforts' in sailboats can actually detract from the sailing experience.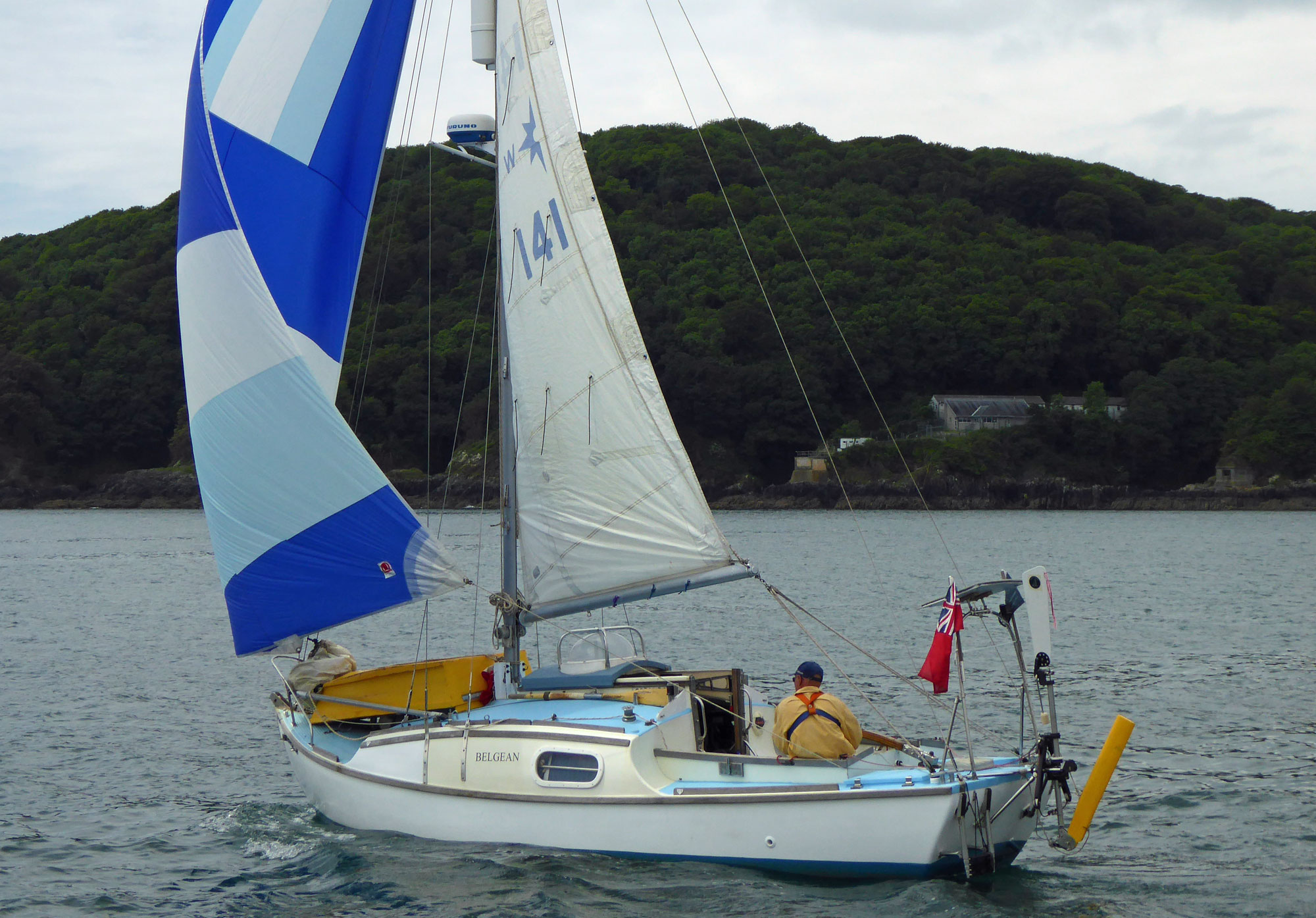 Probably not too many cruising comforts on this Westerly 22...
---

Too Much Complexity?
There's a fine balance to be struck between complexity and convenience, or you'll find yourself spending a lot more time (and money) maintaining all the kit than sailing the boat.
Although the gadgets are nice to have when they're working, they all consume electrical power putting additional strain on our power generation systems.
If you're fortunate enough to be fitting out a bluewater sailboat it's tempting to load it down with all sorts of 'useful stuff', but first ask yourself, " Do I really need it, or is just something else to go wrong and tie up my precious sailing time in maintenance and repair?"
But, back to our sailing club bar discussion. All the usual arguments arose — multihull versus monohull; heavy displacement versus light displacement; centre cockpit versus aft cockpit; sloop versus ketch; tiller or wheel steering, long keel versus fin keel, type of rudder etc, etc.
Hull material came into it too — GRP (fiberglass), ferrocement, aluminium, steel and cedar strip construction all having their passionate devotees. As did the number of hulls; monohull, catamaran or trimaran?
We couldn't even agree on the ideal interior layout or the shape and location of the cockpit, although we all agreed on the benefits of an L-shaped galley at the foot of the companionway - but when I foolishly proposed the benefits of a water ballast system in a cruising boat no-one thought I was being serious.
---

The Essential Characteristics of the Best Cruising Sailboats
So consensus didn't come easily, but after a heated discussion and a few more beers, we agreed that few experienced cruising sailboaters would argue against the following requirements:
comfortable motion underway;
good performance under sail;
high resistance to capsize;
sufficient internal volume for comfortable living aboard;
robust and easy to maintain;
It was clearly going to be impossible to agree any order of precedence within this list, but after yet another beer we did manage to condense the list into these four fundamental attributes:
Finally though, we all conceded that you just can't have it all in cruising sailboats, although the deeper your pocket the closer to it you can get.
---

Self-sufficiency
We all liked the idea of free power from the sun, so solar panels got everyone's approval, as did windchargers to a lesser degree - it was the noise associated with windchargers that marked them down.
In my view you need them both, as the sun isn't always shining -especially at night!
As a huge fan of windvane self-steering gears I would always choose this over an electric autopilot when under sail. Not everyone bought into this though, muttering about 'all that scaffolding cluttering up the back of otherwise attractive cruising boats'.
---

Examples of Cruising Sailboats
An ever-growing gallery of pics and basic specifications of many popular cruising boats...
---

Second-hand Cruising Boats for Sale...
Just click on the images below to see the full details of these cruising boats that are advertised by their owners (not through a broker or other 3rd party) right here on sailboat-cruising.com...
Latest Sailboats Offered for Sale by their Owners...

and more:
Nov 29, 23 08:35 AM

Here's where people with sailing equipment for sale advertise their stuff entirely free of charge. If you're looking for used sailing gear or other used boating accessories, here's where to find it!

Nov 10, 23 02:34 AM

My 47' Cheoy Lee sailboat is for sale. Designed by Bill Luders, she is a beautiful and functional liveaboard cruising yacht.

Oct 30, 23 04:22 PM

This article explores the journey of chartering a sailing yacht, from the initial planning stages to the final touches. It provides insight into the joys and challenges of embarking on a voyage of dis…
---