Hi


The Sailboat Cruiser
The Sailboat Cruiser is the free monthly (OK, monthly-ish) newsletter of sailboat-cruising.com and sets out to bring you the news, views and general musings of, well, me - Dick McClary, a sailboat cruiser and creator/owner of sailboat-cruising.com.
If you like this newsletter, please feel free to email it to your friends.
If one of your friends did forward this to you and you like what you read, please subscribe by visiting The Sailboat Cruiser
---
Newsletter #63 - January 2021
What's in This Issue:
---

With Alacazam patiently awaiting our return to Grenada, we thought we had decided on a plan to get reunited with her. The plan was to get our Covid jabs here in the UK before jumping on a plane for another season of cruising around the Caribbean Islands.

As Mary and I are well past the first flush of youth, we're relatively high on the Covid vaccination programme, so we'd be back aboard by mid-February - or so we thought. Alas, things had changed...
A new, more contagious variety of Covid 19 has been discovered in England causing the incidence of Covid cases here to rise alarmingly;
As a result Grenada has closed its borders with the UK, allowing no flights in. I don't see this changing until it becomes evident that the UK has got Covid firmly under control.
In an attempt to reduce the rate of infection, England is under full lockdown and is expected to remain so until the end of March.
So we're not going anywhere soon. It's impossible to make firm plans and it does look as though the most likely scenario is that our 2021 cruising is scuppered and Alacazam will remain in her cradle for the duration.
As a result we're now asking ourselves, is this the time to sell Alacazam and let another younger couple enjoy cruising the islands of the West Indies? It will be a tough call.
We are minded of the sailors demise: Sailing Boat >> Motor Boat >> Motor Home >> Nursing Home. Oh dear...

---

No, it's not a spelling mistake...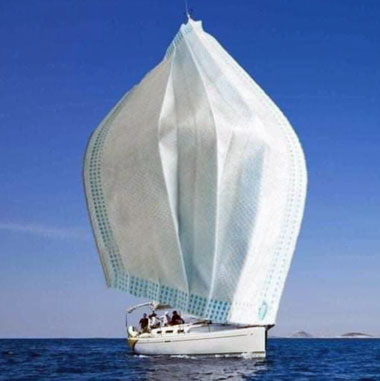 We must all take the Covid-19 rules seriously, but perhaps the skipper of this boat has gone a little over the top!

With thanks to Brian on 'Scraatch'

---

I noticed quite a few used sailboat ads including the expression 'NAN' hours, relating to the engine or generator. What's that all about? As 'Nan' in the UK is a colloquial term for your favourite grandmother, I reasoned that it meant the engine had been carefully driven and never raced.

Well, it subsequently turned out that NAN has nothing to do with aged relatives; it has its origins on the internet, being an acronym for 'Not A Number'.

It's but a short jump from 'Not A Number' to 'Not Actual Number'. Now it makes sense. So when you see a used boat advertisement with NAN in it, you can be sure the owner hasn't got a clue how many hours the engine has been run for.


---

A cruising pal who has clearly got a better prospect than me of sailing soon in the Caribbean emailed me to say I should take a look at www.noforeignland.com/resources/flags. He went on to say "Ours have just arrived for SE Caribbean and Central America. Very pleased with them. Cut them out, sew the edges, stitching in a length of cord along the inboard edge. £18 for each set."

Well, you can pay more than that for just one - and that might not last a season - so the NoForeignLand approach may well be the way to go.

But if you want them to last more than a season make sure you sew them with UV resistant thread.

---

A few newsletters ago, I drew your attention to the Red Heart gizmo that lurks in the lower righthand corner of the screen when you're on any article on sailboat-cruising.com in the hope that you would click it and earn valuable kudos for the site.

Now the Red Heart gizmo comes with more functionality...
A search engine that will find any associated article on the site;
A Bookmark function that will enable you to save your favourite pages from all sites sorting the Red Heart gizmo.
Go on, give it a try!

---

Our favourite guest author has done it again.

We are very fortunate that Michael Martin Cohen M.D. has chosen this website on which to publish his high-level Health & Fitness Articles.

As usual his timing is impeccable, leaving this locked-down landsick cruiser feeling very guilty.

This month's article is no exception, where the learned doctor explains why we should all know what our VO2 Max number is.

One thing's for sure - you'll never find out what it is unless you get out of that chair!

---

It seems last month's Mystery Boat got everyone beat, so let's give it another month: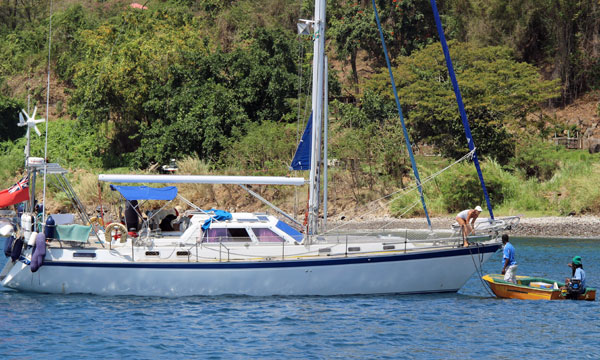 Any ideas anyone?
If so, please let me know by clicking here...

---
---

Here's what we've got since the publication of the previous newsletter...
'Alizee', a Cabo Rico 36;
'Hiatus', a CSY 44 Walk-Through;
'Rhiannon', a 1974 Morgan 414 Out-Island Ketch;
'Dora's Dream', an Admiral 40 Executive;
'Ohana', a Gulfstar Sailmaster 47;
Don't forget...

If you're thinking of looking at a secondhand sailboat, or just want to be aware of what to look for - and when to walk away no matter what - then you really ought to take a look at The Boat Buyer's Bundle...

---

It's always worth taking a look at what visitors to sailboat-cruising.com are getting rid of. Remember that one man's junk is another man's gold!

Among other items this month, we have:
3-Bladed 20" Max Prop;
Henri Lloyd Salopettes;
Eliptec Brass Folding Sailboat Propeller;
Mushroom Anchor;
YAESU FT-757 GX CAT System SSB Radio;
Garmin GPS Map 176C Chartplotter;
44 lb Galvanized Delta Fast Set Plow Anchor;
Take a look at these and all the other stuff at used cruising gear for sale...
---
And finally...
If you know anyone who might be interested in the contents of this newsletter, please forward it to them. It's not secret!

And this newsletter can be a two-way thing. If you've read anything you'd like to comment on, or perhaps there's an event you'd like to see announced in a future newsletter, then please let me know.

See you next month!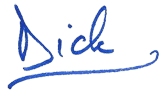 Dick McClary
Go to Sailboat-Cruising.com's Home Page...
---