Hi


The Sailboat Cruiser
The Sailboat Cruiser is the free monthly newsletter of sailboat-cruising.com and sets out to bring you the news, views and general musings of, well, me - Dick McClary, a sailboat cruiser and creator/owner of the website.
If you like this newsletter, please feel free to email it to your friends.
If one of your friends did forward this to you and you like what you read, please subscribe by visiting The Sailboat Cruiser
---
Newsletter #41 - January 2018
As I write this, Christmas is a few days astern and the New Year looms ahead - and who knows what shocks and surprises that will bring?

Either way, Mary and I trust that you've had a great Christmas and wish you all the very best for the coming year. In sailing parlance,

"May you enjoy fair winds and following seas - and tight lines if you like to fish!"
What's in This Issue:
---

We, that's Mary and I, were referred to the other day as 'Snowbirds'. "Snowbirds", said Mary, " what are they?" Our accuser went on to explain that this is the name given to those people - usually retirees - who migrate south to avoid the short days, long nights and general misery of the northern winters.

OK then, we're Snowbirds - it's one of the benefits of getting old and casting off the shackles of the daily grind.

So if you're an envious youngster reading this - tough, you haven't suffered enough yet!

Our annual migratory destination is the Caribbean, which is where we'll be when you read this newsletter.

But sailing in the Caribbean isn't all blue skies, fluffy white clouds, constant warm trade winds, idyllic anchorages and 12 hours of sunshine every day. It mostly is though...

Take a look at what Sailing in the Caribbean is really like...

---

There are just three main safety rules on our boat 'Alacazam':
Don't Fall Overboard, and
Don't Fall Overboard, and
Don't Fall Overboard!
To make this, probably terminal, event less likely we've made sure we can be securely tethered to the boat whenever conditions demand it, ie
We have strong points in the cockpit to which we can hook our safety harness tethers before emerging through the companionway, and
We have port and starboard jacklines leading from the cockpit to the foredeck.
Going forward on a sailboat you should always be hooked on. Not to the guardwires of course, but to a jackstay that runs up to the bow.

The jacklines are webbing rather than the plastic-coated wire alternative as these don't roll around underfoot - but webbing is not without its problems.

If you use latch-type safety hooks on the end of your harness tether, this can happen...

The webbing strap can get caught in spring-loaded latch on the hook, locking the two together.
The harder you pull on it, the tighter it gets.
The only way to clear it is to get down on your hands and knees and ease the webbing strap clear of the snap.
This is highly inconvenient at best, and can be downright dangerous in lively conditions.
Not only can the latch damage the webbing strap, but the latch itself could be damaged if a high load is imposed upon it.

But here's the solution...

Install a heavy duty stainless steel welded ring on the jackline as shown here, and attach the hook to that.

Problem solved!

Tragically, a British sailor in The Clipper Round the World Race recently lost his life when his harness tether failed. Apparently the tether hook got snagged on the webbing jackline as described above and failed when the poor man fell overboard.

After reading the following article - Tether Clip Update - about the incident, I may well replace my latch-type tether hooks with lockable carabiners. Less convenient admittedly, but a whole lot safer!

---

We're a pretty adventurous bunch, we Sailboat Cruisers - take Dennison Berwick for instance.

He's a sailor, marine mechanic, writer and illustrator, and lives aboard his 36-foot Chevrier sloop 'Oceandrifter' - currently in Malaysia.

He has sailed in Europe, the Great Lakes of North America, the North Atlantic, sub-Arctic Labrador and the Andaman Sea in South-East Asia.

Before taking up sailing, he walked across India and traveled solo in a small canoe in the Amazon rain forest for five years.

Denisson contacted me recently, "Would I like to take a look at his new book 'Marine Diesel Basics'?".

Well of course there was only one answer to that. A paperback copy of the book duly arrived, which I've now read from cover to cover, learning a great deal about maintaining a marine diesel engine in the process.

Denisson's written descriptions and step-by-step illustrations are impressive! He clearly knows the subject intimately and has the rare gift of being able to transfer his knowledge to the reader in an extremely easy-to-understand manner.

There's already an ebook, and will soon be a wire-bound version of the book which will lie flat and be easier to use when working on a project directly from the pages.

For more information, and to get your hands on a copy of your own, take a look at www.marinedieselbasics.com.

---

I've learned that writing and sending out The Sailboat Cruiser during a holiday period is not a good idea. The reason? I get a large number of automated email replies along the lines of...

'I am currently out of the office until ........., but will deal with your communication on my return.'

Clearly a large number of you are reading The Sailboat Cruiser when you should be hard at work.

This is shameful behaviour! You should be beavering away, making money for your employer and paying your taxes so that impoverished retirees like me can continue to draw their richly deserved State Pensions.

Well, I know who you are...

But don't worry, I wont tell - just as long as you read The Sailboat Cruiser immediately upon your return!

---

Oops, it seems that not all of you share my opinion that global warming is a real issue, and that we should be doing something about it.

This relates to a topic in the previous newsletter which, if you haven't already read it, you can do so here...

In particular, the unnamed gent I referred to was more than a little miffed that I likened his opinion to the byproduct of a male cow, and wasn't slow in making me aware of his displeasure.

So to him, and any others I may have inadvertently offended, I apologise.

We're all entitled to our opinions, but this newsletter inevitably reflects mine - and as Abraham Lincoln once said:

"You can please some of the people some of the time, all of the people some of the time, some of the people all of the time, but you can never please all of the people all of the time".

But just to make sure there's no misunderstanding, my opinion is that anyone who denies the existence of Global Warning is deluding themselves. So there!

---

Last month's mystery boat (shown below) has been correctly identified by Rick Frost, who recognised the similarity with his friend's Bavaria 40.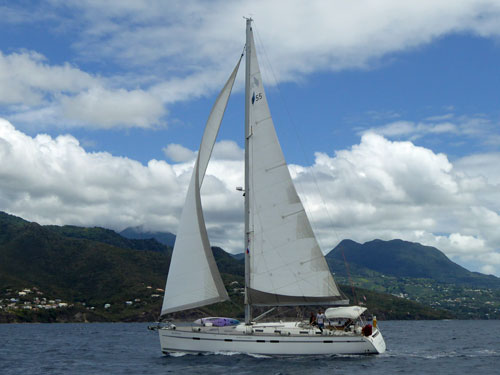 Well done Rick, 'Anna Maria' is a Bavaria 55.

Now then, how about this pretty staysail ketch anchored in Sainte-Anne, Martinique?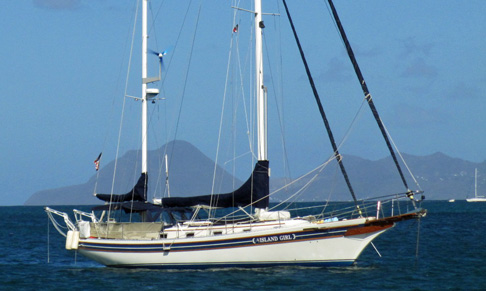 Any ideas anyone?


---

It's always worth taking a look at what visitors to sailboat-cruising.com are getting rid of. Remember that one man's junk is another man's gold!

Among other items this month, we have:
An AB Lammina 10AL Aluminum RIB;
A Marine Medical Kit;
An Underwater Cordless Drill;
A Pressure Cooker;
Take a look at this and all the other stuff at used cruising gear for sale...

---

If you're thinking of selling your cruising boat - or know someone who is - remember you can advertise it entirely free of charge on sailboat-cruising.com - which is what the owners of these boats have done...

'Ocean Mandalay', a Fountaine Pajot Belize Catamaran;

'Chapter Two', a Lagoon 450F Catamaran;

'Wreckless Faith', a Leopard 44 Catamaran;

'Freedom', a Knysna 440 Catamaran;

37ft Ferro Cement Gaff Cutter;

'Snatch' a Lavranos 42 ft Steel Cruising Cutter;

'Small World II', a Tayana Flying Dutchman 50;

Want to check out a whole load more?

Then take a look at the full list of monohulls for sale here, and multihulls for sale here...

STOP PRESS! I've just heard from my friends Chris and Jeanette Price in Antigua that they haven't yet sold their superb 50 foot cruising catamaran 'Hummingbird of Itchenor', which you can see here...

Their problem is that although there are a number of cruisers extremely keen to buy her at the current asking price of $295,000, they all have to sell their current boats before they can come up with the cash.

Chris and Jeannette are very keen to sell but now find themselves at the wrong end of several chains. What they really need is a buyer with ready cash.

If you are fortunate enough to be that person - or know of one - then I'm pretty sure that an offer of $225,000 ($70,000 under the current, already reduced, asking price) will get you a very fine cruising catamaran at a very attractive price.
Don't forget...
If you're thinking of looking at a secondhand sailboat, or just want to be aware of what to look for - and when to walk away no matter what - then you really ought to take a look at Andrew Simpson's eBook Secrets of Buying Secondhand Boats...

It's full of sound advice from an acknowleged expert and could quite literally save you $$$$$thousands!

---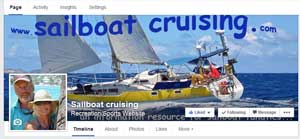 Sailboat-Cruising.com has a Facebook Page!

Clicking the image here will take you right to it, where you can browse through many more posts and articles.

Please take a look, and feel free to make a post - and don't forget to 'Like' us of course...

Thanks!

Visit sailboat-cruising.com's Facebook Page...
---
And finally...
If you know anyone who might be interested in the contents of this newsletter, please forward it to them. It's not secret!

And this newsletter can be a two-way thing. If you've read anything you'd like to comment on, or perhaps there's an event you'd like to see announced in a future newsletter, then please let me know.

See you next month!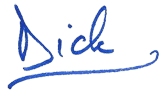 Dick McClary
Go to Sailboat-Cruising.com's Home Page...
---