Hi


The Sailboat Cruiser
The Sailboat Cruiser is the free monthly (OK, monthly-ish) newsletter of sailboat-cruising.com and sets out to bring you the news, views and general musings of, well, me - Dick McClary, a sailboat cruiser and creator/owner of sailboat-cruising.com.
If you like this newsletter, please feel free to email it to your friends.
If one of your friends did forward this to you and you like what you read, please subscribe by visiting The Sailboat Cruiser
---
Newsletter #66 - May 2021
What's in This Issue:
---

Now here's something different! One of our readers has a house he'd like to trade for a blue-water sailboat and another has a blue-water sailboat he'd like to trade for a house. You might think there was a deal to be done there, but sadly not as their individual requirements are quite different.

Let's start with Terry, the man with the house. Terry's house is in Mexico; in Teacapan to be more precise, which is some 80 miles south of Mazatlan on the Pacific coast.

Teacapan is a small fishing village on the largest estuary in Mexico. The house sits on a corner plot just two short blocks from the ocean. It's a fishing/birdwatching paradise apparently and for the right buyer, sounds pretty idyllic to me.

Terry tells me he's asking $35,000 for the house and would be willing to trade it for a bluewater sailboat of a similar value.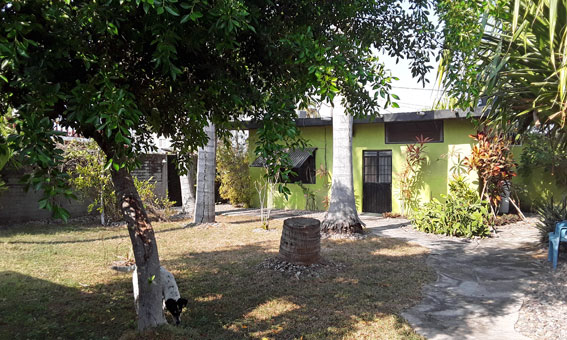 Interested? Want to see more pics and a video? If so, drop me a line and I'll put you in contact with Terry.

Secondly we have Lorraine and Graham Parkinson, who have been mentioned in my previous despatches as owners of the luxurious 65 foot world cruiser 'Lorrigray' , on which they're currently living in Phuket, Thailand.

Our tracks crossed several years ago in the West Indies and the four of us have been pals ever since. Mary and I have been aboard 'LorriGray' on several occasions and have been mightily impressed with her pragmatic design for shorthanded long-distance sailing and liveaboard comfort.

But here's the twist - Graham now tells me that they would be willing to trade 'LorriGray' (asking price £220,000 or $299,000) against a residential property in the UK with cash adjustment either way.



So, if you're looking to 'Sell Up and Sail', this could be a very cost effective way of making the dream a reality.


---

At anchor on a hot windless day, opening all the deck hatches isn't enough to make life below comfortable - you need a windscoop to collect any available breeze and whisk it below. This design is super-efficient, and it's cheap and easy to make.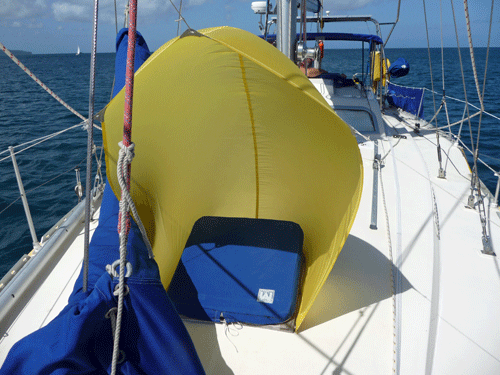 It fits around the outside of the deck hatch, allowing the hatch to be partially or fully closed without having to go on deck - a useful feature when you've been awoken on a dark night by a shower of rain. Here's how to make one for your boat...


---

I've made no secret about my preference for a tiller over wheel steering in an aft-cockpit cruising monohull for the reasons set out here...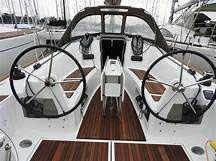 But twin wheels in a cruising boat? While they do make a deal of sense in a wide-transom ocean racer, where the helmsman will want the option of helming from either the windward or the leeward side so he can keep a close eye of the luff of the headsail on any point of sail.

This is something you can readily achieve with a tiller-steered boat with the simple (and much cheaper) addition of an extendable tiller extension.

Nevertheless, most cruisers on an offshore passage would soon get bored with helming for hour after hour and hook up the autopilot or windvane self-steering gear. But it has to be said that there are a couple of benefits of twin wheels in a cruising boat:
Access between them is usually much easier than squeezing around the outside of a single large wheel, and
Provided that they don't share the same linkage to the steering quadrant, a twin wheel installation provides a degree of redundancy if one of them lets go.
Otherwise, in my opinion - be it e'er so humble - it's just a fashion thing!


---

In his latest article our erudite guest writer Dr Michael Cohen writes about the concept of time and tells us...

"The Greeks actually had two words for time: 'Chronos' which signifies the passing of time as would be measured by a clock and 'Kairos' which represents time in the moment.

St. Augustine, around the end of the 4th century CE brought Greek philosophy (especially Plato) into Christianity. Still, the concept of time puzzled St. Augustine who stated:

"What then is time? If no one asks of me, I know; but if I wish to explain to him who asks, I know not."

Are we still obsessed with time? Very. According to the Oxford English Corpus "time" is the most common noun used in the current English language!

When not asking for time we are tracking time, serving time, buying time, killing time, having a good time, taking a time out, bedtime, nighttime, good times, bad times, free time, and lunch time among many others.

What does this have to do with our nautical endeavors? Everything. If anything, we have become more dependent on time than ever before. "

And from who other than Dr Michael would you hear about the Suprachiasmatic Nucleus?

---

All of you reading this will have at some time completed our newsletter sign-up form, so it must be more than a little irritating to be faced with the new sign-up form each time you visit the site.

My apologies, but there's only one way to make it go away and that's to enter your email address and click 'Subscribe'.

And that's it, you should never see it again.

---

But here's a tip - If you're thinking of looking at a secondhand sailboat, or just want to be aware of what to look for - and when to walk away no matter what - then you really ought to take a look at The Boat Buyer's Bundle...

---

First though, let's look back at 'Capers', last month's Mystery Boat...



Suggestions for 'Capers' included a Tayana 48, a Hylas 46 or 49.

Thank you all for your suggestions, but an on-line image search for each suggestion revealed that 'Capers' is in fact a Hylas 46. But here's something different this month...

Daniel dropped me a line together with the following pic asking:

"I'm trying to figure out what type of boat and what her keel is? Stumbled upon her this weekend and I'm told she's been stranded here since hurricane last fall. Trying to decide how hard it would be to salvage if not claimed already under Florida law. Probably extremely difficult but I'm curious."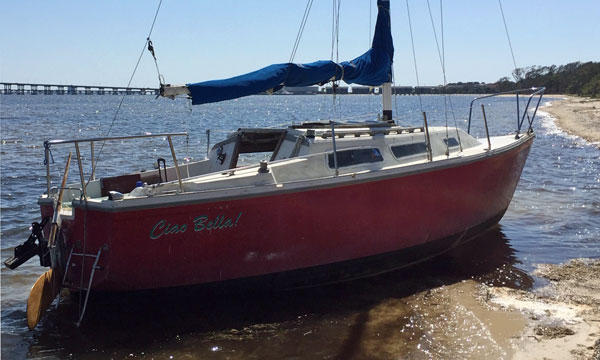 I told him I couldn't help, but I knew a bunch of wise and knowledgeable people that probably could.

Any ideas anyone?

If so, please let me know by clicking here and I'll pass them on to Daniel.

---

We provide a free platform for owners (but not brokers) to advertise their sailboats for sale on our website. These are the latest submissions: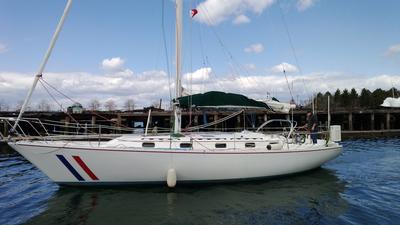 'Allorshas', an Irwin 40 MKII Citation
---
'Zeffiraglia III', a Wauquiez Gladiateur
---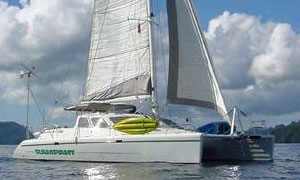 'Rampant', a Norseman 400 Cruising Catamaran
---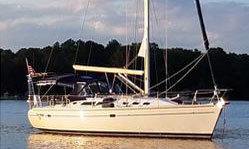 ---
---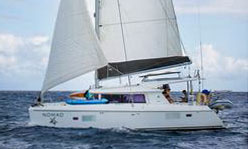 ---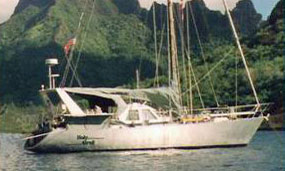 'Holy Grail', a Custom Aluminium Pilothouse Cutter

---

It's always worth taking a look at what visitors to sailboat-cruising.com are getting rid of. Remember that one man's junk is another man's gold!

Among other items this month, we have:
Simrad Tillerpilot TP10;
Harken #6 Chromed Bronze Winch;
Solar Charge Controller;
Viking 6-Man LifeRaft;
Boat Chairs;
'RapidDitch' ditch bag;
'Top Climber' Climbing Harness;
Barient Winches (pair);
Forespar Gimballed Galley Stove;
Offshore Cruising Life Raft;
Asymmetrical Spinnaker with Sock;
Marinco Shorepower Splitter;
125-lb & 65-lb Mantus Anchors & Swivels;
Bronze Portlights;
Type IV Yellow Horseshoe Throwable PFD, Large Fender,
Boat Hook & Butterfly Anchor;
Davis Mk3 Sextant;
Whale Galley Pumps.
Take a look at these and all the other stuff at used cruising gear for sale...
---
And finally...
If you know anyone who might be interested in the contents of this newsletter, please forward it to them. It's not secret!

And this newsletter can be a two-way thing. If you've read anything you'd like to comment on, or perhaps there's an event you'd like to see announced in a future newsletter, then please let me know.

See you next month!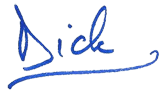 Dick McClary
Go to Sailboat-Cruising.com's Home Page...
---