Daily Current Draw Calculator
The Daily Current Draw Calculator Calculation Sheet has intentionally been left unlocked in order that you may enter the current draw of each of the appliances on your boat, together with the daily periods that you have them turned on.
Current draw: The appliance amps currently entered on the sheet are notional. The most accurate way of establishing actual current draw on your boat is to turn off every source of current draw other than the one in question and refer to your battery monitor to see what current it is drawing. Otherwise refer to the manufacturer's data. It may be quoted in watts, which is volts x amps. Divide the wattage by voltage and you have the current draw.
Daily Use:  Enter the hours of use for each of the appliances for when you are underway (day and/or night) and similarly for when you are at anchor. The yellow cells contain formulas which will calculate the amp-hours automatically. 
The 'Total Requirement' will identify where you need the most battery juice - when you're underway or at anchor. Your house battery bank therefore needs to be sized based on that daily requirement.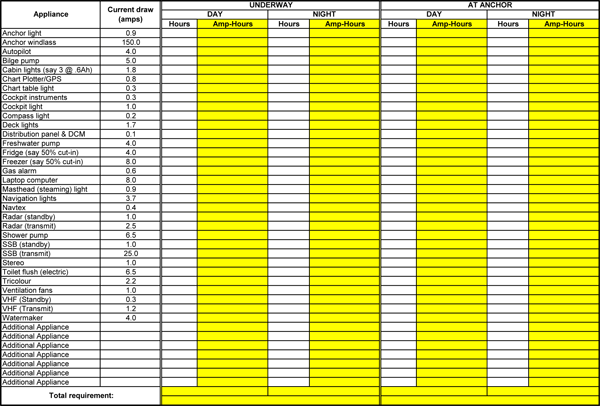 Adjust the amperages (if necessary), enter your daily usage (in hours) and the total amp-hours will be calculated automatically.
Download the Daily Current Draw Calculator...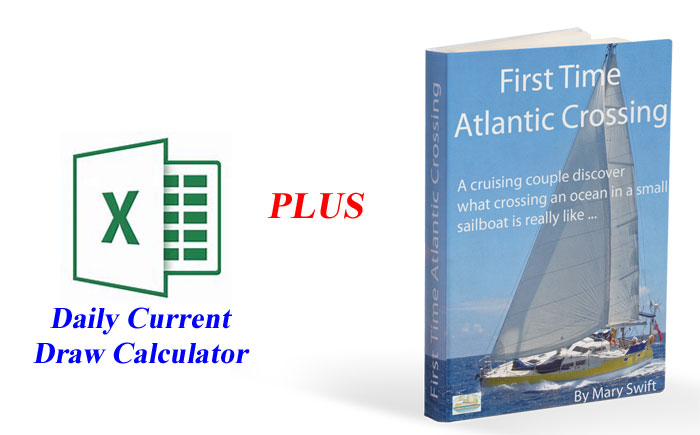 We make a small charge of $4.99 for this useful tool, as a contribution towards the costs of keeping this website afloat, but it does come with a free gift...

Clicking on the button above will get you a live, fully editable version of the Daily Current Draw Calculator, together with a complimentary copy of the eBook 'First Time Atlantic Crossing' which otherwise retails on this site for $4.99.
And yes, I do have Mary's permission...
---
You Are Here: Sailboat Cruising > Boat Electrics > Daily Current Draw
---