Your Sailboat Fishing Stories!
Write up a true tale about one of your sailboat fishing success stories here and - providing it's suitable for publication on this website - we'll send you a free copy of 'All the Fishing Knots You Need!'
These are the knots you really do need to know how to tie if your chances of getting a good fish safely into your cockpit are not going to be significantly reduced.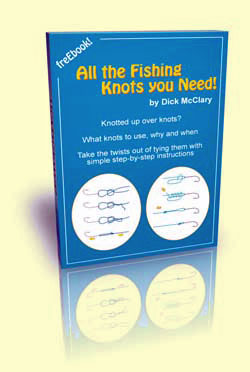 Arbor knot - For attaching your line to the spool of your reel;
Uni-knot - For attaching nylon line to straight-eyed hooks, swivels and other hardware;
Braid knot - For attaching braid line to hooks, swivels and other hardware;
Snood knot (or Snell knot) - For joining nylon line to hooks with cranked eyes;
Dropper Loop - For forming a loop in nylon line which stands off at 90 degrees;
Cow hitch - For attaching a hook to a dropper loop;
Albright Knot - For connecting mono lines of different diameters, or connecting a nylon line to a single-strand wire leader;
Haywire Twist - For attaching single-strand wire line to a hook, swivel or lure;
Rapala Knot - The best knot to use for attaching a lure to mono line;
Leader Knot - For connecting a light nylon line to a heavier nylon leader.
All these knots are fully illustrated with clear written instructions on how to tie them properly. 
All you have to do is to Tell Us Your Story!
So...
Got a Great Story About Sailboat Fishing?
Do you have an interesting story about this? Share it here and get a very useful eBook on the ten essential fishing knots with our compliments!
---
You are here:~ Sailboat Cruising > Sailboat Fishing Competition
---
---
Jan 02, 17 07:07 PM

Taswell 49 - Ta Shing Yacht Building - Year 1989 (1990) S. Primrose Designer Italian Flag – Italian safety certificate valid until 2018 - VTR hull -

Jan 02, 17 06:59 PM

Hello! There are different reasons why this project was started and why you can read these lines here. Firstly, as like water, we are never sitting still.

Dec 31, 16 06:38 AM

We are selling s/v Ta Hi, our Mariner 36 Masthead Sloop as we have accomplished what we set out to do. For the past the 7 years my wife and I have comfortably
---
Didn't find what you're looking for?
           Use this search feature to find it... 
Custom Search