Your Sailboat Fishing Stories!
Write up a true tale about one of your sailboat fishing success stories here and - providing it's suitable for publication on this website - we'll send you a free copy of 'All the Fishing Knots You Need!'
These are the knots you really do need to know how to tie if your chances of getting a good fish safely into your cockpit are not going to be significantly reduced.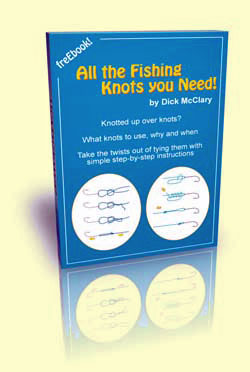 Arbor knot - For attaching your line to the spool of your reel;
Uni-knot - For attaching nylon line to straight-eyed hooks, swivels and other hardware;
Braid knot - For attaching braid line to hooks, swivels and other hardware;
Snood knot (or Snell knot) - For joining nylon line to hooks with cranked eyes;
Dropper Loop - For forming a loop in nylon line which stands off at 90 degrees;
Cow hitch - For attaching a hook to a dropper loop;
Albright Knot - For connecting mono lines of different diameters, or connecting a nylon line to a single-strand wire leader;
Haywire Twist - For attaching single-strand wire line to a hook, swivel or lure;
Rapala Knot - The best knot to use for attaching a lure to mono line;
Leader Knot - For connecting a light nylon line to a heavier nylon leader.
All these knots are fully illustrated with clear written instructions on how to tie them properly. 
All you have to do is to Tell Us Your Story!
So...
Got a Great Story About Sailboat Fishing?
Do you have an interesting story about this? Share it here and get a very useful eBook on the ten essential fishing knots with our compliments!
What Other Visitors Have Caught
Click below to see fishy stories from other visitors to this page...

A Depth Fish!

It was 2001 and we were cruising down the English coast (from Germany) it was evening and there was no wind. The boat, a 36ft racing boat, only had a tiller …
---
You are here:~ Sailboat Cruising > Sailboat Fishing Competition
---
---
Jul 19, 17 01:03 AM

For instance, would you know if your baggywrinkle was up to scratch or your bobstay needed a martingale? No? Then you'd better take a look at this glossary of seafaring words...

Jul 18, 17 05:07 AM

Description: Here's a useful checklist of sailboat spares and equipment for a sailboat setting out on a long distance offshore passage. You can't carry too much; but you can't carry everything

Jul 08, 17 02:45 AM

Apart from the financial risk, is there any real reason why I should take out yacht insurance?
---